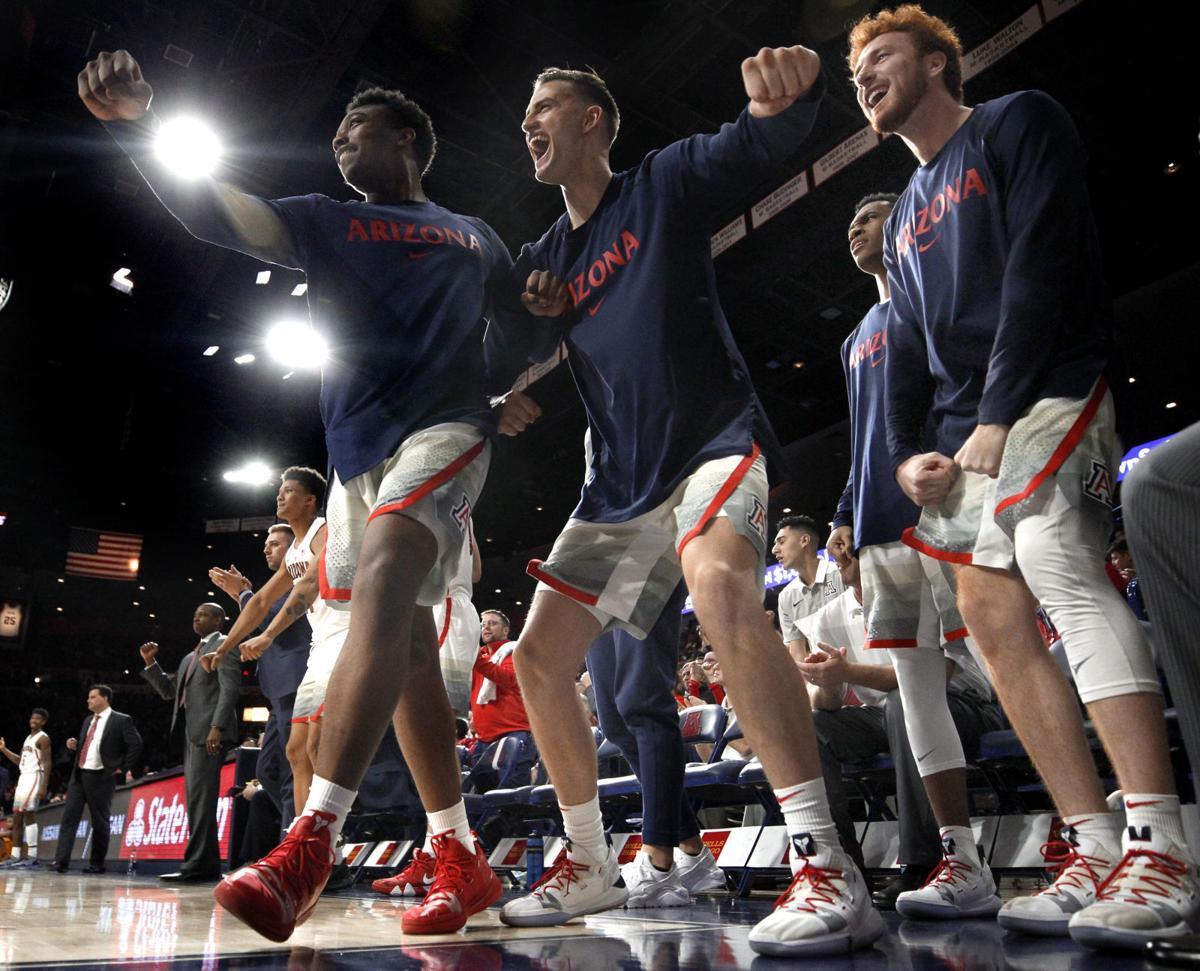 Arizona's final 18-game Pac-12 Conference basketball schedule will play out in historical style.
When the conference announced finalized dates and times for its teams Thursday, the Wildcats were handed seven old-school Thursday-Saturday weekends and only one with more than one day in between games.
The Wildcats' lone extended trip, scheduled for Jan. 9-12 in Oregon, takes place before the UA's spring semester begins — meaning players will miss a minimum of class time throughout conference play.
Since the conference's $3 billion media rights deal with ESPN and Fox went into effect in 2012-13, a year after the Pac-12 added Colorado and Utah, teams have usually been assigned multiple weekends with two or three days in between games. Doing so has filled a wider array of television windows but often increased travel costs and missed class time.
"I don't think it's looked like this since the Pac-10, where we've been that consistent across the board," said Ryan Reynolds, the UA's director of basketball operations.
Since Pac-12 teams typically travel the day before their first weekend game and sometimes don't return until a day after the second game — if flying commercial, as some teams other than Arizona do — Thursday-Saturday splits are almost universally preferred.
"They make it a sprint on scouting (the next opponent) after the Thursday game but especially on the road with the shorter trips, all the coaches would say they prefer that," Reynolds said. "If you play on Wednesday and Saturday, it seems like you're gone forever. It puts more stress on the kids because they're going to miss four days of school."
Arizona will benefit again this season from significant national exposure, with eight of 18 conference games on ESPN channels. Another five or six nonconference games will also ESPN channels; Arizona's Dec. 7 game at Baylor has not yet been finalized, but it may be carried nationally.
All of UA's games will be televised via ESPN, Fox or Pac-12 platforms except its closed scrimmage against St. Mary's in late October and its Nov. 1 exhibition against Chico State, which will likely be streamed online at ArizonaWildcats.com.
However, fans will have to stay up late to see it all play out. The Wildcats have only one day game in conference play, on Jan. 18 against Colorado at McKale Center, and have seven Pac-12 games that will tip off at 8 p.m. or later, Tucson time.
Arizona will also play two games at 9 p.m. or later in the Thanksgiving-week Wooden Legacy event, assuming they beat Pepperdine in the Nov. 28 opener, and won't face Gonzaga (Dec. 14) and St. John's (Dec. 21) until 8 p.m.
The Pac-12 will expand to a 20-game schedule in 2020-21, likely by adding two extra games on weekends in November and December, though it isn't known yet if the traditional weekend splits will otherwise be kept through January and February.
Four-star guard to visit
Four-star 2021 wing Peyton Watson of Long Beach, California, posted on Twitter that he will take an official visit to Arizona this weekend and visit Washington on Sept. 27.
The NCAA's open recruiting period opened Monday, allowing coaches to travel for in-home and at-school evaluation. UA coaches are expected to return this weekend to host at least one workout that Watson will likely attend.
An August 2018 NCAA rule change allows prospects to take five official visits starting Aug. 1 of their junior season and another five between the end of their junior season and high school graduation.
Love eliminates Arizona
Five-star 2020 point guard Caleb Love of St. Louis has cut Arizona from his list of four finalists, according to Rivals.com, and 247Sports.com said he canceled a planned visit to Indiana this weekend.
Love is now considering Kansas, North Carolina, Missouri and Louisville after initially including UA and Indiana on his Aug. 2 list of six finalists.
Four targets for Wildcats' class of 2022 are ranked
Four UA recruiting targets were included in 247Sports.com's initial rankings of the 2022 class Thursday: Los Angeles forward Kijani Wright (8); Las Vegas guard Richard "Pop Pop" Isaacs Jr. (17); Northridge, California, guard Skyy Clark (15); and Gilbert center Dylan Anderson (29).
Be the first to know
Get local news delivered to your inbox!