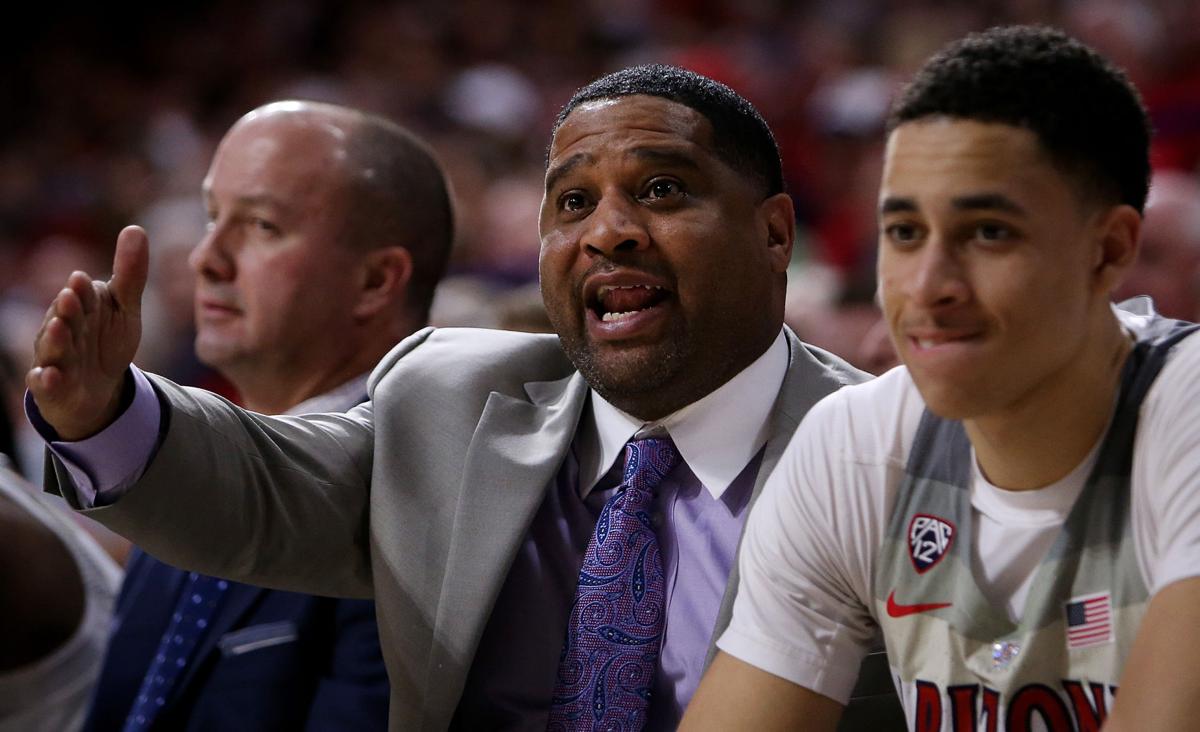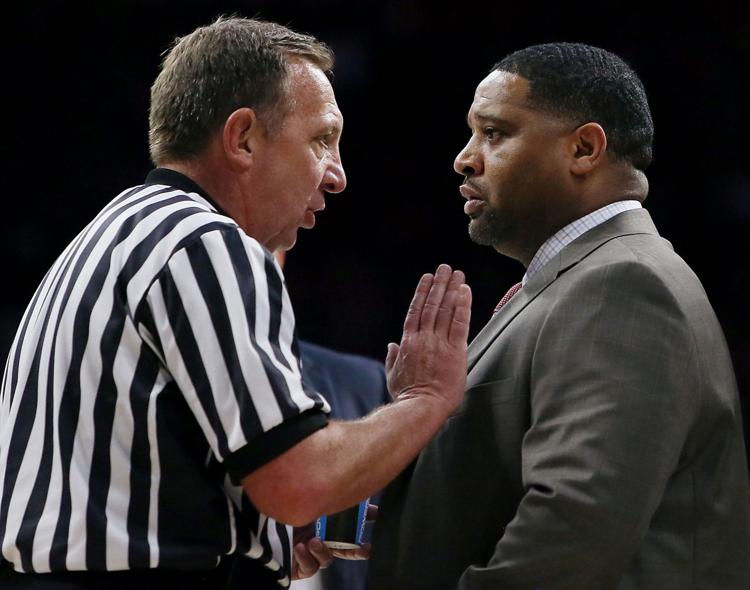 Longtime Arizona assistant basketball coach Emanuel "Book" Richardson was released from federal custody on a $50,000 bond Tuesday following his arrest as part of a federal corruption scheme.
Richardson appeared in U.S. District Court in Tucson on charges of conspiracy to commit bribery, solicitation of bribes by an agent of a federally funded organization, conspiracy to commit honest services fraud, wire fraud conspiracy and travel act conspiracy.
If convicted, Richardson is facing a maximum sentence of 60 years in prison and a $1.5 million fine, court officials said.
Richardson was arrested Tuesday. He later appeared in front of Magistrate Judge D. Thomas Ferraro wearing a red T-shirt emblazoned with "New Orleans Basketball," and a pair of black athletic shorts. His next court appearance is scheduled for Oct. 10 in New York.
The prosecutor asked Ferraro for a $100,000 bond, but Richardson's defense attorney, Brick Storts, said that was "totally unreasonable," after which Ferraro agreed to the lower bond.
Storts declined to tell the Star who was paying him. The University of Arizona "has nothing to do with it," he said outside of court.
Richardson was arrested after allegedly taking $20,000 in bribes last summer and paying a recruit to commit to Arizona, part of a scheme in which three other college assistant coaches — USC's Tony Bland, Auburn's Chuck Person and Oklahoma State's Lamont Evans — were also arrested.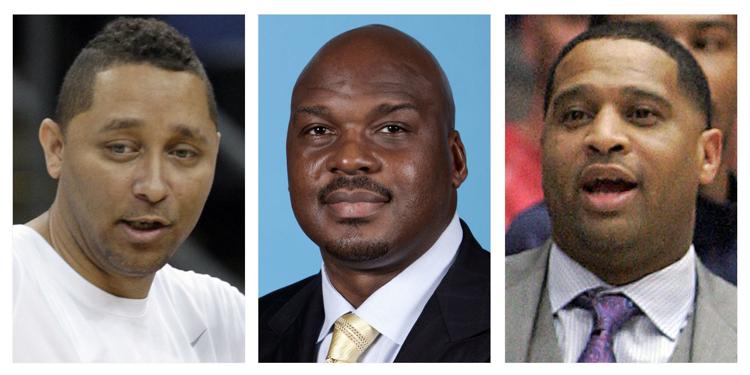 The four coaches were among 10 people charged with federal crimes, including managers, financial advisors and representatives of a major sportswear company.
The U.S. Department of Justice held a 9 a.m. news conference to discuss what Joon Kim, acting U.S. attorney for the Southern District of New York, called a two-part scheme: One involving bribes from managers to coaches for their assistance in securing future clients, and the other in which the sportswear firm and advisors would make "coach-requested" payments to players and their families.
"If you read the three complaints, over 100 pages, you will find yourselves inside the dark underbelly of college basketball," Kim said. "The madness of college basketball went well beyond the big dance in March."
At 12:44, Arizona issued a news release saying Richardson was "immediately suspended and relieved of all duties."
"We were appalled to learn of the allegations as they do not reflect the standards we hold ourselves to and require from our colleagues," the UA's statement said. "The University of Arizona has a strong culture of compliance and the expectation is we follow the rules."
The UA athletic department said in a statement that it became aware of the situation Tuesday morning and "confirmed that Richardson has been suspended effective immediately. We will cooperate fully with authorities as they move through their investigation."
The UA athletic department said, "We work under the basic directive that all department personnel operate within applicable laws and NCAA rules. The behavior that Richardson is accused of is completely unacceptable and does not reflect the principles of this athletics department."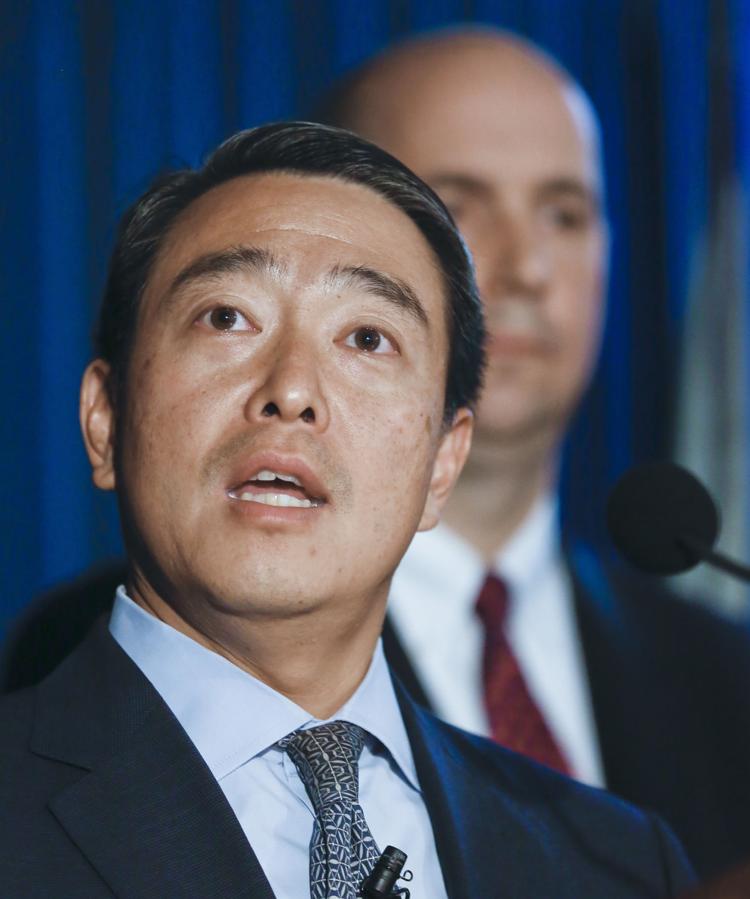 Pac-12 commissioner Larry Scott said Tuesday that he is "deeply troubled by the charges filed in federal court today against a number of individuals involved in college basketball, including two assistant coaches employed by member institutions of our conference."
"Protection of our student-athletes, and of the integrity of competition, is the conference's top priority," he said. "I have been in contact with the leadership of both universities and it is clear they also take this matter very seriously. We are still learning the facts of this matter, but these allegations, if true, are profoundly upsetting to me. They strike at the heart of the integrity of our programs, and of the game that so many people love and play the right way."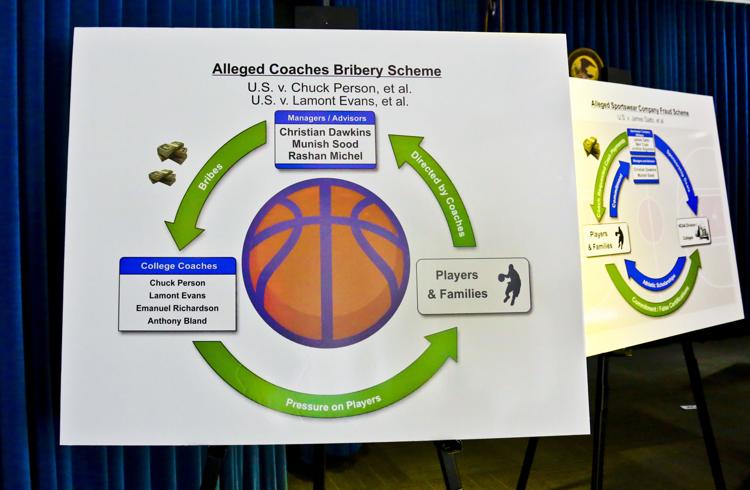 The FBI has been investigating the criminal influence of money on coaches and student-athletes since 2015. The probe covered bribes paid to players' advisers, college assistants and others who exude influence over student-athletes.
Three separate complaints related to the incident have been filed in court, one of which names Jim Gatto, Adidas' director of global marketing for basketball, as a defendant, according to the complaint against Richardson, filed Monday in U.S. District Court in New York.
The initial investigation revealed a related scheme involving "significant cash payments" by athletic advisors and executives of Adidas to the families of high school basketball players at the request of coaches at two of the universities in exchange for agreements by the athletes to attend the universities and later to sign with the advisors and Adidas, the complaint says.
Between February and September, co-defendants Christian Dawkins and Munish Sood paid Richardson $20,000 in bribes, "some of which Richardson appears to have kept for himself and some of which he appears to have provided to at least one prospective high school basketball player" in order to recruit the player to come to UA, the complaint says.
In exchange for the money, Richardson agreed "to use his influence over the student-athletes he coached to pressure them" to hire Dawkins as manager and Sood as financial adviser, according to the complaint.
Dawkins, a sports agent who was fired by ASM Sports earlier this year, received money to start a new company from Sood, founder and CEO of the Princeton Advisory Group, an investment services company, according to the complaint.
In a phone conversation recorded by the FBI, Dawkins told Sood and an undercover agent that "the path to securing commitments from college athletes was through assistant coaches...because 'the head coach...ain't willing to (take bribes) cause they're making too much money. And it's too risky,'" the complaint says.
An FBI wiretap recorded a June conversation between Dawkins and Richardson, in which the two discuss a high school basketball player that Richardson was going to pay to come play for the UA, the complaint says.
On June 20, Richardson met with Sood and an undercover FBI agent in New York and accepted a $5,000 cash bribe.
A few weeks later, Dawkins told an undercover agent that Richardson needed another $15,000 to secure the player, who Dawkins identified as a "top point guard in the country," according to the complaint.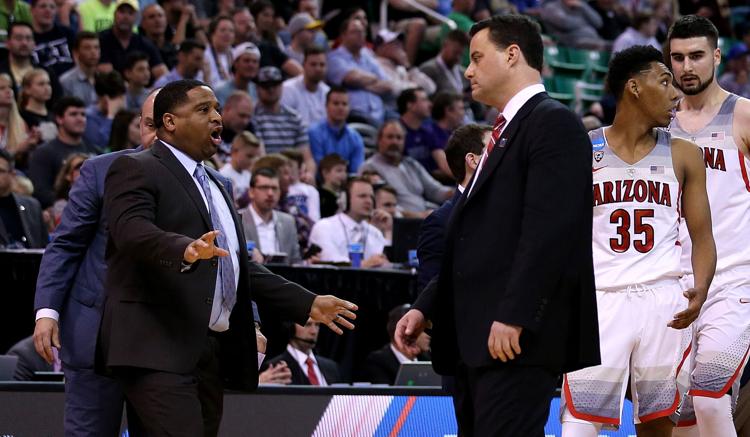 On July 20, in a meeting at Sood's New Jersey office, Richardson collected the $15,000 and told Sood and an undercover agent that the player in question had committed, but his mother was asking for money because "she didn't know what I was already doing for her son," the complaint says.
In a meeting in August, Richardson told Dawkins and Sood which current UA basketball players he intended to influence to sign with Dawkins' new management company, the complaint says.
All four coaches charged "are assistant coaches of major Division I schools with top-tier program and they have all been in and around the game for a long time," Kim said. "All of them had the trust of players they recruited. Young men who looked up to them and believed their coaches had their best interests at heart.
"In exchange for bribes, these coaches pushed advisors on their players and their families."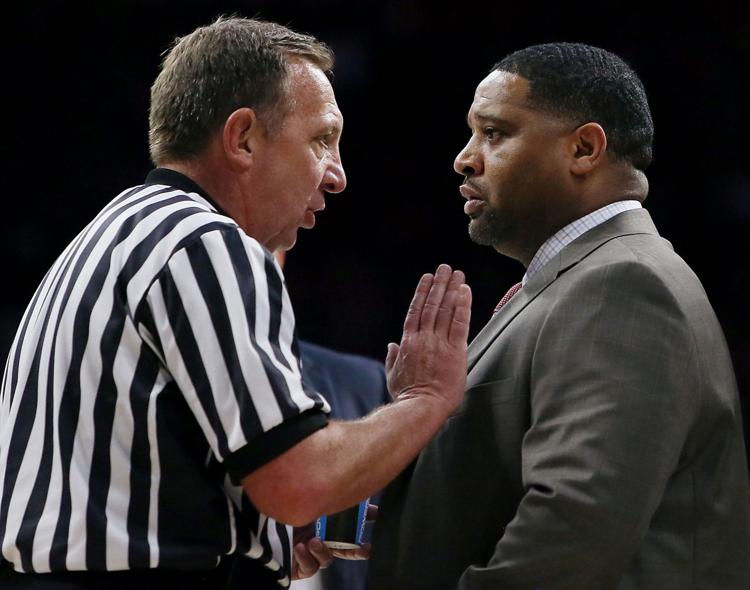 Richardson, who was paid $235,000 from Arizona in 2016-17, is in his ninth season with the Wildcats and 11th overall under coach Sean Miller. A native of New York who ran the New York Gauchos travel ball program before joining Miller at Xavier, Richardson helped recruit many East Coast players to Arizona, including current standout Rawle Alkins and former Wildcats standouts Mark Lyons and Kevin Parrom.
Richardson was also involved in the recruitment of highly regarded New Jersey point guard Jahvon Quinerly, a high school senior who committed to Arizona last month to play for the Wildcats in 2018-19.
It's unclear what effect Richardson's arrest will have on Arizona with regards to the NCAA. The Wildcats have indefinitely postponed media day, which was scheduled for Wednesday. 
 This story is developing. Check back for more.