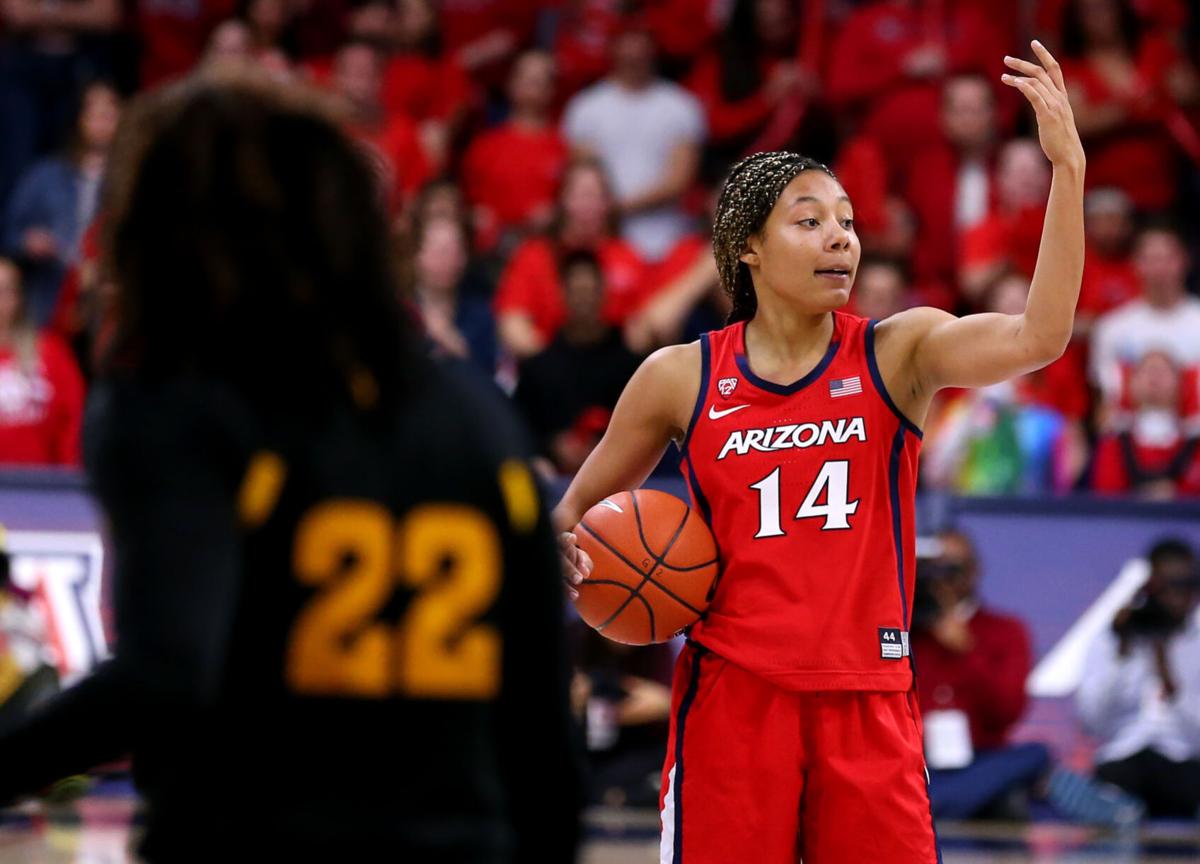 Sam Thomas felt a range of emotions when her first NCAA Tournament appearance was canceled due to the coronavirus pandemic.
First, the Arizona Wildcats' forward was confused. Then she was sad — Thomas wanted to show that Arizona was one of the best women's basketball teams in the country.
That sadness has since turned into hope.
"COVID and everything is just so different and new," Thomas said. "I don't think the NCAA has ever been shut down — it was like, 'Is this actually happening?' It struck you like, 'OK this is really serious, this pandemic. It's a little bit scary.'"
Thomas and her basketball teammates weren't alone. Every UA winter and spring sport was affected by the NCAA's decision to cancel competition in March.
The Wildcats' men's basketball team missed out on the rest of the Pac-12 Tournament and NCAA Tournament. The track team missed the NCAA Indoor Championship. The swimming and diving programs missed out on the NCAAs, as did the beach volleyball teams. The UA's baseball and softball seasons were over almost as fast as they started.
The trauma of losing a season — and the uncertainty of when they might play again — prompted Thomas and her teammates to turn to the UA's Clinical and Sport Psychology Health Services.
Coaches reached out, too. The department helped them realize that they can't push their players the same in the middle of a pandemic.
"(It) just can't be '(get) ready for your season, fight through it, push through it' — it can't be that anymore," said Michelle Skog, a UA mental health counselor. "I think these coaches have done a really good job of figuring out how do I adjust … keep them engaged."
Beach volleyball coach Steve Walker spent this summer connecting with his players on Zoom. The Wildcats participated in a treasure hunt, baked desserts and held trivia contests — all without seeing each other in person.
"It was not a normal summer by any stretch," Walker said. "There was such a void (from not finishing the season) — almost like graduating from college. You have to address what happens next. There is a lot of uncertainty. They had many emotions — anxiety, shock, an empty feeling. We were just trying to collect ourselves to try to work through it. As coaches, dealing with crises is instilled in our DNA, but there's been nothing like this."
Skog and Rachel Webb, the UA's assistant director of clinical and sport psychology, saw an uptick in requests for their services by student-athletes in March, April and May. In April, their department put together a four-session resiliency workshop. Skog and Webb shared tips and information about a range of topics, from homesickness and isolation to goal-setting, identity work, relationships and sleep hygiene.
Many athletes used the word grief to describe what they were experiencing.
It fit. Webb said "they all had lost something, whether it was part of their identity or again … about structure.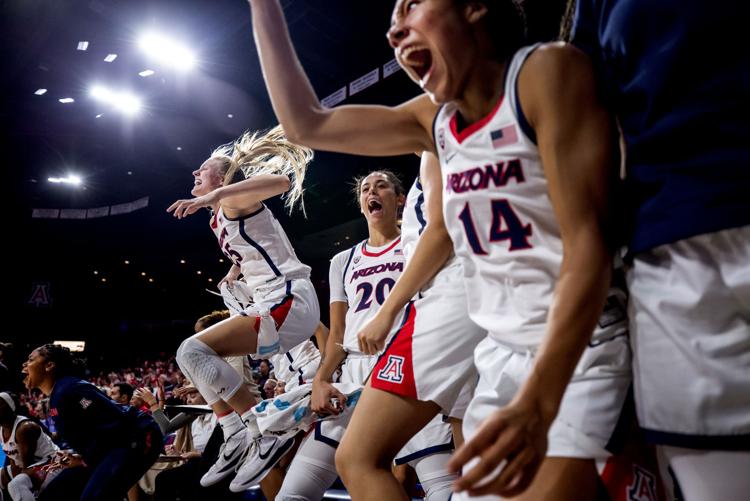 "This group of kids has had their life laid out from 6 a.m. — if not earlier — to 9 p.m., every single day. Coaches involved, teachers involved, academic counselors, the strength and conditioning," she said. "Then to go from that support, which is so needed in terms of what they're trying to accomplish, to nothing essentially … I think that was so jarring for so many of them. How they responded to that obviously was different and also where they were at in their season or lack thereof was a big part of it, too."
Skog has been a participant in the UA women's basketball team's Zoom calls since last spring. She was honest when asked how she's coping during the pandemic.
"I think it was also helpful for them to see that we were also human. And we were also struggling to figure this out with all this uncertainty. And letting them know it's OK to not be OK," Skog said.
"Some of these days, it's OK to not feel like you have to be this D-I athlete who's pushing through everything."
Clinical and Sport Psychology Health Services counselors noticed a second surge this summer, when the Pac-12 paused all competition until January.
The timeframe has since changed: The Pac-12 football season will open Nov. 6 and the men's and women's basketball seasons will start Nov. 25. It's the latest twist in what's become an emotional roller-coaster.
The ups and downs can be minimized, Webb said, by focusing on something that's not dependent on someone else's decisions. Webb tells athletes to get back to their "why" — the reason they play the sports that they love.
"I pose that to quite a few folks and coaches: 'If you never had a season again, what would drive you to get up tomorrow at 6 a.m. and get in the pool and swim or what would drive you to get to the track?' " she said.
"How do we connect to that internal motivation, that intrinsic motivation and your love and your passion for just getting better and focusing? The ones that lean into the process of things will again be a little bit less jarred by a shift. Not to say that they won't be upset, frustrated, disappointed and all that, but they'll move through it much quicker because they still have that intrinsic tie to why they do what they do.
"And it won't matter if you have a season or not."
Fortunately for Thomas, the Wildcats should play again soon. Eight months after their season was ended because of the virus, they'll return to the court.
"I think we've grieved, but in little small bits," she said. "It never really was everything all at once."