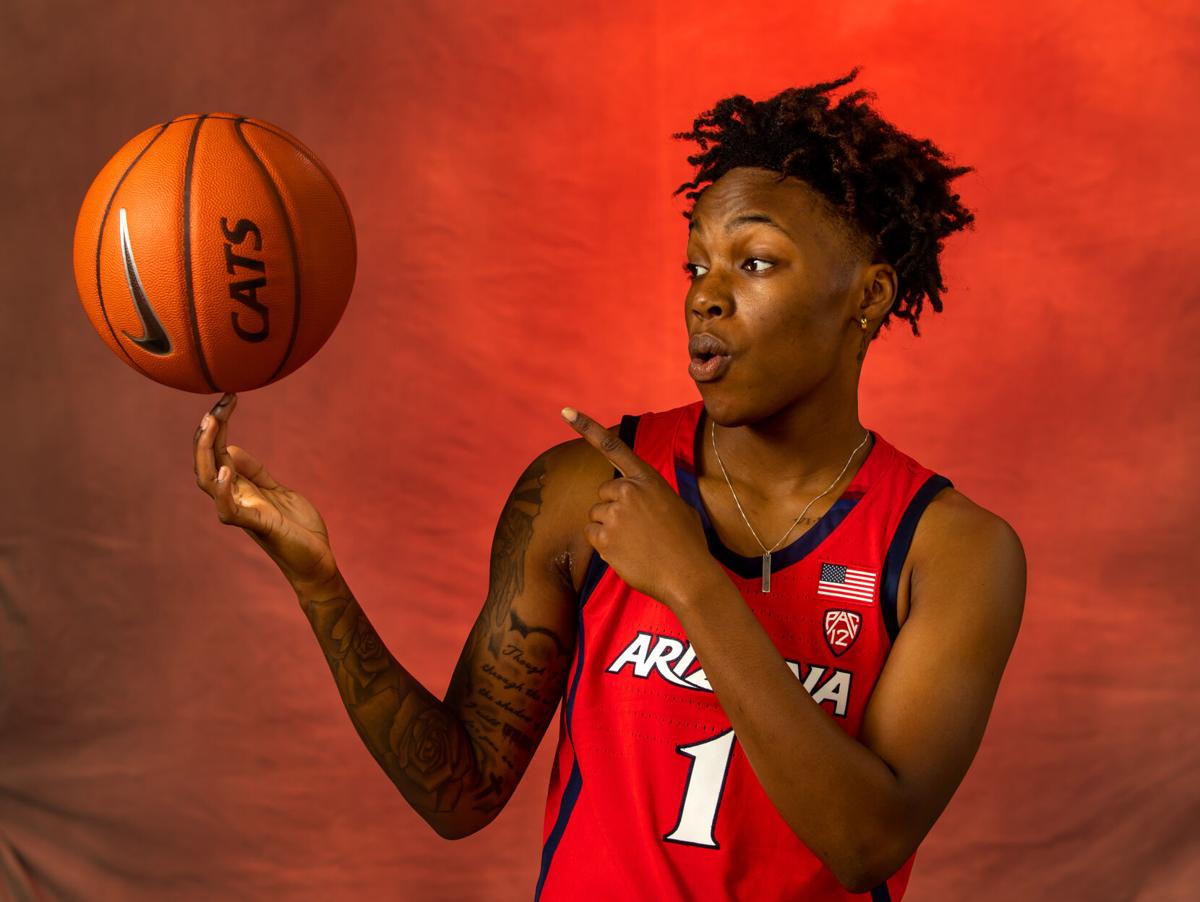 It's been upset season for Top-25 teams across the country.
At Arizona, however, it's full-steam ahead. The ninth-ranked Wildcats brought home another trophy Saturday, this one for winning the Paradise Jam in the U.S. Virgin Islands.
Over three games in three days against Vanderbilt, DePaul and Rutgers, the Wildcats showed they can win a variety of ways. They won their opener against Vanderbilt on a buzzer-beater and pulled award in the third quarter to beat DePaul before dominating Rutgers from the tip in Saturday's finale.
Arizona (7-0) also kept its record unblemished at seven wins. In fact, the Wildcats are one of just three undefeated teams left in the Top 10 — joining No. 1 South Carolina (7-0) and No. 8 Iowa (4-0). The Hawkeyes canceled their last three games because of COVID-19 in the program.
It's been a rough week for ranked teams. In the Top 10 alone, No. 2 Maryland lost back-to-back games to No. 5 NC State and No. 7 Stanford. Stanford beat No. 4 Indiana, then lost to 18th-ranked South Florida.
Then there's No. 19 UCLA, which dropped games to unranked teams Kent State and South Dakota State. No. 16 Oregon State was beaten by unranked Notre Dame, and No. 17 Florida lost to unranked BYU and Purdue.
For the Paradise Jam MVP, senior Cate Reese, the Paradise Jam title was just "what we do at Arizona."
"Even in the tough games, we still find ways to win," Reese said. "We could have been upset (by Vanderbilt) and we weren't. I think it was just the grand determination at the end of the game. I mean Shaina (Pellington) hitting that shot at the end of the game, it was not going to overtime.
"It was big. (Friday night), winning that game (against DePaul) was big, and … shutting (Rutgers) down from the beginning (on Saturday). We're just getting better every game. I think there's things that we still need to work on. But yeah, it was a huge week for us."
Reese finished with 16 points in 13 minutes in Saturday's 80-44 win over Rutgers, one day after posting 19 points and eight rebounds against DePaul.
Saturday marked the Wildcats' most complete effort of the tournament. They held the Scarlet Knights to two points in the first quarter and six in the second, taking a 46-8 lead into halftime.
"The previous two games, that wasn't really us," Reese said. "… I think it was coming out intense for us was the big thing."
While known for being one of the better defensive teams in the country, the Wildcats came out wanting to prove something Saturday: that they are good on offense, too.
"I think that we wanted to play better offensively … than we did the last two games," Arizona coach Adia Barnes said. "Last two games we didn't feel like we were on point, offensively. I think defensively we know we're a good defensive team, but we're also good offensive team."
Most improved player
Pellington delivered one of the week's most memorable moments — an off-balance, buzzer-beating layup that allowed Arizona to squeak by Vanderbilt on Thursday, 48-46.
On Friday, the guard used her speed to break DePaul's press, and she scored nine of her 14 points in the third quarter.
Reese said Pellington is finding "ways to flow and fit in" on the offensive side.
Barnes said she's seeing "a lot more confidence" from the Canadian.
"I'm seeing her run the team a lot better and play with a completely different pace," Barnes said. "I think she's playing at a high level. I don't think today was her game, but I thought Vanderbilt hitting that big shot. Yesterday doing a great job. I think today she was just a little bit tired. If you think about what Shaina does, she's not in tip-top shape yet, but she's not supposed to be in November.
"I think that she's getting used to different styles, different rhythm. She not only has to push the ball, this week she's had to handle pressure for 40 minutes with both teams. And then she's got to be the catalyst on offense. It's a lot. She has to get used to that.
"It took Aari (McDonald) a while. Aari was never (in shape) in November. But in December, January she was in her tip-top shape and Shaina is capable of doing that. I'm glad this tournament was able to give Shaina more confidence and moving forward she's a really important player and she's a good offensive threat.
"We need her to do the things she's doing here, and she'll continue to do that."
Coming up big
The Wildcats are relying more and more on their post players this season.
All five of them — Reese, Lauren Ware, Ariyah Copeland, Netty Vonleh and Semaj Smith — have been wearing down the competition as the Wildcats repeatedly pound the ball inside.
Saturday, they combined for 51 of the Wildcats' 80 points. Friday, they accounted for 37 of Arizona's 75 points.
Barnes said it starts with Ware and Reese, the two starters.
"They do a really good job at starting us off," Barnes said. "They're doing a really good job of finishing inside. I think Lauren continues to get better and finish stronger and I think she'll continue to even grow. She's only a sophomore. Cate adds some experience and leadership. I think they are playing good and have really good chemistry together."
Copeland has come off the bench to contribute. Barnes calls her "a walking bucket."
"She easily can go 5 for 5, 6 for 6 — I think if we gave her 10 shots (in a game), she's going to go 8 for 10. Maybe 7 for 10 on a bad night," Barnes said. "She's another one off the bench who is capable of averaging double-digits and a really good addition for our team."
Rim shots
Sam Thomas made the all-tournament team after posting 27 points, nine rebounds, nine steals, seven assists and four blocks over three games.
The Wildcats won't play again until Dec. 9, when they take on North Dakota State in McKale Center. UC Riverside, Arizona's originally scheduled opponent on Dec. 3, canceled a block of games because of COVID-19 issues within the program. The Wildcats will take a few days off, then hit the gym. Barnes wants to see them working on boxing out after Arizona was out-rebounded on the offensive glass in every game. The UA must also work on reducing turnovers; they averaged 20 per game in the Paradise Jam.