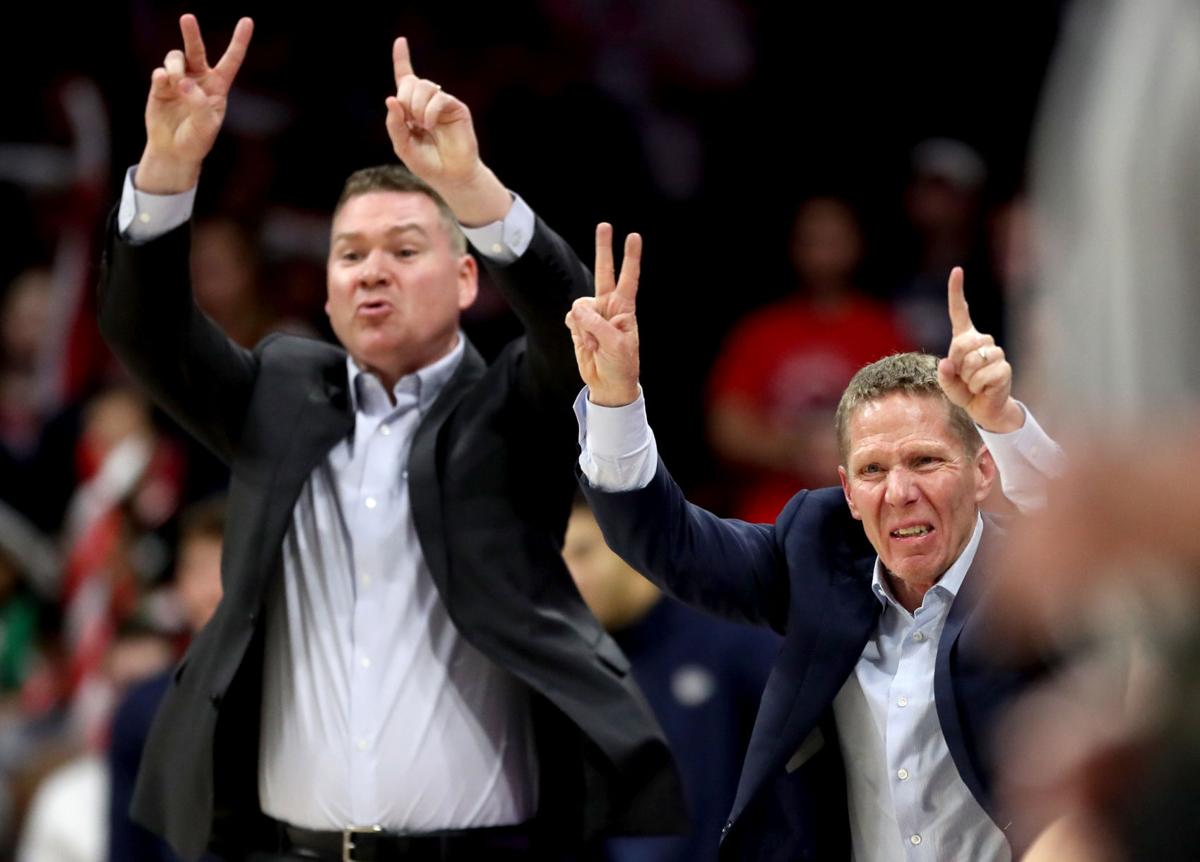 In order to lure Arkansas' Eric Musselman or Georgia Tech's Josh Pastner away from negotiations to extend their current contracts, Arizona would likely have had to pay more than the $2.5 million school-provided package that Sean Miller received.
Maybe significantly more.
But for the two candidates receiving the most attention during UA's hiring process, Gonzaga assistant coach Tommy Lloyd and Pacific head coach Damon Stoudamire, a $2.5 million salary would represent a significant boost.
According to tax filings for the period covering the 2018-19 season, the latest ones accessible via the Pro Publica database, Lloyd was paid a total of $984,636. Stoudamire earned a total of $546,123 during that same period.
Lloyd's total included $935,996 in reportable compensation from the university plus another $48,640 in "other compensation from the organization and related organizations."
Stoudamire's total included $525,404 in base compensation plus a bonus of $17,500 and "other reportable compensation" of $3,219. He was also listed as having received $56,755 worth of benefits and retirement contributions.
Stoudamire may have earned more after he was named the West Coast Conference Coach of the Year in 2019-20, but more recent IRS 990 forms for tax-exempt organizations are not yet available.
While Lloyd's salary easily makes him one of the highest-paid assistants in college basketball — and better paid than most non-power-conference head coaches — Arizona still would be doubling his salary if they paid him at the same rate that Miller made.
That isn't the case with Pastner or Musselman, who drew interest just as they are both in the process of negotiating contract extensions with their current schools.
Musselman reportedly agreed to a new deal with Arkansas late Monday, following through on his athletic director's promise from last month.
"I anticipate that Eric will have a brand new contract and that we won't be relying on his current contract moving forward whenever we have an opportunity to sit down and talk about it," Arkansas AD Hunter Yurachek told the Arkansas Democrat-Gazette in late March. "And I anticipate that Eric won't be the 13th highest-paid coach in the SEC under his new agreement."
Pastner has been working off a six-year deal that is set to expire in 2022-23. He made $2.0 million last season and is scheduled to make $2.2 million next season and $2.4 million in 2022-23.
The Atlanta Journal-Constitution reported last week that Georgia Tech has been working with Pastner on an extension, after the Yellow Jackets won the ACC Tournament last season to reach their first NCAA Tournament appearance in Pastner's five seasons as head coach.
Batcho enters portal
French forward Daniel Batcho entered the transfer portal without playing a single game for the Wildcats.
Part of Arizona's European recruiting wave last spring, Batcho had what appeared to be a frustrating freshman season, undergoing preseason surgery for a knee injury and then rehabilitating into January.
Batcho also steered clear of the Wildcats completely for two weeks in late January and early February. Then-UA coach Sean Miller said Batcho had an illness that resulted in him isolating from the team, although he said it "had nothing to do" with COVID protocols.
Batcho was not present on the bench for four games over that period and missed all related practices.
Batcho returned to practice on Feb. 8, and could have played over the final month without burning a redshirt season because the NCAA did not count last season toward eligibility clocks. But during a news conference on Feb. 9, Miller said he would not play regardless.
"He's just missed too much time," Miller said then. "He doesn't know our plays. He just hasn't been in practice long enough."
For that reason, Batcho's was iffy to return under Miller. But only five days after Miller was fired, Batcho decided not to wait to find out who the new coach will be, either.
An advisor of Batcho's said he would transfer to another U.S. college instead of returning home to Europe to play professionally.
Baker picks Fresno State
After entering the transfer portal last month, guard Jemarl Baker posted that he will play for Fresno State next season.
The move could put Baker in a more featured point guard role.
Depending on what happens under a new coach, the Wildcats could return both James Akinjo and Kerr Kriisa for next season, keeping Baker mostly off the ball as he was last season before he broke his wrist in a game on Jan. 9 against UCLA.
A Southern California native who once committed to Cal, Baker arrived at Arizona as a sophomore transfer from Kentucky in 2019.
He played both point guard and shooting guard off the bench behind Nico Mannion and Josh Green in 2019-20, then moved off the ball this season when Akinjo and Terrell Brown took over the point.
Baker played a big role offensively before his injury. He averaged 12.0 points while shooting 34.0% from 3-point range, where he exploded against both NAU and Stanford.
Against NAU at McKale Center on Dec. 7, Baker scored 33 points while hitting 7 of 9 3-pointers and he had 29 while hitting 8 of 13 from long range against Stanford on Dec. 19 in Santa Cruz, California.