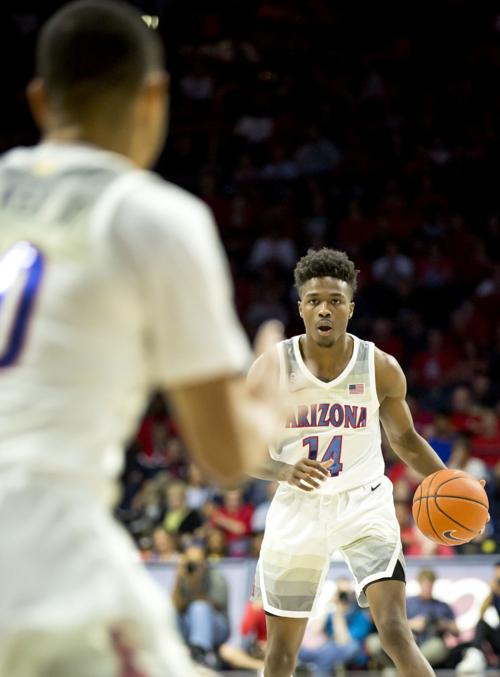 Devonaire Doutrive's on-again, off-again Arizona Wildcat basketball career came to another halt Friday, this time for good.
UA coach Sean Miller announced he dismissed the sophomore guard for an unspecified violation of team rules, just eight days after Doutrive was reinstated from a suspension for Arizona's Nov. 1 exhibition game and its first two regular-season games. A UA spokesman declined to say if Doutrive was suspended for a repeated violation, or if it was a different violation this time.
Miller said Doutrive would continue to receive support and financial aid through the end of the fall semester next month, after which Doutrive will likely transfer.
"We wish him well in the next steps of his academic and athletic career," Miller said in the UA's statement.
Doutrive was not available for comment, and a message sent to his guardian was not returned. It's possible multiple factors led to Doutrive's dismissal.
In his final game on Thursday against South Dakota State, Doutrive went 1 for 6 from the field, and Miller said afterward that players who weren't shooting well would either "shoot less, or play less" — especially since forward Zeke Nnaji is leading Division I in shooting percentage at 84.1.
Miller vowed after Thursday's game that the issue would "be corrected first thing tomorrow," suggesting a workout or meetings might be quickly held. Miller's statement about Doutrive's dismissal was emailed to media at 1:23 p.m. Friday.
That put an end to Doutrive's curious stay with the Wildcats.
The springy 6-foot-5-inch wing from Dallas via Los Angeles was the first recruit to commit to the Wildcats in the spring of 2018. That was a desperate time for the UA, which then had only six players on its roster and had yet to persuade decommitted guard Brandon Williams into rejoining the 2018 recruiting class.
Doutrive showed flashes of athleticism, confidence and offensive rebounding as a UA freshman. But he played in only 26 of 32 games last season, and his opportunities were looking similarly limited for his sophomore season as of late last spring, when the UA was over the scholarship limit of 13 players.
On May 27, Doutrive's guardian, Laurian Watkins, announced that Doutrive would transfer, telling the Star that Doutrive was "looking for a spot that's more suitable for him going forward."
But over the next month, UA signee Terry Armstrong decided to play pro ball in Australia and backup guard Alex Barcello transferred to BYU. Just hours after Barcello made his move on June 24, Doutrive announced he was coming back.
"Sorry for the confusion everyone but I'm staying at the University of Arizona," Doutrive tweeted.
Doutrive reported to the Wildcats in July and won the team's gold practice jersey twice for being the team's most productive player. He appeared to have gained the inside track to start opposite Josh Green on the wing.
During the UA's Sept. 27 Red Blue Game, Doutrive won the pregame dunk contest and then showed off his improved all-around game, scoring 14 points and grabbing six rebounds while playing both on and off the ball.
"I was just going out there and doing what I have to do," Doutrive said. "I came out more comfortable playing the offense, more so than last year."
Miller said after the Red Blue Game that Doutrive was "almost like a young boy finding his way" from high school to college.
"He's grown up a lot," Miller said. "He's bigger, stronger. What I like about him is he can help us in a lot of ways."
After suspending Doutrive before the UA's Nov. 1 exhibition game with Chico State, Miller even referred to him as a "starter" that the Wildcats were missing in that game. Doutrive also missed the UA's games against against NAU and Illinois, and never fully regained his status despite finally debuting with 12 points and five rebounds over 16 minutes against San Jose State on Nov. 14.
"I think it's obvious that he's a much better player than he was a year ago," Miller said after that game. "And that's to his credit. It will take a little bit of time for us to insert him."
Miller also said the UA's starting lineup was "pretty set" at that point, with senior Dylan Smith starting in the shooting guard spot Doutrive had been vying for.
Doutrive's potential impact was also significantly reduced when sophomore combo guard Jemarl Baker learned just before the Chico State exhibition that he won his appeal to play right away this season after his transfer from Kentucky. Baker is averaging 8.2 points per game, and has dished 15 assists with only one turnover. He's averaging 15.2 minutes over both guard spots.
Over his three games this season, Doutrive averaged 6.3 points in 17.1 average minutes.
The dismissal of Doutrive is the Wildcats' first since December 2012, when Miller announced forward Sidiki Johnson was off the team. Guard Josiah Turner left the program later that season after multiple suspensions.