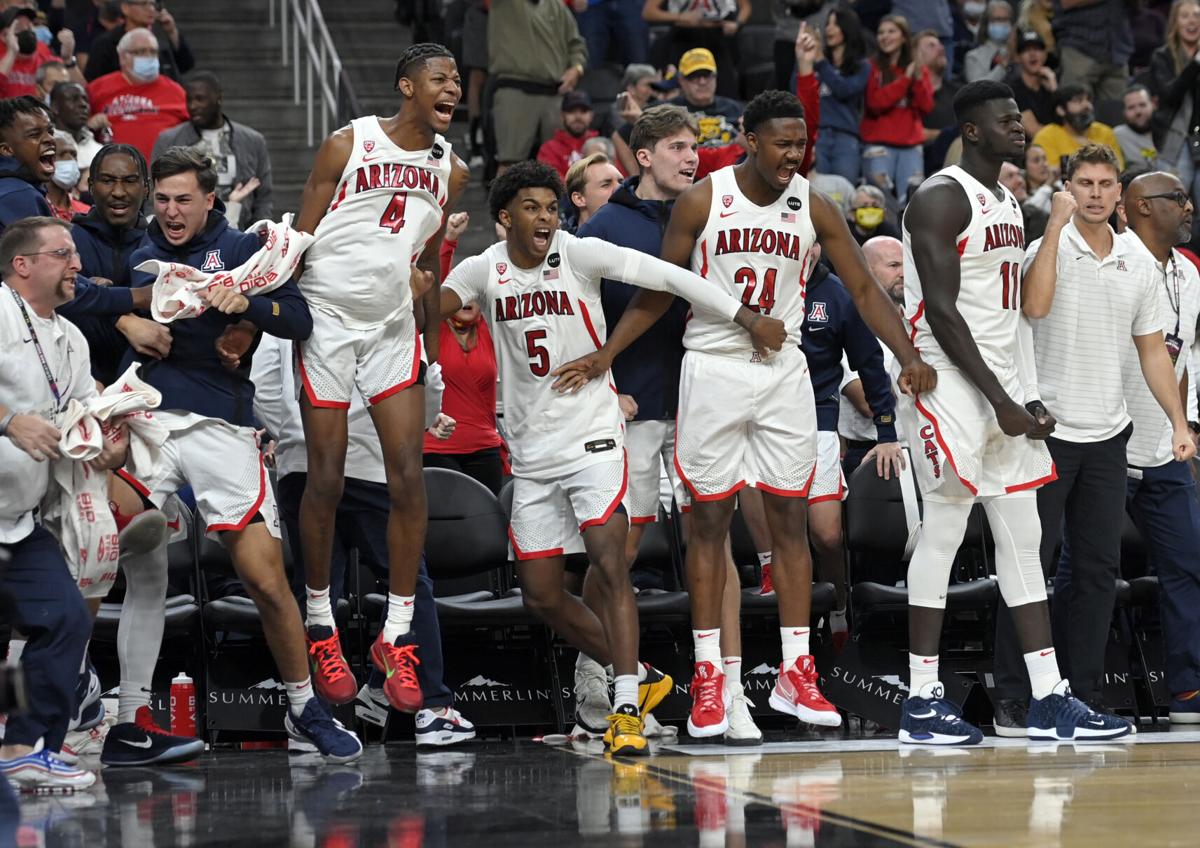 LAS VEGAS — For the first time this season, the Arizona Wildcats will be playing the sort of game that every college basketball player wants to play.
A date with No. 4 Michigan at the top sports arena on the Las Vegas Strip, and in front of their first ESPN audience of the season.
Sunday night's game is a chance to smash into the Top 25 and impress the nation with a victory. It's also the championship of the four-team Main Event bracket, for what that's worth.
"I can't tell you what the staff or the guys think, but what I'm thinking is there's a trophy," said UA assistant coach Ricky Fois, who scouted the Wolverines. "We're playing for a trophy and when you play for a trophy, you play to win. That's what Arizona is about."
He's not the only one around the program thinking that way. Arizona tweeted out a trophy emoji while promoting the game Saturday afternoon.
But there's also this: It's still only November, not even Thanksgiving yet. The college basketball season still has nearly four full months before the NCAA Tournament. So while a big win now might potentially bump a team up one seed line down the road, that's not always the first thought on most coaches' minds.
Arguably, for coaches, the video review that comes out of the game is more important. That's the teaching tool that can lead to more important wins down the road.
So, in a sense, it could be a win either way for the Wildcats.
"I think it's gonna be awesome," UA coach Tommy Lloyd said late Friday, after UA beat Wichita State 82-78 in overtime to reach the championship of the two-game bracket. "Whoever we play, we've got a great opportunity to play a great program and we're really looking forward to that.
"Then next week, we have a little time to digest these games and really learn from them as a team, individually and as coaches: 'How do we want to play different in some situational basketball? What are the things we did right? What are the things we did wrong?' And just kind of have an open and honest critique of ourselves."
By blowing a 16-point second-half lead and then returning to beat Wichita State on Friday by holding the Shockers scoreless for the first 3½ minutes of overtime, the Wildcats already learned a few things. Like what can happen when they lose their way offensively and let up a little bit defensively.
The same pass-happy, efficient offensive team for most of the first half that Arizona had been over its first the games, the Wildcats took a 40-33 halftime lead. But then they missed their first 14 3-pointers of the second half while Wichita State went on a 16-2 run to cut the Wildcats' lead to just a point, 56-55.
"We lost the flow of our offense a little bit, there's no doubt about it," Lloyd said. "I don't know if we got tired, or their pressure was kind of amped up but a few of the things they were doing kind of slowed us down.
"But that's part of it. It's just about gaining game experience and playing together."
Among other things about his learning experience Friday, Lloyd somewhat second-guessed himself for not taking an earlier timeout during the second-half slide.
The Shockers rattled off 13 straight points without Lloyd calling a single timeout. Only after Wichita State made it a 16-2 run to pull within two points of the Wildcats did Lloyd call his first timeout of the half.
"I felt like we were a little bit out of control and they kind of came storming back — and whether I should call the timeout earlier …" Lloyd said. "I was trying to save some for the end in case they did make the run and I trusted these guys. And we've got to play through some tough situations."
Lloyd said he also learned to go more often to forward Azuolas Tubelis against smaller lineups, after seeing the way Tubelis eased inside for a layup late in regulation, then picked up a foul and converted the and-one to give the Wildcats a 69-66 lead with 24 seconds left.
At the same time, Lloyd indicated he also learned that sometimes trusting his point guard isn't bad idea. The coach actually called for a similar play with 1:26 left in regulation that failed … but Kerr Kriisa convinced Lloyd to stick with it.
"I give Kerr a lot of credit," Lloyd said. "We ran one play to Zu — I called it and he traveled. Kerr came back at me and said, 'Run the same play.'" He was like, 'You won't make a mistake.' He had a good reason why and I won't disclose that, but we ran it" — and it worked.
Wichita State's Tyson Etienne hit a 3-pointer with 10 seconds left that sent the game into overtime, but Tubelis was featured again in overtime. He drew a foul inside in overtime, hitting 1 of 2 free throws, while the Wildcats hung on at the end of overtime to win it.
"We kind of went to the same play at the start of overtime and that worked a couple of times," Lloyd said. "We just found our rhythm a little bit offensively. In some of these games it's crazy chaotic and you want to move a lot. It gets a little tougher to move when they're knocking things down and disrupting the timing of your offense. So sometimes you have to kind of slow down and play chess and isolate a guy and get him in the post."
Center Christian Koloko, who led the Wildcats with 13 points, 11 rebounds and four blocks, said he was proud to see his teammates stay poised in the face of adversity.
"We knew it was gonna be a tough game and we were ready for it," Koloko said.
The Wildcats are expected to find it even harder to move Sunday against a deep, experienced and athletic team that has one of the nation's premier big men, Hunter Dickinson, available to make Tubelis and Koloko think twice about whatever they do in the post.
But that also makes Michigan exactly the sort of opponent Arizona is looking to play. Win or lose.
"They have size, hey have athleticism, they have shooting," Fois said of Michigan. "They run really good stuff on offense and they've been one of the best defensive teams in college basketball that three years that (coach) Juwan Howard has been there.
"So it's certainly a big challenge. It's the kind of challenge that we enjoy."
Contact sports reporter Bruce Pascoe at 573-4146 or bpascoe@tucson.com. On Twitter @brucepascoe