SAN FRANCISCO — In her third season as Arizona's head coach, Adia Barnes boasts a strong freshman class headed by a McDonald's All-American. Barnes gets to unleash three talented transfers and returns players from the Pac-12's all-freshman team.
Despite all that, the Wildcats were picked in the conference's annual preseason coaches poll to finish 10th this season. That's how brutally competitive the Pac-12 is.
"She really added some new talent, some really good freshmen and transfers," said former UA coach Joan Bonvicini, now a Tucson-based television analyst. "I do think they'll be better, no question. But I also think the Pac-12 is really tough."
Like, so tough that it is littered with national title contenders. Oregon returns four starters that include Pac-12 Player of the Year Sabrina Ionescu, while Oregon State has four starters back from an Elite Eight team and Stanford has an even dozen back from its 11th straight Sweet 16 team.
Yes, 12 players return. So even while coaches picked Oregon to finish first, Stanford was right there in second, at least for now.
"I can turn that into a good thing," longtime Stanford coach Tara VanDerveer said. "It's all good."
Near the other end of the poll, Barnes had the same attitude. The Wildcats were ahead of only Washington State and Washington, but Barnes said that didn't bother her at all.
In fact, she welcomed it. And she's used to it. Not only did Barnes arrive at Arizona as a relatively low-profile post player out of San Diego back in 1994, wishing that SoCal powers UCLA and USC had seriously recruited her, but she also knew there were whispers when she returned to the UA as head coach in 2016.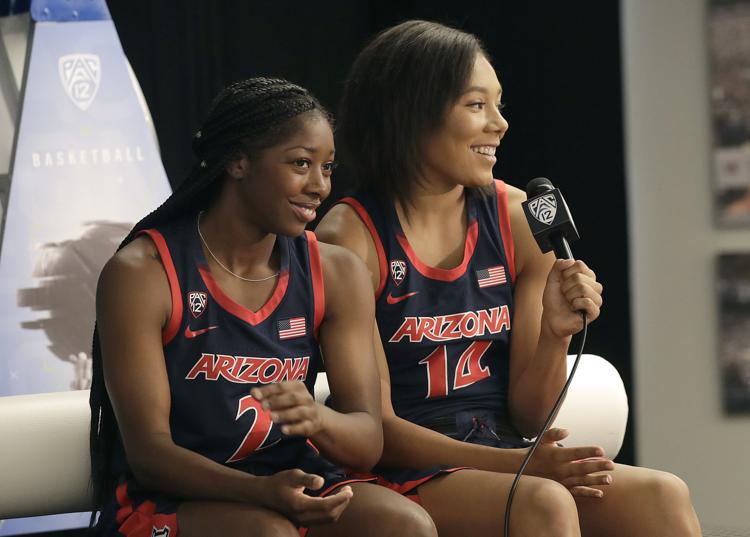 Then she went out and upgraded the UA roster no matter what anyone said.
"When I took the job, everybody said, 'Oh, you can't recruit at Arizona; it's really hard,'" Barnes said. "We did it. So for me, I like throwing other people off. It keeps me motivated. I'm hungry."
So are her players, including sophomore guard Aarion McDonald, who followed Barnes to Arizona from Washington, where Barnes was an assistant coach and McDonald spent her freshman year in 2016-17.
"Our expectations are really high," McDonald said. "We definitely want to improve on last year."
Barnes said McDonald knows about the culture of winning, having played as a freshman on a Sweet 16 team at Washington with Kelsey Plum, the league's player of the year and eventual No. 1 WNBA draft pick.
Freshman Cate Reese, a McDonald's All-American last season, brings in a hard-nosed attitude of her own. Barnes said she saw that not only in practice when Reese dove for balls when some teammates were barely bending, but also when the two had a certain conversation off the floor.
"Her goal is to beat all my records," Barnes said of Reese. "I'm like, 'I'm sure you will. I want you to beat all my records.' That's the type of kid she is and I love that."
Last season, Barnes saw good signs for the future, too.
Forward Sam Thomas bolted onto the Pac-12 all-freshman team, while Barnes watched McDonald and fellow transfers Tee Tee Starks (Iowa State) and Dominique McBryde (Purdue), play well when competing in practice while being required to sit out the season.
"I got to see Aarion, Tee Tee and Dominique play and just kick the butts of the team and I was like, 'If you could only play,'" Barnes said. "So that was kind of hard. But I'm just excited because they all grew in the year they were out."
Collectively, they all represented change.
"Definitely. That's why we came here," Thomas said. "We're just taking it one step at a time. It's awesome."
For now, though, Barnes said she figured the Wildcats would probably be picked to finish somewhere around ninth or 10th place. Maybe the UA wins most of its nonconference games and settles somewhere around the .500 mark overall.
"The realistic goal is to shoot for the top half," Barnes said. "We have the potential to do better than where we're placed. I don't mind being the one people overlook."