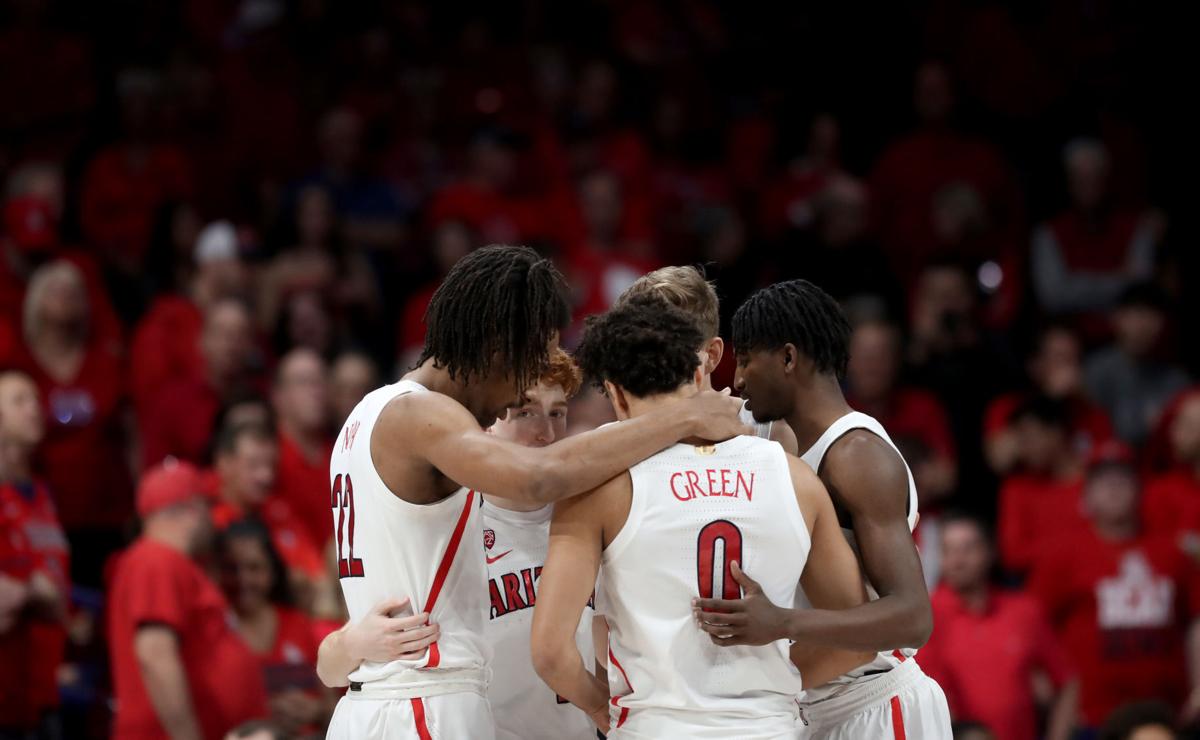 After hosting NAU to open the season on Nov. 25, Arizona is expected to play Grambling and Sam Houston State as part of a multiteam event at McKale Center over Thanksgiving weekend.
In what is likely to be called the "Southwest Classic," UA is expected to host Grambling on Nov. 27 and Sam Houston State on Nov. 29. Grand Canyon will host the same two teams in Phoenix that weekend.
Stadium reported Wednesday that Grambling and Sam Houston State would play both UA and GCU. Ryan Reynolds, Arizona's director of basketball operations, declined to comment since UA's multi-team event games have not been finalized.
The expected moves all but finish up UA's nonconference schedule, which features only mid- and low-major opponents. The Wildcats will mix in two upper-division Pac-12 teams in December due to the conference's expansion to 20 games this season: Colorado (Dec. 2 at McKale) and Stanford (Dec. 19 at Palo Alto, California).
UA's other nonconference games include Cal State Bakersfield (Dec. 9), Cal Baptist (Dec. 16) and Montana (Dec. 22). The NAU game, the first of a three-year deal in which the Lumberjacks are to open UA's schedule annually, was initially scheduled for Nov. 10 before the NCAA pushed back the season until Nov. 25.
Northern Colorado, originally scheduled to play Arizona at McKale Center on Nov. 12, is likely to appear instead around one of the open dates created when the UA postponed games at Gonzaga (Dec. 5) and Illinois (Dec. 12). The other date could be kept open, allowing for potential make-up games.
The Pac-12 has said fans will not be allowed at campus sites until at least January.
Basketball players get extra year, NCAA says
The NCAA's Division I Council approved an extra year of eligibility for winter sports athletes competing in 2020-21, meaning UA seniors Ira Lee and Terrell Brown can return next season if they want to.
The NCAA did not clarify if players returning for an extra year would count against the 13-player scholarship limit, but Stadium quoted a source saying they will not if they have exhausted their normal eligibility.
While most UA players do not stay for four seasons, the ruling could have an impact on the Wildcats if longer-term developmental players opt for a fifth year in the seasons ahead.
"The pandemic will continue to impact winter sport seasons in ways we can't predict," said Penn AD M. Grace Calhoun, chair of the Division I council. "Council members opted to provide for winter sport student-athletes the same flexibility given spring and fall sports previously."
NCAA closer to NIL, transfer rule changes
The NCAA moved closer to allowing athletes to profit from their name, image and likeness while also setting the stage for allowing players to transfer once without having to sit out.
If adopted in January, the new NIL legislation would allow athletes to be paid for camps, clinics or private lessons, as well as for autographs and personal appearances. They would also be able to use crowdsourcing to fundraise for nonprofits, catastrophic events and family hardships as well as any educational expenses not covered by full cost-of-attendance scholarships.
The proposal would allow athletes to seek professional advice or representation for NIL purposes but schools would be prohibited from being involved in the promotion of an athlete's business activity unless it was done as part of a student's coursework or academic program — and from arranging or securing endorsements for athletes.
Meanwhile, in another proposal to be voted on in January, all Division I athletes would be allowed to transfer once without penalty starting in 2021-22. As of now, basketball, football baseball and men's ice hockey transfers have to sit out a year at their new school unless they are granted a waiver to play right away.
UA has been successful getting waivers lately: Guard Jemarl Baker was allowed to play last season after transferring from Kentucky, where a knee injury limited his career, while Georgetown transfer James Akinjo was allowed to play immediately this season despite transferring from the Hoyas in December.
The Division I council also supported expanding both the men's and women's basketball committees from 10 to 12 members, a proposal that could be adopted in January.
Las Vegas to host tournament games
Las Vegas will hold its first-ever NCAA Tournament event in 2022-23, when the West Regional games will be held at T-Mobile Arena.
The NCAA released cities hosting the first two weekends of NCAA men's games from 2022-23 to 2025-26, with Los Angeles (2023-24), San Francisco (2024-25) and San Jose (2025-26) being awarded future West regional sites.
Of the West's first-weekend sites, Sacramento and Denver will host in 2022-23, Salt Lake City and Spokane will host in 2023-24, Seattle and Denver will host in 2024-25 and Portland and San Diego will host in 2025-26.
Arizona used to host first-weekend NCAA Tournament games at McKale Center, but no longer bids to host them. Schools that host games are not allowed to play in them.
Full speed ahead
The Wildcats were scheduled to play five-on-five for the first time on Wednesday, when they held their first practice of the season.
Arizona players were heavily restricted in their workouts until the arrival of daily antigen testing technology late last month, after which they were allowed to have contact drills in practice.
Players have often been tested in mornings. Practices are closed.
Be the first to know
Get local news delivered to your inbox!