The dreams started swirling in Brandon Williams' head about six years ago, and they wouldn't go away.
In 2012-13, when Williams was in seventh grade, Arizona was two years removed from an Elite Eight appearance and had started stockpiling perennial top-five recruiting classes. Williams said he remembered the Wildcats recruiting a fellow Southern Californian named Stanley Johnson, and how cool he thought that was.
"I really looked up to him back in L.A.," Williams said. "That was big."
Johnson signed up to play for Arizona at the beginning of his senior season at Mater Dei High School, helped the Wildcats reach the Elite Eight in 2014-15 and became the eighth pick in the 2015 NBA draft.
That's the kind of path all elite recruits aim for.
Williams wanted in. He was a freshman in 2014-15, blowing up into a five-star prospect as a sophomore, and the Wildcats invited him to follow Johnson's lead, too. Arizona, UCLA and Kansas were among those offering Williams scholarships before he was a high school junior.
But when Williams' career appeared threatened during his junior season, the Wildcats stuck with him. Williams had a congenital issue with his right knee that the Los Angeles Daily News identified as osteochondritis dissecans, in which bone underneath the cartilage of a joint dies due to lack of blood flow.
Williams sat out the first half of his junior season and, when the condition did not improve, had corrective surgery in January 2017. He wound up missing his entire junior season, the critical summer before his senior season, and was limited early as a high school senior.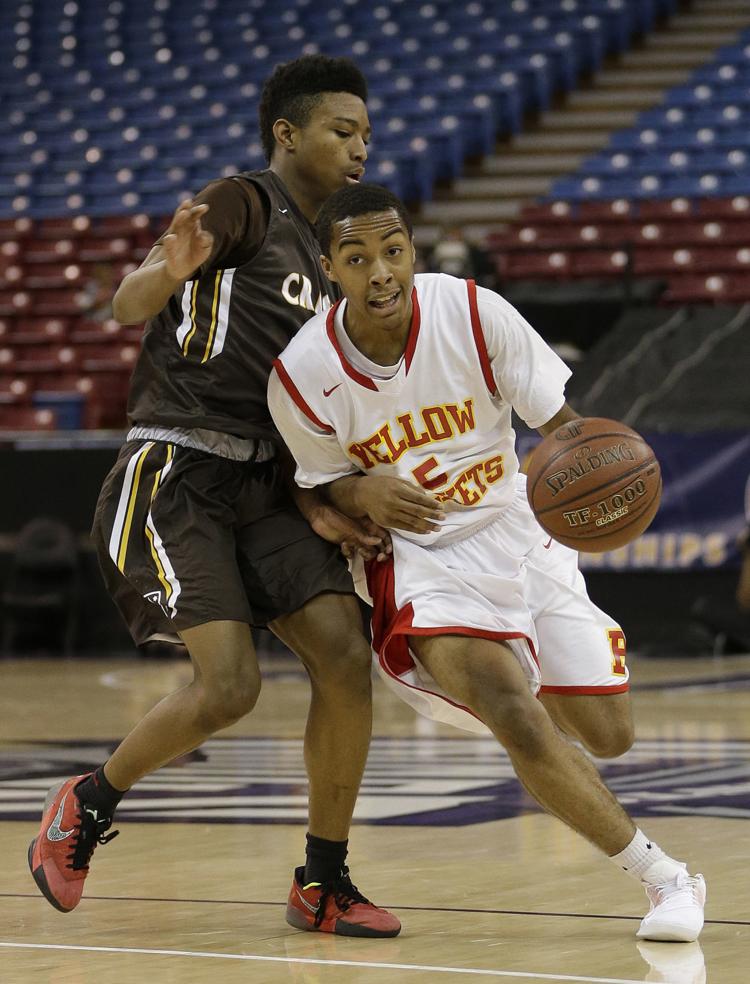 As a result, Williams' recruiting stock fell, and he didn't make the McDonald's All American Game, either.
"I was kind of pissed my rating went from five stars to four," Williams said.
But Arizona kept treating him as a high priority. That strengthened Williams' feeling, so much so that he didn't even need to wait until his senior season to say yes.
On June 7, 2017, he posted a note on Twitter: "Dear University of Arizona: I'm your point guard."
It wasn't long before Williams' tight bond with the Wildcats would be tested again. Arizona was named in the federal investigation into college basketball in September 2017, and five-star commit Jahvon Quinerly decommitted four weeks later.
Williams signed non-binding scholarship papers with Arizona during the November signing period, allowing the Wildcats to announce his addition while giving him an "out" in case things turned worse.
In late February, it appeared they might. Miller left the team for five days while UA officials questioned him about an ESPN report that said he discussed a pay-for-play scheme, and Shareef O'Neal decommitted.
Williams decommitted, too. He took official visits to Oregon and Gonzaga and thought about whether he really did want to follow that dream to Arizona, after all.
His family weighed in. The good, the bad, the feeling in his heart.
"Of course, I leaned on my family. Family is everything for me," Williams said. "There's gonna be some arguments, but I gotta do what's best for me and my family, and at the end of the day I just chose what I seem to be happy, and that was to be here and to get pushed every day in a competitive environment."
When he finally was being pushed, when Arizona opened full practices Sunday, that's when the dream ended.
"At practice (Sunday) that was it right there," Williams said. "That showed me everything.
"It's been surreal, just being here. Just off the court what it's like with classes and stuff that's big. Everything on the court has been surreal, having Coach Miller teach me every day about being a point guard because he was one himself so just the little things coming off the screens and being a vocal leader, that's big with me."
It could get even better for Williams, who has a wide-open opportunity as a freshman. He is expected to not only become one of the Wildcats' primary point guards but also one of its top scorers, a versatile, strong 6-foot-2-inch, 190-pound combination guard.
"Brandon is a talented young player," Miller said. "We were always going to play him in more than one position and that's still the case. He can play the one, he can play the two and he can be a part of three guards" on the court at once.
Miller noted that his 33-win team in 2013-14 had some of its best moments with guards T.J. McConnell, Gabe York and Nick Johnson all on the floor at the same time.
He said the Wildcats could go with a similar look this season, with Williams possibly joining the 5-10 Justin Coleman and 6-6 wing Brandon Randolph, while 6-2 sophomore Alex Barcello or 6-5 junior Dylan Smith or possibly even 6-5 freshman Devonaire Doutrive could also mix in.
"Looking back at that season … when it was the moment of truth late in games, deep into the season, those three guys were on the court a lot together," Miller said, "and that's the kind of route we're moving toward not only this year but beyond. I think Brandon is the type of player who can really thrive in that system."
Miller said Coleman will play point guard whenever he's on the floor; Williams can play either guard position. Even though the Wildcats just started full practices Sunday, Coleman already sees the upside with that plan.
"Man, he can score the ball with the best," Coleman said of Williams. "He might be a better scorer than Allonzo Trier, and everybody knows how Allonzo averaged (nearly) 20 last year, so he has a lot of upside. When we play together, he creates for me, and I create for him. We kinda work off each other so it's been pretty good."
Before he's done with the Wildcats, Williams could even have the sort of career that will make that four-star rating look silly. After all, Williams said he got over the slight of his downgraded rating by looking at the case of Paul George, a three-star high school player who became a five-time NBA all-star.
Meanwhile, Williams won't be treated like a four-star player. He's in Tucson, after all, where a five-star treatment is the norm for players.
"Definitely," Williams said. "Ever since I got here, you can't really go anywhere (without being recognized). They're respectful of your privacy, and I respect that, but it's pretty big. Makes you feel like a celebrity."