The Utah Utes play their home games in front of the second-largest fan base in the Pac-12, with jeering students virtually hovering over the court, and at a 4,900-foot altitude that can crush an opponent's breath.
Yet, this Friday between his team's games with Arizona and ASU, Utes coach Larry Krystkowiak plans to check his team into a hotel. While it's not unusual for a high-major team to do so before home games, the Utes are clearly trying to replicate something they can't find at home.
"I just know the mentality when we get on the road, (players) spend a lot of time together," Krystkowiak said this week. "We sleep well. … I don't think we've got guys making bad decisions at home. Maybe it's not just specific to us. It's a little something to us in the air right now, that teams know they've got to go out and compete on the road."
It's not just them. Nor is it Arizona, which has lost three of its past four home games in front of the biggest crowds in the conference. The Utes' baffling ability to win on the road (5-1) but lose at home (2-3) in conference play is something the rest of the Pac-12 has experienced at nearly a record-breaking pace this season.
Pac-12 teams collectively are 30-36 on the road in league play, a 45.4 percent mark that is on pace to become the highest road winning percentage since the league expanded to 12 teams in 2011-12. It also isn't far below the all-time best road mark of 46.6 percent (42-48) that the league collectively had in 2007-08.
Moreover, through six of 10 weeks in league play, there have already been eight road sweeps in conference play, two shy of the record of 10 set in 2016-17. Arizona swept Stanford and Cal last month, while Utah swept both California trips.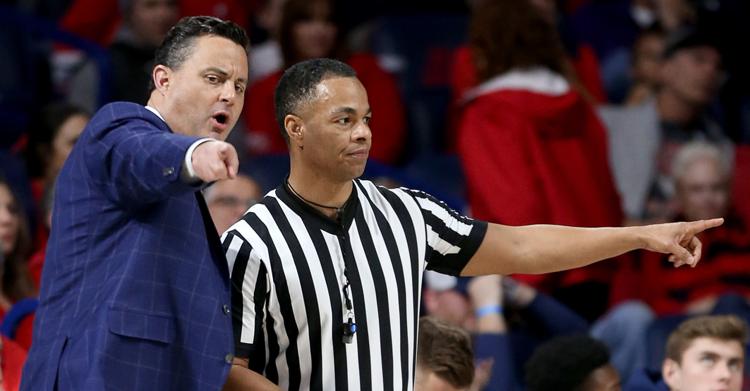 The Utes lost at home to Washington on Jan. 10, and to Oregon and Oregon State just before making the trip to Los Angeles last weekend.
"I don't really have an answer for the rest of the teams in our league," UA coach Sean Miller said of the Pac-12's collective home woes. "I think Oregon and Oregon State are both good teams. And maybe Utah didn't play as well (against them), but what they did is what everybody wants to do and that's bounce back. They went to arguably the hardest trip in our conference and they swept the L.A. schools, which says a lot.
"I'm sure they're going to bounce back at home and return to Salt Lake with a lot of confidence."
They may need more than confidence, though. The last time the Utes were at home, Oregon and Oregon State pulled out victories, and the Beavers combined their 76-74 win at Salt Lake on Jan. 31 with an 81-72 win at Colorado on Feb. 2 for a rare Beavers road sweep.
"We've got to compete with more urgency at home," Krystkowiak said.
Things are just as weird at Colorado, despite students sitting adjacent to the opposing bench and a mile-high altitude that has had Miller even adjust his substitution patterns in an effort to ward off fatigue.
The Buffs just swept UCLA and USC in Los Angeles last weekend for only their second road sweep ever since joining the conference … but were just 2-2 in Pac-12 home games entering their game with ASU on Wednesday, having lost to Washington and Oregon State at its CU Events Center.
As Colorado found, part of the Pac-12's lack of home-court dominance might be a lack of fans. Neither UCLA (7,925) nor USC (3,133) are drawing big crowds this season, and when the Trojans attracted 3,974 fans against Colorado, many of them were rooting for the Buffs.
CU coach Tad Boyle said friends and family of Southern California-born forward Evan Battey were part of the support, but said other parents, administrators and alumni were on hand.
"I saw the Buff contingent and you heard them during the game," Boyle told Buffzone.com. "There's 23,000 Colorado alumni in the state of California, so it was a big game for us. It was a big game for our university, as UCLA was."
Arizona had a similar experience during its sweep at Stanford and Cal, where the modest four-figure crowds featured roughly 1,000 UA fans, thanks to a small traveling party from Tucson and the Wildcats' large Bay Area alumni base.
Being just 3-3 at home in Pac-12 play, with losses to Oregon, Washington and Washington State at McKale Center, maybe the Wildcats don't have much to lose on the road this weekend.
They'll get to check into hotels, too — because they have to.
"For us, it might be good," Miller said. "We'll get a chance to be together, kind of alone, and get a chance to work on what we need to work on to continue to improve."