Because the Arizona Wildcats scheduled only a Saturday home game with Baylor this week, guard Brandon Williams and his teammates have a little extra time to finish up finals, work on their games and just chill out.
"It helps us a lot," Williams said Wednesday. "We can rest and recover, and we're back at home Saturday, so that's going to be fun, knowing we don't have to go all the way to UConn or Alabama."
There's only one problem with all this extra time: It also allows them to keep stewing over that 76-73 loss at Alabama on Sunday.
And you can probably guess who's stewing the most.
"By far out of the 10 games we've played, that was our worst performance, if we just grade ourselves," UA coach Sean Miller said Wednesday at his weekly news conference. "We didn't have the wherewithal, the will, the energy, the discipline sometimes to be good enough on defense."
Miller expressed particular disappointment with transition defense in the first half and defensive rebounding in the second half.
In the final 5:13 of the Alabama game, the Wildcats did play efficient defense … through the first shot. They held Alabama to 1-for-7 field goal shooting over that span, but only managed one defensive rebound (from Ryan Luther) on those six misses.
Alabama then converted its five offensive rebounds into 10 points: a dunk, 3-pointer and 5 of 6 free throws.
"At the end of the game our defensive rebounding left us, when we really needed to get a stop or one or two key defensive rebounds," Miller said. "When you don't foul and get them to miss a shot but don't rebound, that's really what breaks your back."
Not surprisingly, then, Miller said he's using some of the extra time to work on both areas this week. Rebounding is a particular concern, since Baylor grabs its missed shots back 35.1 percent of the time, the 38th-best offensive rebounding percentage in Division I.
Miller said he was hoping to get more on the glass from sophomore forward Ira Lee, who is averaging just 13.9 minutes but leads the team in offensive rebounding percentage by collecting 9.5 percent of missed shots when he's on the floor. Lee averages 3.8 rebounds a game overall.
"He's somebody who is part of the solution to our rebounding," Miller said of Lee. "When we get outrebounded, it's harder for us to win, and when we rebound with equal or more, the chances of us winning really increase. The difference in the Alabama game with three rebounds was the difference in the game.
"We're emphasizing it, talking a lot about it and the same thing with our transition defense."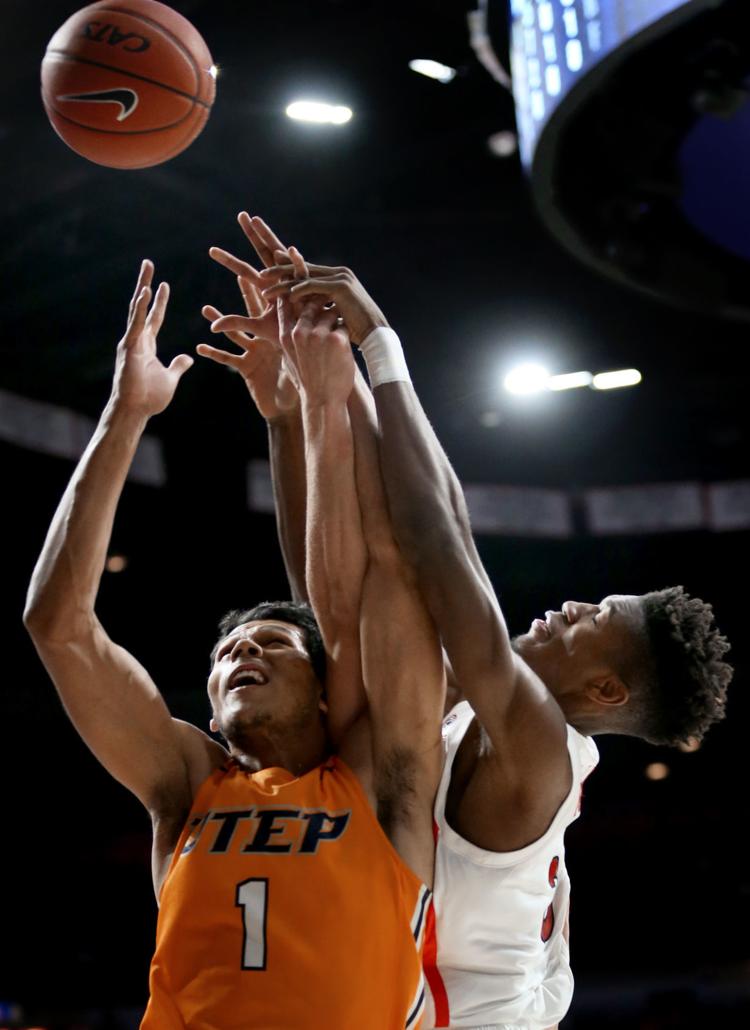 Allowing late second shots against Gonzaga and Auburn in the Maui Invitational also led to quick downward spirals for the Wildcats in those games, Miller noted.
Arizona trailed Auburn 28-22 at halftime, and just 50-48 with 10:14 left when the Tigers grabbed not one, but two offensive rebounds on one possession before finally making a two-pointer to go ahead by four. They kept expanding the lead, with Horace Spencer later converting an offensive rebound into a dunk that made it 60-51 and the Tigers wound up winning by 16.
A day earlier against Gonzaga, the Wildcats' late efforts on the glass were even more costly.
Arizona was trailing the Zags just 67-65 with 6:55 to go, but failed to rebound five of Gonzaga's misses from that point on – and the Zags turned them into 11 second-chance points, including four shots in the paint and a 3-pointer from Josh Perkins.
"We've watched it, we've talked about it, sometimes the best reminder is a loss," Miller said of the rebounding problem. "There's a lot to be learned about the Alabama game. Unfortunately, we took a loss in a game in which either team could have won."
Transition defense hasn't been as much of a consistent problem, Miller said, though it was glaringly noticeable against Alabama because of the Tide's personnel.
"It really left us for most of the game and playing against a team like Alabama that has multiple guys in transition, you kind of feed into what they're good at and that's what they did," Miller said. "The big burst in the first half when they opened the game up by as many as 19 points, that stemmed from a lot of baskets they got before the defense was set up."
Part of playing better transition defense, Miller added, is also playing more careful offensively.
"What ignites a lot of transition opportunities is poor play on offense, lack of execution, a turnover, a quick shot that's a bad shot," Miller said. "We had a few of those things happen which puts more pressure on your transition defense. And on the road, that's even more important because dumps and transition flurries ignite the homecourt crowd, and it starts to work against you."
For their next five games, though, the Wildcats will have their homecourt crowd behind them, starting Saturday against Baylor.
By then, they'll also be done with finals.
There's no doubt that's something both they and their coach will be happy about.
"It's a very difficult week with time management," Miller said. "We have to make sure each of our guys are sure of themselves, are taking care of things and have the time needed to be successful away from the court."