SAN FRANCISCO — For the past decade or so, you could argue that Pac-12 basketball has been best marketed in June.
That's when the conference's star freshmen regularly tend to populate the NBA Draft lottery: Arizona's Aaron Gordon (2014), Stanley Johnson (2015), Lauri Markkanen (2017) and Deandre Ayton (2018), plus UCLA's Zach LaVine in 2014, Washington's Marquese Chriss and Cal's Jaylen Brown in 2016 and, notably, the 1-2 punch of 2017, Washington's Markelle Fultz and UCLA's Lonzo Ball.
None of those players were ever on hand in October, when the Pac-12 and its television partners tried to drum up the most interest via preseason media day.
In fact, until Arizona's Nico Mannion and Josh Green showed up Tuesday, true freshmen hadn't appeared at the conference's preseason media day since 2007-08, when UCLA's Kevin Love and USC's O.J. Mayo showed up in an airport hotel ballroom during the event's more low-key days in Los Angeles. (Colorado's Evan Battey appeared as a redshirt freshman last season.)
Not that the conference hasn't tried. The Pac-12 annually asks each coach to bring players that the conference believes the Pac-12 Networks, ESPN and Fox would most like to interview and feature in promotions.
If the Pac-12 asks for freshmen, the answer is usually no. Coaches typically prefer to send older players — possibly to shield newcomers from even more attention, to keep them in class or to prevent jealously from upperclassmen who aren't invited.
UA coach Sean Miller expressed no such worries. Not only had the Wildcats already sent senior center Chase Jeter to last season's media day, but Miller says he's found Mannion and Green already pivotal to his current team. Both were keys to Arizona's highly rated recruiting class. Mannion was named to the conference's preseason first all-league team, while Green was a second-team pick.
"I think it's appropriate that they come," Miller said. "They both are going to be counted on heavily and made decisions to come to our school at a pivotal time.
"I think it's a great experience for them and really a sign of things to come because freshmen today aren't really freshmen. A lot of times they're counted on heavily, and really all of our freshmen will be counted on this year."
Besides, it was no big deal for Mannion and Green to be on this sort of stage anyway.
Mannion has already played for the Italian senior team, represented Italy in the Hoop Summit showcase, played in the McDonald's All-American Game and led Phoenix Pinnacle High School to back-to-back state championships.
Green, meanwhile, has long been known as one of Australia's top up-and-coming athletes, having played both basketball and Australian rules football before moving to Phoenix five years ago.
An Australian reporter shadowed Green for his Hoop Summit and McDonald's appearances. Green played with Ayton at Phoenix Hillcrest Prep in 2016-17, then helped another high-profile high school program, Florida's IMG Academy, to the Geico national championships.
These are guys that, even before they have played a game for the Wildcats, can't even get out of Tucson Mall without appearing in somebody's selfie.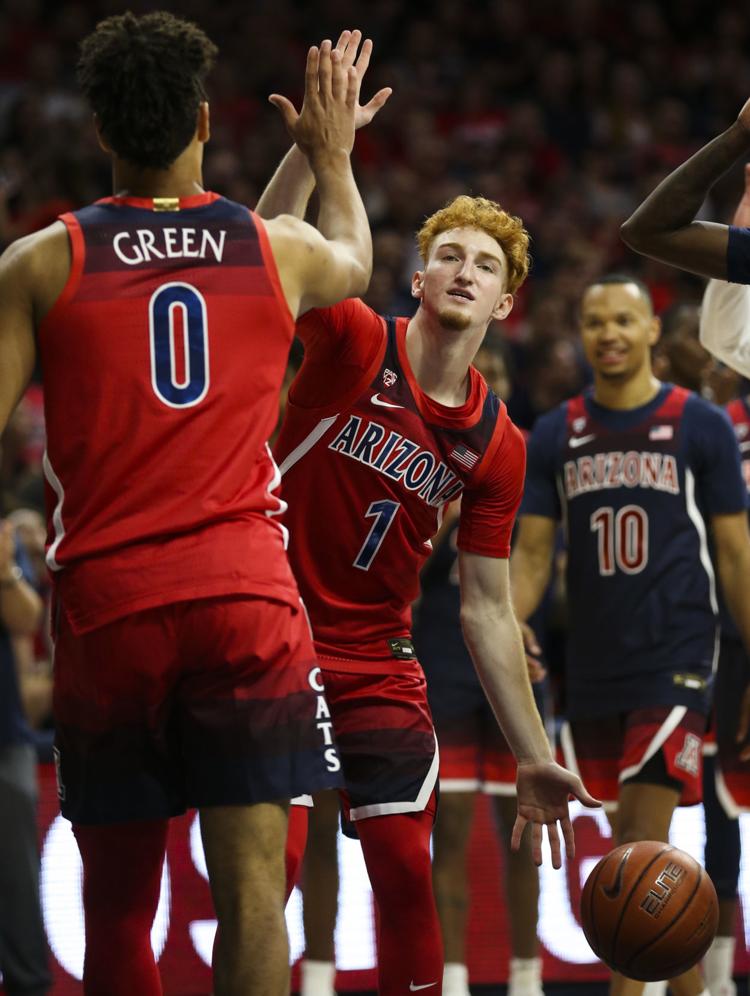 "We know we have eyes on us," Mannion said. "We just try to be good kids. Take time out of our day to take pictures with kids and families or whatever it is and try to make their day."
The same goes for Green, even though he says he's naturally a quieter sort who prefers to keep to himself.
"Having the spotlight on you, there's a lot of ups and downs," Green said. "But I'm grateful for the situation I'm in. It's cool to go out sometime, just to go out in general and people recognize you, people scream your name. It's a surreal feeling.
"Sometimes you just want to lay low, but at the same time, I'm grateful for the everything in life, and I wouldn't take it back for anything."
Mannion and Green said they took Tuesday's media day as an opportunity to have some fun. As club-ball teammates for three years, the two took road trips for a games and grueling tournaments.
On Tuesday, they flew into San Francisco, talked hoops, went on TV, enjoyed lunch on a rooftop on a sunny 70-degree day and even played some pop-a-shot basketball.
"For once, we get to travel and we don't have to play," Green said. "We just get to enjoy ourselves and have fun with each other, experiencing something we have never really experienced before, just have a great time meeting other players."
Within all that fun comes a lot of work, though.
The Pac-12 asks players to show up in uniform, then shuttles them through a full day of appearances. They're featured on the three-hour Pac-12 Networks studio show, make three ESPN stops, including an ESPNU studio show, and make two conference stops — including one with print and digital media on the main stage. Other stops include sit-downs with Fox Sports, CBS Sports, Sirius XM and NCAA.com.
Especially considering how rare it is for freshmen to wade through all of that, Pac-12 communications director Jesse Hooker said the conference was "very happy" to have Mannion and Green attend.
So were the TV people, according to UA spokesman Matt Ensor.
"The feedback I got from the conference and all of the television partners about bringing Nico and Josh was overwhelmingly positive," Ensor said. "They both are awesome kids who are great in the media-day setting and first-class representatives of our program."
Even if they are, well, just kids.
"We're just soaking everything up, man," Mannion said.
"We're still 18 years old, we're in our first couple months of college, so everything is new to us at this point. I like the fact that I'm in college now, and I get the opportunity to come here to media day as a freshman, learn from Coach Miller and practice every day. I mean, I'm just in a great situation."
Rim shots
• Mohave King, a fast-rising 6-foot-5-inch wing in the class of 2021 from New Zealand and Australia, is visiting Arizona this week, with plans to visit Baylor this weekend.
• Warriors general manager Bob Myers said the Dec. 21 Al Attles Classic at the new Chase Center – a quadruple-header that includes Arizona facing St. John's – is a great opportunity for Pac-12 schools.
"I think there's just room to grow there, and I know our ownership and business side wants to support the Pac-12," Myers said. The other games include Stanford-San Diego, Cal-Boston College and Nevada-St. Mary's.