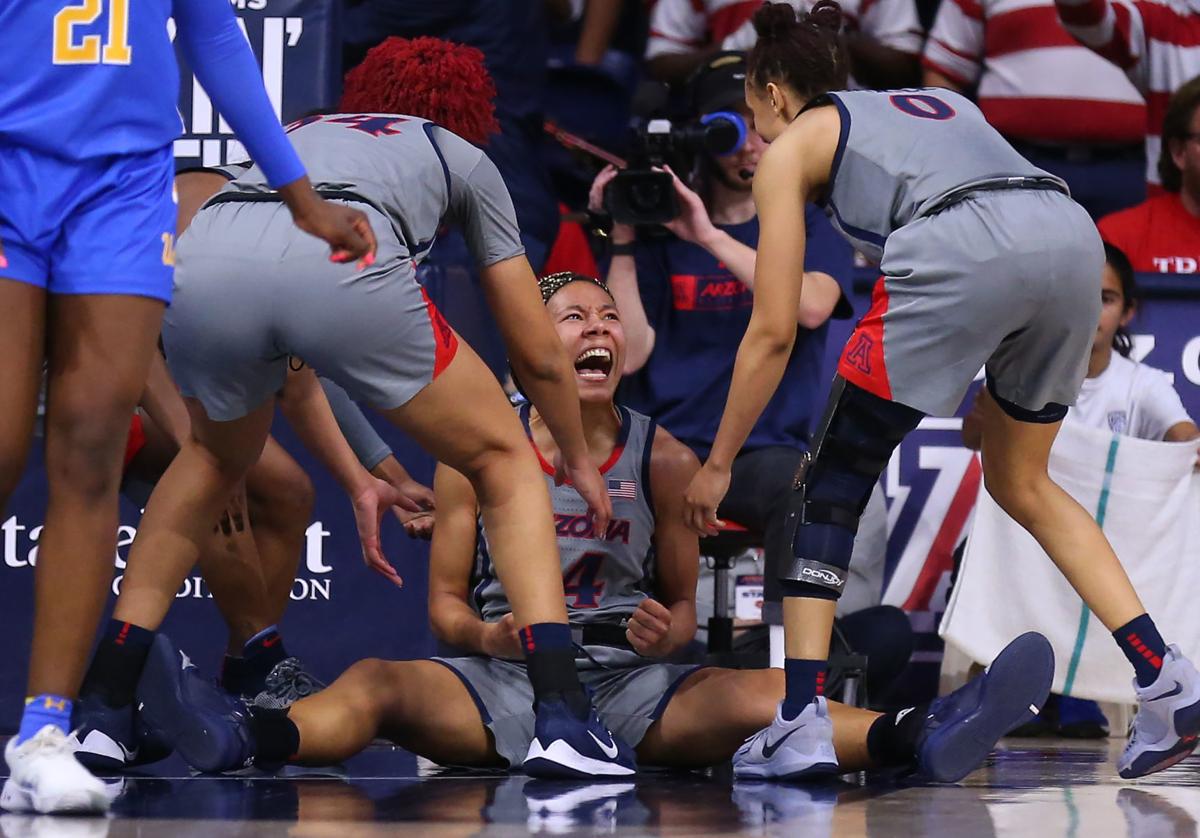 Arizona didn't just beat No. 8 UCLA on Friday night — the Wildcats trounced the Bruins, starting hot and rolling to a 92-66 victory in McKale Center.
UA scored on nine consecutive possessions to start the game. By the time the first 10 minutes were over, the Wildcats were leading 27-16.
Even coach Adia Barnes was surprised with her team's domination.
"A couple of times I looked at the score and was like, 'are we up by this much?'" she said. "I'd do the math and I was really surprised. I thought we really just laid the hammer down."
No. 16 Arizona (17-3, 6-3) can sweep the Los Angeles schools and extend its winning streak to five games on Sunday, when the Wildcats host USC (11-9, 3-6) at noon. The Trojans lost to No. 19 Arizona State in triple-overtime on Friday.
The key to Arizona's big win?
"I thought we did a lot of stuff this week that enabled us to get better," Barnes said. "I don't know if you saw us doing some different trapping (on defense) — that stuff we got to work on this week. And that's what we added and I think that disrupted UCLA. I think that we improved as a team this week.
"They couldn't get into their offense. We defended all their sets well. We executed the game plan. If we were supposed to hedge, we hedged. If we were supposed to ice, we iced. They were changing things. They had elevator plays — they run a lot of really difficult stuff and we countered. And we did a good job of defending all their sets.
"Our defense was so good. We did so many other things. We forced them into 10 assists, 15 turnovers. This is a team it's one of the best in the country at assist -to-turnover ratio. We didn't allow that. And then for us to have 14 assists, 10 turnovers. That's a good stat."
Still, Barnes said her team played only "33 minutes of good basketball." She expects more.
Thomas becoming an offensive threat
If there is a flaw in Sam Thomas' game, it's that she's sometimes too selfless on offense. She'll often pass on open shots to give her teammates a better look at the basket.
However, in the last two games, her offense has come alive. Thomas is aggressively driving and drawing fouls, and hitting 3-pointers from NBA range.
Friday night, Thomas posted a season-high 20 points while hitting all four of her 3-point attempts. She played 25 minutes without a turnover.
"In the last couple of games, she's been the difference in us winning," Barnes said. "She's aggressive. She's been that next scorer that we need. She has stepped up and I've seen a different Sam the last couple of games. We need to continue to have that Sam to win big down the stretch."
Thomas said she isn't doing "anything too out of the ordinary," but admitted that she's being encouraged to score more. Barnes and her staff are drawing up more isolation plays with Thomas in mind.
"They've always given me the green light, but this time I'm actually just taking it into consideration," she said. "(I tell myself) 'OK, Sam, they believe in you, you believe in yourself and just go with it.'"
Ball control
Star guard Aari McDonald scored a game-high 27 points on 10-of-15 shooting against UCLA. But a small number, two — the number of turnovers she committed in 32ƒ minutes — stood out just as much as the big ones.
Barnes said McDonald's turnovers are typically the result of errant or rushed passes.
"If you're passing to a post on a run like a really fast pass, you have to know who can get catch that and who can't," she said. "I think it's those things. For her, as much as she handles the ball, as much as our offense goes around her, to have two turnovers, that's remarkable.
"She should average two or three turnovers — she's capable. It's the right idea."
Rim shots
Thomas and McDonald weren't the only players who stood out Friday.
finished with 13 points, 9 rebounds, one block and one assist. And
Amari Carter score eight points and added three assists and one steal.
The margin of victory against UCLA — 26 points — is Arizona's largest against a top-10 team in 23 years. They beat No. 7 Washington by 31 points (93-62) in 1997.
The Wildcats shot 45.8% from 3-point range.
Be the first to know
Get local news delivered to your inbox!