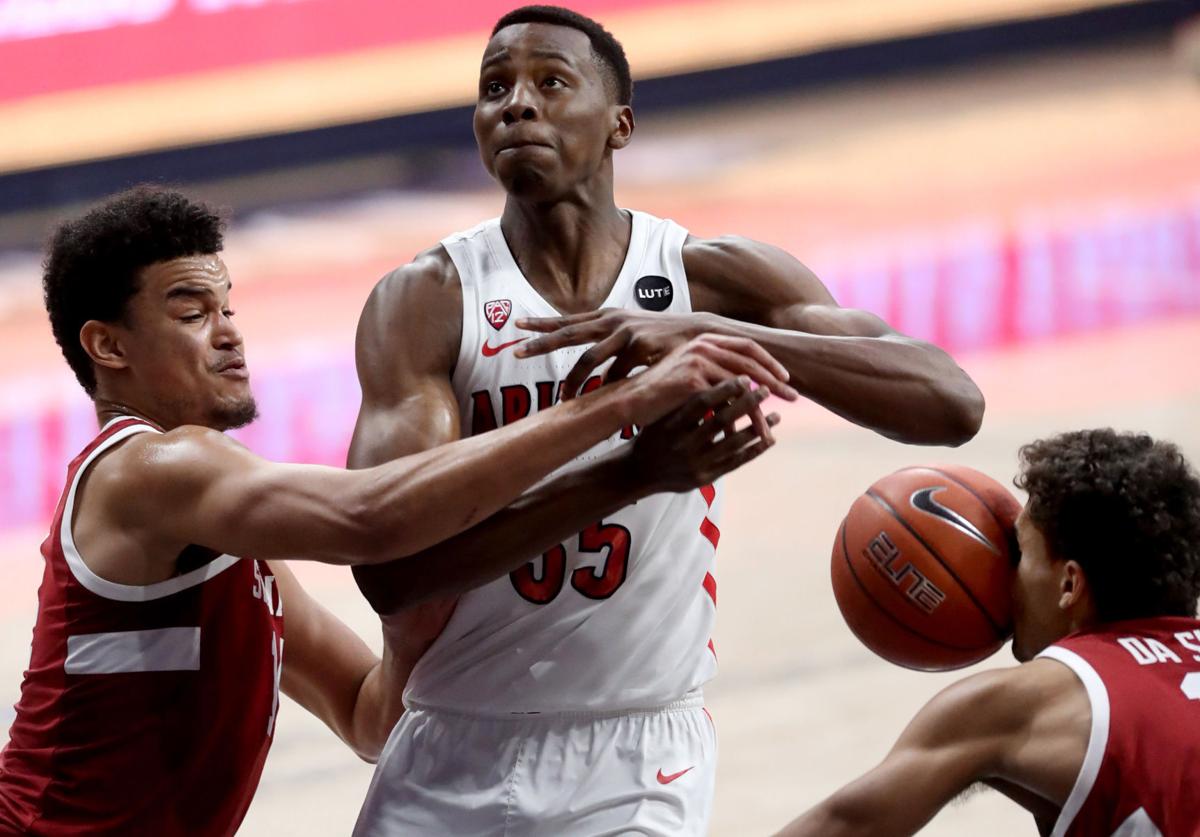 Old-fashioned Pac-12 weekends have long been known for quick, coach-stressing turnarounds from Thursday night to Saturday afternoon.
For the second time already this season, Arizona will play its third conference game in the same week. The first time, the Wildcats crammed in a makeup game with Colorado; this week, it's in order to move up the second game against ASU so the final week of the regular season is free for the inevitable COVID-19-forced makeup games to come.
It worked out well the first time for Arizona, which beat the Buffaloes in its best win of the season. The Wildcats then swept the Washington trip, but things are looking a bit shakier now.
After winning two emotional games against ASU in the span of five days — and losing freshman standout Bennedict Mathurin to an ankle sprain in Monday's second game — the Wildcats skidded flatly to the finish of a 73-64 loss to Stanford on Thursday.
Now, they must face Cal just about 40 hours after leaving the building late Thursday night.
"We wore down and I feared that coming off the two (ASU) games we just played," UA coach Sean Miller said after Thursday's game. "It is very, very challenging to play three Pac-12 games in a week and when you layer in Benn's injury …"
As it turned out, the injury to Mathurin might have actually been one of Arizona's lesser issues surfacing Thursday.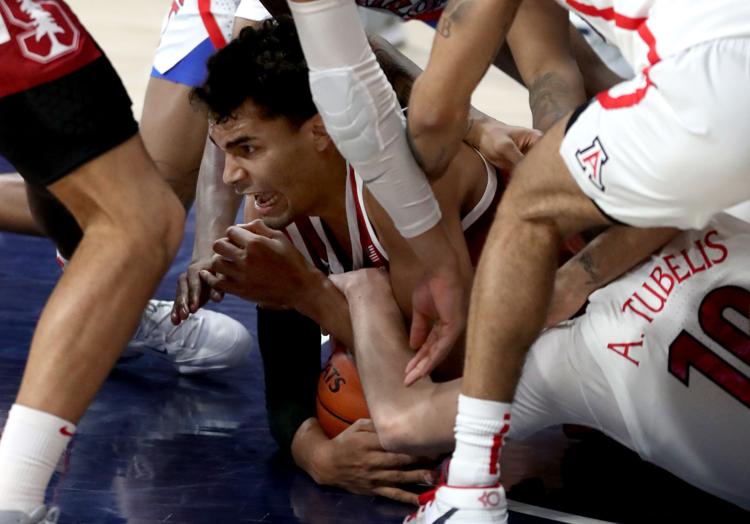 Mathurin returned to play 26 minutes off the bench, collecting 10 points and four rebounds. While Miller indicated Mathurin still wasn't quite himself after missing practice Wednesday, the Wildcats' bigger problems were in turnovers (18), second-half defense (Stanford shot 54% and took 17 free throws after halftime) and in Azuolas Tubelis' offensive struggles (he shot 1 for 9).
Mathurin "did the best he could; I thought our chances of winning with him were bigger," Miller said. "But we just made so many errors. There were a couple of errors that he made simply because he wasn't able to get the reps the last couple of days but we broke down on our underneath out of bounds defense. We broke down on our assignments."
Especially over the final seven minutes.
Arizona made five 3-pointers over a seven-minute stretch to help build a 57-52 lead with 7:35 left and was shooting 56.3% overall in the second half at that point, before it all fell apart.
The Wildcats scored only seven more points the rest of the way. Stanford went on a 15-2 run to take a 67-59 lead, scoring mostly inside on layups or by picking up fouls and heading to the line.
"We had some mental lapses and some missed assignments," guard Terrell Brown. "Clearly, we didn't execute the scout (the coaches' scouting report)."
While the defense was failing to the point where Miller complained he had "seen that movie before" during home losses to USC and UCLA, Tubelis never was able to find his offense against a veteran Stanford interior that included fellow Lithuanian Lukas Kisunas.
"They were very physical, but Azuolas didn't play well," Miller said. "He's got to be ready. He's got to be locked in, dialed in, using fakes around the basket. Because of Stanford's low-post trapping and the way they play defense, there's no big guy that plays against Stanford that's going to have an easy night, and I thought that he got frustrated at times.
"And when you get frustrated in the game, it starts to become about how you're doing … and your defense goes. You foul, you miss shots and that's exactly what happened to him. But Azuolas is a terrific talent. He's one of our team's best players. It was definitely not his night and we needed everybody. We needed our team to be really good."
They just might need everybody again Saturday, on 40 hours' notice. Breathers aren't allowed on Pac-12 weekends, especially when they turn into Pac-12 weeks this season.