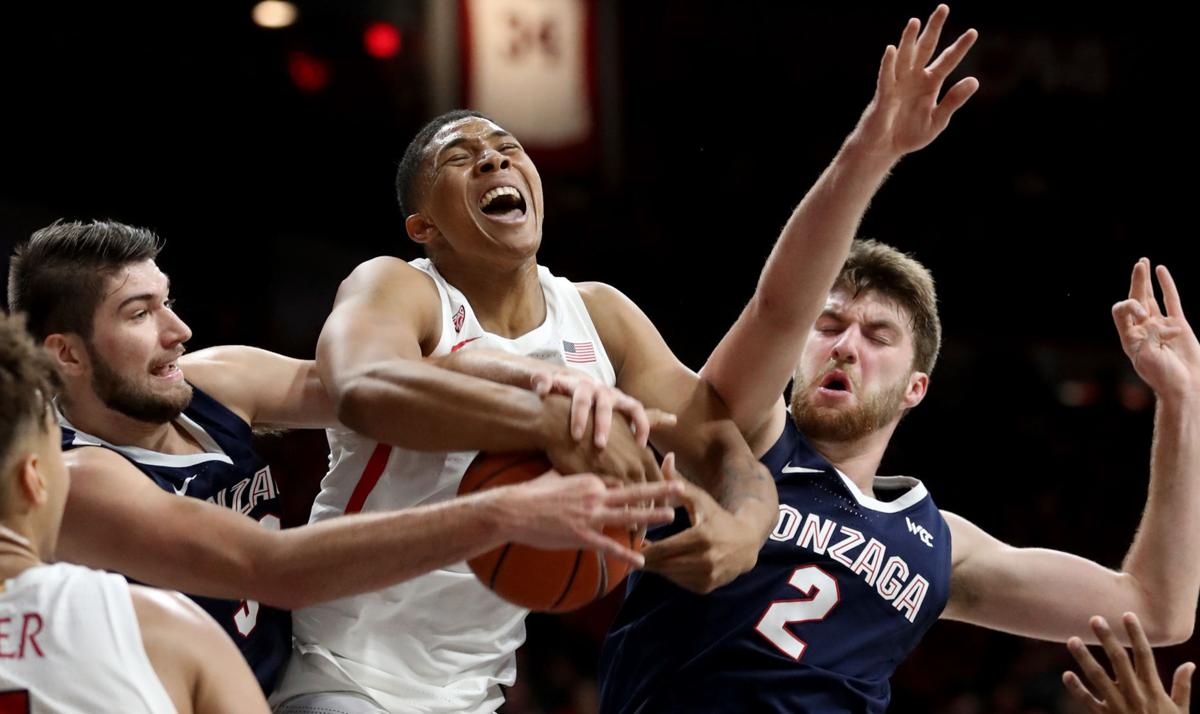 By postponing all sports through the end of 2020, the Pac-12 effectively shelved Arizona's nonconference basketball schedule — and flicked over a domino that could take down early season multiteam events across the country.
The Wildcats had been scheduled to play 11 nonconference games before January, including seven home games plus trips for marquee events at Gonzaga, at Illinois and in the NIT Season Tip-Off. They also had December Pac-12 games scheduled at home against Colorado and at Stanford.
Unless other conferences follow suit or some nonconference games are rescheduled, opposing nonconference teams might need to scramble.
Meanwhile, the NIT Season Tip-Off will have to either cancel, postpone or find a replacement for the Wildcats. The ESPN-run event was scheduled to include Arizona, Texas Tech, Cincinnati and St. John's in two days of games over Thanksgiving week.
Ryan Reynolds, who handles scheduling as UA's director of basketball operations, said Tuesday he could not comment yet because it was too early to tell what will happen with the nonconference schedule — and indicated he told pretty much the same thing to one of the Wildcats' expected opponents, Cal Baptist, after it reached out on Tuesday.
A Pac-12 spokesman said it is possible that nonconference games could be rescheduled, but that no decisions have been made. An effort to reach UA coach Sean Miller for comment was unsuccessful.
While the NIT Season Tip-Off was Arizona's "multiteam event" for next season, its games at Gonzaga and Illinois were added as the contracted return games for those played at McKale Center last season. It is not known if those will be carried over into future seasons.
A 2021-only basketball season makes it nearly impossible to include nonconference games unless the NCAA Tournament is also delayed. The Pac-12 might also not be able to hold a newly expanded 20-game schedule next season. The conference opted to expand from its traditional 18-game slate by adding a pair of games into December, which is why Arizona had plans to face Colorado and Stanford before Christmas.
"We've got to go back with our (basketball) working group," Pac-12 commissioner Larry Scott said, when asked about playing 20 basketball games. They've "been working on different scenarios and some of it depends on what the NCAA decides in terms of March Madness and the envelope for the season. ... It's just one of the many things we now have to get to work on."
Because roughly 80% of the NCAA's annual revenue comes from its $800 million media rights deal for the NCAA basketball tournament, the event is expected to be held however possible – even if that takes until May.
Among the possibilities being discussed before the NCAA Tournament can be played are mini-bubbles for conference or regional games, in which small groups of teams would be housed together near an arena, instead of widespread travel to campus sites. Both the NBA and The Basketball Tournament have found success in restricting players within highly controlled hotels and arenas.
However, Scott said Tuesday that "we cannot bubble our student-athletes like pro sports can" when he first addressed the Pac-12 CEO Group's decision to postpone all sports competition through December.
"We're part of broader campus communities, student-athletes living with peer students on campus and interacting," Scott said. "Enough questions and concerns have been raised that … we need more time. We didn't feel comfortable moving forward."
Doug Aukerman, Oregon State's senior associate AD for sports medicine, said during the Pac-12 news conference that the league considered the prevalence of the coronavirus within the Pac-12 footprint as well as the logistics and traveling its teams face.
Then the conference considered questions about the still-unknown consequences of the coronavirus and started thinking it must identify and remove anyone who had the virus right away, making it even tougher to move on with sports.
"That becomes incredibly difficult when you're in a community where the spread is not controlled, or if it's not under some type of ability to mitigate it," Aukerman said. "Because our student-athletes, they're going to go to the grocery store, they're going to go to restaurants, they're going to interact with the community and we want them to. It's not appropriate to think that we can bubble them, and isolate them."
Scott said the Pac-12 still will allow athletic training as individual schools see fit this fall, just not competitions, while UA athletic director Dave Heeke said the school will continue with its reentry planning.
Most of the UA men's basketball players arrived earlier this week, including freshmen Benn Mathurin and Dalen Terry, while guard Kerr Kriisa is expected to arrive from Estonia later this week. Upon reporting to Tucson, the Wildcats are scheduled to be tested for coronavirus and then spend a week in isolation before beginning conditioning workouts.
Even before the Pac-12's announcement Tuesday, UA had planned no basketball workouts until at least the start of the fall semester on Aug. 24. Many other Pac-12 teams, including ASU, Utah and Washington, began basketball drills last month.