Adia Barnes' Wildcats beat Northern Arizona 71-47 at McKale Center on Friday night to put a ribbon on the conference schedule with a nine-game win streak.
Cate Reese led the way with 21 points while Aari McDonald added 20 points, eight rebounds and three steals. Dominique McBryde had 12 points in the first half.
If the final game before a break for the holiday truly was "one of the hardest games," as Barnes called it earlier in the week, the Wildcats sure didn't get the memo. NAU (4-5) turned the ball over 22 times as the Wildcats blocked a season-high 10 shots. Sam Thomas and Reese both had a pair of blocks. UA has forced at least 20 turnovers in three of its last four games.
Barnes had showed concern over the last nonconference game, saying there was an emphasis on playing well before the holiday. But Arizona played as well as it has during a win streak that dates back to Nov. 16. UA's only loss came to Loyola Marymount on Nov. 13.
The Wildcats stretched their streak in front of some Tucson star power. Men's coach Sean Miller and Arizona basketball legend Lute Olson were in attendance, chatting it up on the sidelines, as was mayor Jonathan Rothschild and the entire men's basketball team. Arizona honored a basketball icon on the sport's 127th anniversary; Dr. James Naismith invented the game on Dec. 21, 1891. His great-granddaughter, Margaret Naismith Jonker, was at McKale Center on Friday.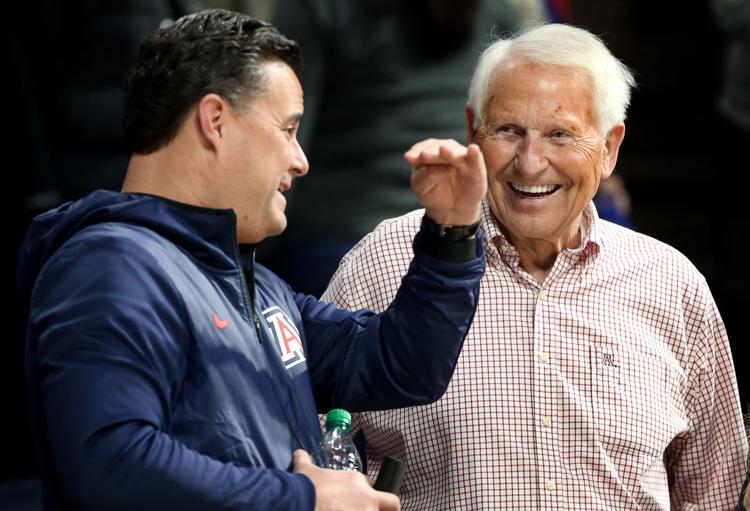 Arizona (10-1) is off to its best start since it opened 11-1 in the 2011-12 season. Barnes' team will have an opportunity to match that when it opens the Pac-12 schedule at home against rival ASU. The nine-game win streak is the program's longest since 2003-04.
"Just from the beginning to now, I think that we've improved tremendously and I think that the sky's the limit for us," McBryde told reporters after UA's last nonconference game. "We still have a lot to get better on and work on as well and to prepare for ASU."
Arizona and ASU play at McKale Center at 5 p.m. on Dec. 30. The game will be televised on Pac-12 Arizona.
This article was compiled in part from a press release.