The chant broke out when Tee Tee Starks walked into Brother John's BBQ for coach Adia Barnes' radio show Monday night.
"One more year!" fans cried out. "One more year!"
The Arizona Wildcats guard smiled. If only it was that easy.
Starks is one of three UA seniors who will play in their final regular season game Sunday, when the Wildcats face No. 9 Oregon State in McKale Center.
"I don't know how I'm going to feel," Starks said. "My mom is coming down. It will be emotional, but things are still up in the air. I'm not sure I am ready to give it up yet. It'll be definitely be emotional.
"If it is my last game, I'd love to go out with a bang in regular season."
Starks came to Arizona from Iowa State, where she played her first two seasons — even starting 14 games as a sophomore. She sat out the 2017-18 season at the UA due to NCAA transfer rules. Starks is averaging 4.4 points and three rebounds per game this season with the Wildcats. Those numbers would undoubtedly be higher had Starks not been dealing with injuries to her knees, hip and shoulder. The multiple ailments led Starks, who technically has one season of eligibility left, to decide this will be her final year of basketball.
The Wildcats will miss her. They struggled every time Starks missed a game because of a shoulder injury or concussion. Her versatility — Starks moved into the starting lineup when Lucia Alonso went down with a foot injury — is matched only by her enthusiasm, on and off the court.
"She is our biggest hype man," freshman guard Bryce Nixon said.
And despite the toll the game has taken on her, Starks still plays with grit — especially on the defense. She was nominated for Pac-12 sixth person of the year for her efforts on both ends of the court.
Arizona's other two seniors have made impacts in other ways.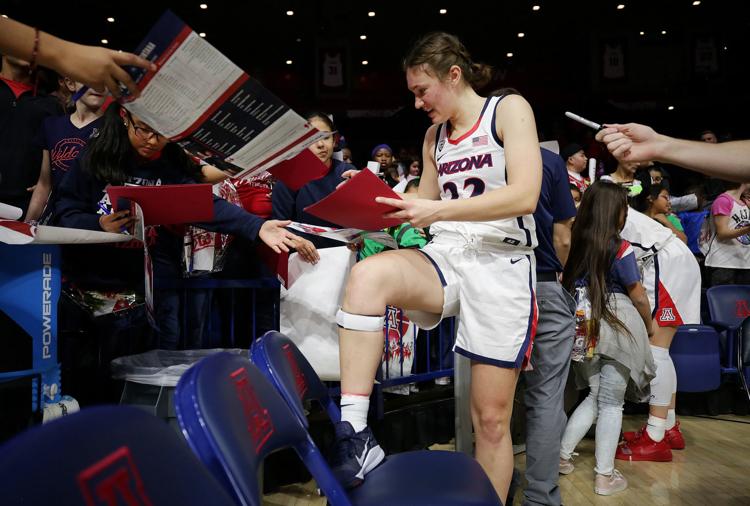 Lindsey Malecha suffered multiple knee injuries in high school, and fought her way onto the Wildcats' roster. She walked on at first, then earned a scholarship at the end of last summer. While Malecha comes off the bench at the end of a half or a game, her presence is always felt. Malecha is applying to medical schools, and plans on being a surgeon.
"It's hard" to leave, Malecha said.
"I am a competitive person. If I could have one more year, I would, but that just might not be my path," said Malecha. "I don't think it's hit me yet that it's my last one, especially since it's not the end of our season. I don't feel like it's my last (home) game. It's definitely going to be more emotional in the moment.
"I've been playing basketball since I was three, so it's a little weird for me, a little bittersweet. But I know my teammates are going to be there and it's going to be awesome."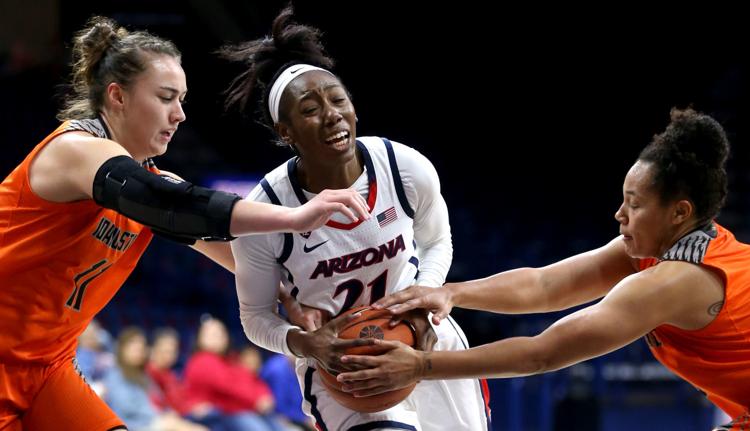 No Wildcat has been on the team longer — or experienced more — than Destiny Graham.
The senior was recruited to Tucson by former coach Niya Butts. When Barnes took over, Graham assumed a do-it-all role. She has played multiple positions depending on need, and then moved from the starting lineup to the bench as a senior. Graham has showed an added aggressiveness over the last five games. As a senior, she knows what the games mean.
Things were extra intense in last week's trip to the Bay Area. Graham grew up in San Francisco, and wanted to perform well in front of friends and family. She addressed the team before the Wildcats took on powerhouse Stanford.
"She looked everyone in the eyes and asked, 'What are you going to bring to the game today? What are you going to contribute to the win today? What are you going to do that is going to help us win today?'" Starks said. "Then I turned around and asked her, 'What are you going to do that is going to get us a win today?'
"It was like a good moment for everybody."
Graham, who graduated from the UA in three years, plans to become a coach.
Arizona's three seniors all took different paths to the UA, and they're all likely headed to different places after the season is over. A common bond — basketball — will always connect them.
"Everyone has a story and we share a passion," Starks said, "which is what has gotten us here."