Seen and heard during the No. 25 Arizona Wildcats' runaway win over Arizona State on Saturday night: 
Dalen Terry in town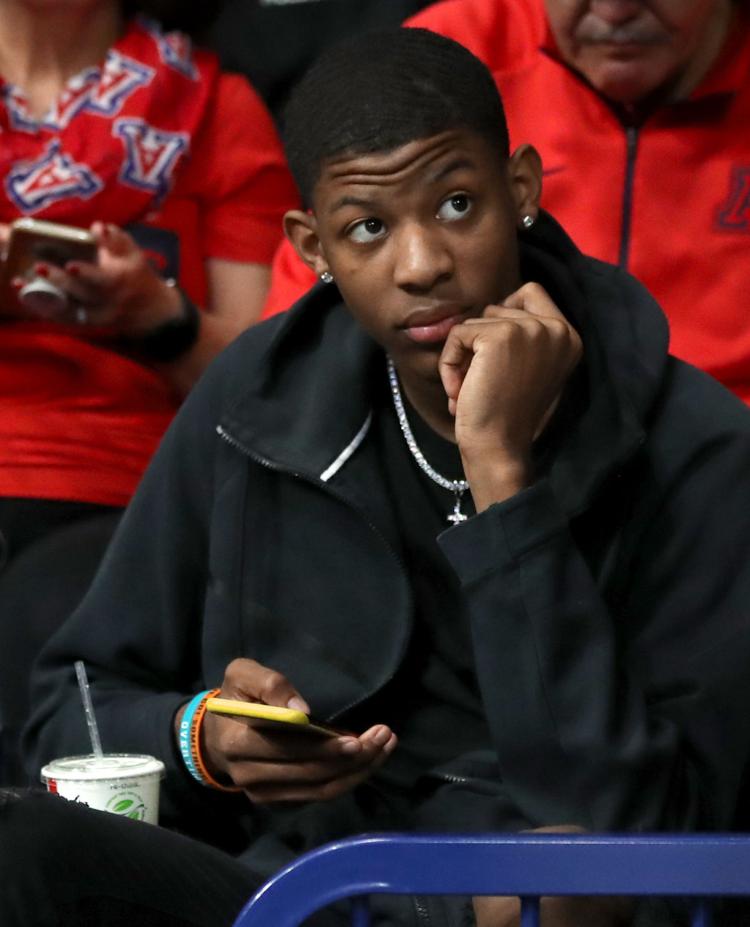 Future Wildcat Dalen Terry was in attendance for Arizona-ASU and sat behind the UA's bench. The 6-foot-7-inch Terry is a four-star wing from Tempe and a senior at Phoenix Hillcrest Prep. Terry was Arizona's first commit and signee of the 2020 recruiting class.
Sean Miller normally has high-priority recruits in attendance for games when McKale Center is rocking. Last year, Nico Mannion and Josh Green were in the same seats as Terry's.
---
A one-on-one with Walton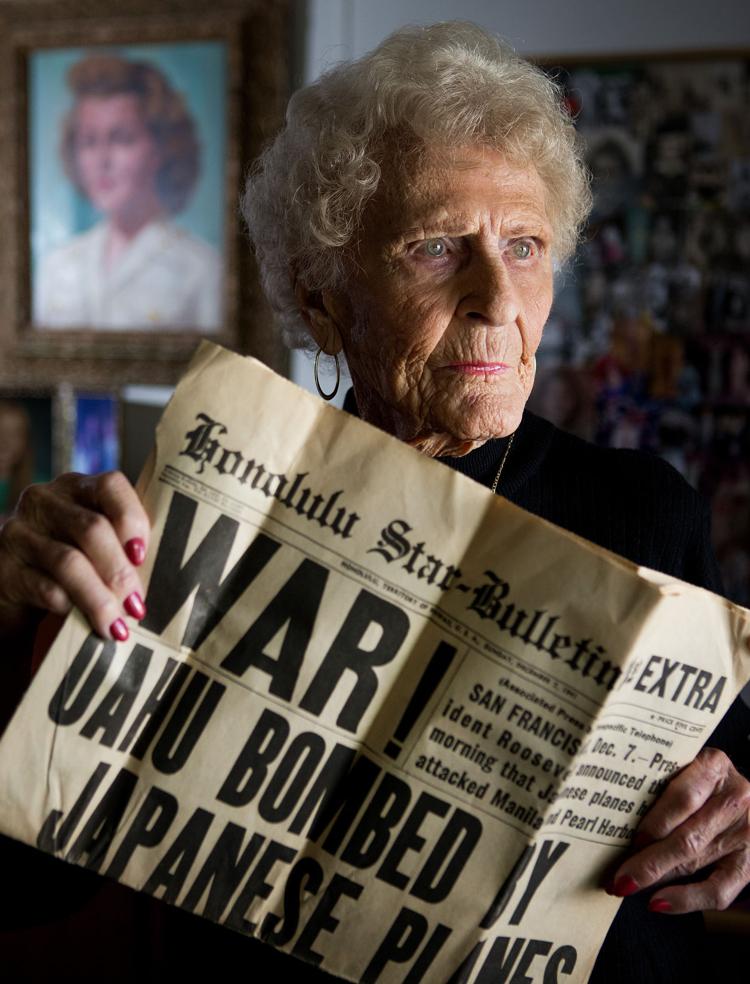 The UA honors an active duty solider or a veteran every game, an introduction that invariably leads to a standing ovation from the McKale Center faithful. 
Even by those standards, Saturday's introduction of Gwen Niemi was special. 
The 99-year-old Officer Candidate School graduate pushed a walker to midcourt and, as the cheers rose, appeared to become emotional. Then she did a little dance, walked from midcourt to press row and found ESPN analyst Bill Walton. She leaned in whispered something in his ear, and got a broad smile. 
Niemi graduated from college at the age of 21 when she heard that the Women's Army Auxiliary Corps was starting, according to Star archives. 
In 1942, Niemi applied for Officer Candidate School and was one of the first 200 women to make it through.
She served in many cities, achieving the rank of captain, before requesting a discharge in 1946.
"After the war was over, they had less and less need for women," she told the Star in 2018. 
After leaving the military, she moved to Tucson, where she taught physical education at the University of Arizona for four years  before starting a family.  
So what did she say to Walton? As they say in the military, it's classified. 
---
No mask for Stone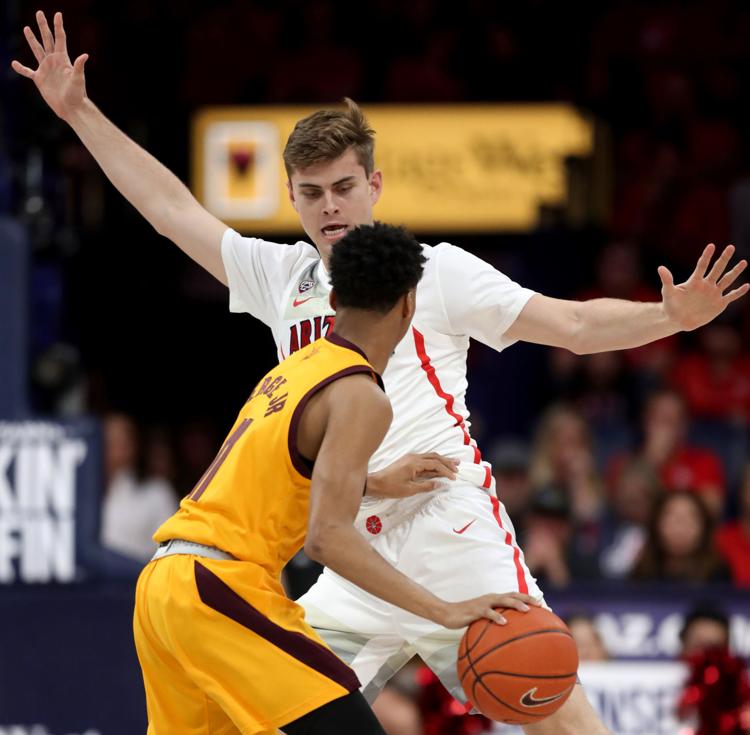 When Arizona forward Stone Gettings checked into the game on Saturday, fans at McKale Center made him feel welcome.
After all, it was the first time Gettings played for the Wildcats since suffering a facial fracture injury against Penn in the Wooden Legacy Tournament on Nov. 29.
Gettings is now up to five weeks in his rehabilitation and it was a possibility he had to wear a protective mask, famously worn by former Detroit Pistons star Richard Hamilton.
Getting finished with five points and five rebounds in UA's 75-47 rout Saturday.
---
Mannion vs House, again
Arizona's Nico Mannion and ASU freshmen Jaelen House are quite familiar with one another. The two Phoenix natives squared off three times in high school, Mannion with Pinnacle and House with Shadow Mountain.
In a game for the ages, defending Class 6A champion Pinnacle and defending 4A champion Shadow Mountain went down to the wire in their last game in November 2018.
House hit two free throws with 11 seconds left to give Shadow Mountain the lead. Mannion got the inbounds pass and snuck past House to get to the top of the key. He hoisted a shot from the top of the key and rattled home the game-winner with a second to go.
Maybe the two will have another moment like that later this season.
---
Faces in the crowd
McKale Center brought out recognizable former UA athletes. Sitting eight rows behind ASU's bench was former UA standout and All-Pac-12 women's golfer Haley Moore. She helped the Wildcats take down Alabama to win a national championship in 2018 and — more recently — led Arizona to a third-place finish in the NCAA championships last year.
Moore will make her LPGA debut from Jan. 23-26 in the Gainbridge Championship in Florida.
Ex-McDonald's All-American and UA star Jerryd Bayless and former shooting guard Brendon Lavender were shown on the McKale Center video board and received a loud ovation from UA fans. Bayless played for the Wildcats in the 2007-08 season and was named to the All-Pac-10 Second Team before a 10-year NBA career, which placed him in the McKale Center ring of honor.
Lavender averaged 3.4 points in 12.1 minutes per game off Arizona's bench from 2008-12. Of course, Cleveland Indians manager Terry "Tito" Francona was also in his courtside seats.
---
D-Will active on Twitter
Just to let people know I turned down nba offers to come to @FBBasketbol .. I love it so far .. there will be better days in 2020 👍🏾

— Derrick Williams (@DWXXIII) December 30, 2019
Former Wildcat standout Derrick Williams is currently playing professional ball overseas for Fenerbahce Beko in Instanbul, which is in the Turkish Basketball League and EuroLeague. This season, Williams is averaging 11.6 points, 4.5 rebounds and 1.4 steals in 27.2 minutes per game.
After a championship season with Bayern Munich in Germany, Williams had a chance to return to the U.S., but declined.
"Just to let people know, I turned down NBA offers to come to Fenerbahce Beko. I love it so far. There will be better days in 2020," Williams tweeted.
Williams was a former No. 2 overall pick by the Minnesota Timberwolves and he revealed on Twitter his confusion when he was drafted due to the number of power forwards already on roster.
"I remember it like it was yesterday when Minnesota picked me and I'm thinking 'So they have (Kevin) Love, Anthony Randolph, Mike Beasley and me at the four. Didn't add up to me," he tweeted.
---
He said it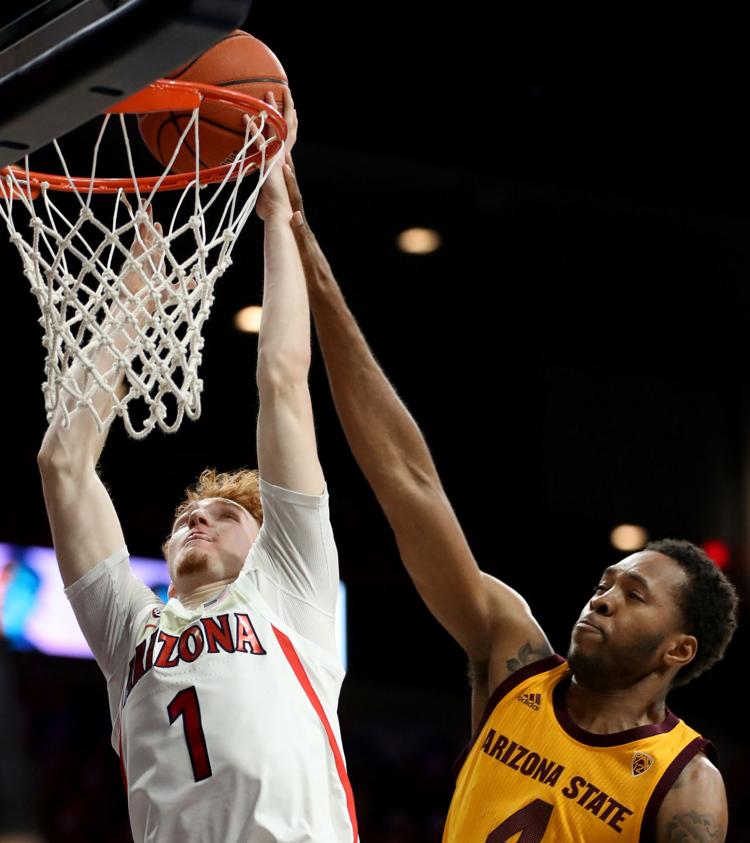 "At Arizona, you gotta dunk it. That's why you come here, right? So you can dunk that."
— Miller on ASU's five chasedown blocks in the first half, which prevented easy fastbreak baskets for Arizona
---
The big number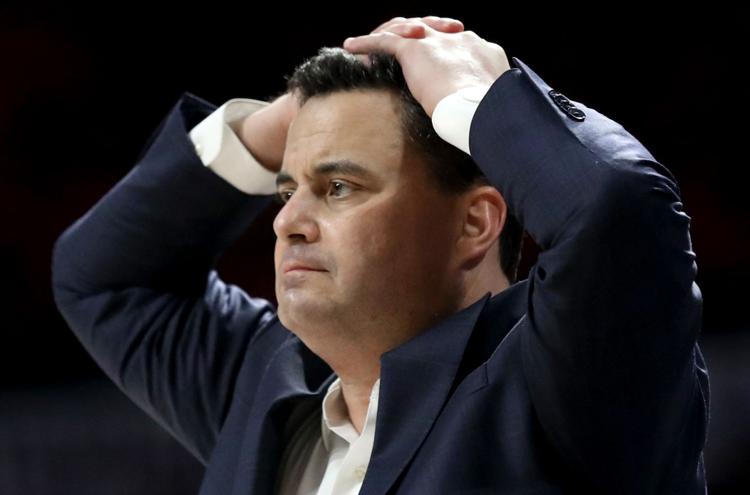 10-1
Arizona's record in Pac-12 home openers under Sean Miller after Saturday's win. The last time Arizona hosted ASU to begin conference play was in the 2017-18 season when the No. 17 Wildcats knocked off undefeated No. 3 Sun Devils 84-78.
— Justin Spears and Alec White
---
Check out our special E-edition from Saturday night's game: