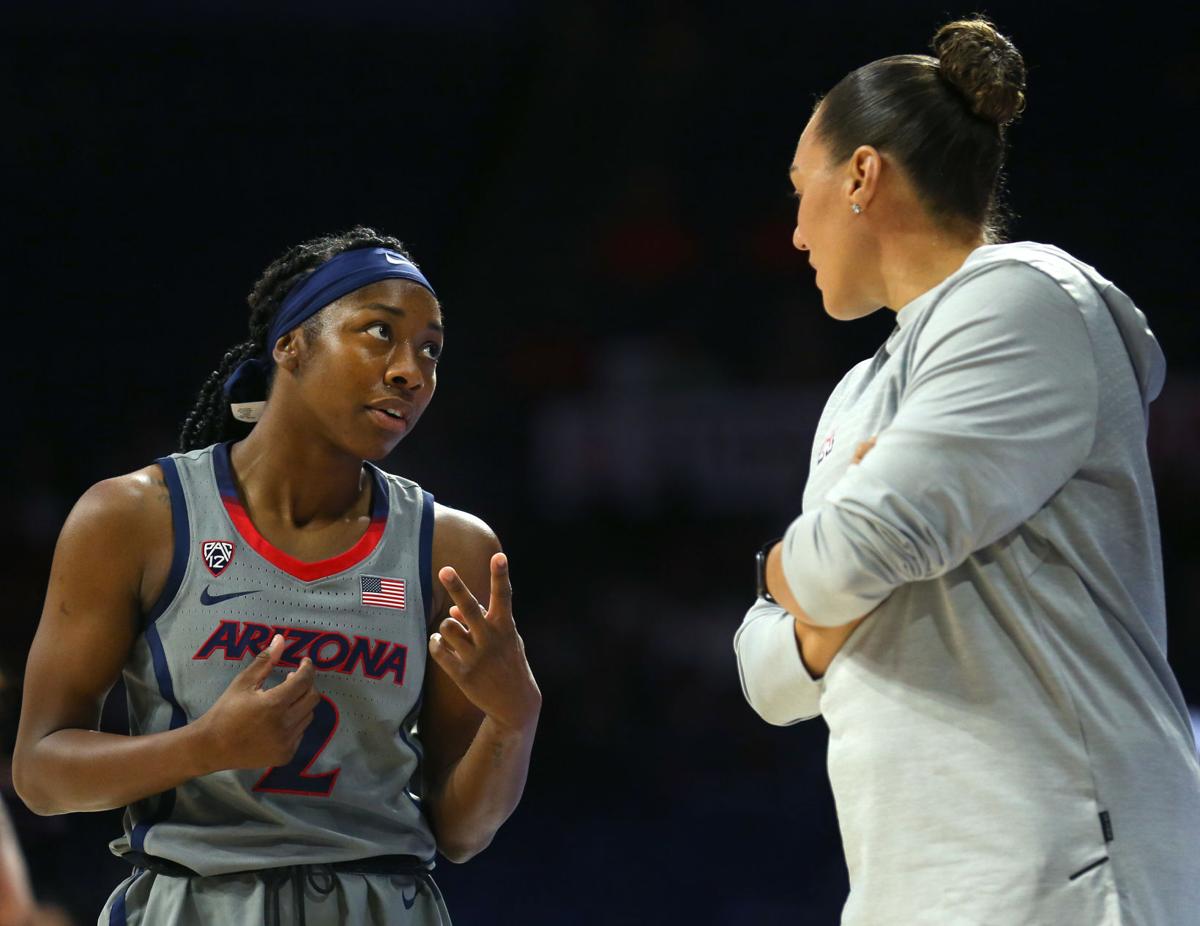 Adia Barnes is certain her Wildcats will be among one of the top teams in the country this season. Even though she isn't quite sure what the team looks like right now.
Barnes and her assistant coaches haven't seen the Wildcats playing basketball yet. The team can shoot and perform drills as part of its latest step in the UA's reentry plan, but that's it.
Barnes calls it "hard," though she's been able to see some positives during her limited interactions with players.
"Cate (Reese) has gotten a lot stronger," she said. "(Freshman) Lauren (Ware) looks really good. She has really good touch and good hands. She needs to get stronger, but looks good. Sam (Thomas) looks really strong. (Transfer) Trinity (Baptiste) is such a hard worker. She brings a different level of experience and competitiveness and is a leader. That's why I am excited to start real practices."
The NCAA is expected to announce next week when men's and women's college basketball can start their seasons. Once that decision is made, the Wildcats will see how the Pac-12 responds. The conference pushed all sports competitions to January, though a recent arrangement with a rapid-testing company could conceivably change their timeframe again.
NCAA Vice President of Women's Basketball Lynn Holzman said last week that she's looking into changing how the NCAA Tournament is set up.
The first and second rounds of the women's tournament have always been hosted by the top seeds. Had the 2020 tournament been held, Arizona, which was expected to be a No. 3 seed, would have hosted. Holzman said she's considering moving early round games to predetermined sites — like the men's tournament.
"I think whatever they decide, I am all for it — just so we can play," Barnes said. "For us, playing in McKale (Center) is a huge advantage, but if that's the difference between playing or not … I just want to play. That's why I can't wait for (Sept.) 16th. I can't wait to see the plan. I'm ready to see what's going on and see more of a plan where we can play."
Barnes' players are currently limited to eight hours of basketball per week — four hours in the weight room and four hours on the court. That typically changes to 20 hours per week starting in October. Barnes expects the team to get more time soon. The coach is guessing that players will be allowed 12 — eight hours on the court, four in the weight room — and ramp up from there.
"We've got to gear up," she said. "We've had a long time off."
'Sunday Night Live'
Barnes started her "Sunday Night Live" show on Instagram during the pandemic, and is keeping it now that her players are back and school is in session. Baptiste, Thomas and Aari McDonald have all made repeat appearances.
McDonald was on Sunday, where the WBCA All-America guard shared some details about the past few months. She said her grandparents had COVID-19, but have since recovered.
McDonald opted to return for another year despite earning her undergraduate degree. She said she finished her studies with a 3.4 GPA, and that her first two master's degree courses — in applied behavior and analysis — resulted in A's.
McDonald said she wants to play 10 to 15 years as a professional and joked that, "after Arizona, my pressing days are over."
She said she is "so excited" for the season to start. The lightning-quick guard and reigning Pac-12 Defensive Player of the Year is expected to again be one of the top players in the country. She said she handles the expectations by staying "level-headed."
"I want to accomplish what I came back to do," she said.
Barnes reflects, grows during pandemic
Barnes said she's made the most of her time during the pandemic.
She's taught her son, Matteo, how to ride a bike and swim, and she's cooking and baking for the first time. More than that, Barnes — who is pregnant with her second child, a girl — says she is connected with her players in different ways and is looking at basketball in a new light.
"We've never had such quality time for our little family," Barnes said. "It's perfect timing before Matteo becomes a big brother and has to share his time with us with his sister. We will never have this time again.
"People always say because (assistant coach and husband) Salvo (Coppa) and I work together, we are around each other all the time. We never spend time together. He's in his office, I'm in mine. We take different cars to the office. We've been together every day since March, what, six months now? I've never had time like that in my life.
"I've had more time to reflect and break things down and grow basketballwise. And the Zoom calls with the players building stronger relationships.
"I'm growing more outside the box — leadership and things I've never done. Usually, we are flying all over the place recruiting and now I can just sit and talk basketball with coaches. You do that once in a while, but you don't have the time to do it as much as you'd like."
Be the first to know
Get local news delivered to your inbox!