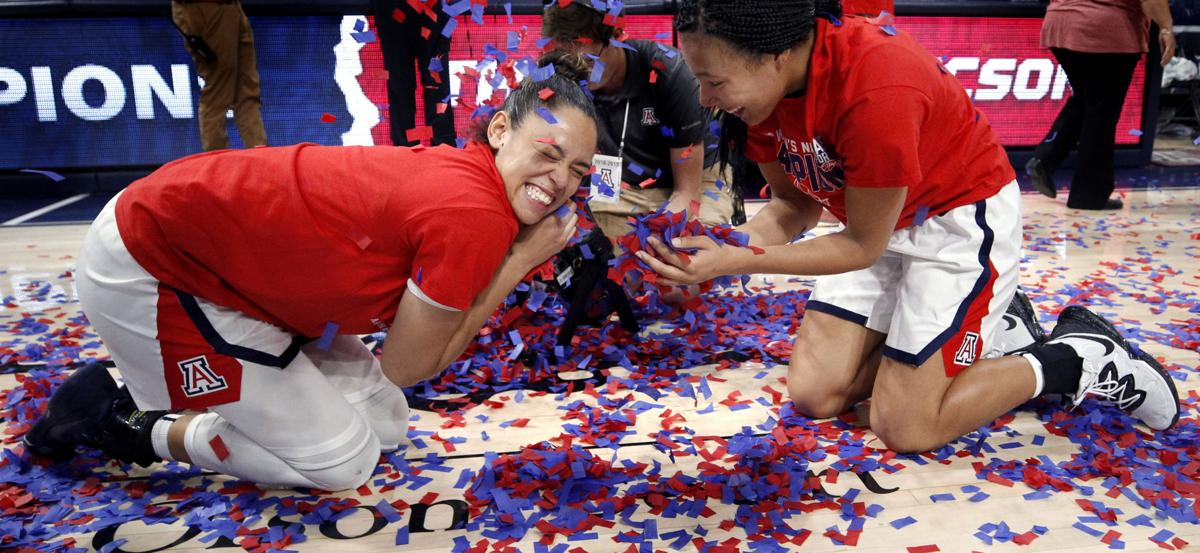 Sometimes it's good to take a look back.
A year ago, Arizona's women's basketball program was in a much different place than it is today. The Wildcats were coming off a season in which it won just six games.
The Wildcats had hope that things would improve. Coach Adia Barnes had brought in a top-five recruiting class headlines by the program's first five-star recruit, forward Cate Reese. Aari McDonald, Dominique McBryde and Tee Tee Starks were eligible to play after transferring to Tucson, and returnees in Sam Thomas, Lucia Alonso and Destiny Graham provided a study foundation.
Just before practices began, Barnes held a retreat. While there, she asked her players and staff to write stories about how their 2018-19 season was going to go.
"I wanted to see what their vision was and their expectations," said Barnes, who opens up another season of practices this week. "Usually when you write it down it comes to fruition. I'd never done this before, but I am big on having a vision, talking about it and having it come true. I thought it was cool to try. I didn't know what to expect. It was extremely helpful (in setting the tone for the season) and good to see what we thought we were capable of doing something special."
Sure enough, the season was special. The Wildcats won a season-high 24 games and captured the WNIT championship. Off the court, the team won their third consecutive Athletic Director's Cup for spending more than 3,500 hours in the community and posted a cumulative 3.2 grade point average, the highest in program history.
The players' stories hung in the locker room all season long, a constant reminder of the goals they had set for themselves. In retrospect, the predictions were pretty spot on. Players predicted they were going to be great in the classroom, "make some noise, surprise some teams, and beat ASU."
"The Arizona women's basketball team is by far the most improved in the Pac-12," read one. "After adding 3 top transfers, a No. 5 recruiting class and returning three starters, the Wildcats look like the team of Coach Barnes era. They played hard, they were tough, physical and aggressive. They may have been a surprise for some, but coach Barnes had a vision for her alma mater. The Wildcats went 11-0 in the non-conference. They are the most improved rebounding team in the country. They advanced in the Pac-12 Tournament and played in the postseason for the first time in a decade.
"In Coach Barnes' third year start as head coach of the Wildcats, they have continued to dominate with community service, 4 All-Conference players this year and a team GPA of 3.3. The culture of this program is evident and the Wildcats are energized to become one of the best programs in the country."
Turns out the UA went 10-1 in nonconference play. The Wildcats produced two all-conference players — McDonald and Reese. By the time the UA beat Northwestern 56-42 in the WNIT championship game, it may have been the most improved rebounding team in the nation.
The stories — rich with detail — "showed me that they did believe — that's part of why the season was so special," Barnes said. "I always believed in them. What was key is that they believed. Everybody had the same things, and that was surprising. They all said we were up and coming and leaving a legacy. It was pretty fun."
Two weeks ago, the Wildcats took part in this year's retreat.
The team spent the weekend at White Stallion Ranch, where they rode horses, corralled cattle, played games and did a DISC assessment to learn more about each other's characters, strengths and weaknesses and compatibility.
And they wrote more stories — this time about the 2019-2020 season.
"This year seeing the (new) stories — they believe they can do something even more special. That was neat, too," Barnes said. "Now, with seven new players — half the team is new — I didn't share last year's stories.
"You move on, you look forward. I don't talk about the WNIT Championship now.
"We are moving on to do something new. This year is different."