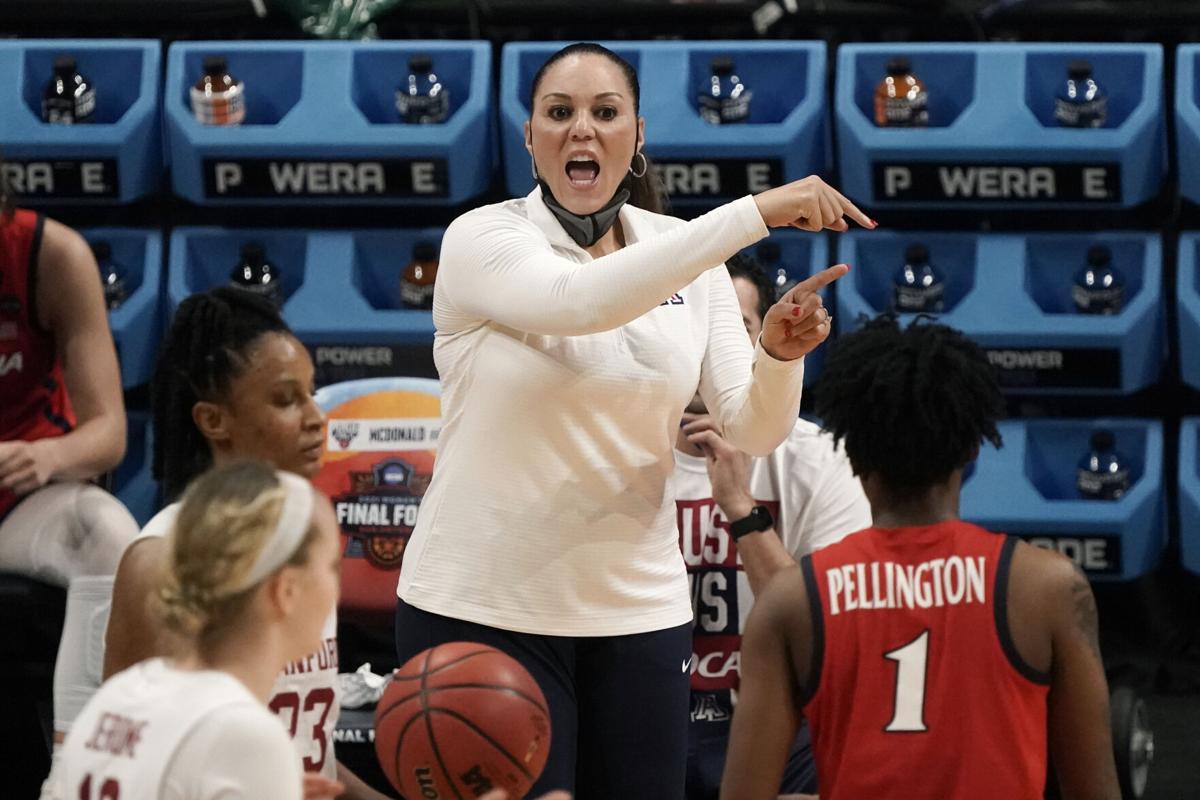 Adia Barnes has a little more sparkle these days, and there's a reason why: She's the latest member of her household to win gold in international competition.
In June, Barnes served as assistant coach for Team USA as a team made up of college-aged players won the FIBA Women's AmeriCup Tournament in San Juan, Puerto Rico. It was a banner summer for Team USA, which also took home gold in women's basketball at the Tokyo Olympics and won the FIBA U19 World Cup. Arizona forward Lauren Ware played on the U19 team.
Barnes said coaching for Team USA was much different than running her own program. She learned to scout in a different way and picked up new strategies and plays while learning head coach Dawn Staley's and USA Basketball's approach to things.
Barnes said the players were all motivated to win gold.
"I think when you're with USA Basketball, you do expect to win," Barnes said. "You feel USA pressure. When you're in USA Basketball you feel like, 'Oooh,' because you fail if you don't win the gold. The standards are so high."
The college-aged Americans competed against Olympians from other countries. Other factors could have rattled Team USA, too: the lights went out for nearly 30 minutes during Team USA's championship game against Puerto Rico.
"It was amazing because the game was absolutely crazy," Barnes said. "It was a showdown, a dance-off — a whole concert, basically — when the lights went off. I've never seen anything like that in my life. I was nervous when we have kids playing against professionals. I was nervous that we weren't going to be focused. I was afraid that we'd lose focus and turn around and lose to the hometown team."
The dance-off helped keep Team USA loose, and the Americans closed out with a 74-59 victory. That moment, Barnes said, was "a dream come true."
The gold medal is the newest piece of hardware to enter Barnes' household. Her husband Salvo Coppa, the Wildcats' top assistant, has won three gold medals as a coach. He led Malta's U18 team (European Championship C), Sicily's women's team (FIBA Island Games) and Thailand's Women's National Team (South-Eastern Asian Games) to championships in their respective tournaments.
What's it like with multiple gold winners in the house?
"It's great … but mine's more recent," Barnes laughed. "Those are dreams come true for Salvo. My dream for Salvo is to one day coach the women's national team in Italy. … I would love for Salvo to do that one day. And I would support him."
Barnes said she hasn't decided where to put her medal. Since returning to Tucson, she has been focused on recruiting; the Wildcats began individual workouts in July.
"I am very proud of her; it's a great accomplishment," Coppa said. "Adia won a lot as a player, but she's still a young coach, in her fifth year of head coaching, and she's really accomplished a lot — the WNIT, the Final Four and now the gold with the National team — in a few short years.
"Adia keeps growing (as a coach) and this is one of those experiences. When you have the opportunity to work with great coaches like Dawn Staley and her staff, you learn. It's not only about the gold, but learning."
Getting better
Barnes preaches getting 1% better each day and each offseason. Working with Staley, who Barnes calls a "trailblazer and a brilliant basketball mind," helped her get one step closer to an even bigger goal.
"This experience opened my eyes and expanded me as a coach," Barnes said. "I'm trying to add and improve in something. Every year as a coach, I have to be better. It's getting better in areas that are my weaknesses or improving or gaining more experience — so these types of experiences. They make you better coaches because it's different pressures situations. I got better from coaching in the championship games. I felt what that was like. I didn't know what that was like in the NCAA championship game, but I did that so that's an experience and I'm more prepared for the next time.
"I think those things help you. Like (Stanford coach) Tara (VanDerveer) had been there she knew what that felt like. I didn't know what that felt like, but I do now.
"I think I'm a good coach, but I think you can always get better, you can always grow. You can always learn. I'm not in this profession to not win a championship. I need to do everything I can to try to win a championship and get better. I want to be a great coach one day."
A stressful summer
Barnes was away from Salvo and their six-year-old son Matteo, for three weeks during the AmeriCup tournament. She took her now-11-month-old daughter, Capri, with her to Puerto Rico.
It was an emotionally taxing time, Barnes said.
"I had never been away from them so long; that was hard," Barnes said. "Capri had changed so much, and Salvo was like, 'Is she going to remember me?' She did, because we were FaceTiming a lot. But it's hard being gone that long. In a typical year, I would have brought my family.
"But it's also challenging as a mom. There are so many things that you end up missing out on or because you always feel the pressure not to be able to go away or do that. I'm glad that I have a husband who supports me and supports what I do or else I wouldn't be able to do it."
Coppa knew what joining Team USA would mean for his wife. When Barnes got the call from USA Basketball earlier this year asking her if she would be interested in joining the AmeriCup staff, Coppa told her to take it. He called it an "incredible opportunity to coach your national team, and it was an 'offer she couldn't refuse,' to quote 'The Godfather,'" Coppa said with a laugh.
Barnes said she was "thankful" for the experience.
"I loved it. I love being a part of it," she said. "If I can add value and if I can do it, I would be honored to continue with USA Basketball, it would be my dream."
Rim shots
Barnes was in the stands a week ago, when former UA standout Aari McDonald returned to Arizona as a member of the WNBA's Atlanta Dream. McDonald scored five points in 21 minutes as the Dream fell to the Mercury in Phoenix. "I was cheering for her and a little more critical watching her because I want her to be the best," Barnes said. "It's great watching Aari. She's so much stronger. She's improved so much as a player, watching the way she's handling her adversity right now I'm just so proud of her. She hasn't given up; she's still working hard and getting better. She's going to have a long professional career." The teams played again Saturday in Atlanta, and McDonald scored 13 points in 19 minutes in an 84-69 loss. McDonald scored eight points in her first five minutes.
During last Sunday's game, McDonald picked four steals and hit her franchise-record 31st consecutive free throw. She is shooting 90.2% from the line as a rookie. "Throughout my whole career, even maybe back to Arizona, I was a shaky free throw shooter — probably not even cracking 80%," McDonald said. "Setting the franchise record that means a lot and it gives me the confidence — if I get fouled, I'm going to knock those free throws down." McDonald was a 76.7% free-throw shooter in three years at the UA.
Ware wasn't the only Wildcat to compete in the FIBA U19 World Cup. Incoming freshman Gisela Sanchez played for Spain. The 6-foot-3-inch small forward averaged 7.1 points, 3.9 rebounds and 1.5 assists per game on the way to a seventh-place finish. In the quarterfinal matchup against Team USA, Sanchez scored 13 points, had three assists and grabbed two rebounds in 25 minutes.
The Wildcats are still looking for nonconference opponents to fill two open home dates, one in November and the other in December. Barnes has been trying to fill the two spots for nearly a year.