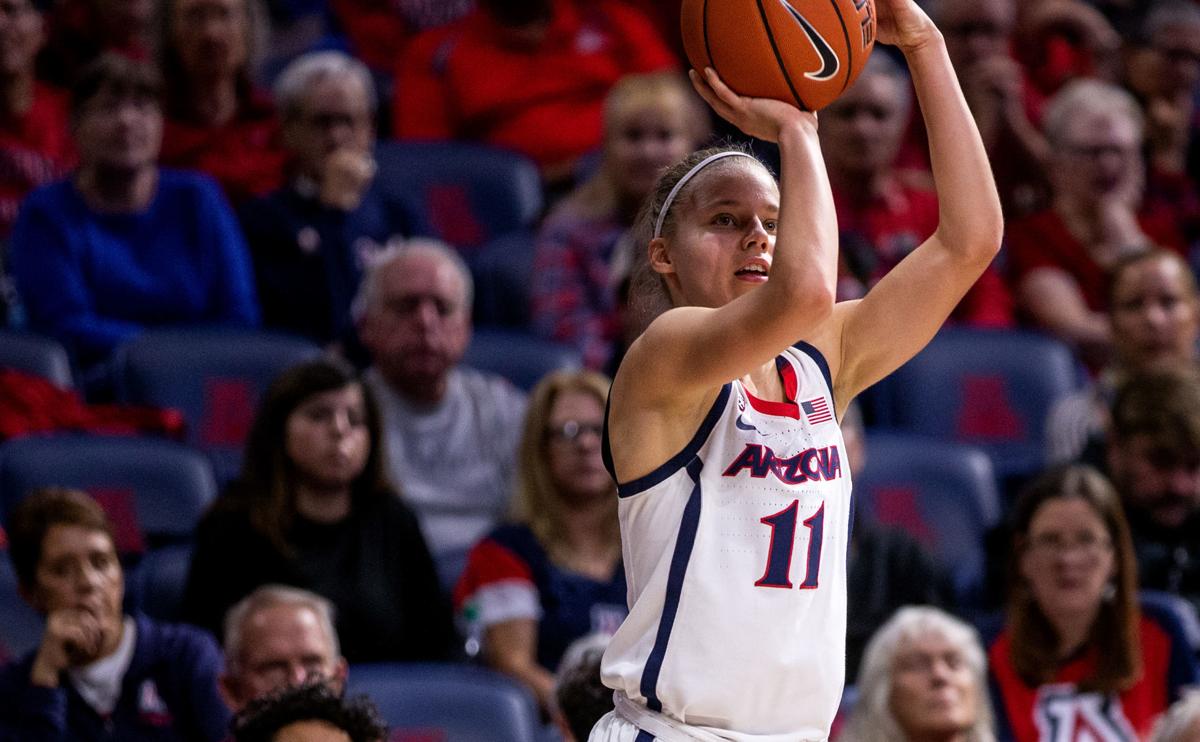 The UA freshman said she will do whatever it takes to help the 11th-ranked Wildcats during their historic season, whether it's playing a minute here and there or doing something even bigger.
"Whenever Coach Adia (Barnes) gives us opportunities, we have to use them — even if it's like a minute, you have to go and show what you got," she said. "Otherwise, how can they trust you with more time if you don't prove with the little time you have?"
For Mote and other UA reserves, that time might be now. Mote played 17 minutes in Friday's 85-69 win over Utah as star guard Aari McDonald watched from the bench with a lower leg injury.
A UA spokesman said Saturday that McDonald, who moved around on a scooter before Friday's game and wore a boot during it, remains day-to-day. The UA takes on Colorado (15-11, 4-11) on Sunday at noon.
Mote is one of a handful of guards who took on a larger workload Friday with McDonald out. Helena Pueyo started and played 25 minutes, up from her 20 minutes-per-game average heading into Friday's game. Amari Carter played 26 minutes, up from her 23-per-game average. Lucia Alonso played 29 minutes, up from the 13.6 she was averaging before Friday.
It was more than enough for the Wildcats, who won their fourth straight Pac-12 game. With a win Sunday, Arizona (22-4,11-4) would secure at least fourth place in the Pac-12 and earn a first-round bye in the conference tournament. The UA will host No. 4 Stanford and Cal in the final weekend of the regular season.
"Mara has a chance to be special," Barnes said. "She can shoot the ball. She can handle it. She is a good defender. She's just got to give it time and keep on working and getting Pac-12 experience. She's going to be a good player."
It's impossible to understand where the freshman guard is today without looking at her past. Mote came to the UA program off a strong showing in the U19 World Cup for the Junior Latvian National Team. She averaged 10.9 points, 4.6 rebounds, 2.6 assists and 1.6 steals per game as Latvia won four games.
Mote contributed right away at the UA, earning minutes and gaining trust and confidence of her teammates and coaches in nonconference play. At the end of November, Mote really started to find her groove — she was named player of the game after scoring 12 points in a win over UC Riverside.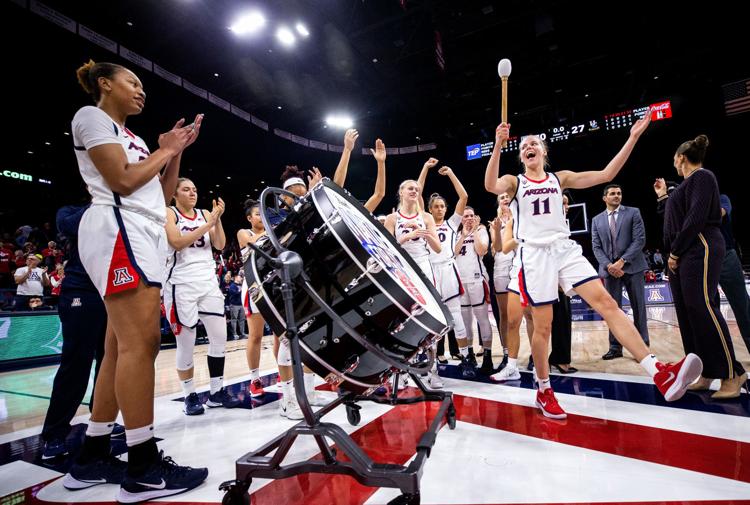 Then she injured an ankle.
"I got back right as the Pac-12 started, and I think it's the toughest conference to play," she said. "We had four top-10 (opponents), and then we were ranked, and it was kind of hard to get into that."
With McDonald, Sam Thomas, Amari Carter and Lucia Alonso in front of her, Mote knows she has to use any edge she can to earn minutes. So she watches Carter and Thomas on defense and goes to Dominique McBryde for tips on how to get open shots.
She's also putting in extra time on her off days shooting in the gym.
That extra push is working, and her touch seems to be back. She knocked down a 3-pointer from the top of the key with no hesitation in the first quarter of Friday's game. She had a highlight-reel moment in the second quarter, driving to the basket and dishing to Thomas, who hit a 3-pointer.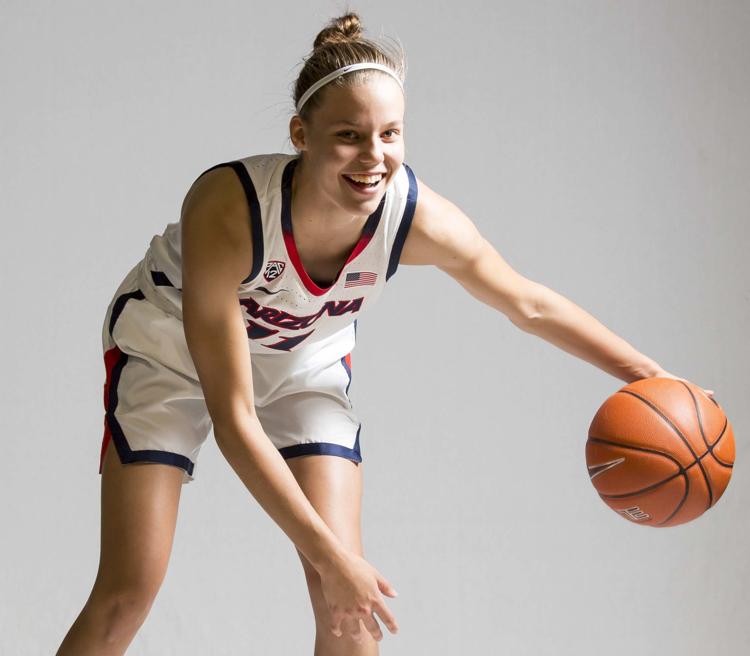 In practice, she's been focusing on her defense.
"I see myself as a defensive player," Mote said. "Even before the UCLA game, (assistant) Coach Salvo (Coppa) came up to me and said, 'Be ready, learn this scout, learn the best players, because we're going to give you time, you're going to come into the game, and you're going to defend them.' And I was like 'OK, that's my job. I can do it.' So, right now I'm taking pride in that and trying to be more and better."
Mote is not the only Wildcat who has improved. The freshman said she is constantly impressed with what her team has been able to accomplish.
"This is actually more than I expected," she said. "We're No. 11 right now — I didn't think we would be that in the beginning of the season. We knew we were capable of doing it, but not that quickly."
Rim shots
Thomas took over offensively with McDonald out, scoring a career-high 31 points on 8-of-13 shooting. She also hit all 13 of her free throws. As a team, Arizona was 23 for 26 from the free-throw line. The Wildcats now rank eighth in the nation from the free throw line, shooting 78.3%.
Alonso scored a season-high 14 points against Utah, going 4 of 5 from the field and hitting all four of her free throws. She wasn't the only efficient Wildcat in Friday night's game: McBryde shot 5 for 5 from the field, finishing with 12 points.
Be the first to know
Get local news delivered to your inbox!