Little by little, the Arizona women's basketball team started figuring out who was pitching in at practice while coach Adia Barnes was out on maternity leave.
Some of the players may have bumped into him in McKale Center, since he works down the hallway from the basketball offices.
Others may have seen him in their offices, as he is the director of development for the program.
However, none of them immediately grasped that it was former UA standout, ex-NBA player and coach Reggie Geary working alongside UA assistant coaches Salvo Coppa, Jackie Nared-Hairston and Tamisha Augustin.
One thing they knew for sure was that if Barnes asked him to be there, they needed to listen.
And that's the first thing they noticed: Geary definitely had a coaching voice.
"At first I didn't know he played here or that he played in the NBA — I didn't know anything about him," senior Trinity Baptiste said. "The first drill we did, I made a pass to him and it wasn't perfect. The next time down, he put that voice on and said, 'make a strong pass.' I'm like 'OK, he's a coach.' You could just tell with his movements and the way he was giving instructions."
It also took a nudge from Athletic Director Dave Heeke to do some research to learn more about their sub. It was all low key, which is exactly how Geary — who helped the UA men to the 1994 Final Four — likes it.
"I know how to assist and I am very comfortable on a basketball court," Geary said. "Adia knew that I could help at this time. I wanted to earn their respect slowly.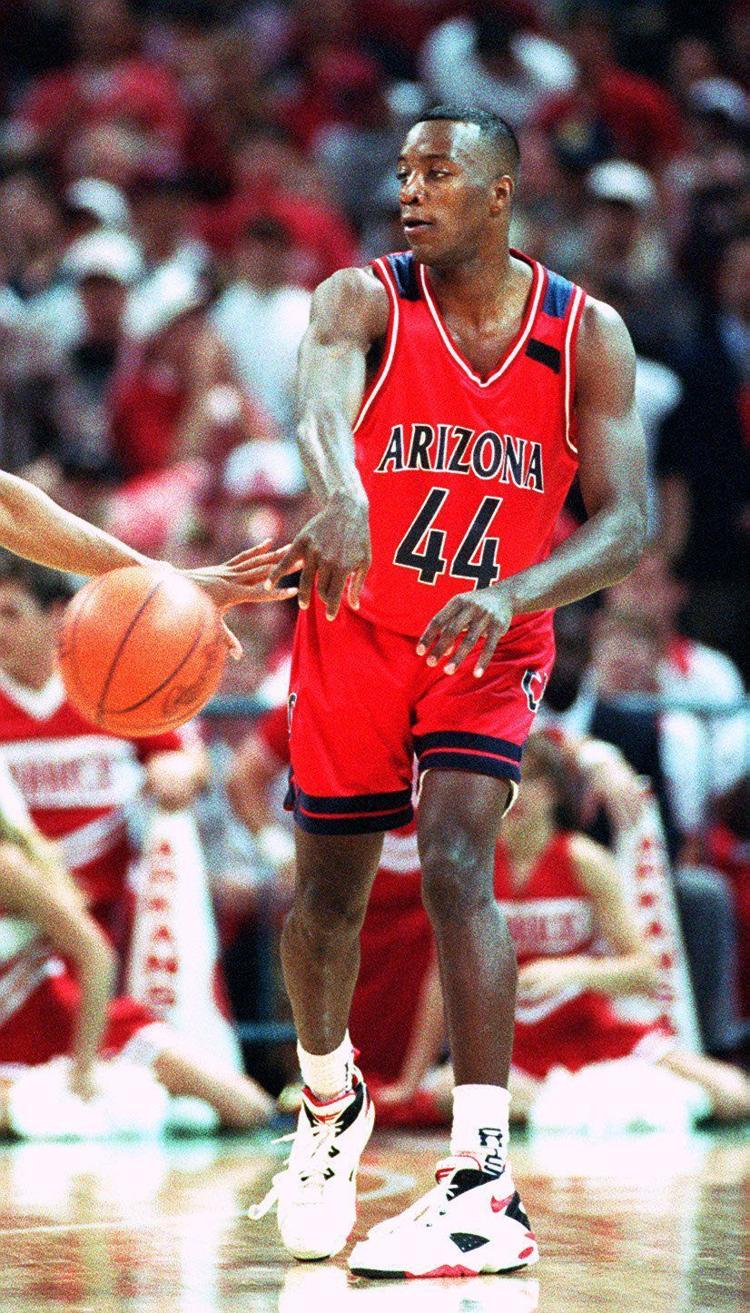 "It was a nice discovery — them of me and me of them. I just come in and work and help them in any way I can — to help them get to the Final Four. If I only have three weeks to do this, I just want to make sure I give them an honest day's effort.
"I try to come in making sure they are bringing energy to practice. They are opening up more and more. It's a special experience for me, I hope they feel the same way.
"It was a nice honor when Adia asked and if she calls again, without hesitation I would do whatever I can to help."
Geary and Barnes' relationship goes way back as they overlapped in their playing days at UA.
Geary served as an assistant or head coach for 14 years, including two stints under former Arizona coach Lute Olson. He most recently coached in Japan before coming back to Tucson and UA as Director of Development for the Wildcat Club two years ago.
The Wildcats are in the midst of player development and working on fundamentals. With Barnes returning to practice, the plan is to start implementing their system.
During his time as a sub, Geary worked with the guards and the bigs. He's been helping junior Bendu Yeaney with the technical aspects of her jump shot. He's been working with the posts, like Baptiste, on adding skyhooks into their game, faking out the defense with good footwork in the paint.
For the coaches it's been a real give-and-take of sharing ideas. Geary has been excited to learn more about Barnes' philosophies, while Coppa is always looking for different viewpoint on technical aspects of the game.
"When we take a water break, I will ask him, Jackie and Tamisha, 'can you please look at the angle of the screen?' Six eyes can see even better than two," Coppa laughed.
"It's a pleasure to have a very good person like him around. He has a lot of experience. He played high-level basketball in college, high-level as a professional and coached overseas. He's a great guy with a very good basketball mind. You can pick his brain for every single detail. That's why this sport is so beautiful if you have an open mind, because you can learn so much especially from those who have this type of experience."
As the Wildcats enter unchartered territory as one of the best teams in the country that is loaded with talent, what exactly is Geary seeing from them?
"I can't stress enough that they are great women with high-character who come to play and are a very close-knit group," Geary said. "I can see why special things will happen for Adia and this program. They really do have a quality program.
"Aari (McDonald) is an incredible impact player. The way she goes about her preparation — when the best player comes ready to practice it's special; she's a special talent. She's going to be on everyone's player of the year list. Cate (Reese) looks good, the freshmen and the sophomores are working hard.
"And Trinity – fans will really like her. As a fifth-year senior, she has a very mature approach and works hard. We always say a coach has a good problem when they have lots of talent and has to decide who is going to be on the court. That's a good thing for Wildcat fans."
He's not the only one seeing good things from the Wildcats right now.
"The girls love Adia and they know she's out right now with the baby," Coppa said. "They are working even harder for her. They listen, execute, have good body language and you can see they are working hard."
Photos: Adia Barnes through the years
The new UA women's basketball coach played for the Wildcats between 1994-98 and is their all-time leading scorer. 
Be the first to know
Get local news delivered to your inbox!