With the recruiting window fully open this month for the first time in over a year, the Arizona Wildcats are mobilizing.
They just had to make one modification.
As he waits to hire a final assistant coach, Tommy Lloyd received approval for operations chief TJ Benson to recruit in the interim. Benson will attend the Section 7 high school tournaments in Phoenix over the final two weekends of June and the shoe-sponsored and other showcases that will follow in July.
While Arizona has continued to post an opening for an assistant director of basketball operations, it has removed the job postings for a third assistant coach and a player relations director. The delay in announcing an assistant could suggest the Wildcats are waiting on an NBA staffer such as Suns player development coach Riccardo Fois to finish the season.
Benson, the UA's special assistant to the head coach and recruiting coordinator, already has college coaching experience. A former player at Tempe Corona del Sol High School, Weber State and GCU, Benson was an assistant coach with the Lopes before serving as Gonzaga's coordinator of basketball administration last season.
"TJ Benson is a respected young coach on the West Coast and he gives us a ton of credibility in his role," UA associate head coach Jack Murphy said. "When you need him to go on the road and fill in, he's more than capable."
The NCAA imposed restrictions starting in March 2020 because of the COVID-19 crisis, forcing coaches to recruit exclusively by virtual means. On June 1, however, the NCAA began allowing the normal in-person and open evaluation periods.
The Wildcats have already taken advantage by hosting unofficial visits that included one from 2022 commit Dylan Anderson on June 5. A four-star stretch four from Gilbert Perry High School who was named Arizona's Gatorade Player of the Year last week, Anderson visited along with his parents.
According to his father, Rob, UA coaches who broke down video of how they plan to use Dylan in 2022-23. Rob Anderson said his son visited UA as an eighth-grader, touring where basketball players lived, but this trip allowed Anderson to spend time in person with Lloyd, who had been recruiting Anderson for Gonzaga. Dylan Anderson's mother was also able to attend.
Rob Anderson said his son will take his official visit during Arizona's Red-Blue Game, which is typically held in late September or early October.
Bakamus, Nakagawa hit floor
Meanwhile, Arizona staffers Rem Bakamus and Ken Nakagawa have been helping out with on-floor coaching drills this summer thanks to a temporary NCAA rule change.
The NCAA is allowing two non-coaching staff members to coach at campus facilities this summer so that coaches can recruit off-campus after the long dead period.
The Wildcats aren't expected to have their full roster on hand to work with until mid-July. Only sophomores Bennedict Mathurin, Kerr Kriisa, Pelle Larsson, Oumar Ballo and Dalen Terry were in town earlier this month.
Incoming freshman Shane Nowell arrived this week, but Ballo left to join Mali's U19 team in advance of next month's U19 World Cup, while Mathurin (Canada) and Terry (USA) are expected to leave for U19 training camps next week.
Canada announced this week that former New Mexico coach Paul Weir will coach its U19 team, but has not formalized its preliminary roster.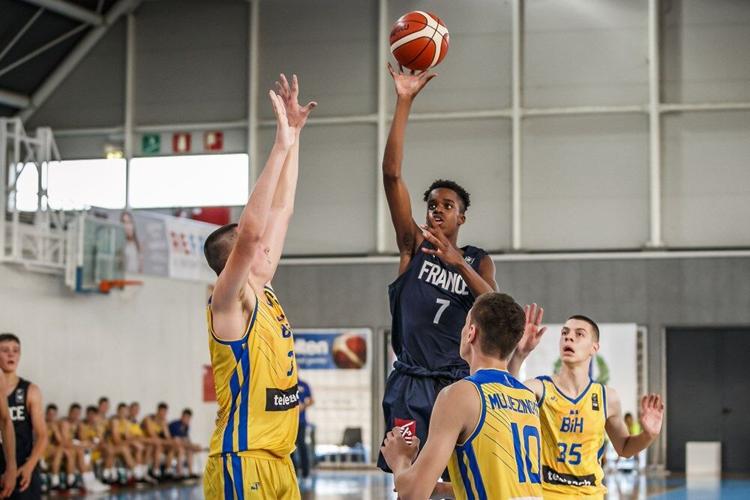 Bal arriving soon
Incoming freshman guard Adama Bal of France said he is graduating high school later this month and is expected to arrive this summer.
Bal, who has been rehabilitating a thigh injury, committed to Arizona last month. He told the Star that Lloyd had been recruiting him for three or four months for Gonzaga before taking over the Wildcats in April.
"I had gotten to know him quite a bit," Bal said via text message. "College was always one of the options for me but never THE option. I waited to see what could be my options in France, Europe and in college and made a decision.
"Tommy recruited me hard, laid out a plan and Arizona has a great history so it made my decision easier in the end. I also talked to many former NBA and college players."
Bal played point guard for CFBB in Paris last season, averaging 9.8 points, 2.4 rebounds and 2.1 assists in 27 minutes per game, but said he can also play off the ball "quite a bit" because of his size and shooting. The 6-foot-6-inch Bal has a wingspan of 6-11.
Miller taking 'deep breath'
In a story about Sean Miller's views on Deandre Ayton's success with the Suns, The Athletic wrote that Miller wouldn't discuss UA's firing of him. The coach also said he's intrigued by the NBA.
"In some ways, I'm looking forward to, and I'm trying to take advantage of just not having the responsibility," Miller told The Athletic. "Take a deep breath and kind of see where the next move is for me."
Rim shots
Former Arizona wing Tibet Gorener, who transferred from Arizona to San Jose State this spring, was named to Turkey's preliminary U19 World Cup team. Gorener could join up to five current Wildcats in the tournament in Latvia from July 3-11.
Mathurin recently paid a visit to the NBA Academy Latin America in Mexico City, where he spent two seasons before joining the Wildcats a year ago.
Arizona's two-year series with Tennessee is officially under contract, though its early-season home game against Texas-Rio Grande Valley remains yet to be completed. The Wildcats are scheduled to play at Tennessee on Dec. 22, while the Volunteers will return the game to McKale Center on Dec. 17, 2022.
Contact sports reporter Bruce Pascoe at 573-4146 or bpascoe@tucson.com. On Twitter @brucepascoe