Dan Hurley and big brother Bobby talk nearly every day during basketball season, for support, empathy or just a much-needed joke. Their bond strengthened decades ago not only at home but also on the sternly-run court of their father, legendary high school coach Bob Hurley.
But when their talk turned to the UConn job opening last March, the conversation could have been pretty short.
UConn? The place that put up four national title banners over the past two decades, with suffocating pressure to match? Where Kevin Ollie, the former assistant of legendary coach Jim Calhoun, was fired last season just four years after he won a national title of his own?
Oh, and also the place where women's coach Geno Auriemma also has won 11 titles — and counting — of his own?
Dan Hurley, who will lead UConn against Arizona on Sunday in Hartford, Connecticut, had pushed programs at Wagner and Rhode Island significantly forward. He had choices. Pitt wanted him last spring, and Rhode Island was trying to extend his contract.
The brothers talked. Bobby said Dan had thought highly of the UConn brand and its tradition, and became "excited about building a program in a place where people care about basketball; it's a national program in all areas."
Dan also consulted with his dad. He considered the resources, the expectation, the fans, the administration at UConn … but not really the pressure.
"Knowing my background, the youngest of the three basketball Hurleys, I've had to handle expectations of Bobby and my dad, so it doesn't affect me at all," Dan Hurley told the Star on Saturday. "I've lived it. Me and Bobby both grew up with a lot of expectations, so I don't feel any of it."
He used to, painfully at times.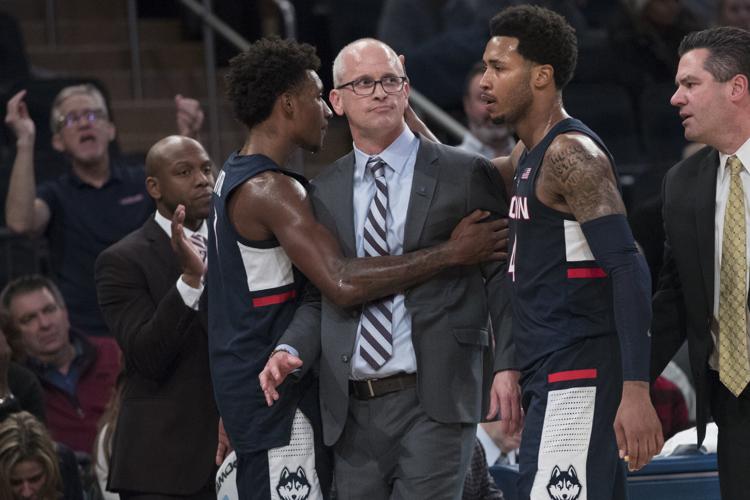 He watched his father wrap up some 26 state titles over more than 1,000 games at St. Anthony High School in Jersey City, New Jersey, while watching Bobby star at Duke and go on to become the No. 7 pick in the 1993 NBA Draft.
Dan even nearly quit the game at Seton Hall, while struggling at times under then-coach P.J. Carlesimo on a campus that was too close to home to avoid scrutiny.
Bob Sr. told the New Haven Register before this season that Dan was suffering from "unfair comparisons" in college, with Bobby being given the freedom to run Duke's offense in a way that Dan wasn't allowed to, and having to do it all before the pressure of hometown fans.
Dan said he didn't help himself, either.
"It was hard," he said. "It was tough timing because I wasn't mature enough as a freshman or sophomore to be able to help Seton Hall get over the top. Bobby was on a run to being maybe the best college basketball point guard of all time and I'm at Seton Hall going through paralysis by analysis, just feeling the pressure of not measuring up. It affects every part of your life."
But things changed in an instant when Bobby nearly lost his life. During his rookie season with the Kings, while Dan was a junior at Seton Hall, Bobby suffered two collapsed lungs and several broken ribs in a car crash just an hour after a Kings game.
"I think it was just seeing him in that position, such a strong guy," Dan said. "(I decided) to enjoy life more, attack life more and be the best basketball player or coach I can be, and when I'm outside the lines the other 20 hours a day, it's about family, it's about relationships. There was nothing more important in the world than seeing Bobby get right."
After finishing his playing career, Dan spent most of the next 15 seasons building St. Benedict's Prep into a high school powerhouse, then moved into college basketball at Wagner for two seasons and then Rhode Island for six seasons.
In a slight twist of roles, Bobby became Dan's first assistant coach, spending two seasons at Wagner and one at Rhode Island with him, before taking over Buffalo in 2013 and then Arizona State in 2015.
Their relationship grew on and off the court.
"It was so much fun because we had been apart" since high school, Dan said. "I was coaching in Jersey and Bobby was living in Florida. It was the first time we really had a chance day-to-day to see each other. To do what you love with your brother, your best friend, that's pretty good."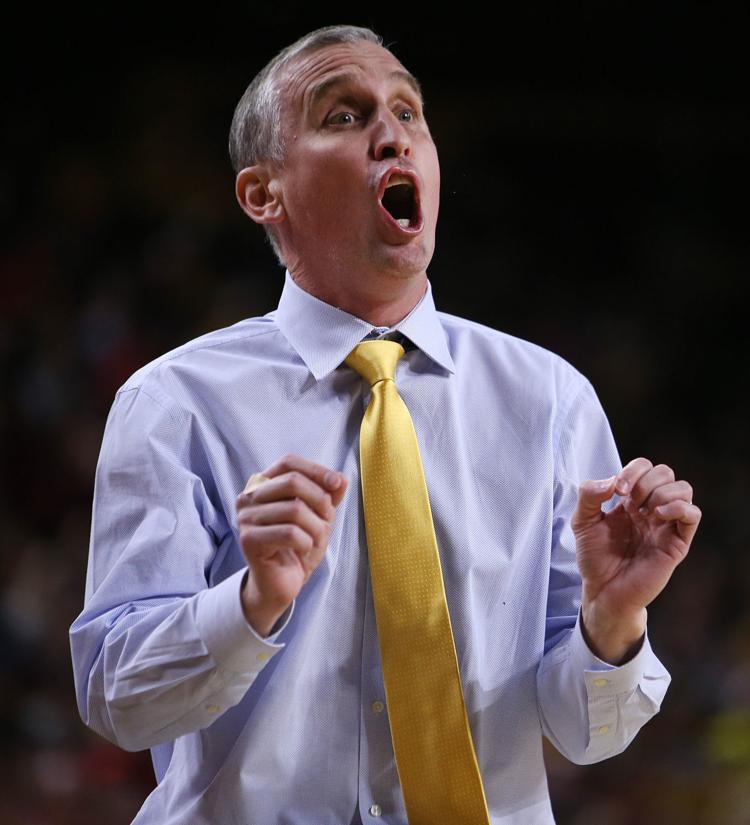 This time, Bobby learned a few things from his brother. Even today, Bobby says about 60 percent of the things he runs at ASU practices are what he and Dan did together at Wagner.
"There are always going to be differences in that you're a product of everything you've been exposed to," Bobby said. "From growing up with Dan and my dad, maybe from a style standpoint we have some similarities. We have a fair amount of intensity."
UA and ASU fans know that all too well. Among other memorable moments in the UA-ASU series, Bobby was tossed from his first Pac-12 game, Arizona's 94-82 win over the Sun Devils in January 2016, when he argued vehemently with officials enough to pick up two technical fouls within 15 seconds.
It won't be a surprise if there's plenty of intensity on both sidelines Saturday: with Dan and the Huskies and, of course, with the Wildcats and UA coach Sean Miller, himself a product of a similarly driven and successful basketball family tree that includes a legendary high school coach (John Miller) and a brother also coaching in Division I (Indiana's Archie Miller).
Already having to face Bobby twice annually in Pac-12 games, and having beaten Dan Hurley's second Rhode Island team in the 2013-14 NIT Season Tip-Off, Sean Miller respectfully chuckled at the prospect of facing another Hurley.
"Danny and Bobby, they're from Jersey City and those dudes have played the game since they were 4 years old — and their dad is one of the all-time best coaches at any level," Miller said. "They know what they're doing. Their teams play hard. They compete and that's what we're going to face."
Dan wants to compete. UConn fans demand that his team competes. Bob Sr. is watching the Huskies compete, and so is Calhoun.
A lot of eyes. A lot of pressure.
For Dan Hurley, maybe that's the perfect fit.
"We have a huge fan base and a huge media following. Obviously, it's a lot," Dan Hurley said. "I would say our fans are rabid and delusional. They want to get back to winning, and so do I."