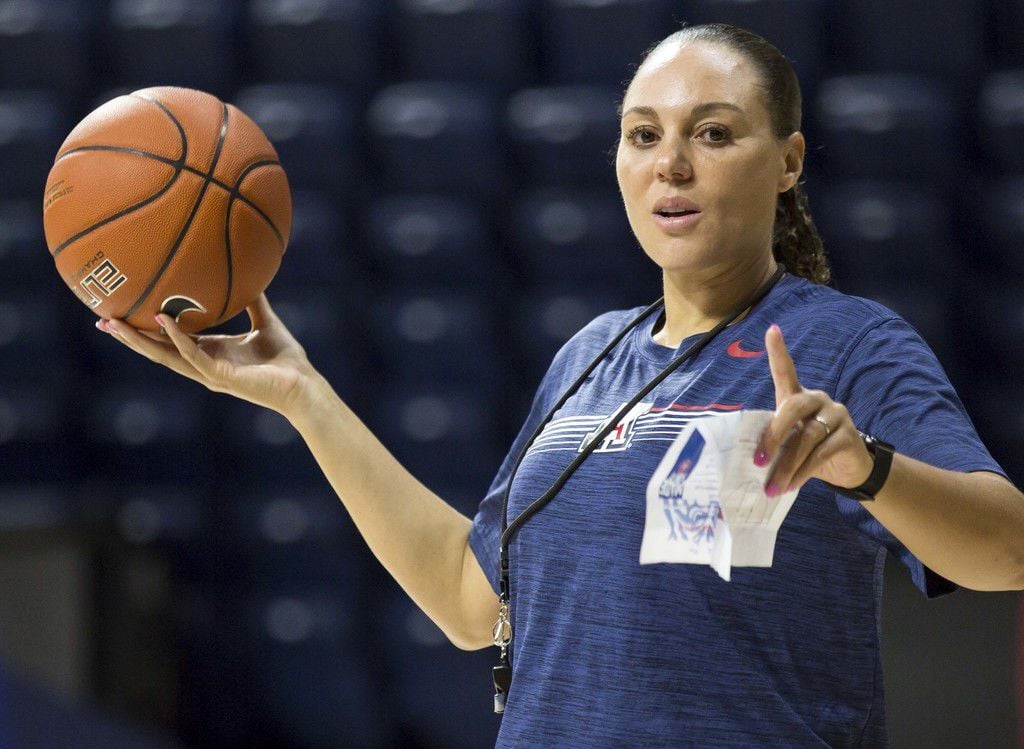 Adia Barnes is happy one hurdle is cleared. She knows what's coming next is just as hard.
Still, her goal — to play the 2020-21 season — is getting closer.
On Thursday, the Pac-12 announced that women's basketball would play 22 league games. The news leaked out the day before, when Utah coach Lynne Roberts let it slip during a press conference.
"We've known for a week," said Barnes. "I think it will be very challenging. We have the No. 1 conference in the country. It will be fun and competitive and will test us a lot. I'm excited."
The Pac-12 initially considered three options: Playing 18 games like in past seasons, or increasing the number of league games to 20 or 22.
"We couldn't stay at 18 and some wanted 20, but the majority wanted 22 games," Barnes said. "The whole thing revolved around safety. I voted for 22 games because I know what Pac-12 teams are doing with their protocols. When you play other teams, you are more at risk.
"Safety was the No. 1 priority for everyone. We all felt this way in this unprecedented year."
A 20-game league schedule could've allowed the women to travel with the men's team on charters. Barnes' teams typically fly commercial, and that's unlikely to change now that the Cats have a 22-game schedule.
With the Pac-12 schedule set, the UA will now try to line up three nonconference games. The season tips off in less than six weeks.
"We can only play opponents who test three times a week and test the day before and day of a game. This limits our options," Barnes said. "All of the Pac-12 is scrambling to get these games set. A lot of us are trying to get the same teams in the region. It's a challenge.
"We had a contract almost completed, then yesterday we got a new scenario from Pac-12 (for league games) and we are playing that date. So, I have to change it. We can't solidify our non-conference now and usually we have our travel completed by this time. There are so many factors right now, more obstacles. There are so many things to think about. I'm glad we only have to find three, rather than seven. That would have been more challenging."
On top of this, scheduling has gotten harder for the Wildcats as they've gotten better.
"I had so many options before," Barnes said. "Now that we are a good team, that gets cut in half."
Back in the gym
Arizona held its first practice on Wednesday. It marked Barnes' first time back at McKale Center since having her baby, Capri, on Sept. 15. Barnes spend one month on maternity leave, but the work never stopped.
"For example, I made practice plans and emailed it to all the coaches. Then I would get on a Zoom call with them to talk about what we are doing in practice. I wanted to work on certain things — it was important for me to be involved," she said. "And with a C-section, usually you are off a long time. It's hard, but, it's part of being an athlete — you are resilient going through all those surgeries. I feel good. Yet, you have to be ready mentally — you do what you have to do."
While Barnes is pushing ahead, it's not always easy. She admits to feeling pulled in two directions.
"It feels incredible to be back and it was so hard that first day when the girls were all cheering for me, not hugging everybody," she said. "Leaving such a young baby at home is hard as a mom, but you do what you have to do. My body has to adjust: I'm breastfeeding, and I barely have enough time after practice to either sprint home to find her or go to my office to pump.
"This is the reality of being a working mom that people don't realize. It's the little things you don't think about. Those are things you have to do."
One more year
Barnes said the NCAA's decision to give winter sports athletes an extra season of eligibility is "an incredible opportunity."
"I was surprised at first — I didn't know it would happen. How would schools be able to do this with the impact of COVID? Take for example, (UA senior) Sam Thomas. She missed her NCAA Tournament, and I don't think that was necessarily fair. I am happy for her — I just don't know how it will all work out."
Be the first to know
Get local news delivered to your inbox!