After putting up a solid starter's performance against Chico State last Friday, Arizona junior Ira Lee foreshadowed the reason why he, um, might not be in the starting lineup for the Wildcats' season opener on Wednesday.
Zeke Nnaji, the freshman forward who didn't play against Chico because of a sprained ankle, wound up replacing Lee in the lineup … then went out and quickly showed why, scoring 20 points in just 21 minutes to lead Arizona to a 91-52 win over NAU at McKale Center.
"He's a beast. A real beast," Lee said Friday, after scoring 14 points and grabbing 10 rebounds on Chico. "He kind of reminds me of Deandre."
Of course, that would be Deandre Ayton. Maybe it's too much to compare just about anyone with the 7-footer who went No. 1 in the 2018 NBA Draft, and it's also true that Nnaji was producing against an NAU team that didn't even have the inside presence of Chico State.
But, still. Twenty points on 9-for-12 shooting in 21 minutes?
Nnaji's impact was impossible to ignore, and it was immediate. Nnaji won the jump ball at the start of the game, leading to a jumper from Dylan Smith that was assisted by Nico Mannion, and he also began the second half with an alley-oop dunk off an assist from Mannion.
Nnaji highlights came even when you might not expect them. Toward the end of the first half, after UA went on a 15-3 run that gave it early control of the game, Nnaji ripped the ball out of the hands of NAU's Isaiah Lewis, who had been preoccupied with Mannion's defense as he tried to drive past the perimeter.
After relieving Lewis of the ball, Nnaji and his 6-11 frame ran all the way downcourt and made a layup.
"Defensively, he really gives us length, quickness and size and makes us a much deeper team," UA coach Sean Miller said.
After Nnaji's steal, UA led 39-20, the game all but out of the Lumberjacks' reach. Nnaji finished the first half with 14 points and finished 20 points before he was taken out of the game with 13:30 left.
Nnaji had been showing that sort of potential in practice this fall, as teammate Stone Gettings attested.
"Obviously, he's a freshman but it doesn't seem like he plays like that," Gettings said after Wednesday's game. "if you were asking me, this is not too surprising, to say the least."
Without prompting, in his media address a few minutes later, Miller pretty much said the same thing.
"I thought Zeke Nnaji was outstanding," Miller said, "and he played tonight like he plays all the time."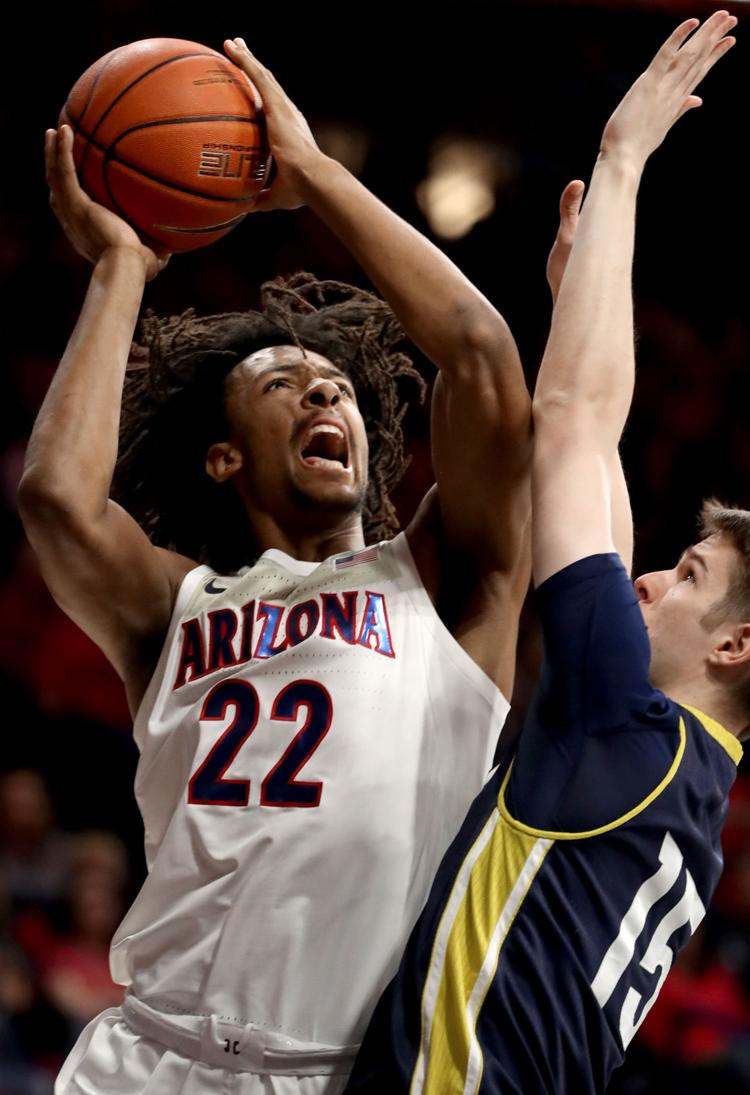 Joining Gettings at the postgame podium, Nnaji spoke modestly, saying it was great to finally get on the floor while crediting his teammates and saying how the team had prepared for him to succeed inside.
"Our game plan was to take advantage of size advantage," Nnaji said. "Our goal coming into the game was to run the ball inside."
Meanwhile, senior guard Dylan Smith took advantage of the continuing suspension of sophomore guard Devonaire Doutrive by scoring 10 points while hitting 2 of 3 3-pointers.
In the first half alone, Nnaji was 6 of 7 from the field while Smith totaled eight points on 3 of 6 shooting, including 2 of 3 3-pointers he took.
A grad transfer from Cornell, Gettings also made a notable debut by hitting 3 of 4 3-pointers and totaling 13 points, while Mannion had nine points and four assists with just one turnover.
"To have one turnover and four assists in his first college game, I thought that was a really big thing," Miller said.
Nnaji and Doutrive both missed the Chico State game, Nnaji because of a sprained ankle that he quickly bounced back from. But while Doutrive has continued to practice with the Wildcats, he is also not expected to play Sunday against Illinois because of the unspecified reasons behind his suspension.
Held to just 31.5-percent shooting, the Lumberjacks never had much of a chance. Their biggest strength is 3-point shooting but, after Chico State hit 10 3-pointers on Friday, the Wildcats were locked in on getting out on shooters.
Sometimes, too much so. UA actually twice fouled Lumberjack shooters behind the 3-point line, though that only amounted to 3 of 6 free throws, while the Wildcats kept NAU to just 5 of 17 3-point shots overall.
The Lumberjacks did take a brief 7-6 lead on a 3-pointer from Ted McCree early in the game, but UA led 23-8 after the 15-3 run that included scores from Mannion, Chase Jeter, Nnaji and a 3-pointer from Smith.
Through the first 12 and a half minutes, NAU shot just 4 of 15 from the field and 2 of 7 from 3-point range while turning the ball over six times.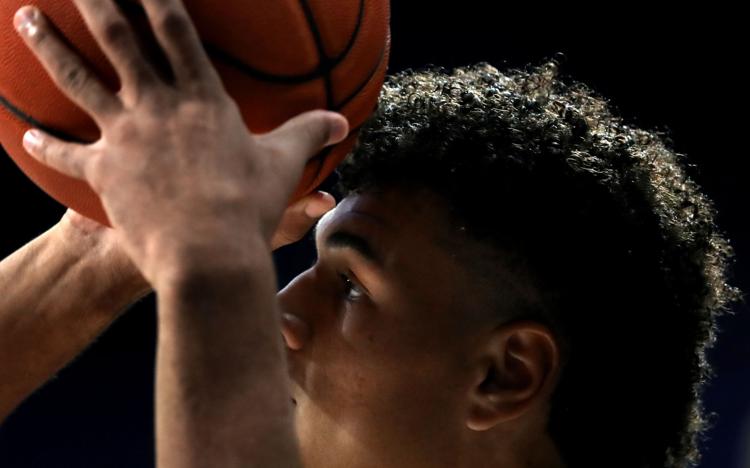 Arizona finished with only seven turnovers to NAU's 19, and shot 54.1 percent from the field overall, with six players scoring nine or more points.
"I thought we played together with a lot of effort, and there were a lot of contributions from a number of players," Miller said. "It was a good start for our season."