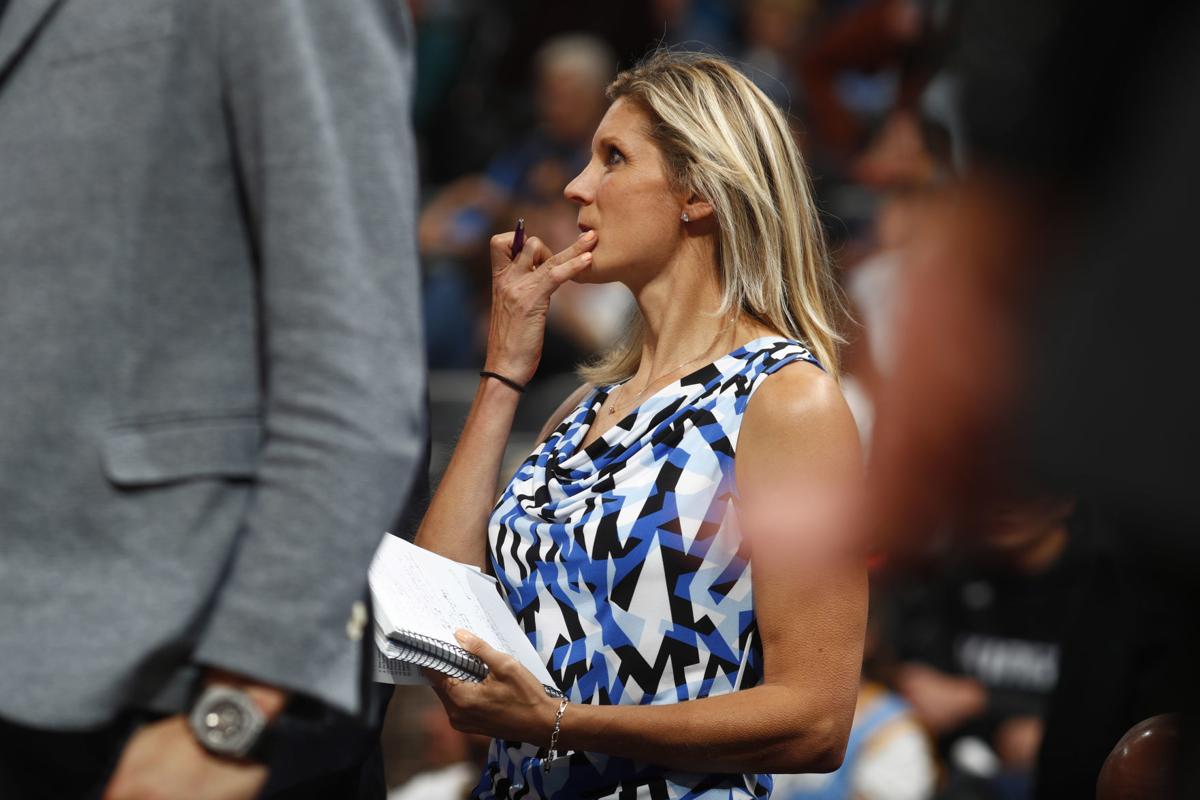 Adia Barnes has approached this offseason the same as any other. Even though it isn't.
With her players spread all over the world as they await their return to campus, Barnes has taken to Zoom calls to keep her team on the same page.
"I want to give them resources so they can hear from people who have won at different levels — so they can learn," Barnes said. "It helps the program."
Dallas Mavericks assistant Jenny Boucek, a trailblazer among female coaches in the NBA, joined a team-wide Zoom call June 22.
Boucek was a four-year starter for Virginia, a two-time All-American and a two-time All-ACC team member. The Cavaliers won the ACC title all four years and went to the Elite Eight of the NCAA Tournament three times. She was the team's best defensive player, but still managed more than 1,000 points in her career.
As a pro, she won an Icelandic Championship and played for the WNBA's Cleveland Rockers.
Boucek coached in the WNBA for 10 years before being tapped by the NBA. She served one season as a player development coach for the Sacramento Kings and before moving to the Mavericks in 2018.
The Barnes-Boucek connection is deep. Boucek was an assistant when Barnes played on the Storm's 2004 WNBA championship team.
"Jenny and I have been friends for years," Barnes said. "She believes in what I'm doing. She's a mentor, a friend, someone I can trust who knows and cares about me. She has my best interest at heart. A lot of people have helped me along the way and she's one of them.
"She is one of the women in the NBA who is actually coaching. She's been a head coach, an assistant. She's won at different levels. She's incredible. She has so much knowledge and insight."
Boucek talked with the Wildcats about what lies ahead. Arizona won the WNIT in 2019, and was on the edge of hosting NCAA Tournament games when this season was cut short because of the coronavirus pandemic. What's next, is as Barnes always says, is "uncharted territory." For the first time in her tenure as Arizona's coach, the Wildcats will be ranked before the season starts — and expected to win.
"We've always been the hunter and now we're the hunted. The standards are different now that we have an 'X' on our back. How do we handle it? What do we have to do?" Barnes said.
Boucek shared insights on what it takes to be a championship team. Some of it hit home for the older Wildcats. Aari McDonald, Sam Thomas, Cate Reese and Semaj Smith had a champion's mindset during their WNIT run.
"The best players don't worry about what others say. We didn't care what others thought in the WNIT. No one thought we could win, but we knew we could, and we did," Barnes said.
Boucek also talked about being a good teammate — loving, caring about your fellow players and telling them the truth. Former Wildcat Tee Tee Starks would set her teammates straight. Barnes said that teams that have many players like Starks win every day in practice.
Others hit closer to home for Barnes. Boucek said that the best players don't measure themselves against anyone else and they work to be their best version of themselves every day.
"You are not trying to measure yourself against anyone else," Barnes said. "You may beat a good team but not be satisfied because you didn't perform your best on the court. Defining success is a big thing. We all want to win a championship, but what is most important?
"Sure, I look at (Stanford coach) Tara (VanDerveer) and everything she's done, but I don't measure myself against her. I'm trying to be better every day. I want to win, but also love what I'm doing. If I win and we didn't play our best, I wouldn't love what I'm doing."
Barnes lives these values every day. She has spent the down time breaking down film and perfecting the Wildcats' training plans, which will change depending on whether they have a short or long preseason.
Last week, she and UA assistant Salvo Coppa talked with Ettore Messina, a former San Antonio Spurs assistant who now coaches in Italy. They talked about basketball, the Wildcats and keeping up with expectations.
As a team, the Wildcats are reading "The Energy Bus" — a book about your mindset and the energy you give out, you get back. They're on Chapter 9.
All of this is working towards being better than they were the day before — regardless of the uncertainty in the world.
"Be your best every day — grow, learn and adapt," Barnes said. "When you hear from your coaches all the time, you are listening, but you don't hear it. Having these voices, like Jenny's, is important — it empowers them. It was an honor to have someone like Jenny take time to join our call – it means a lot to me. I love her dearly. She is a rock star."