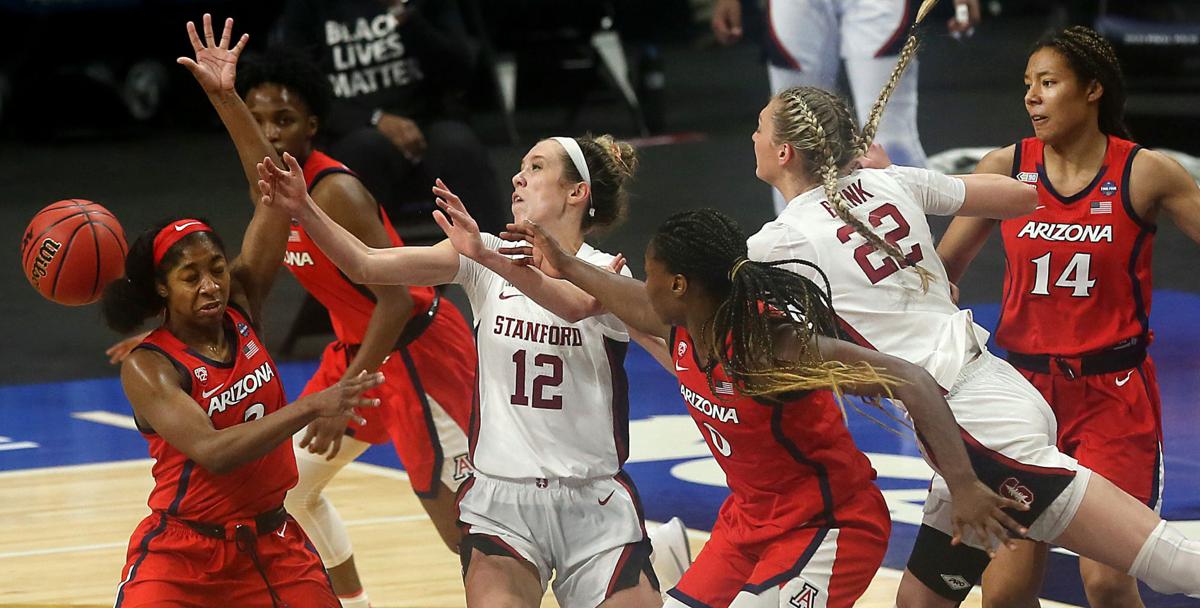 Trinity Baptiste loves everything about Arizona.
She considers it her home, and when it came time to make a decision on whether she would come back to Arizona and play a sixth year, it was a thoughtful process.
She talked to Aari McDonald, who had planned on going professional last April, and decided to come back. Baptiste wanted to know what went into her decision.
Then she spent time with Adia Barnes who guided her through, making sure Baptiste had all the information she needed.
Ultimately, Baptiste decided not to take advantage of the extra year of eligibility that the NCAA has offered to student-athletes. Her decision came before the Pac-12 Tournament, but she waited to file her paperwork and declare for the WNBA draft until after the Wildcats' long run in the NCAA Tournament.
"I just felt like, it's just my time. This is my fifth year. And I don't want to be in college for six years, to be honest. It's as simple as that," Baptiste said. "I just got to a point where I feel like it's my time, it's my time to branch off and do something bigger and different.
Baptiste spent one year at Arizona as a grad transfer from Virginia Tech and made an impact. She was the presence down low that the Wildcats needed, combined with a nice mid-range jumper and a 3-point shot, Baptiste was hard to contain.
Baptiste earned a spot in the starting rotation from the beginning.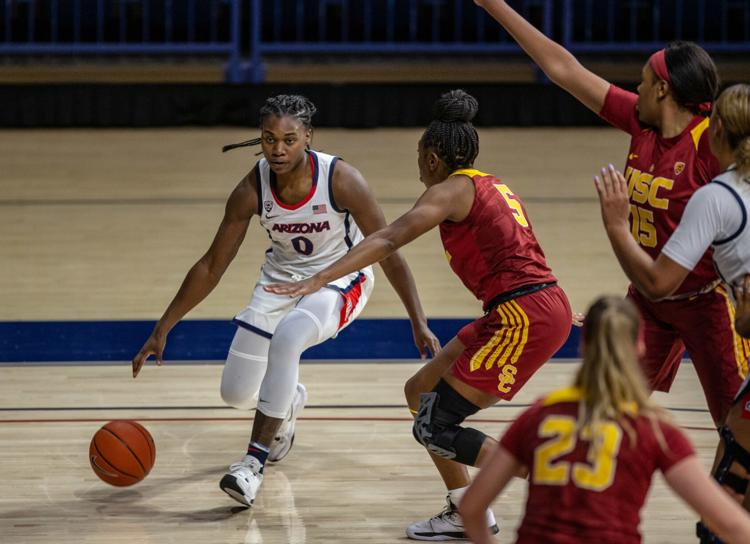 The year before she came off the bench and earned the ACC's Sixth Person of the Year honors.
She finished this season averaging 8.6 points (third-best on the team) and a team-lading 6.1 rebounds while shooting 44%. She finished her college career with 870 points and 613 rebounds.
The run to the championship game was even more special for Baptiste as she could just focus on basketball, as the decision on what was next in her life had already been made.
"That just made even more hungry to finish the right way," Baptiste said.
"I really wanted to bring back the national championship for Coach Adia and this program — I really wanted it bad. As we kept winning, it made me feel like this is what I used to dream of. This is what I want it to be a part of, I always wanted to be a part of a team like this."
During the six-game tourney run, Baptiste left it all on the court, averaging 9.5 points and 7.3 rebounds per game.
That last loss by one point in the title game to top-seeded Stanford stung. Baptiste said that the Cardinal just executed a little better. There were tears in the locker room and on the bus back to the Convention Center, but when they saw their families, everything changed.
"It just seemed like for a moment, the loss, it wasn't on our mind. We were happy to see our family and hug them," Baptiste said. "All my family members wanted a picture with Coach Adia."
The Wildcats felt more love the very next day in Arizona Stadium in the Welcome Home celebration. Baptiste knew it was something special when she saw the Tucson Fire Department sprinkle the charter with water and on the side of bus there was a sign with "Congrats, Cats."
"To see the fans, it just made me realize what I was missing all year," Baptiste said. "It was amazing … Although we didn't finish off and we didn't win a national championship, they showed great appreciation."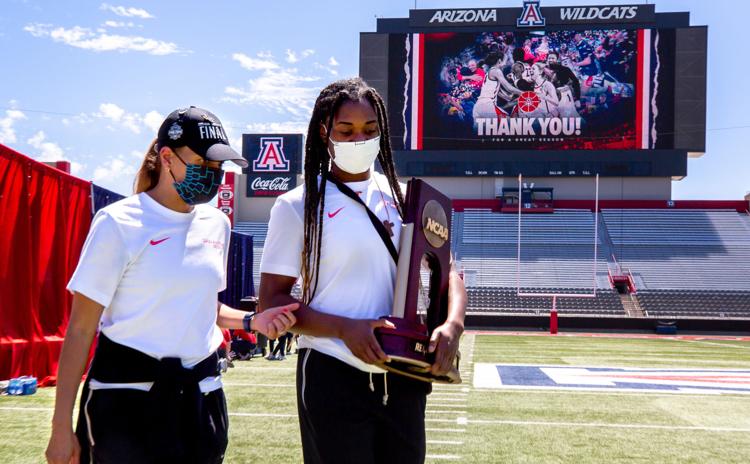 Now, Baptiste has turned her focus to Thursday night's WNBA draft. She signed with an agent Saturday and has had conversations with teams.
Baptiste knows that playing for Arizona was special and how important that call to Barnes was one year ago.
After telling Barnes that she wanted to play her final season closer to home in Florida, she couldn't shake that connection they had. It was that conversation that brought Baptiste to this moment. Yet, for her it's even more than that.
"Coach Adia is a special person," Baptiste said. "She called me a year ago, asked me to come out to the desert, in the best conference in the country. She's been real with me from the beginning. She's been honest. And she's more than just a coach for me.
"She is my mentor. She gives me motherly advice. I'm super grateful for her. She means a lot to me. She means a lot to me. I just want to continue to build our relationship and just want to keep her part of my journey. And I want to be a part of her journey, as well. I'm grateful for her."
Draft-day plans
What's Baptiste's draft party going to look like? There will be music and she's already put in her order for the potluck.
"The menu is soul food," Baptiste said. "I was on the phone with my grandma — everybody has a dish that they have to bring. My grandma has to bring potato salad and collard greens, because that's what she's the best at making. My mom is going to bring something simple — green beans.
"My sister, she's really good at banana pudding. My aunt is going to make the dressing. My brother- in-law, he's really good at jerking chicken on the grill. … That's what I've been doing. I just called everybody and said, 'Hey, you bring this dish, and we will put it all together.'"
Baptiste had one last thing to say to the Arizona supporters.
"Thanks for the support. This year was unforgettable. I love every moment that I was here. I will be back to visit. I hope that they continue to follow me through my journey with basketball … and get to know me off the court, as well."