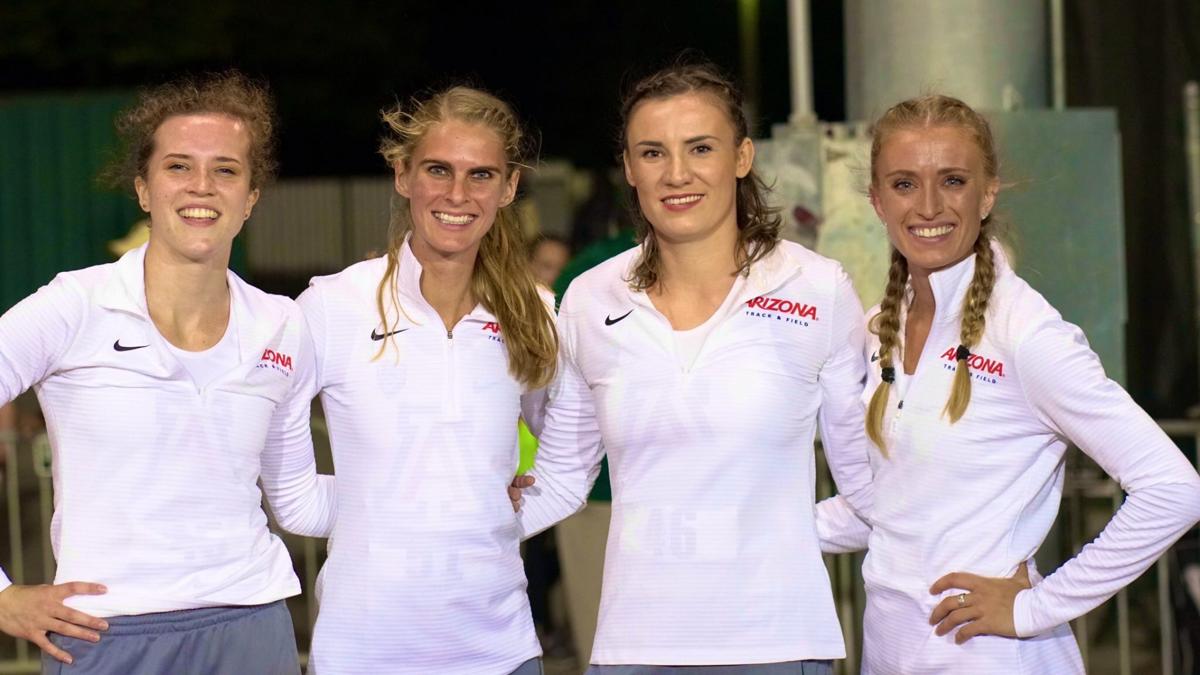 The Arizona women's 4x400-meter relay went up against some of the nation's fastest teams late Saturday and emerged with a school record and a ticket to compete in the NCAA track and field championships in two weeks.
The performance highlighted the NCAA West meet in Sacramento for the Wildcats. During the meet's three days, 10 UA men and five women qualified for the June 5-8 finals in Austin, Texas.
Sophomore Shannon Meisberger and seniors Tatum Waggoner, Karolina Pahlitzsch and Diana Gajda broke the 4x400 school record, set in 2012, by nearly a half-second in clocking 3:30.67. They shaved their previous best time by 1.47 seconds.
UA assistant coach Francesca Green, who trains the sprinters and relay teams, said Meisberger, Waggoner and Pahlitzsch put the team in excellent position by running their 400-meter legs in 54.10, 51.92 and 52.73 respectively.
Then Gajda "closed it out well by running as fast as she could," clocking 51.75, Green said. The times were the fastest relay splits ever for Meisberger, Waggoner and Gajda.
Meisberger, Pahlitzsch and Waggoner will all do double duty in Austin with Meisberger and Pahlitzsch having qualified in the 400-meter hurdles and Waggoner in the 400-meter dash.
The fifth woman heading to Austin is Pac-12 champion Karla Teran, who tied for first in the high jump.
The men's 4x400 team — Maj Williams, James Smith, Maksims Sincukovs and Zakee Washington—also qualified for the NCAA finals late Saturday. They placed third in their heat in 3:06.42.
Smith, who's enjoyed a brilliant first year, will also run the 400 hurdles in Austin. He set both the freshman and school records in the 400 hurdles on Friday by running 49.88.
Earlier Saturday, Williams and Washington teamed up with PJ Austin and Trevor Volpe to qualify in the 4x100 relay. They sprinted to their season's best time of 39.45.
Also competing in Austin will be Jordan Geist in the shot put, Bailey Roth in the steeplechase, Carlos Villarreal in the 1,500 meters and Justice Summerset in the high jump. All have marks that rank among the nation's best in their individual events.
Be the first to know
Get local news delivered to your inbox!