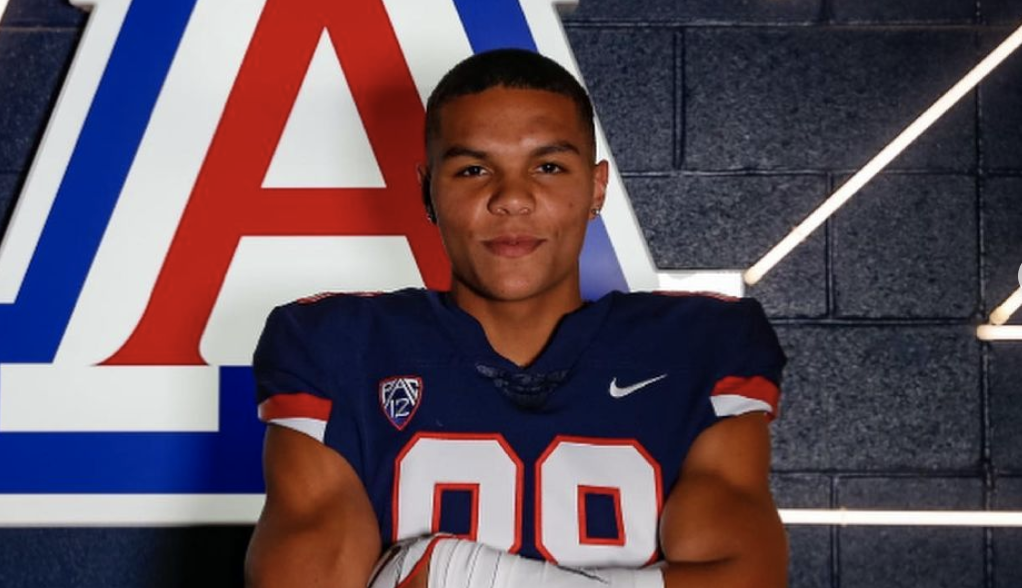 The Arizona Wildcats have yet to take the field to begin the Jedd Fisch era, but the UA has landed its highest-rated tight end since Rob Gronkowski in 2007. 
Four-star Los Angeles-area standout Keyan Burnett announced his pledge to the UA's 2022 recruiting class Sunday evening. Burnett's decision comes two months after decommitting from the hometown USC Trojans. 
Burnett's father, Chester Burnett, is a former linebacker in Arizona's celebrated "Desert Swarm" defense under the late Dick Tomey. 
"What struck me about my first visit to Arizona was not anything to do with the campus itself, it was more about the gratitude when I got there," Burnett said in a home-made YouTube video. "I just felt really honored to be there and I didn't think I would feel when I got there.
"This was a place that gave my dad everything to succeed. Walking on that field was like walking on hollow ground. I love the great players that played there; they're legends in my life." 
Burnett said he "could see the similarities" between what his father remembered about his coaches at Arizona compared to the new coaching regime. 
"I feel like they can help me become the best player that I can be, and I want to play for them" he said. "Coach (Brennan) Carroll is a mastermind and I can't wait to see what he brings to the table. Coach Fisch is making his mark, and he's doing that by being himself and using his professional experience to bring Arizona back to its glory days — except these next days are about to be better.
"We want to build on what my dad and his teammates did, and Coach (Jordan Paopao) has been my guy forever. He's been building a relationship with me for years."
The 6-foot-5-inch, 215-pound Burnett is rated as the seventh-best tight end nationally in 247Sports.com's composite rankings — 14th-best overall prospect in California for '22.
During the COVID-19-affected season, which was shifted to the spring in California, Burnett caught two passes for 86 yards and a touchdown in two games as a junior. 
Burnett joins Anaheim Servite High School teammate in quarterback Noah Fifita as Arizona commits. The Wildcats are also targeting their highly-touted "Juice County" teammate, four-star wide receiver Tetairoa "T-Mac" McMillan. 
Fifita complimented Burnett and McMillan for "how smart they are" as football players. 
"There's a lot of game examples I can go into that shows their IQ. They're the smartest in the classroom at all times and they know what they're doing on every single play," Fifita told the Star in June. "But it's their ability to make adjustments on the fly. We play in the biggest, most competitive league in the country, and their ability to make split-second decisions, adjusting their routes and sitting on windows, that's what separates them."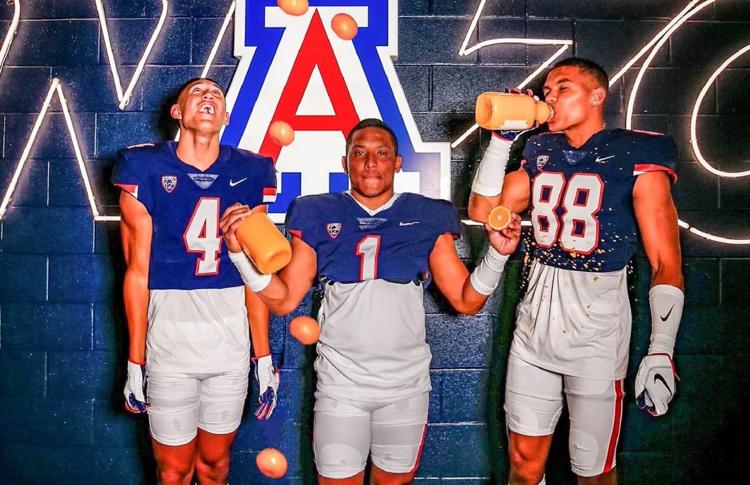 The Orange County trio went on an official visit to Arizona in June, once programs were allowed to host recruits, and took photos with some members of the UA coaching staff while drinking orange juice and holding oranges (get it?).
"When I got to Tucson and looked around the stadium, something in me clicked," said Burnett. "I felt like I wanted to make Tucson proud. ... Arizona means family, and it means I can put on for 'Juice County' and my roots." 
In January, Fifita tweeted a graphic of himself, Burnett and McMillan in Arizona uniforms with the caption "triple threat." Now two of the three are committed to the Wildcats. 
With the addition of Burnett, Arizona has 13 commits for 2022. Burnett is the highest-rated player of the UA's class. 
Contact sports producer Justin Spears at 573-4312 or jspears@tucson.com. On Twitter: @JustinESports