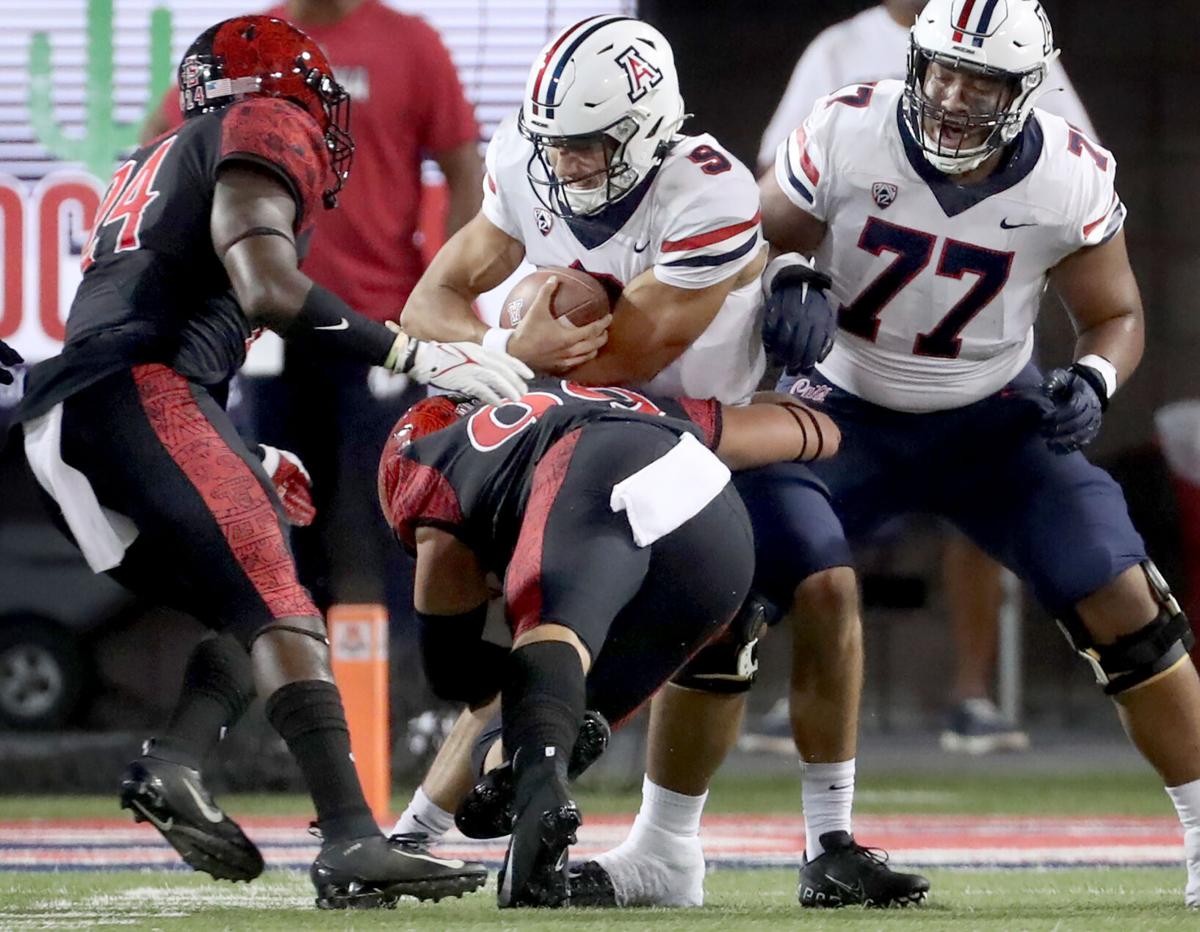 Every week throughout the season, we take a look back at the Arizona Wildcats' previous game after re-watching it via the TV broadcast. Here are five key takeaways from the UA's 38-14 loss to San Diego State in the home opener Saturday night:
1. IF THERE'S A WILL ...
We don't see a difficult decision for Jedd Fisch when it comes to the quarterback position. Will Plummer is simply a better fit than Gunner Cruz for the current state of the offense. Pass protection hasn't been great through two weeks, and injuries are becoming a concern on the left side. Plummer showed in his first extended action that he's able to get the ball out on time. Is it always perfectly accurate? No. Does he take more chances than Cruz? Yes. But the potential benefits (big plays, not as many sacks) are greater than the costs (more interceptable passes) in our view. Cruz just isn't processing plays fast enough at the moment. He got away with it in the opener vs. BYU, which gave up a lot of underneath throws. He couldn't against SDSU, which muddied the picture post-snap, making Cruz hesitate. A prime example came midway through the second quarter. On second-and-13 from the UA 14-yard line, Cruz dropped to pass. The Aztecs rushed four. The pocket was relatively clean. Cruz didn't see BJ Casteel spring open over the middle. Nor did Cruz outlet the ball to Michael Wiley in the flat. The result of the play was a sack. If you think it's too soon to give up on Cruz, who passed for 336 yards in Week 1, note that Fisch and his staff stripped fifth-year kicker Lucas Havrisik of most of his placement duties after one off game.
2. NOT COMPLEMENTARY
Remember that brilliant stretch of football in the third quarter vs. BYU, when Arizona's special teams, defense and offense combined to give the Wildcats a chance to steal that game? It's called "complementary football." It went missing vs. SDSU. Yes, the defense suffered far too many breakdowns in the first half. The tackling was poor, and the Aztecs exposed the Cats' lack of team speed. But it's really hard to play good defense when you aren't getting any help from your offense. Arizona had eight possessions in the first half. The Wildcats went three-and-out on six of them. The other two series lasted four plays – one ending in a touchdown, the other a punt. Arizona ran only 56 plays in the game, compared to 83 the previous week. The Wildcats lost time of possession by over 15 minutes. Against BYU, they had one three-and-out the entire game. Their defense wasn't having to constantly run back onto the field. The UA offense had 10 three-and-outs in all vs. SDSU, plus a two-play drive that ended in an interception.
3. 'OUTCOACHED, OUTSCHEMED'
That was Fisch's assessment after the game, and it was hard to argue with him. What form did that take? Penalties – which often speak to a lack of discipline and typically reflect on coaching – were a sneaky-big factor in this game. The Wildcats had as many penalties (four) less than five minutes into the second quarter as they had the whole game vs. BYU. They finished with eight for 73 yards, which isn't awful. But when the margin of error is so small – and it's tiny for Arizona right now – that stuff matters. In terms of scheme, SDSU's offense got the better of Arizona's defense on just enough occasions to make a difference. Some plays were big, such as the 73-yard pass from Jordon Brookshire to tight end Daniel Bellinger in the first quarter. Bellinger went in motion. Brookshire faked a handoff, luring defensive end Jalen Harris. Brookshire then threw the ball to Bellinger on Harris' side behind the line of scrimmage, enabling SDSU to legally pick UA defender Christian Young. Jaxen Turner collided with Malik Hausman, giving Bellinger a clear path down the right sideline. Other plays were small, like a neat 5-yard run by Brookshire on the first snap of the second quarter. SDSU had a tight end motion in, then pivot out to become Brookshire's lead blocker. The play gained 5 yards but kept the Aztecs on schedule. The Wildcats were off schedule all night.
4. THIS TIME IT'S PERSONNEL
Each week we provide some notes on individual players, so here goes … Freshman RB Stevie Rocker Jr. made his UA debut, and Fisch cleverly lined him as a fullback on two plays. Rocker did a nice job as a lead blocker on the pitch play to Stanley Berryhill III that gained 23 yards. Rocker later missed a block on a blitz. ... The offensive line had a rough game. Its play dropped off noticeably after Donovan Laie got hurt on the second play of the third quarter. ... WR Tayvian Cunningham made a truly great catch on Plummer's deep pass in the fourth quarter. Cunningham was sandwiched between two defenders yet maintained his concentration and cradled the ball for a 54-yard gain. ... One upshot of the lopsided score was that more players got to play, especially along the defensive line. DE Mo Diallo looked much more game-ready than in Week 1, displaying strength and determination. ... Another newcomer, DT Leevel Tatum III, plays a similar game to starter Kyon Barrs. Both hustle to the ball. ... It appeared that Young was the player who missed his assignment on the blocked punt that SDSU returned for a touchdown. ... Second-year freshman Treydan Stukes has the athleticism and instincts to develop into a starting cornerback. ... Aside from the one that was blocked, punter Kyle Ostendorp had a career game. He has turned his career around after some early struggles.
5. LONG, HARD ROAD
Fisch was asked after the game about his message in the locker room. His answer was revealing: "If anybody thought this was gonna be easy, they're out of their mind. That's not what this is. This is a process. We're trying to build something that's really special here." That was the sobering reminder to come out of Saturday night: Arizona is a long way from being competitive on a regular basis. Although Fisch and his staff tried by bringing in 17 players via the NCAA transfer portal, there are no quick fixes in college football. We still think the Wildcats are closer to the team that hung with BYU than the one that got blown out by SDSU, but it's helpful to think about it this way: They're light-years from the level their first Pac-12 opponent, Oregon, is playing and recruiting at right now. The Ducks, whom the Cats visit on Sept. 25 after hosting NAU this week, just defeated Ohio State in Columbus without two of their best players. Oregon climbed to No. 4 in the AP Top 25. The Ducks have a legitimate chance to represent the Pac-12 in the College Football Playoff. Who knows when or if Arizona ever will be in that position. But it won't be soon.
Contact sports reporter Michael Lev at 573-4148 or mlev@tucson.com. On Twitter @michaeljlev