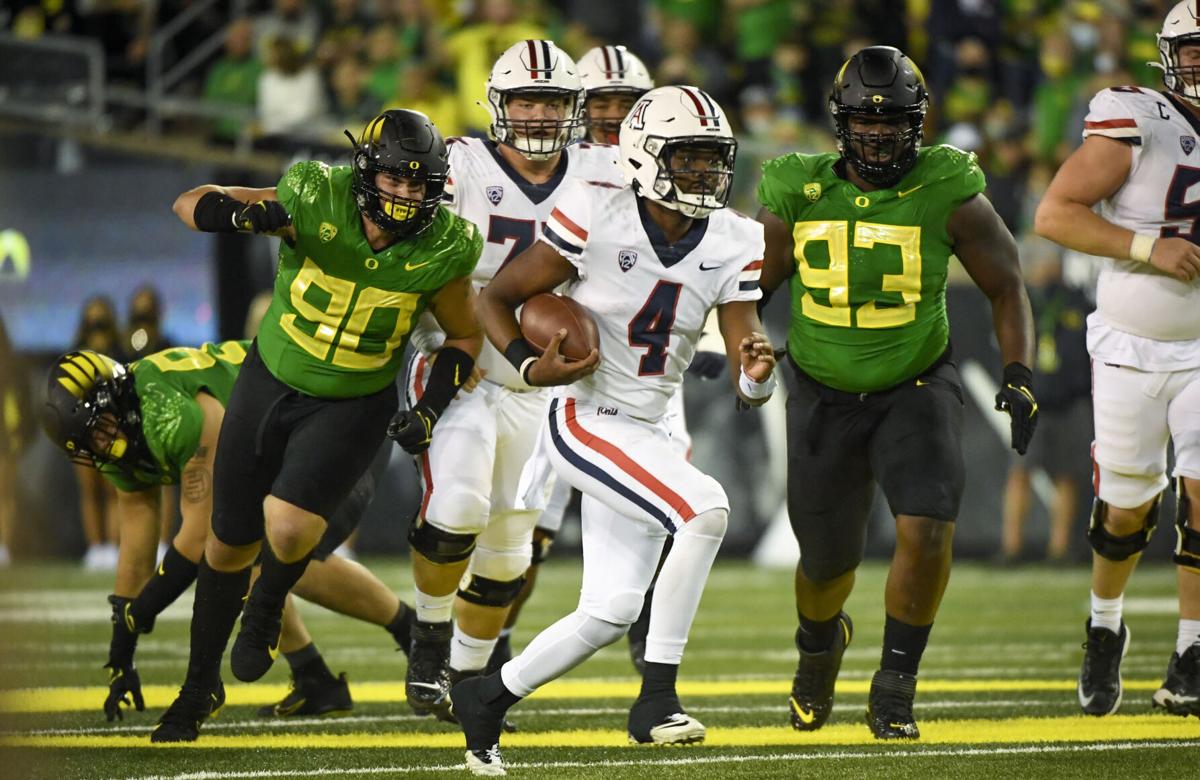 Every week throughout the season, we take a look back at the Arizona Wildcats' previous game after re-watching it via the TV broadcast. Here are five key takeaways from the UA's 41-19 loss at No. 3 Oregon on Saturday night:
1. SUNNY OUTLOOK?
Arizona coach Jedd Fisch was definitive after the game: He said Jordan McCloud is the Wildcats' best quarterback and will remain the starter indefinitely. Considering that McCloud had just thrown five interceptions, that statement could be read as an indictment on Arizona's QB room. In actuality, Fisch liked what he saw from McCloud for the majority of the game – the quick decisions he made, the precision with which he threw underneath routes and his athleticism as a runner. There's no debating that the Wildcats pieced together more sustained drives with McCloud at quarterback than in any previous game (maybe since their last win in 2019). But we have some concerns. McCloud displayed questionable judgment on at least two of the interceptions – the second and the fourth – especially when you consider how much experience he has (Saturday was his 18th career start). On the rollout pass to the left that he lofted to the back of the end zone, McCloud should have realized the situation: It was second-and-11 from the 12-yard line early in the second quarter with Arizona down only 10 points. On the pass play that resulted in Bennett Williams' pick-six – a high-degree-of-difficulty throw into a crowd – it was first-and-10 at the Oregon 44 with seven-plus minutes to play. Most likely, as ESPN analyst Rod Gilmore suggested, McCloud was trying to do too much. Arizona doesn't need a hero right now. It just needs a competent veteran who can make smart decisions and take what's there.
2. NEXT LEVEL
The Wildcats' ongoing work on blocking techniques and fundamentals finally paid dividends. The UA offensive line was almost unrecognizable at times compared to what we saw the previous two weeks. Linemen were hitting their marks, creating creases and getting to the second level of the defense. Center Josh McCauley, in particular, excelled at getting downfield and locking onto linebackers. The other positions upped their game too. Tight end Alex Lines was instrumental in the success of the running game before getting hurt. Fellow tight end Bryce Wolma made several key blocks, including one on Drake Anderson's TD run, after Lines exited. The wide receivers performed better in this area as well after being called out by position coach Kevin Cummings, who questioned his group's toughness after the NAU game. If the Wildcats can continue to block like this collectively – enabling them to control the line of scrimmage and the clock – they will end their losing streak sooner than later.
3. SAFETY STANCES
You want the good news related to the word "safety" or the bad? Let's start with the good: The safety that the UA defense produced in the third quarter was a product of sheer strength and determination. The Wildcats showed a look with five down linemen. They didn't do any stunting or blitzing post-snap; they simply collapsed the pocket. Mo Diallo, fresh off the bench after sitting out the first half, bull-rushed Oregon center Alex Forsyth, who had been one of the nation's most effective pass blockers. Diallo pushed Forsyth into QB Anthony Brown's lap and made the sack as his fellow Cats closed in. Arizona's safety play – as in the guys who play safety – wasn't as sharp. Gunner Maldonado and Jaydin Young each got a piece of Jaylon Redd on Oregon's first touchdown but couldn't bring him down. Christian Young, who played a good game overall, got fooled by the Ducks' bubble-screen action and let his man, Spencer Webb, run free for an easy score in the fourth quarter. Teams continue to attack Arizona's safeties and linebackers (plus third corner Treydan Stukes) in the passing game, and they will keep doing so until the Wildcats prove they can stop it.
4. THIS TIME IT'S PERSONNEL
Each week we provide some notes on individual players, so here goes … More on McCloud: He showed excellent feel on a pair of QB sneaks, finding the soft spot and spinning to gain first downs. He's limited by his stature and arm strength, however, and needs to realize he can't get away with arcing jump passes in the Pac-12. ... RB Michael Wiley ran especially hard after being benched the previous week following a fumble. He isn't as shifty as Drake Anderson, but Wiley has learned to play with outstanding pad level. ... WR Boobie Curry had another strong game, his second in a row, but we'd like to see a little more run-after-the-catch when he doesn't have a defender on his back. ... We've said this before about DE Jalen Harris, but it bears repeating: Even though he isn't racking up sacks, he's playing well. Harris covered speedster Seven McGee out of the backfield on one play and had no trouble tracking and wrapping up Brown in space on option plays. ... It has become clear that Treshaun Hayward is Arizona's best option at middle linebacker, despite some limitations in pass coverage. He plays a physical, downhill game and hits with authority. ... LB Anthony Pandy played a sneaky-good game despite being credited with only four tackles. His eye discipline was on point more often than not.
5. A NEW HOPE
Despite the final score, the turnovers and the fact that Arizona's 16-game losing streak will endure for at least one more Saturday, the Wildcats' performance in Eugene provided a ray of hope. The game easily could have gotten away from Arizona when it was 10-0 and 24-7 in the first half. But the Wildcats kept their cool and kept on battling – a clear sign that they continue to believe what Fisch and his staff are preaching. The play of the offensive line, which had been one of Arizona's biggest weaknesses, was especially encouraging. We're not as sold as Fisch – yet – on McCloud as the answer at quarterback. But it was time to make a decision with a bye coming up, and Fisch followed through on his pledge to do so. The extra week of practices working with the first unit should benefit McCloud as much as anyone on the roster. If they can replicate their play from Saturday night – while minimizing killer mistakes – the Wildcats will not go winless this season. They might even start a different kind of streak.
Contact sports reporter Michael Lev at 573-4148 or mlev@tucson.com. On Twitter @michaeljlev