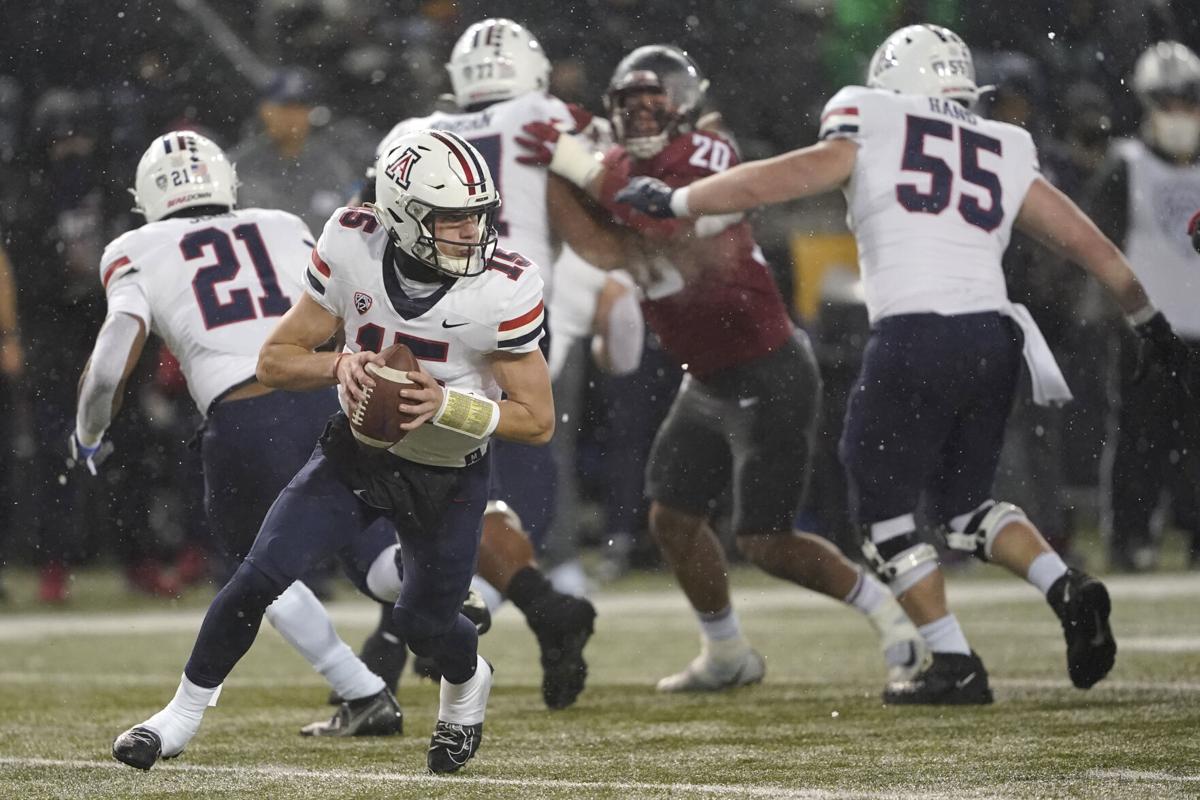 Every week throughout the season, we take a look back at the Arizona Wildcats' previous game after re-watching it via the TV broadcast. Here are five key takeaways from the UA's 44-18 loss to Washington State on Friday:
1. THIRD-AND-LONG (VERY LONG)
Jedd Fisch's play-calling has been a source of consternation among UA fans during his first season. Welcome to the club, Jedd. Every play-caller in the history of the sport has faced similar scrutiny. You know what's a hard play to call, though? Third-and-a-mile. Arizona faced an inordinate number of third-and-long scenarios against Washington State, most of which were of the Wildcats' making. They required an average of 9.8 yards to convert on third down. It's no wonder that they converted only 3 of 17. (The official box score says 4 of 17, but we discovered a discrepancy during our review of the game.) Arizona needed 10 or more yards nine times. That doesn't include the first down the Wildcats gained on third-and-12 when the Cougars were flagged for pass interference. Many of those third-and-longs were a byproduct of UA penalties and other miscues. A delay-of-game – which never should happen in the first half – turned one third-and-14 into a third-and-19. If you want to blame Fisch and his staff for the fact that these types of penalties are still occurring in Game 11, you'd be justified.
2. PATTERNS FORMED
Two things happened in the first half that had to leave Fisch frustrated because he'd experienced both in recent games. First, Arizona ran 17 plays in the first quarter, crossed midfield twice and came away with zero points. Not to be outdone, the Wildcats of Week 9 ran 25 first-quarter plays against Cal, entered Golden Bears territory three times and didn't score. (The third drive technically ended in the second quarter – with an interception on a screen pass, a 2021 UA specialty.) Late in the second quarter Friday, Arizona finally found its footing. The Wildcats scored to make it 14-7. They lost all that momentum in an instant, however, surrendering a three-play, 75-yard touchdown drive that began with 2:22 left in the half. The previous week against Utah, the Utes scored a touchdown in the final 1:24 of the half to turn a 17-14 deficit into a 21-17 advantage. The thread that connects these two issues – explosiveness. Most other teams in the Pac-12 have it. The current Wildcats don't have enough. Enhancing team speed, on both sides of the ball, needs to be high on the offseason to-do list for Fisch and his staff.
3. DRAWS AND DISCIPLINE
Draw plays killed the Wildcats – specifically the "sprint draw," where quarterback Jayden de Laura would begin what looked like a rollout before placing the ball into the belly of Max Borghi or Deon McIntosh. In doing so, the Cougars used the Wildcats' aggressiveness against them. We all know Don Brown likes to blitz. He also likes to have his defensive linemen run "stunts" and other games that see them crisscross and loop around one another. It can be a very effective pass-rush tool. Against a well-executed draw, it can be a disaster. Borghi's first touchdown run was a prime example. Arizona ran a double stunt. Its linemen flew up the field. By the time Borghi got the ball, they were practically past him. Linebacker Rashie Hodge Jr. had drifted to his left, following de Laura. Borgi found a massive hole to the other side and sprinted into the end zone. Brown recently praised the Wildcats for their pass-rush discipline; opposing quarterbacks haven't done much damage against them with their legs. That discipline was lacking against the Cougars. De Laura was able to slip away a handful of times. The draws were deadly.
4. THIS TIME IT'S PERSONNEL
Each week we provide some notes on individual players, so here goes … RB Michael Wiley was the best Wildcat on the field. According to Pro Football Focus, he had 91 yards after the catch and an average depth of target of minus-0.3 yards. In other words, he turned nothing into something multiple times. ... WR Dorian Singer finally looked like a freshman. He seemed to have trouble with WSU's long, physical defensive backs. An opportunity to learn and grow. ... Freshman guard JT Hand, making his first career start, looked like he belonged. Expect him to start at guard or center next season. ... It was a rough night for the defensive front, but it might have been LB Kenny Hebert's best outing as a Wildcat. He was asked to do a lot – play the run, rush, cover – and contributed in all areas. ... With MLB Jerry Roberts out for Arizona State, we suggest moving Anthony Pandy into that spot. Dante Smith looked overmatched at times vs. WSU. ... Safeties Jaydin Young and Jaxen Turner have improved over the course of the season – especially against the run – but both remain vulnerable in coverage. ASU is likely to try to exploit that as others have.
5. ON TO ASU
The outcome in Pullman was predictable. The Wildcats said all the right things leading up to the game, but it was more likely than not that they wouldn't put together their best performance in that specific situation – in the cold, on the road, on a short week, eight days before the Territorial Cup. Fisch didn't linger in the locker room, signaling that it was time to move on. Nothing tangible is at stake in Tempe. But you know how this goes: The tenor of the offseason can change with a victory over the Sun Devils. We believe that a handful of key players who sat out against WSU, including quarterback/receiver Jamarye Joiner and guard Donovan Laie, will return against ASU. It's an all-hands-on-deck scenario. The Wildcats are going to throw everything into the season finale to try to get that second win – which, psychologically, counts as more than one. Do they have the manpower to pull it off? We're not sure. The MLB situation is concerning. Arizona also lost "Viper" Christian Young to an injury of unknown severity in the third quarter. It'll take maximum effort – and much better execution than Arizona displayed Friday night.
Contact sports reporter Michael Lev at 573-4148 or mlev@tucson.com. On Twitter @michaeljlev