From the moment Gerhard de Beer stepped on campus from South Africa, the odds were against him, but he managed to put together a four-year career as a key member of Arizona's offensive line. 
Editor's note: This article is a part of the Arizona Daily Star's Foster Farms Bowl special section that will be available on Sunday Dec. 24. 
By Michael Lev / Arizona Daily Star 
The road less traveled
No Arizona Wildcat has come farther — or further — over the past five years than Gerhard de Beer.
De Beer came to the UA from halfway across the globe — Pretoria, South Africa. He transformed himself from a football novice to a Pac-12 starter.
Now the hulking right tackle will have a chance to make a career out of a sport he barely knew anything about when he arrived in Tucson in 2013.
After he finishes his Arizona career in the Foster Farms Bowl against Purdue on Wednesday, de Beer will train for a pro tryout. He has been invited to participate in the 2018 NFLPA Collegiate Bowl on Jan. 20 in Pasadena, California.
The NFLPA Collegiate Bowl ranks behind the Senior Bowl and East-West Shrine Game as draft showcases go. But for de Beer, it's a significant accomplishment. He came to Arizona primarily to throw the discus for the track team. He had minimal exposure to football but gradually worked his way from redshirt to scout team to the starting lineup.
"He's gone above and beyond anything that we thought would happen, particularly when we had to explain what a thigh pad was," UA coach Rich Rodriguez said. "I'm really proud of him."
As the Wildcats concluded on-campus practices before heading to Northern California for the Foster Farms Bowl, de Beer paused to reflect on his unlikely career. Here's some of what one of Arizona's most interesting and well-spoken players had to say:
What would you have said five years ago if told you'd be playing in an all-star game one day?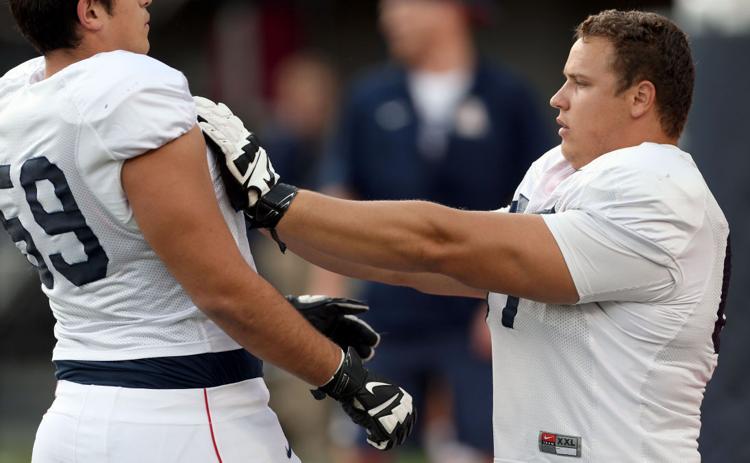 A: "I would have asked you, 'What is an all-star game?' I'm just incredibly happy about this. It's a lot of hard work. Everybody around here works hard. I was very fortunate to get picked for it. I'm actually kind of speechless. I don't know how to react, what to say. I'm just extremely excited for the opportunity. I'm ready to get out there and show what I got. It's a great opportunity. You go good-on-good from around the country."
Is it strange to think there could be a future in this for you considering where you came from?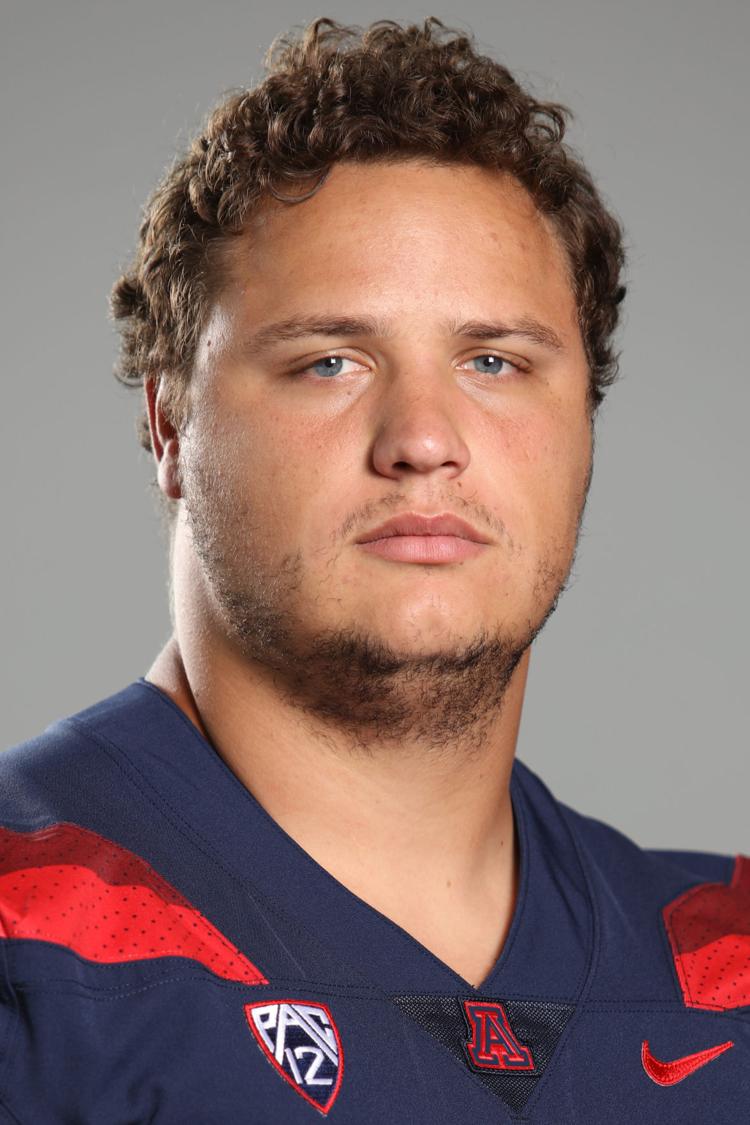 A: "When I first got here I was like, 'I'm going to play professional football!' I was like a little kid saying I'm going to do this. Now that it's kind of become a reality, that's the really cool part about it. That's what I'm really excited about. All the hard work is starting to pay off in some sense."
Where do you feel you've made the most progress as a football player?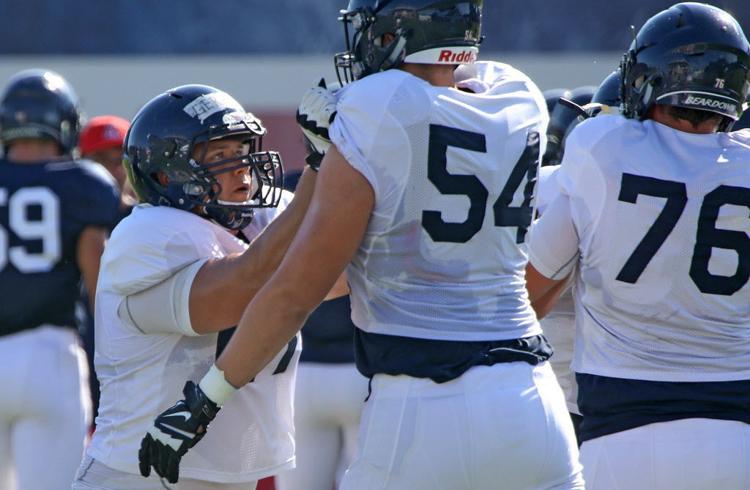 A: "That's difficult to say. This year I've been focusing a lot more on my pass game, because that's what I struggled with last season. I get decent movement in the run game at the point of attack. I had zero holding calls this whole year. I had one false-start penalty. I had one sack (allowed) off of a play-action pass. Linemen, it's interesting — we only have negative stats. We don't have anything positive. Nobody talks about you unless you screw up. The less publicity for us, I guess, the better."
Is pass blocking the least natural movement?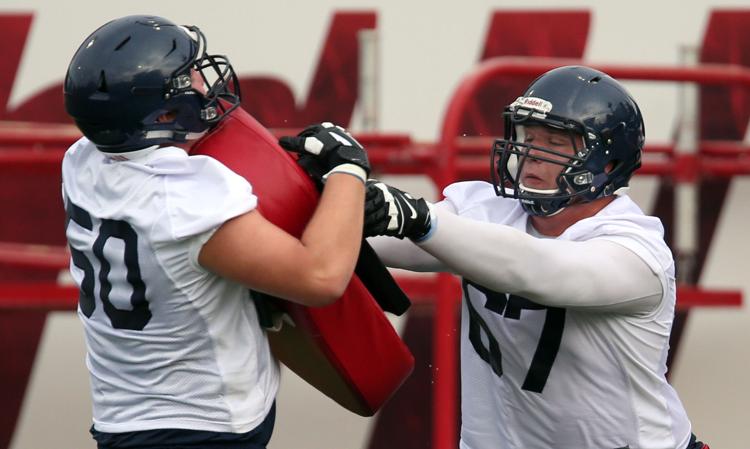 A: "Nothing about being a lineman is natural. Coach (Jim) Michalczik (de Beer's position coach, who left for Oregon State earlier this month) always explained, 'Nobody is born a good lineman. Good linemen make themselves.' That's all I've tried to do since I got here — work hard and try to master the trade. There's so much that I have left to learn. I'd be ignorant and oblivious to say that I'm there, because I know I'm not. I'm so excited that I've got so much to learn, because that means my ceiling is so much higher."
Is there a personal or team moment that you're most proud of during your time here?
A: "I remember one practice. We were just dancing. That was when the dab was in. All of a sudden, Coach Rod walks awkwardly to the middle of the circle and just dabs in front of everybody. That was one of the funniest moments for me.
RICH RODRIGUEZ HIT THE DAB https://t.co/tsoMShQxzi

— 🎄Joyful Tucson Dad🎄 (@THiCCBOiRUSS) December 16, 2015
Game time, beating Utah when they were a top-20 team (in 2015). Actually one of my worst games as a left guard. I remember we were right around the 25. Touchdown to Nate Phillips right in that corner. I remember I got bull-rushed on that play by Lowell Lotulelei. I remember it so vividly. Every locker-room celebration is different and special."
Did you realize when you first got into this how you'd form this bond with your fellow offensive linemen?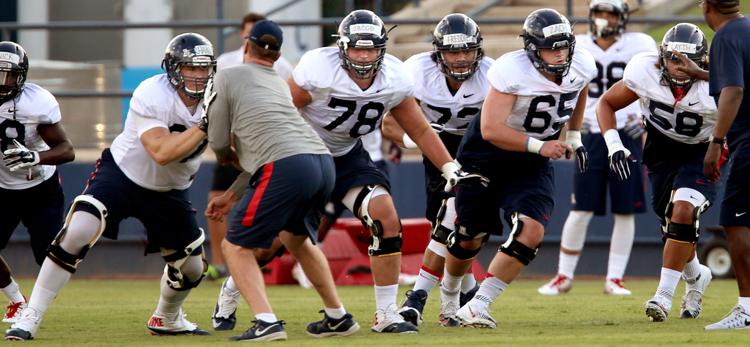 A: "Coach Michalczik always talks about the offensive line being part of a fraternity. You're part of something way bigger than yourself. Right now you don't understand it, but 10 years from now you will. You're bonded to every offensive lineman in this country.
"Receivers are very individual; they all do their own thing. Quarterbacks, same thing; there's only one of him on the field. Running backs, same thing. D-line even, even though they're on the line of scrimmage and in the trenches with us, they're based on a lot of individual stuff too.
"For us, as an offensive line, if my guy next to me screws up, that's going to look bad on me. Luckily for me, Jacob (Alsadek, Arizona's left guard) rarely ever screws up. If the guy next to you does his job well, it makes your job easier. That's why offensive line play is so different. I'm dependent on the guy standing next to me."
Glenn Parker stepped into an on-field role when Coach Michalczik left. Like you, Glenn was a late bloomer of sorts. Do you relate to him in that sense?
A: "He started in junior college. Got a scholarship to Arizona. Came for two years. And then he got picked up in the (third) round. That's quite incredible. I hope I live up to anything close to what he did. That would be quite cool."