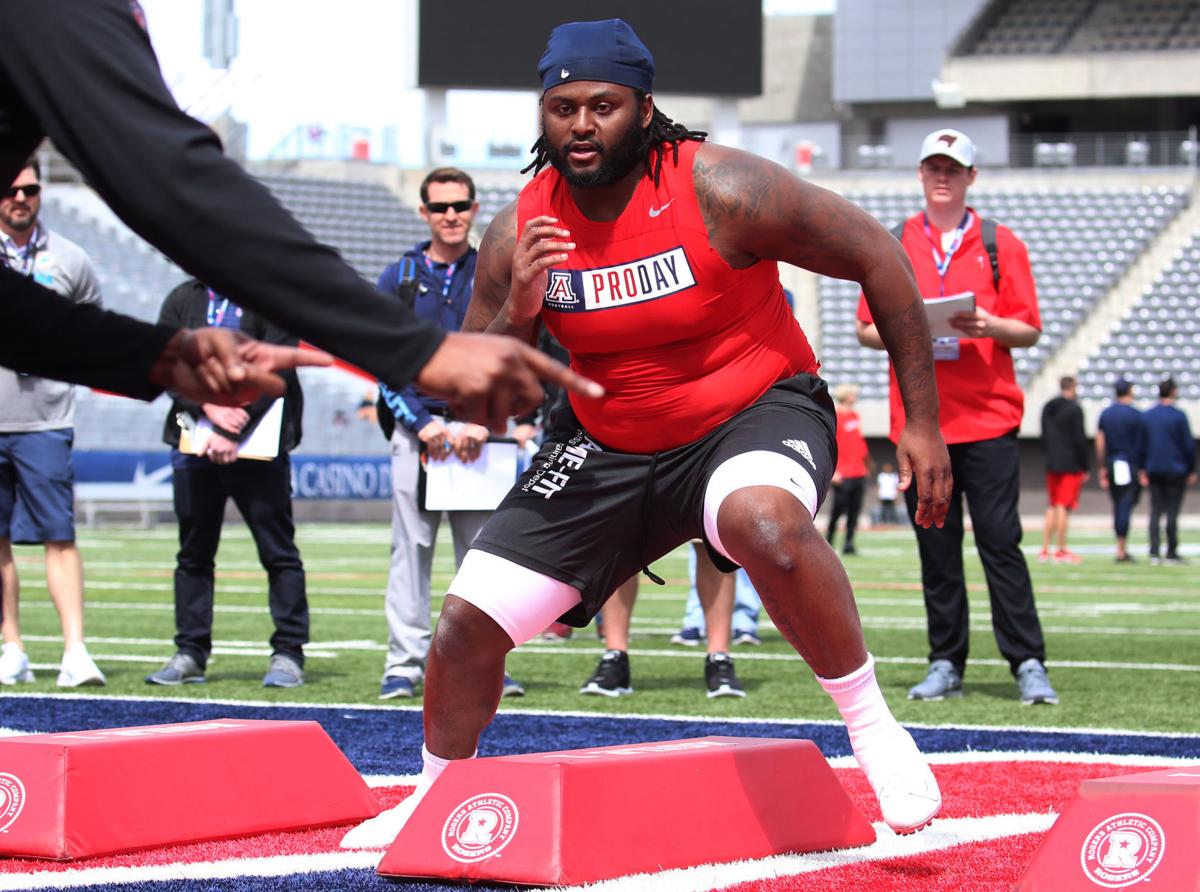 Many people PJ Johnson knew and loved have died. Too many.
When the 22-year-old Arizona Wildcats' draft hopeful recently visited an NFL team and told his story — which includes his own near-death experience — someone with that team remarked: "You've lived the life of a 40-year-old."
It's why Johnson is so appreciative of what he has and what might come next. It's why, the massive defensive tackle said this week, "I'm ready for anything."
"For sure," Johnson said during a candid, hourlong phone conversation. "I don't want to go through all this stuff for no reason."
When Johnson was going through some hard times, his grandma Elizabeth encouraged him to have faith. "God gives his hardest battles to his best warriors," she told him.
Johnson never gave in to temptation. He never gave up on himself (although there were times he came close). He kept believing in God's plan. He kept thinking to himself: "He's going to reward me one day."
That day could be Saturday, the final day of the 2019 NFL draft.
Johnson plans to have a small family watch party. He hopes to see his name appear on the crawl.
And if it doesn't? He'll be OK. Johnson has been through much worse.
Violence and chaos
Printess Johnson — PJ for short — spent one extremely productive season at Arizona, where he quickly became a fan favorite with his playmaking skills and oversized personality.
Johnson grew up in South Sacramento. Asked to describe what it was like there, Johnson said: "A lot of violence. I've seen a bunch of people get shot. I've seen drive-bys, at least five times — especially when I was younger."
His father, who also goes by PJ, builds computers and other electronic equipment, mostly for prisons. His mother, Tangela Holmes, has held many jobs and is currently a medical assistant.
The Johnsons moved several times during PJ's youth, seeking refuge for him and his siblings. (Johnson is the oldest of five kids. One of his three brothers, D.J., is an outside linebacker at Oregon.)
"It felt like we always moved to a neighborhood at the wrong time," Johnson said.
By age 7 or 8, he said, "We lived in a better part of the 'hood — but it was still the 'hood. My street would be quiet. But if I left my street, it was chaos."
Oftentimes, when his parents were working, Johnson would stay at his grandmother's house in the Oak Park neighborhood. She lived near a park people referred to as "The Big Park."
"One year, in the summer, for a week straight, people would just pull up and start fighting," Johnson said. "Sometimes it ended with gunshots. The police would come 10-deep."
Johnson is asked if anyone he knew had been shot or killed.
"That's a long list," he said.
Two deaths hurt him the most, if it's possible to rank such things. A friend who went by Nutter, one of Johnson's youth baseball teammates, was shot and killed while play-fighting at home with another friend, or so the story goes. ("I don't care about the details," Johnson said). Another friend, Bubba, was the victim of a drive-by shooting last August.
They weren't the only ones. A beloved cousin, Lula, died from a seizure two years ago. Lula and PJ were tight; his Twitter handle — @lulalandpj — honors her memory.
Losing people who were close to him has made Johnson both reflective and restless.
"I try not to get too comfortable or happy because it could be taken away," he said. "I've had things taken away before.
"I like setting goals, but I have to keep setting goals. Now what? What's next? I don't sit on things too long."
That mindset partially explains Johnson's decision to leave Arizona after going through the trouble of applying for an additional year of eligibility. It was far from the main factor, however.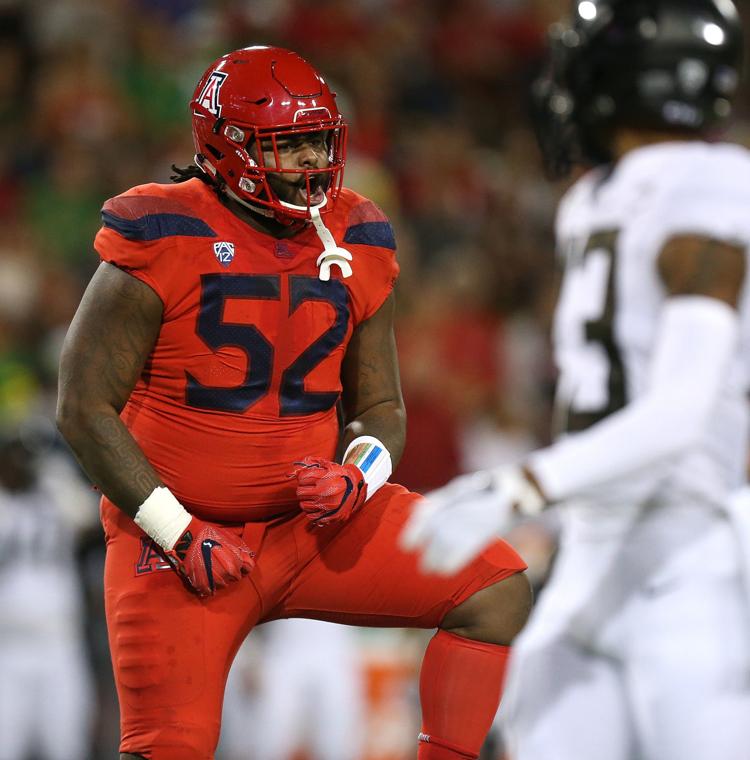 Staying off the streets
Johnson's parents were "real strict," he said. Especially his father. This wasn't an uncommon experience for Johnson's friends. Some of them, anyway.
"All our dads were strict as hell," he said. "The people that had dads."
Johnson estimates that 70% of his friends' fathers weren't around. When he was young, he resented how his father reined him in.
"I didn't get to do as much as my friends," Johnson said.
But a lot of the kids who didn't have that discipline are "in jail or struggling right now," he said. "I just graduated college, so I can't complain."
Gang activity was prevalent in South Sacramento. The elder Johnson wouldn't permit it. "Gang-banging wasn't happening," his oldest son said.
The elder PJ and Tangela put their kids in sports to keep them off the streets. They didn't envision pro careers for Johnson or his siblings. "It was strictly to keep us safe," he said.
The first football game Johnson can remember was Super Bowl XXXV between the Ravens and Giants. He was 4 years old. He liked all the hitting.
But Johnson's parents started him out in baseball instead of football because, he explained, many of the Pop Warner teams in his area were corrupt. "There was a lot of gambling," Johnson said.
When one of his baseball coaches started a new Pop Warner squad, Johnson joined. He was 11. He had to play with the 13- and 14-year-olds because of his size.
"I hated it," Johnson said. "It was me getting beat up every day. I didn't really understand the game. It was horrible."
The next year, Johnson wasn't too keen on playing football. But a coach assured him he was better than he thought and encouraged him to attend a camp where he could show it.
"I was so scared, I wasn't noticing I was getting better," Johnson said. "That next year I had a great year."
Johnson became obsessed with the sport. He read Gary Myers' book "The Catch" about the famous touchdown pass from Joe Montana to Dwight Clark. His dad's favorite movie, "Remember the Titans," became one of the younger PJ's favorites as well.
Johnson even started playing the "Madden" video games differently. He began to pay attention to formations, coverages and tendencies. He approached it as if he were a coach.
Talk to Johnson today, and you'd swear you're speaking to a defensive coordinator. He knows the game that well.
Johnson always has gotten good grades in school. Except for the one time he didn't, and that nearly cost him everything.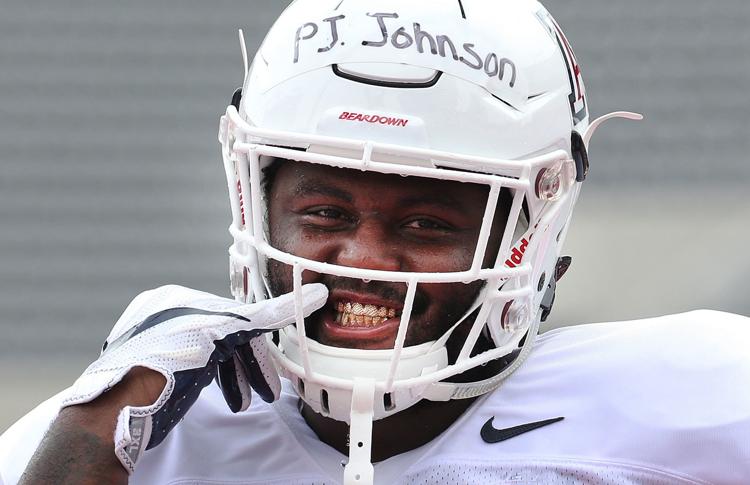 Second chance
Johnson began his high school career at Monterey Trail, a college preparatory school in the Sacramento suburb of Elk Grove. By his sophomore year, he had all but flunked out.
It wasn't that Johnson couldn't handle the work. He received some bad advice from an older football player about how much was required, and, in general, said he acted like a "dumb kid." With a GPA of 0.75, Johnson wasn't eligible to play.
"I just about gave up at that point," Johnson said. "I thought I was a failure."
Johnson had a long talk with his mother. They agreed that this path could lead to the sort of life Johnson's parents had tried to steer their kids away from. Johnson didn't want to be "this BS dude" who didn't graduate from high school, sold drugs and ended up "in jail or dead."
"I had to get myself together," he said.
Johnson transferred to Luther Burbank High School in the city. He didn't plan to play football there; he just wanted to get back on track to graduate. "I was just thinking about reality," he said.
A coach talked him into joining the baseball team. A football coach spotted him working out — winning footraces against much smaller teammates — and persuaded him to lace up the cleats again.
Johnson essentially was starting over. During a summer practice, he was playing offensive line for the scout team. On an option play, he hit the first-team defensive end so hard that he knocked the kid out. Johnson took his spot on defense.
"Everybody knew me after that," Johnson said.
Colleges started recruiting him. His grades were fine, but his transcripts were a disaster. Johnson wasn't on track to graduate and needed to do extra work in summer to get his diploma.
"I was just glad God put me in a position to fix what I messed up," Johnson said. "Some people don't get second chances. This was my second chance."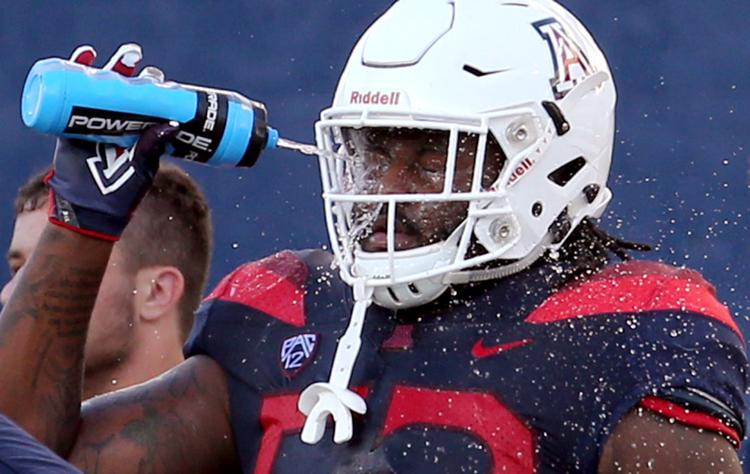 Motivation, discovery
Johnson ended up at Sacramento State, where he played only one of three seasons because of health issues.
First came a burst appendix. Johnson had internal bleeding. Some of his internal organs weren't functioning properly. He lost 60 pounds.
"Everybody thought I was going to die," said Johnson, who again felt like giving up.
But then, in a scene straight out of a Hallmark movie, Johnson's girlfriend walked into his hospital room and told him she was pregnant. Johnson wanted to have kids. Now he had something — someone — to live for. He had incentive to live up to his potential.
Johnson's son, Tolu, is 3 years old. His daughter, Kiara, is 1. They're the biggest reasons he left Arizona to pursue a pro career.
But we're not there quite yet. Back at Sac State, Johnson played in 11 games as a redshirt freshman in 2015. While prepping for the '16 season, he felt a sharp pain in his right leg. Doctors found a tumor. Johnson was sidelined again.
Johnson didn't like the way Sac State handled the situation, so he transferred to City College of San Francisco. After a promising season there (8.5 TFLs, 4.5 sacks), Johnson again started to draw interest from FBS schools, albeit only one from a Power Five conference (Kansas).
While on a visit to UNLV, Johnson received a direct message at 6 a.m. from someone he didn't know. Then-Arizona defensive line coach Vince Amey had seen highlights of Johnson on Twitter.
"I watched it once," Amey said. "I watched it again and again. I couldn't believe a kid of his talent and stature only had a couple offers like that."
Once he heard Johnson's story, Amey understood how the big kid had gone relatively unnoticed. Amey contacted Johnson's coach at CCSF, Jimmy Collins, whom he had coached in arenafootball2, and got a positive report.
"Come get him," Collins told Amey.
'No matter what'
Amey didn't require much convincing. Arizona needed defensive tackles. Johnson had size and ability.
The two quickly clicked over common experiences. Amey played defensive tackle. He grew up in Northern California.
"This is where this kid needs to be," Amey said. "He needs a shot. I've been around those kids. I've been one of those kids. It was a familiar story to me. I knew it was going to be a good fit."
Not long after Johnson signed, Arizona fired Rich Rodriguez. Amey wasn't retained. Johnson thrived anyway.
Johnson made 31 tackles in 10 games, including 8.5 for losses. He recovered two fumbles, forced one and recorded a safety in the Territorial Cup, which would be his final appearance as a Wildcat.
Current UA defensive line coach Iona Uiagalelei hoped to have Johnson for one more year. Uiagalelei understands why Johnson left, and he knows what Johnson's next team is getting.
"You might find a diamond there," Uiagalelei said.
"I just have that dog in me," Johnson said. "No matter what" — and there's a been a lot — "I'm going to find it in me to get things done."