Tristan Cooper's head was spinning.
The hard-hitting Arizona Wildcats safety hadn't collided with a teammate. He wasn't confused by an offensive formation.
The senior had returned to the locker room after Arizona's scrimmage Saturday morning to find out news that shook him to his core.
There had been a mass shooting in El Paso, Texas, where Cooper was born and raised.
"It sucks," he said Monday night. "You would never think something like that will happen in your city. And when it does, it's eye-opening.
"A bunch of things start going through your head, because they didn't identify the bodies till like a day ago. It was just like, dang. I don't know. Something like that, you can't prepare for."
A gunman opened fire at an El Paso Walmart on Saturday morning, killing 22 people and injuring dozens more, according to media reports. When Cooper found out what happened – via Twitter, initially – the first thing he did was call his parents, Michael and Joyce, to make sure they were OK. Cooper checked up on his brothers – Mike, Jeremiah and Elijah – and his sister, Hannah.
Everyone was safe. Cooper was relieved.
"I've got a lot of siblings down there. It's scary, man," he said. "All these thoughts are going through your head."
Cooper urged his family members to stay home. The Coopers had been to the Cielo Vista Mall – a popular shopping center whose stores include the Walmart – countless times.
"That's the only mall we really go to," Cooper said. "It's crazy. I don't know how to explain it."
Cooper attended Andress High School, which is about 15 miles north of the Cielo Vista Mall. A team captain and all-city performer, Cooper came to Arizona in the class of 2016.
Cooper has appeared in 35 games for the Wildcats, including 11 starts. He has 76 career tackles and seven passes defensed. He's slated to start at the Spur safety position this season. Arizona opens the 2019 campaign Aug. 24 at Hawaii.
Cooper never expected his training for the upcoming season to be disrupted by tragedy. He's still trying to process what happened.
"Anger. Disgust," Cooper said when asked what was going through his mind. "You don't know why. Why would you do something like that?"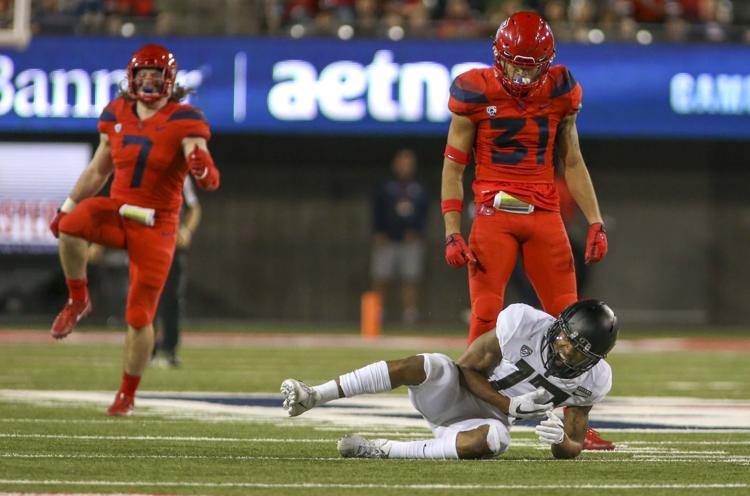 Cooper thought about making the 4½-hour drive to El Paso after Saturday's practice. Once he found out his family was safe, he decided it was best to remain in Tucson and focus on his responsibilities here.
As often happens in these situations, the events in El Paso put life into perspective in a way Cooper hadn't previously considered.
"You live every day as if it's your last," he said. "Going through camp, you're like, 'Dang, man, why am I here?' It's miserable. At least I get another opportunity to see tomorrow."
Cooper had been scheduled to speak to the media Monday by pure coincidence. About four minutes into the interview, he was asked if he'd like to shift the subject to football.
"Yes," Cooper said. "Let's talk about football. Please."
---
Wildcats begin second full week of training camp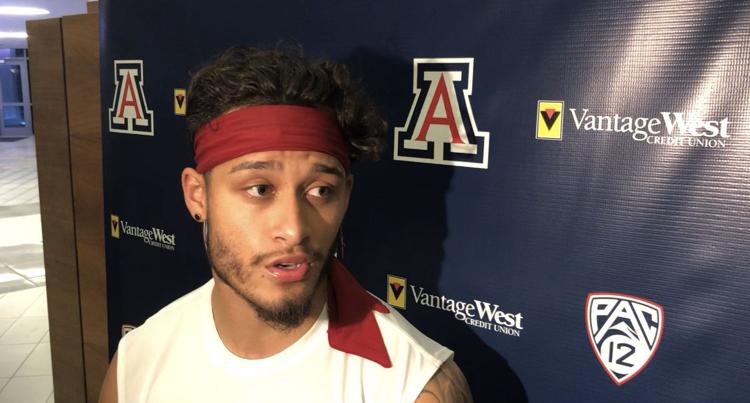 The Cole and Jeannie Davis Indoor Sports Center was put to good use on Monday when the Arizona Wildcats kicked off another week of preseason training camp. With a thunderstorm hovering over the UA campus, the Wildcats kept their practice inside. It is monsoon season, after all. 
The two Cats made available to speak to the media were wide receiver Drew Dixon and safety. 
Dixon, a Tucson native and Sabino High School product, is listed at 6-foot-3, 205 pounds and is entering his redshirt sophomore season. Dixon appeared in seven games for the UA in 2018 as a special teams player, but is expected to be heavily involved in Arizona's wide receiver rotation along with several others. 
Cooper, a 6-2 El Paso native, is entering his senior year at Arizona and will play the spur safety in Marcel Yates' defense. 
Check out what both Wildcats had to say after a rainy Monday practice. 
Cooper reacts to the mass shooting back home
Arizona safety and El Paso native Tristan Cooper (@__KingCoop__) responds to the mass shooting that took place in his hometown. "You would never think something like that would happen in your city, but when it does, it's eye-opening." pic.twitter.com/KYvTlhQ7mh

— Justin Spears (@JustinESports) August 6, 2019
'Why would you do something like that?'
Cooper (@__KingCoop__) uses "anger" and "disgust" describing his emotions when he found out about the shooting in El Paso. He even contemplated returning home when he heard the news following Arizona's scrimmage on Saturday. pic.twitter.com/uPsPsDbaz4

— Justin Spears (@JustinESports) August 6, 2019
Tucson native improving
Arizona wide receiver and Tucson native Drew Dixon on his biggest improvements during the offseason and what he can bring to the Wildcats in 2019: pic.twitter.com/qmEH0RzasU

— The Wildcaster (@TheWildcaster) August 6, 2019
Jaxen Turner a reflection of Cooper?
Tristan Cooper says freshman DB Jaxen Turner reminds him of himself and former UA safety Isaiah Hayes. pic.twitter.com/7uE06i4wbW

— The Wildcaster (@TheWildcaster) August 6, 2019
Being the old guy
Even though Drew Dixon is only a redshirt sophomore, he said "I'm getting old" with the young talent Arizona has at wide receiver.Dixon added @throw_it_up19 as a veteran mentor when he first got to the UA. pic.twitter.com/DjbBYY8VQy

— The Wildcaster (@TheWildcaster) August 6, 2019