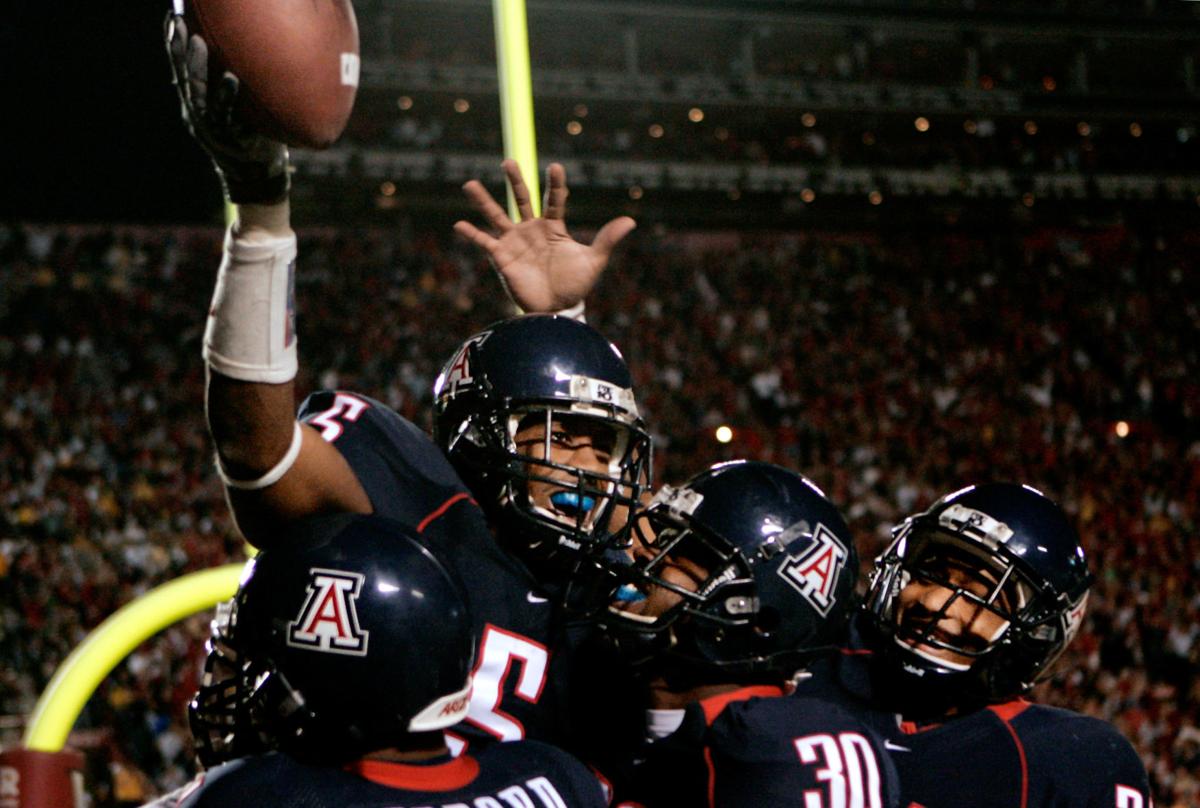 Randy Estes was a four-star safety dripping with potential, which is why big-time college football coaches made their way to Los Alamitos High School's football practices 15 years ago.
Antoine Cason, Estes' teammate and skinny cornerback, saw an opportunity.
"He was a heck of a player," Cason said of Estes, who went on to play at Washington State. "If (coaches) were gonna come see him every week, I feel like if I'm good enough, you should notice me too."
Coaches did notice Cason, including Bob Stoops and Mike Stoops from Oklahoma. Mike Stoops, the soon-to-be Arizona head coach, made a pit stop in Long Beach, California while representing OU to scope out Estes. He liked what he saw of Estes — except it wasn't Estes at all.
"That's Antoine Cason," one of Los Alamitos' coaches eventually told Stoops. "That's not who you think it is."
Stoops kept Cason in mind, but didn't offer him a scholarship to Oklahoma. Stoops reconnected with the SoCal playmaker once he was named Arizona's head coach. Cason was the first recruit Stoops called after getting hired. The coach's eye for talent paid off: Cason was inducted into the UA Sports Hall of Fame earlier this week at the Westin La Paloma.
The former first-round pick of the San Diego Chargers said he still gives Stoops grief over the mixup.
"I always asked, 'What didn't you like about me when you were at Oklahoma?' He always has an excuse — 'Ah, it was something,'" Cason said with a smile. "I love Coach Stoops."
It's been nearly a dozen years since Cason last played a snap for the Wildcats, but returning to Tucson to join a UA Hall of Fame class that consists of Alison Walshe (women's golf), May Mickelsen Warren (rife), Dan Schneider (baseball), Taryne Mowatt (softball), Steve Mikulic (baseball) and Joan Bonvicini (women's basketball) reminded the Long Beach, California native how special his time was at Arizona. He spent the 2004-07 seasons here, earning the Thorpe Award — to the nation's top defensive back — as a senior.
"What I remember the most were the people, because when I got here, my determination, dedication and commitment, of course, everyone saw that," he said. "But the people that I met and people I surrounded myself with, the friends, the C.A.T.S. Academics (people), the administration, the football staff, my teammates, that's what made the experience so great."
Stoops, of course, was at the top of Cason's list. The feeling is mutual.
Cason was one of the players who lifted Arizona from the Pac-10 cellar to a respected team in the conference — even if he never played in a bowl game. Stoops' Arizona teams won the Las Vegas Bowl and appeared in the Holiday Bowl and Alamo Bowl following Cason's four-year career.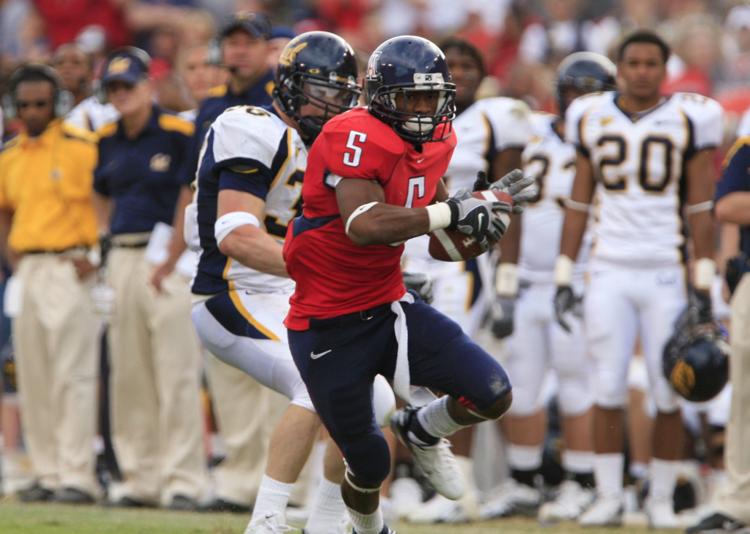 Those teams all had Cason's fingerprints on it. When he first arrived to campus, former UA safety Darrell Brooks took Cason under his wing. Cason returned the favor a few years later, mentoring future UA standouts Devin Ross, Trevin Wade, Robert Golden, Cam Nelson, Nate Ness, Brooks Reed and Ricky Elmore.
"Even though I only played a couple years with him, he impacted my time here," said Elmore, who attended Thursday's ceremony with his wife, former UA softball standout Callista Balko Elmore. "He was the type of guy where coaches put a lot on his shoulders and he handled it pretty well. The one thing I really remember the most about Antoine was his consistency. He was available and he created big plays in big moments. … He was that perfect player that coaches wanted."
The Wildcats had memorable moments during Cason's tenure, including upset wins over No. 7 UCLA (2005), No. 8 Cal ('06) and No. 2 Oregon ('07) on national television. The Cal game might have been Cason's crowning moment. Not only did he cover Golden Bears star wide receiver DeSean Jackson, but Cason intercepted a pass and returned it for a touchdown in a 24-20 UA win. Cal's team included future NFL running backs Marshawn Lynch and Justin Forsett.
"Seeing that type of play when I was that young, it just impacted me. It made me want to create big moments like that in the future," Elmore said.
Cason says his favorite memory, however, came when the Cats beat the second-ranked Ducks on a Thursday-night game televised on ESPN.
"No one gave us a chance so that was by far the top memory, but Cal was right up there," he said.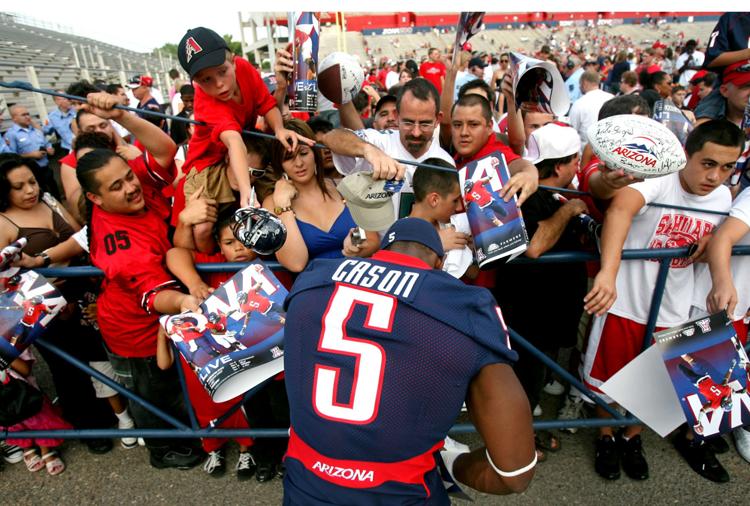 The Chargers took Cason 27th overall in the 2008 draft. He is the last UA player to be taken in the first round, and one of just 10 in program history to go that high.
Cason spent five seasons in San Diego, then went on to play for the Cardinals, Panthers and Ravens. A foot injury cost him the 2015 season; Cason retired after that. The former UA star now lives in Long Beach with his wife and 8-year-old son, Antoine II. He spends his weekends coaching youth football.
Trips to Tucson — like this week's visit and enshrinement in the Hall of Fame — bring back great memories.
"It feels amazing. Seriously, words just can't express it," Cason said. "These were the best four years of my life — well, besides my son being born. It's a great feeling.
"I just want to be remembered as someone who was dedicated and worked hard. I know what got me here and it was the people that got me here, not just me alone. I just want to be remembered as someone who cared."