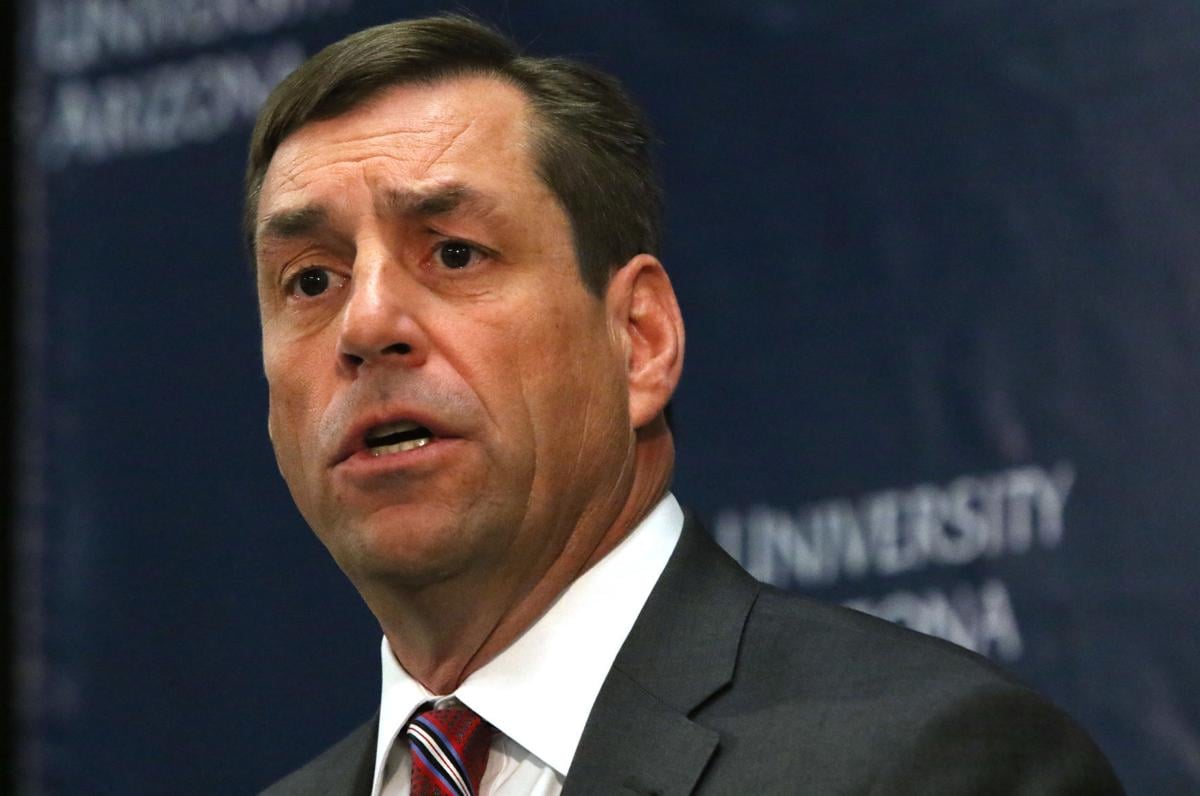 The Arizona Wildcats never have participated in the New Year's Day game every Pac-12 and Big Ten football program strives to reach every season — the Rose Bowl.
But Arizona conceivably could play its next game on Jan. 1 under one of the proposals for "spring" football being discussed among coaches — a general concept UA athletic director Dave Heeke heartily endorsed Friday.
"I'm a strong advocate of playing football and developing an acceptable, approved model for football in the spring," Heeke said during a Zoom news conference. "I clearly understand there's lots of complications and issues that surround that. But I believe that we can come together, nationally, and pull some really good plans and develop something that allows our student-athletes to play — and hopefully we can have people be engaged in the games and come and watch them."
That sentiment represents a departure from the previous prevailing thought process in the Pac-12. But what once was deemed a last resort has become an aspiration for the Pac-12, Big Ten and other conferences that decided to scrap fall football because of the coronavirus pandemic.
Is a spring, or spring-adjacent, season a viable alternative? Maybe. It might be closer to a pipe dream than a dream.
But as of now, for the Pac-12, Big Ten, Mid-American and Mountain West conferences, it's the only alternative.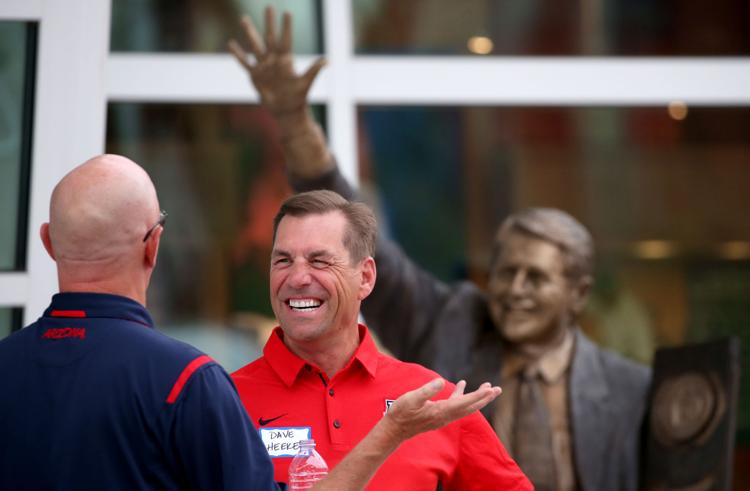 Men with a plan
The decisions by the Pac-12 and Big Ten to postpone fall sports came down Tuesday. The leagues haven't had sufficient time to formulate spring plans yet. Heeke said the Pac-12 is still in the "back of the napkin" phase.
"But we have a workgroup," Heeke said. "We've had a football working group for several months now that has been planning forward and that continued to be engaged, and they're working now on plans for the spring.
"I want to hear the feedback from our coaches who are engaged in that. We have athletic directors on that as well. We have medical staff on that. So all of that information needs to be talked about, brought to the front and then start to assemble models with justification of how they can work."
Two Big Ten coaches already have promoted scheduling concepts that would enable two seasons to be squeezed into about 13 months. Ohio State coach Ryan Day — whose team arguably had more to lose than any other in the Big Ten or Pac-12 with the postponement of fall football — has suggested starting "spring" ball the first week of January. An eight- or nine-game season would wrap up by March.
"That way," Day told reporters, "there is some separation between that season and the next season."
A two-week conditioning buildup starting Jan. 16
A four-week training camp starting Jan. 30
An eight-game season running Feb. 27-April 17
Postseason games conducted May 1-15
No mandatory workouts for non-postseason participants from April 18-July 18
A four-week training camp for the 2021 fall season starting Sept. 4
A 10-game season starting Oct. 2, leading into the usual postseason bowl/playoff slate
No traditional spring practice the following year
Brohm's plan calls for a reduction in padded practices (about 2½ fewer per month) and only a slight increase in games per month compared to a usual two-season gauntlet. (Remember, consecutive seasons for non-playoff participants generally take place over a 16-month span. For example: Arizona began the 2019 season in late August and, if it had qualified for a bowl game, would have wrapped up the '20 season in December.)
Heeke said it's critical to frame planning for 2021 as a "two-season exercise."
"We've got to look at the spring and how that impacts the fall, and then that middle part, the summer," Heeke said. "It's certainly not traditional. … It's not just, well, we're looking at spring and how do we pivot quickly and put a plan together for playing games.
"We've got to think long on this … because it does impact some different periods of training, practices and future games and seasons (starting) next fall."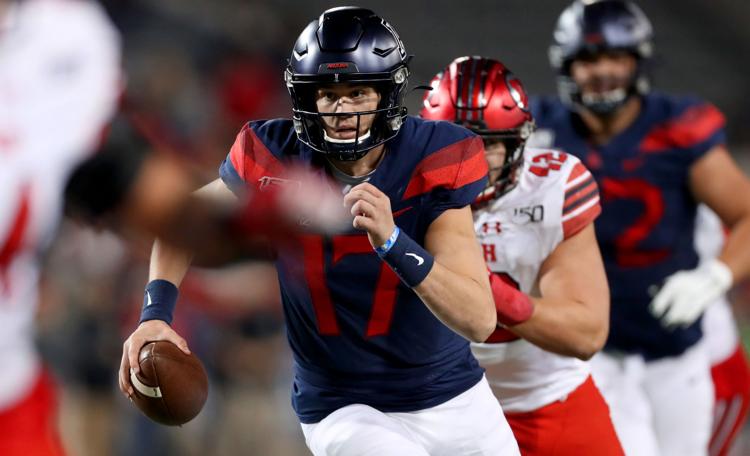 Obstacles remain
Getting there won't be easy.
Based primarily on guidance from their medical experts, the Pac-12 and Big Ten concluded they weren't ready to conduct a fall football campaign (or any sports) in a safe manner. Starting a "spring" season on or about Jan. 1 would require training camp to begin in late November — just over three months from now. Brohm's proposed start date for training is five months off — the same amount of time the leagues had to plan for the fall season they ultimately nixed.
Some factors were beyond their control, and one of the requirements for starting up again — greatly decreased spread of the virus in the community — remains an uncertainty.
The other changes that must occur, per Heeke, are improved testing capabilities across all schools and a firmer grasp on the longer-term effects of COVID-19, particularly the heart condition myocarditis.
If/when those hurdles are cleared, the leagues must determine whether it's wise to play two football seasons in one year, even if they're shortened and measures are taken to reduce wear and tear on players' bodies. Additional issues that must be sorted out include eligibility for returning players and midyear enrollees; scholarship caps; and overlap with pro prospects' preparation for the 2021 NFL draft.
He also reported that NFL teams would be willing to accommodate Big Ten schools in need of domed stadiums to play January and February games. At least four cities have such venues in or near the Big Ten footprint: Detroit, Indianapolis, Minneapolis and St. Louis. Weather wouldn't be nearly as big a problem for most of the Pac-12, and cooler climes would be embraced by Arizona and Arizona State fans (if they're able to attend games).
Heeke acknowledged that there's a financial incentive behind spring football. The UA stands to lose about $65 million in revenue without a fall season. A spring alternative could offset that loss to some degree.
"That is certainly a benefit to a spring season, but it's not the driving force," Heeke said. "We will, first and foremost, want to make sure that we can build a model that is appropriate for our student-athletes. There is support and interest in the spring from our television partners and our marketing partners."
Is there a strong enough appetite overall for spring football — especially if the ACC, Big 12 and SEC aren't involved? As of Friday, those conferences, among others, continued to plan for a modified fall season.
If the Pac-12 and Big Ten were the only Power Five participants, their champions at least could meet in the Rose Bowl. Same venue, different date — a traditional conclusion to a decidedly untraditional season.
Be the first to know
Get local news delivered to your inbox!