Arizona-Colorado storylines: On Khalil Tate's history and the Buffs' obscure bragging rights
Star reporter Michael Lev checks in with five storylines for the Arizona Wildcats' Friday night bout with Colorado, from one player's 'cramp crisis' to the Buffs' over-the-top stat keeping.
Week-long prep is paying off in games for Wildcats DT Dereck Boles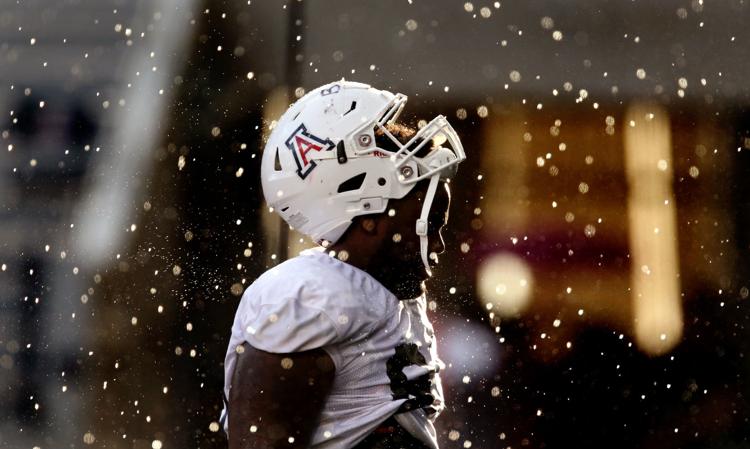 Earlier this season, Arizona Wildcats defensive tackle Dereck Boles endured what he described as a "cramp crisis." It got so bad that he exited the Sept. 8 game at Houston in the second quarter and didn't return.
"I was cramping left and right," Boles said this week. "We were all just trying to figure out what's going on. I felt like I was doing everything right. I guess I wasn't."
Boles worked with trainers and coaches to resolve the issue. He also reviewed his own habits and training regimen.
Since then, he's been drinking more fluids, eating better and getting more sleep. Boles also is playing the best ball of his college career. Over his past five games, Boles has 19 tackles, including three for losses, two fumble recoveries, a forced fumble and a sack.
"As the year's gone on," Boles said, "I'm just handling all that stuff off the field to be successful on the field."
Boles embodies what UA coach Kevin Sumlin has been preaching for weeks: It isn't just about what happens on Saturday. The real work takes place Monday through Friday — or, as is the case this week, Monday through Thursday with Colorado in town for a Friday-night affair at Arizona Stadium.
"He had struggled previously," Sumlin said. "His understanding of the game, he's always had that. But also understanding what he needs to do to be consistent at this level. That's part of maturity.
"To play at this level, it takes more than just playing hard. It takes being able to understand … what you need to do during the week to prepare your body to be able to play at that level for longer periods of time. He's done that."
The "cramp crisis" taught Boles a valuable lesson, one he can take with him should he play pro ball. Aside from defensive coordinator Marcel Yates, whom Boles has known since their Boise State days, the senior will have worked with the current coaching staff for only one season. He'll leave with years' worth of wisdom.
"I'm just trying to get everything and learn all I can learn from them," Boles said. "There's a lot that goes into this that I didn't necessarily think of or put emphasis on."
Known for his quickness coming off the ball, the 6-2, 306-pound Boles said the game has slowed down "dramatically" for him in recent weeks. Like most of the rest of the defense, Boles seemed to be one step ahead against Oregon last week. On two separate occasions he recognized and blew up screen passes. On the second one, Boles dropped CJ Verdell for a 3-yard loss.
Boles' progress was evident the previous week, when he completed a second-effort sack of UCLA's Wilton Speight. Speight initially eluded Boles, but Boles kept working, stripped the ball and recovered the fumble. The week before, at Utah, Boles had Utes quarterback Tyler Huntley in his sights but missed him.
"I feel like I'm in a better place, getting more comfortable out there on the field," Boles said. "Calming down more. Not trying to be out there all over the place like, 'Man, I'm on TV, everybody's watching, blah, blah, blah.'"
Remembering Khalil Tate's historic performance at Colorado, drive by drive
It was unlike anything anyone had ever seen.
Arizona QB Khalil Tate didn't start against Colorado last year. He finished with 327 rushing yards, the most by an FBS quarterback in college football history. He also completed 12 of 13 passes. It was the closest thing to a perfect game that a quarterback possibly could pitch.
"It was amazing for a guy to come off the bench and do what he did," UA receiver Shun Brown said. "I told the Colorado defense, 'You know you all messed up. Don't knock out the starting quarterback.' They were like, 'I didn't know he was that good.' I said, 'Oh well.'"
Shun Brown recalls Khalil Tate's FBS record 327 rushing yards against Colorado last season. Buffs: "We didn't know he was that good."Brown: "Oh well." pic.twitter.com/XxyKdW137J

— The Wildcaster (@TheWildcaster) October 30, 2018
Brandon Dawkins started that night in Boulder. He had held off Tate for the top job. But the Wildcats had a bye the previous week, giving Tate time to heal from a banged-up shoulder. He also expressed his desire to play to then-UA coach Rich Rodriguez.
The opportunity came on the first series. Dawkins got driven into the bench. He had to come out. He never returned.
Tate completed two passes on that drive, both to Brown. Brown lost a fumble after the second reception. Only two of Arizona's subsequent nine possessions didn't end in a score.
Here's how each of those drives concluded (or, in the case of two of them, how they began AND concluded):
Second UA possession: Tate, 58-yard TD run. It was the lone play of the series. Arizona 7, Colorado 0.
Third UA possession: Tate, 28-yard TD run. Arizona 14, Colorado 7.
Fourth UA possession: Punt. It was Arizona's only punt of the game. It followed Tate's only incomplete pass of the game.
Fifth UA possession: Brown, 13-yard TD pass from Tate. Arizona 21, Colorado 14.
Sixth UA possession: Tate, 47-yard TD run. Arizona 28, Colorado 14.
Seventh UA possession: Zach Green, 1-yard TD run. Tate had rushes of 11 and 28 yards during the drive. Arizona 35, Colorado 21.
Eighth UA possession: Tate, 75-yard TD run. It was the second one-play drive of the night. Arizona 42, Colorado 28.
Ninth UA possession: Josh Pollack, 24-yard field goal. The Wildcats got into range via Tate's 60-yard pass to Tony Ellison. Arizona 45, Colorado 35.
10th UA possession: Tate takes a knee. Earlier in the drive, he broke multiple tackles to rush for 31 yards on third-and-7 to put the game away. Final score: Arizona 45, Colorado 42.
Last thing UA tackle Layth Friekh wanted to do was sit again; it was the right move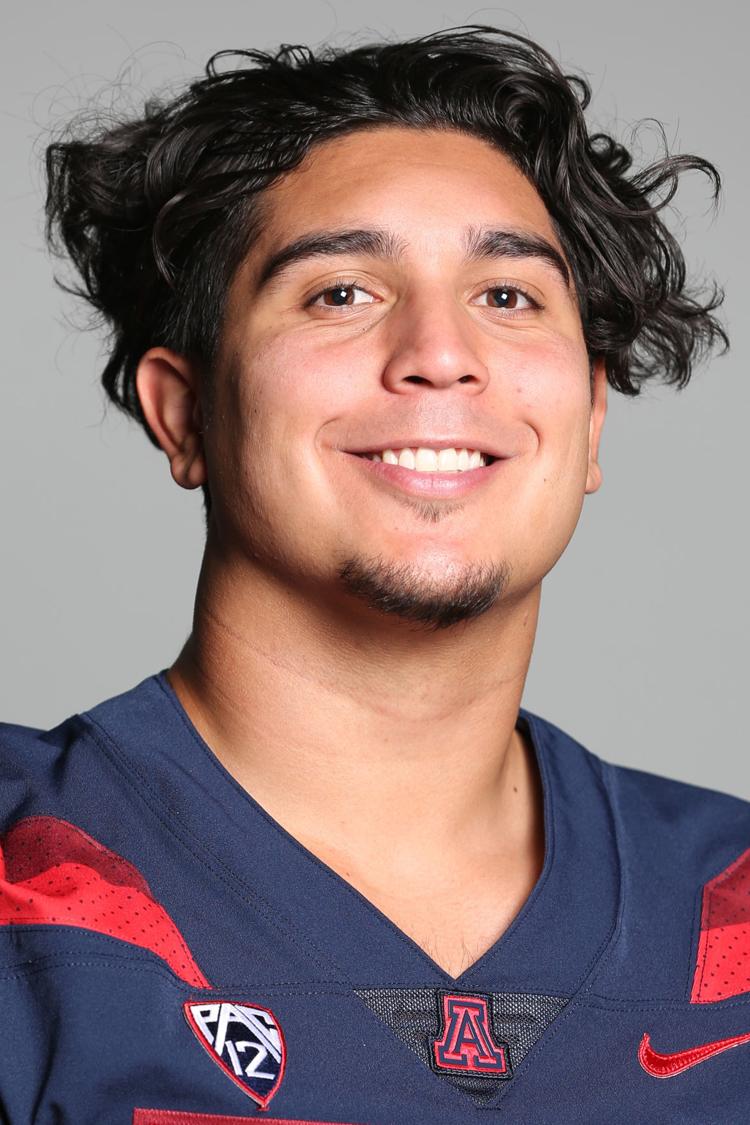 All Layth Friekh wanted to do was play. Arizona's senior left tackle had to sit out the first two games, the price levied by the NCAA so he could have a fifth year of eligibility.
Friekh accepted his situation and returned for the Sept. 15 game against Southern Utah. All was right in the world again. The Wildcats compiled 626 yards of offense in a 62-31 victory.
They followed that up with a 35-14 romp at Oregon State. Arizona rushed for a season-high 442 yards. Friekh represented the offensive line in the postgame news conference.
But in the first quarter, Friekh sprained an ankle. He played through the pain. It wasn't until the following week that it began to swell.
Friekh was a game-day decision against USC. He started but couldn't finish.
A similar pattern unfolded the following two weeks against Cal and Utah. Friekh's other ankle began to bother him. He just couldn't perform up to his usual standard.
The situation was "very frustrating," Friekh said. "It was just one thing after another. When you just want to be out there playing with your teammates, it kinda sucks."
Finally, at UCLA, Friekh sat out. It was the first game he had missed at Arizona because of an injury. He's been a starter since 2015.
Friekh returned last week against Oregon. He wasn't 100 percent — no player is at this point in the season — but he was a lot closer to his healthy self.
"It made a huge difference," Friekh said. "Me trying to push through it the last couple weeks, I just couldn't get it done. It was hard just watching, but it was the right decision."
Friekh has at least three games left in his UA career. He's hopeful it'll be four. The 4-5 Wildcats need to win two of their last three to qualify for a bowl game.
"That's the only thing on our mind," Friekh said, "being in a bowl game, winning out, being able to play one more game with the whole team."
Wildcats' latest commit is an O-lineman with dozens of offers
I'M JAMARI WILLIAMS & I'M FULLY COMMITTED TO UNIVERSITY OF ARIZONA #ERAZONA19 pic.twitter.com/e3syaZ8GTi

— 👣SweetFeet👨🏾‍🚀🚀 (@jamariwilliams3) November 1, 2018
Arizona's latest commitment came Thursday with the succinctness and simplicity that would make him the envy of any newspaper reporter.
"I'm Jamari Williams," he tweeted, "and I'm fully committed to University of Arizona."
Williams, a three-star offensive line prospect, decommitted from Louisville just hours earlier. He chose the UA over dozens of other schools, including Boston College, Purdue, Mississippi State, Pitt, Kentucky, Central Florida and others. 
The 6-foot-4-inch, 275-pound Williams is listed as the No. 44 guard in the country by 247Sports.com. His Rivals.com rating of 5.5 is third on the UA's recruiting class, behind quarterback Grant Gunnell and linebacker Kwabena Watson. He is the 14th player — and third offensive lineman — to commit to Arizona's 2019 class. He joins Marana's Jordan Morgan and JuCo product Rocky Aitogi.
Williams is a senior at Cardinal Gibbons High School in Fort Lauderdale, Florida. The South Florida Sun Sentinel listed Williams as the 19th-best college prospect in Broward County. The newspaper reports that Williams is the first player from the region to commit to the UA since 2012, when Key West receiver Clive Georges joined Rich Rodriguez's first recruiting class. Safety Tellas Jones, from Miami, signed with the Wildcats in 2011. 
CU fans geek out over obscure stat-keeping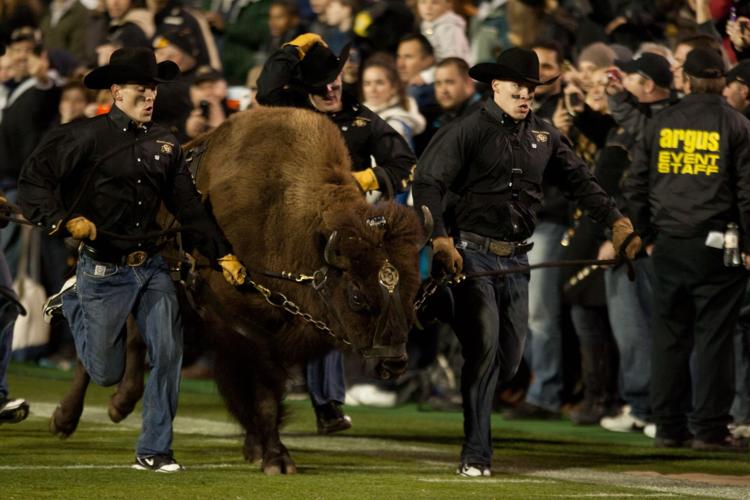 The guide at the bottom of Colorado's stat sheet is enough to make football geeks grin. 
No team in the Pac-12 — and possibly the country — keeps more comprehensive records than Colorado. The Buffaloes' sports information directors began keeping exhaustive stats in 1946, and have maintained them ever since. The school brags that 99 percent of the original play-by-plays from games remain on file on campus. The school put together its complete record book in 2001, and has compiled several stats that weren't kept until the 1970s. 
Back to the stat sheet. CU tracks minutiae using coaches' game films. The result: special teams stats such as field goal pressures, punt pressures, touchdown saves, stuffed punt fakes, caused penalties, third/fourth-down stops, quarterback chasedowns, fumble/muff recoveries, wedge breaks, downed punts, forced fair catches and "first downfields" — which, of course, tracks whoever was first downfield on a kickoff or punt and whether that player affected the "return path."
Our favorite stat? The KSD, a knockdown or sprung block on a kick return. 
CU also tracks knockdown blocks, which occur when lineman blow their defenders off the line, touchdown blocks and something they call PPTD — perfect plays on passing touchdowns and conversions. 
If you need us, we'll be geeking out.