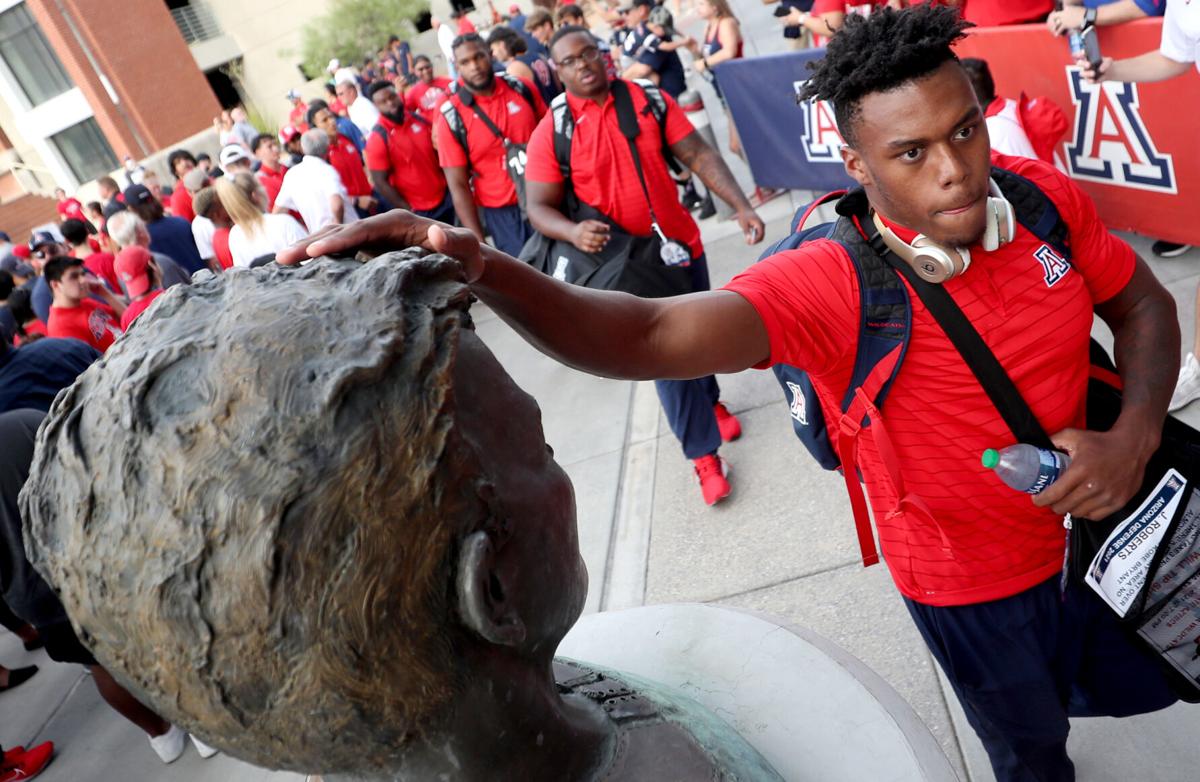 Gameday was taken away from fans during the 2020 season, when the world was forced to navigate a pandemic without a vaccine.
By comparison, Saturday was a sign of the good ol' days. Fans flooded the UA mall to tailgate, the line for ZonaZoo was packed hours before kickoff — oh, and country singer Phil Vassar performed for fans before the Wildcats' home opener against San Diego State, a 38-14 loss.
For fans attending their first game since Nov. 23, 2019, there were some differences inside the stadium.
For the first time, metal detectors were installed at every entrance, and anything that could be purchased — whether it was concessions or merchandise — was done cashless. For fans who brought cash to the game, reverse ATMs were set up around Arizona Stadium. They inserted cash into the machine and then received a temporary card to use.
Paper ticket stubs and parking passes are also a part of the past, as digital tickets were emailed to each fan prior to the game.
Of course, embracing a digital game day lifestyle will experience growing pains, which UA senior associate director of athletics Suzy Mason — who focuses on event management and facilities — expects to happen. One look at the lines stretching out onto campus before kickoff showed it was a work in progress.
"Be patient with the process, because it's not always comfortable for people in a digital world and a cashless environment, but that is our present day reality and our future," Mason said. "We just have to embrace it and move forward."
Once inside, fans had more food options and easier access to beer. The UA recently partnered with Aramark for concession food, which added a Philly cheesesteak sandwich priced at $12. Beer was available at every concession stand.
Mason and Arizona's gameday crew was ecstatic to have fans back after far too long away.
"The energy certainly helps. We were still here doing our job, and there was fake crowd noise and not much atmosphere. Obviously, it's what we had to do from a safety standpoint, but it wasn't the best experience for our coaches and student-athletes. Now, their parents can come watch them, they can experience it, they can feel the game day," said Mason. "There's a lot of things we do well, even though we're a smaller stadium. Making sure everyone is having a good experience is essential for our staff."
Remembering 9/11
Jedd Fisch was a 25-year-old quality control coach for the Houston Texans during the Sept. 11, 2001, terror attacks. The New Jersey native instantly worried about friends and family back home.
"My brother lives in New York City and works in New York City," he said. "My mom lives in New Jersey, my dad lived in New York and New Jersey, so it was a very concerning time."
Fisch called everyone he could to ensure they were safe.
"It was scary, because you wanted to make sure you could get a hold of everybody," he said. "It was hard to get a hold of my college roommate, he was in the towers and got out. But that was a scary deal."
Leading up to Saturday's game, Fisch showed his players a video about the Sept. 11 attacks and why it's a day of remembrance for the U.S.
"A lot of them weren't even alive or were familiar with what actually happened on 9/11," Fisch said. "I think it's important that they recognize what 9/11 is, and how important and impactful it is to our country."
Over 100 first responders were honored on the field before Saturday's game.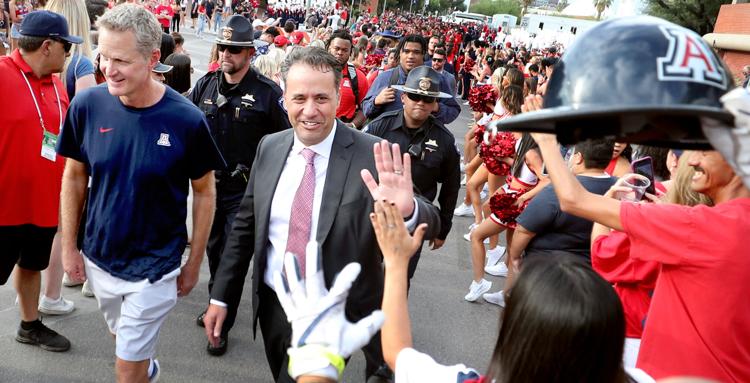 Joiner on track
UA receiver Jamarye Joiner suited up for pregame warmups and was expected to make his 2021 debut. However, for the second straight week, it didn't happen.
Joiner, a fourth-year sophomore from Cienega High School, was limited to side work for most of training camp after undergoing foot surgery in late April. Joiner suffered the injury during the spring game. He had projected a return in Week 3 or 4 but seemed on track to beat that timeline.
Joiner, who began his UA career as a quarterback, has 46 catches for 663 yards and six touchdowns over the past two seasons.
The white stuff
Arizona wore white jerseys for the home opener, a true rarity for the Wildcats at Arizona Stadium.
The last time the UA wore white jerseys for a home game in Tucson was Sept. 20, 2014. What's the significance of that date? That was the night Arizona rallied to defeat Cal 49-45 on the "Hill Mary" – a last-second, 47-yard touchdown pass from Anu Solomon to Austin Hill.
The Wildcats complemented their white jerseys Saturday with white helmets and blue pants. San Diego State wore red helmets with black jerseys and black pants.
Star reporter Michael Lev contributed to this story.