Seen and heard at Arizona Stadium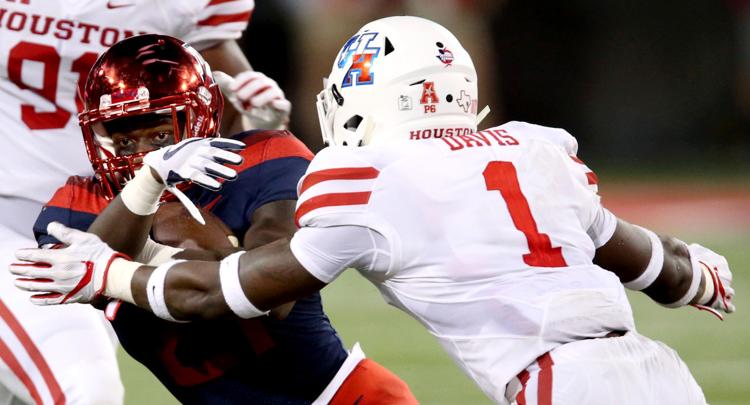 By Zack Rosenblatt Arizona Daily Star
Rich Rodriguez faced a familiar foe Saturday night, Arizona football tickets have stooped to ridiculously low prices, and both the Cougars and Wildcats sported support for the city of Houston.
You again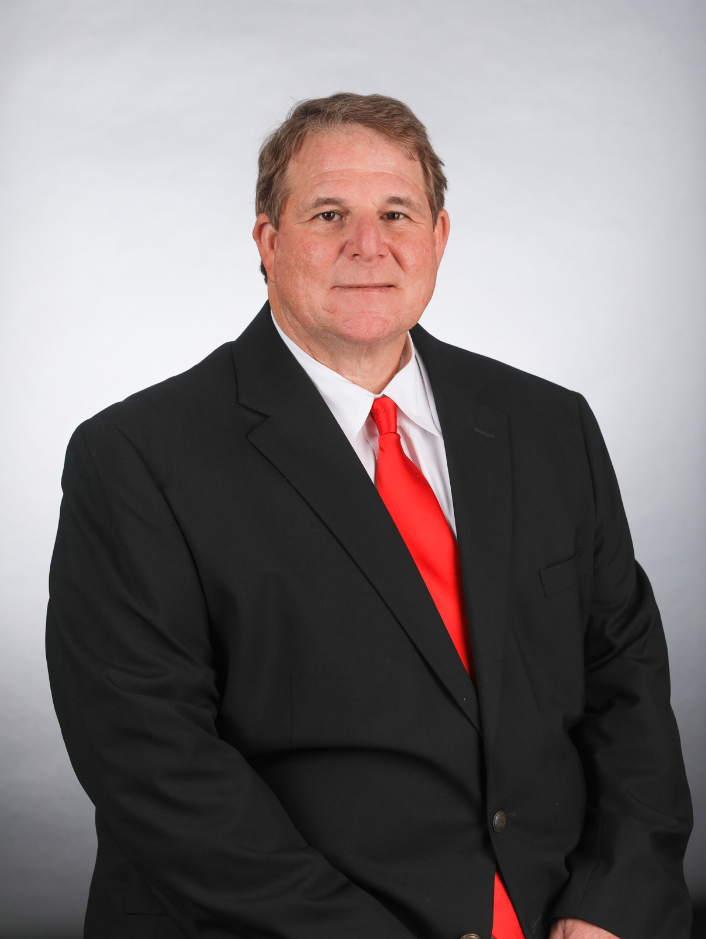 Rich Rodriguez's coaching career almost went down a wildly different path 19 years ago, and Houston offensive line coach Chris Scelfo had something to do with it.
Rodriguez was an assistant on Tommy Bowden's staff at Tulane when, in 1998, Bowden bolted for Clemson just before the Liberty Bowl.
Many considered Rodriguez the logical choice to at least replace Bowden.
Instead, then-Tulane AD Sandy Barbour tabbed Scelfo as Bowden's permanent replacement before the bowl game. Scelfo, a Georgia assistant, was born and raised in New Orleans.
Rodriguez wasn't exactly happy with the decision, telling reporters at the time: "This is a shock. I was so sure, I brought in my green coat and tie this morning (for a news conference). This is so discouraging. I'm disappointed. I thought I'd done all I could to prove myself. I'm worried about the kids."
Rodriguez, 35, explored his options, speaking with Middle Tennessee State and Southwestern Louisiana before ultimately joining Bowden's staff at Clemson.
But the Scelfo hire still stung.
"I'll get a chance to show them they were wrong," Rodriguez said at the time.
He sure did. Rodriguez went on to coach seven years at West Virginia, three at Michigan and is now in his sixth year at Arizona.
Family ties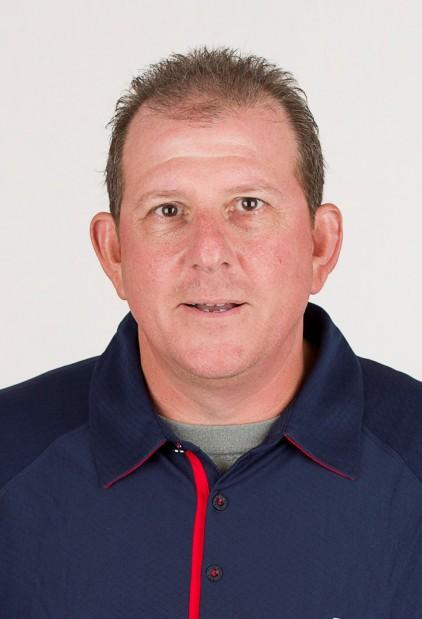 Scelfo has a connection to Arizona, too — his brother, Frank, was a quarterbacks coach at Arizona under Mike Stoops, and was a key to the development of both Nick Foles and Matt Scott.
Frank Scelfo is now the offensive coordinator at UTSA. The Roadrunners upset Baylor on Saturday night, arguably the biggest win in program history. Baylor's quarterback? Arizona transfer Anu Solomon.
The big number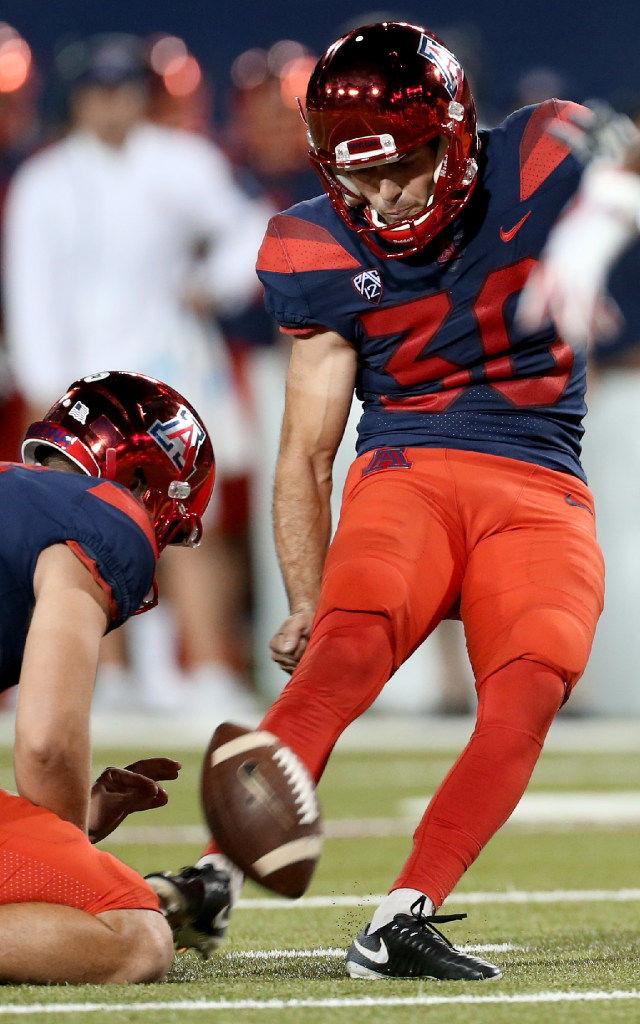 1
Field goal made from 40-plus yards all of last season for UA kicker Josh Pollack. The only make came in Week 1 against BYU. Pollack doubled that number Saturday against Houston, converting a 45-yarder and a 42-yarder.
Tickets, Part 1

Tickets for Saturday's game were easy to get, provided you were willing to pay a few dollars.
Like, literally, a few dollars.
Ticket prices dipped as low as $6 per seat on StubHub, and fell to $3 on a mobile app called "Gametime."
Though, to be fair, with processing fees which jumped the total to … $8.
Tickets, Part 2
You're better than that Tucson. pic.twitter.com/Alk0qzWnzM

— Justin Spears (@JustinESports) September 10, 2017
Saturday's crowd of 43,334 — 12,000 below capacity — is an indication that fans weren't buying what the Wildcats were selling: a nonconference game against an American Athletic Conference team.
Ticket sales on Saturday were an exercise in extremes. Look no further than South Bend, Indiana.
According to ESPN's Darren Rovell, tickets for Notre Dame's home game against Georgia went for an average of $616 per ticket, the highest average resale price for a Fighting Irish home game in the secondary ticket market era.
It might not have been money well spent, either — the 24th-ranked Irish lost.
Off to Houston
We're sending almost 70K lbs of goods to Houston. Thank you @UofA and Tucson community. #HoustonStrong #BearDown pic.twitter.com/HLaCunyxAb

— Arizona Athletics (@AZATHLETICS) September 8, 2017
Last week, Arizona announced it would fill one full football equipment truck full of cleaning and sanitary supplies and drive it to Houston to aid hurricane victims.
When the Wildcats filled up the first truck, they brought in a second one — and filled that one, too.
The UA collected approximately 70,000 pounds of goods. The two trucks departed late Saturday night for Texas.
"Really cool to see the community come together, not just with our efforts, but it seems with a number of efforts around town," the UA said in a statement.
Represent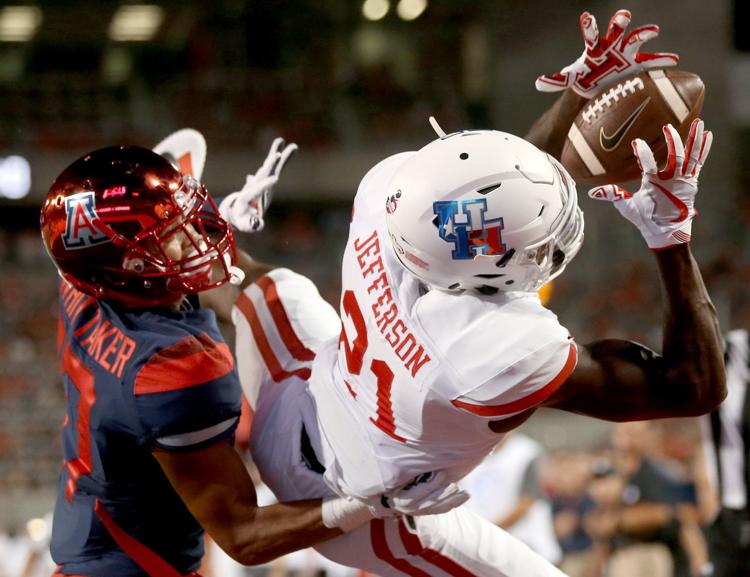 Both of Saturday's teams wore small helmet stickers supporting Texas in the wake of the hurricane.
Houston went one step further, sporting an interlocking "UH" designed to look like the Texas state flag.
"As always, we are playing for our city and our state," the team's official Twitter feed posted once the Cougars took the field. "A special look tonight."
Sick!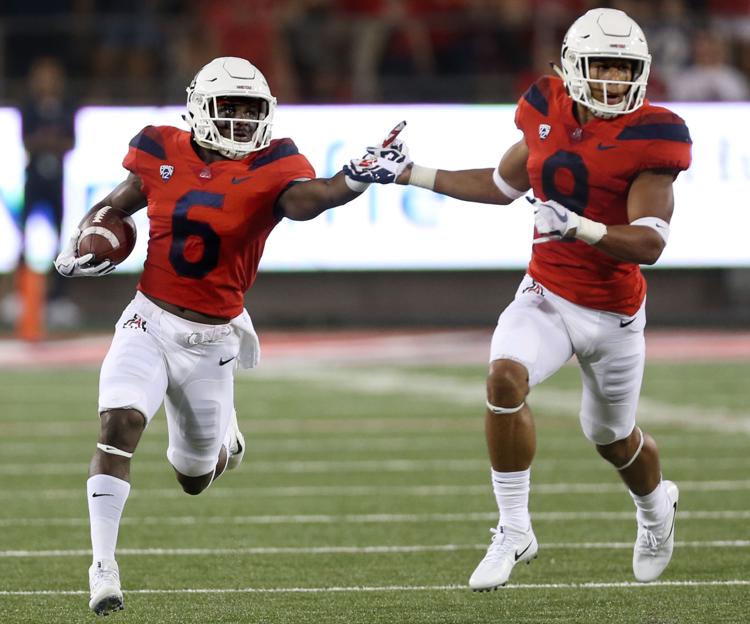 UA "spur" safety Dane Cruikshank had an interesting stretch on a Houston drive with 12 minutes left in the first quarter.
After Houston quarterback Kyle Allen rushed the ball 7 yards to Arizona's 1-yard line, Cruikshank, who converted to safety from cornerback before the season, went down and threw up on the field.
After leaving the game for one play, Cruikshank returned to stuff Allen at the 1-yard line. His playmaking helped Arizona hold Houston to just a field goal.