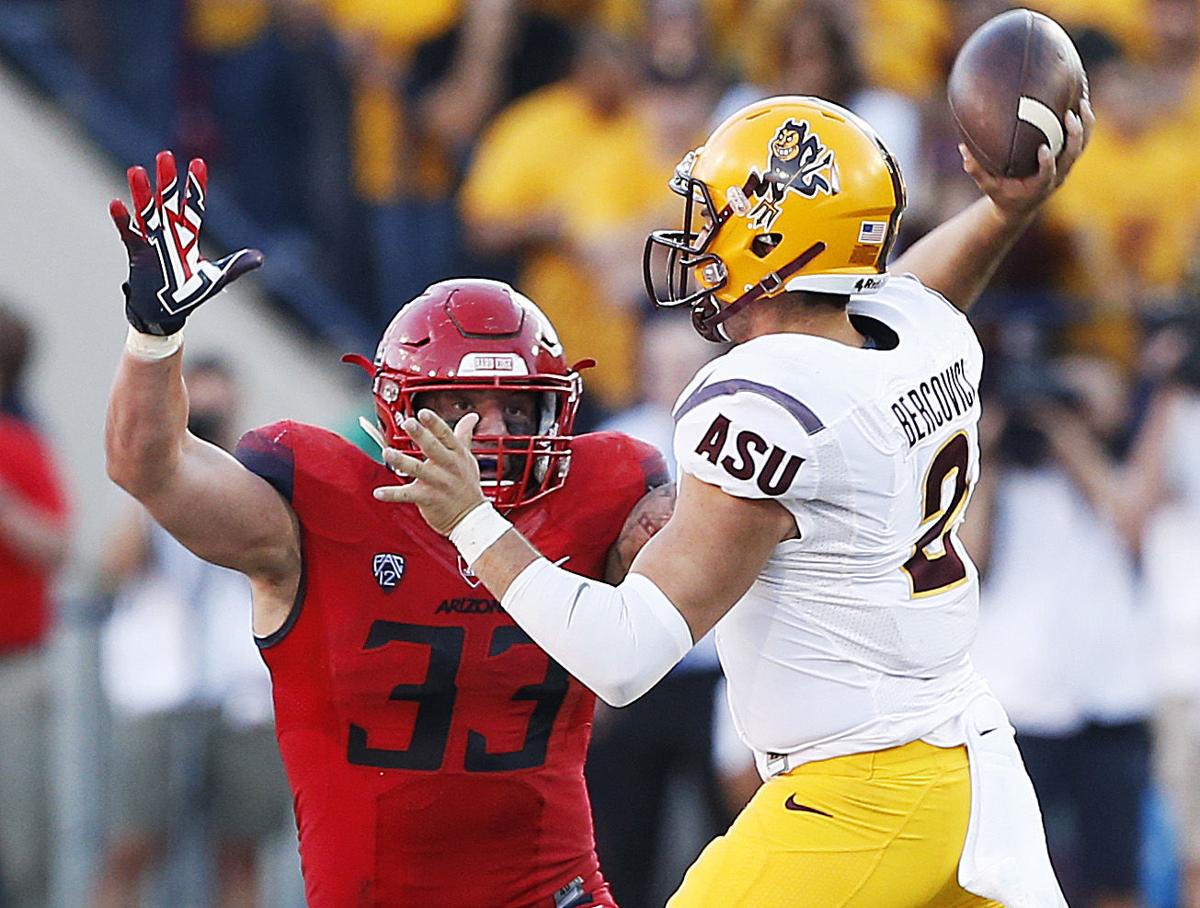 Editor's note: This is the first in a five-part series grading the Arizona Wildcats' football recruiting classes between 2013 and '17.
In football, more than any other sport, it takes several years to accurately judge the merits of a recruiting class.
There are no one-and-dones in football. Aside from a gifted few, players require time to build their bodies to withstand the rigors of a physically demanding sport.
We're enough years removed from the Rich Rodriguez era to assess the bulk of the work done by him and his staff as recruiters.
Over the next five days, we'll break down each of Arizona's recruiting classes between 2013 and '17. We'll carve them up into categories including best player and most disappointing player. Finally, we'll give each class a letter grade.
To create a quantitative basis for comparison, we added up the career starts for each class. In the cases of the 2016 and '17 classes, those numbers still can grow.
But, overall, they provide a relatively consistent unit of measure to determine the value of each group.
Let's kick things off by re-examining the class of 2013.
NATIONAL/PAC-12 RANKINGS
247Sports: 44 (national), 7 (Pac-12)
Rivals: 37 (national), 7 (Pac-12)
STAR RATINGS
(Note: We're using 247Sports Composite Ratings for this project, and we're including walk-ons who earned scholarships or became significant contributors.)
THE NUMBERS
In each class, we examined four figures: total starts, starts per player (excluding kickers/punters), percentage of players who started 12 or more games and percentage of players who never started any. Of the five classes we examined, 2013 has by far the most total starts (359) and is the only class whose per-player average cracked double digits (10.9). This class also has the highest percentage of players who started 12-plus games (42.4). It ranks third in percentage of players who never started a game (48.5).
KEY CONTRIBUTORS (CAREER STARTS)
OG Jacob Alsadek (46), DL Luca Bruno (22), OL Gerhard de Beer (22), WR-RB Samajie Grant (41), C Steven Gurrola (26), RB Zach Green (2), S Tellas Jones (18) LB Jake Matthews (15), S Jarvis McCall (22), OLB De'Andre Miller (18), WR Nate Phillips (39), QB Anu Solomon (27), LB Derrick Turituri (12), LB Scooby Wright (29), DL Parker Zellers (17)
BEST PLAYER
A case could be made for several players, but the only correct answer here is Scooby Wright. A two-star recruit with no other FBS offers, Wright developed into the top defensive player in the country as a sophomore in 2014, when he won multiple national awards and helped lead the Wildcats to their first and only Pac-12 South title. He missed most of his third and final season because of injuries, but the peaks were extraordinary. In his final game, the 2015 New Mexico Bowl, Wright recorded 15 tackles and two sacks. He declared for the NFL draft shortly after.
MOST DISAPPOINTING PLAYER
247Sports ranked Derek Babiash as the 27th-best cornerback and the 360th-best player in the class of 2013. He held offers from 10 schools, including Arizona State, Nebraska, Oklahoma and Washington. The product of Poway, California, appeared in nine games as a freshman, recording two tackles. He then transferred to San Diego State. Babiash was emerging as a contributor there in 2016, recording three interceptions in five games, before being suspended for violating team rules and being dismissed from the program. He is now a fitness coach and personal trainer, according to his social-media accounts.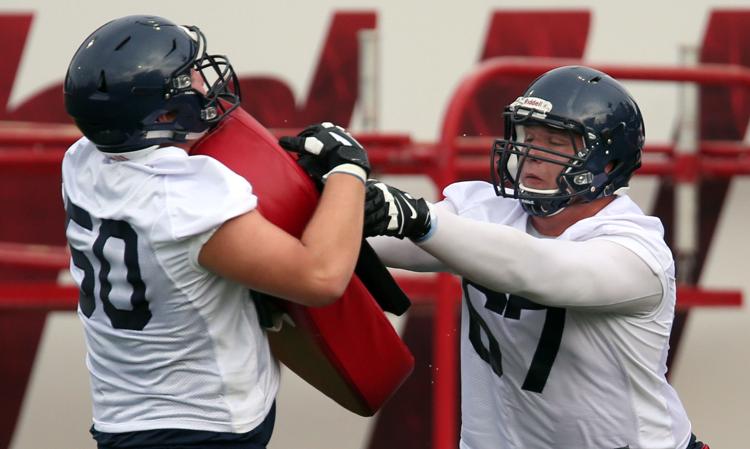 UNDERDOG SUCCESS STORY
Wright is highly qualified for this, but we're going in a different direction. Gerhard de Beer knew virtually nothing about football when he came to the UA from South Africa as a world-class-level discus thrower. He joined the football team and worked his way up from novice to reliable starter. He started 18 games at right tackle over his final two seasons and spent time on the rosters of multiple teams in the NFL and XFL.
WHATEVER HAPPENED TO …
Quarterback Anu Solomon set or tied multiple school records as a redshirt freshman in 2014, when he passed for 3,793 yards with 28 touchdowns and nine interceptions. He missed three games the following season because of concussions, an issue that ultimately would end his career. Solomon threw 20 TD passes in '15 and opened the following season as the starter. But Solomon suffered a knee injury in the opener and made only one more start the rest of his UA career (which he didn't finish because of an injury). He transferred to Baylor, where he started the first two games of '17 before suffering another concussion and medically withdrawing from the school.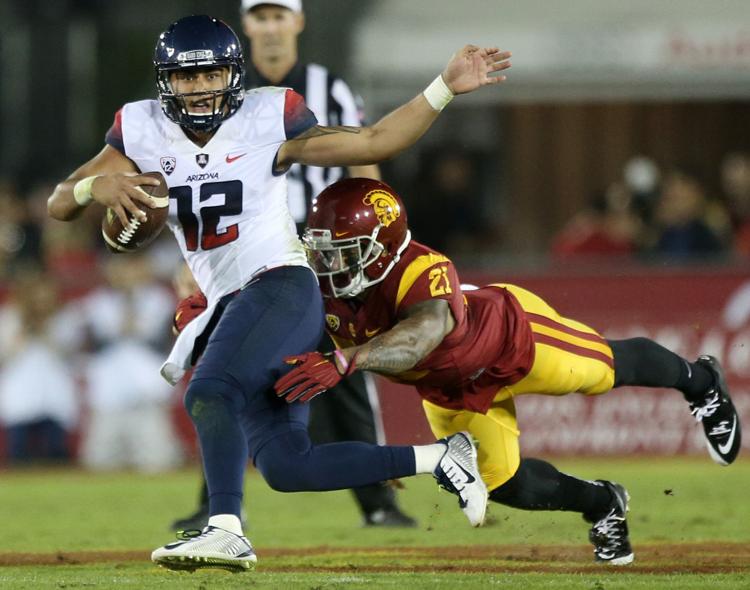 IF IT WEREN'T FOR BAD LUCK …
All-purpose back Pierre Cormier was Arizona's lone four-star signee, per 247Sports. He rushed for 2,233 yards and 29 touchdowns as a high school senior in San Diego. After redshirting as a freshman, Cormier was in the thick of the competition for playing time at running back. But in June 2014, Cormier announced that he had to retire because of a medical condition. "Football has always meant the world to me," he wrote at the time on Facebook. "I've been told I can never play again. This last week and a half has been the hardest ever for me." Cormier is now a graduate assistant for the UA football program.
EXPERT SAYS
Adam Gorney, national recruiting analyst for Rivals and Yahoo! Sports: "This is the best of the five. As you go up and down this list, it's really talented kids whose recruitments didn't take off (for whatever reason) or guys that really blossomed when they were there. Anu Solomon was pretty much the prize of that class, and for (two) years he was putting up tremendous numbers. Obviously, Scooby Wright's ranking was a complete miss. The kid should have been ranked much higher. … Definitely a lot of talent across the board in this class and a lot of special players."
OVERALL GRADE: B-PLUS
This was Rodriguez's first full recruiting class at Arizona, and it was unequivocally his finest. Even with some high-profile misses and some players' careers fizzling because of injuries (Solomon, Derrick Turituri, DeAndre' Miller), Rodriguez and his staff were able to add key parts to the nucleus of teams that would appear in four bowl games over the next five seasons. Offensive lineman Jacob Alsadek and receivers Samajie Grant and Nate Phillips became multiyear starters and team leaders; the latter two combined for 297 receptions and 33 total touchdowns. JC transfer Steven Gurrola was a two-year starter at center. Even the walk-on ranks produced contributors, including de Beer, defensive lineman Parker Zellers and linebacker Jake Matthews.
Be the first to know
Get local news delivered to your inbox!