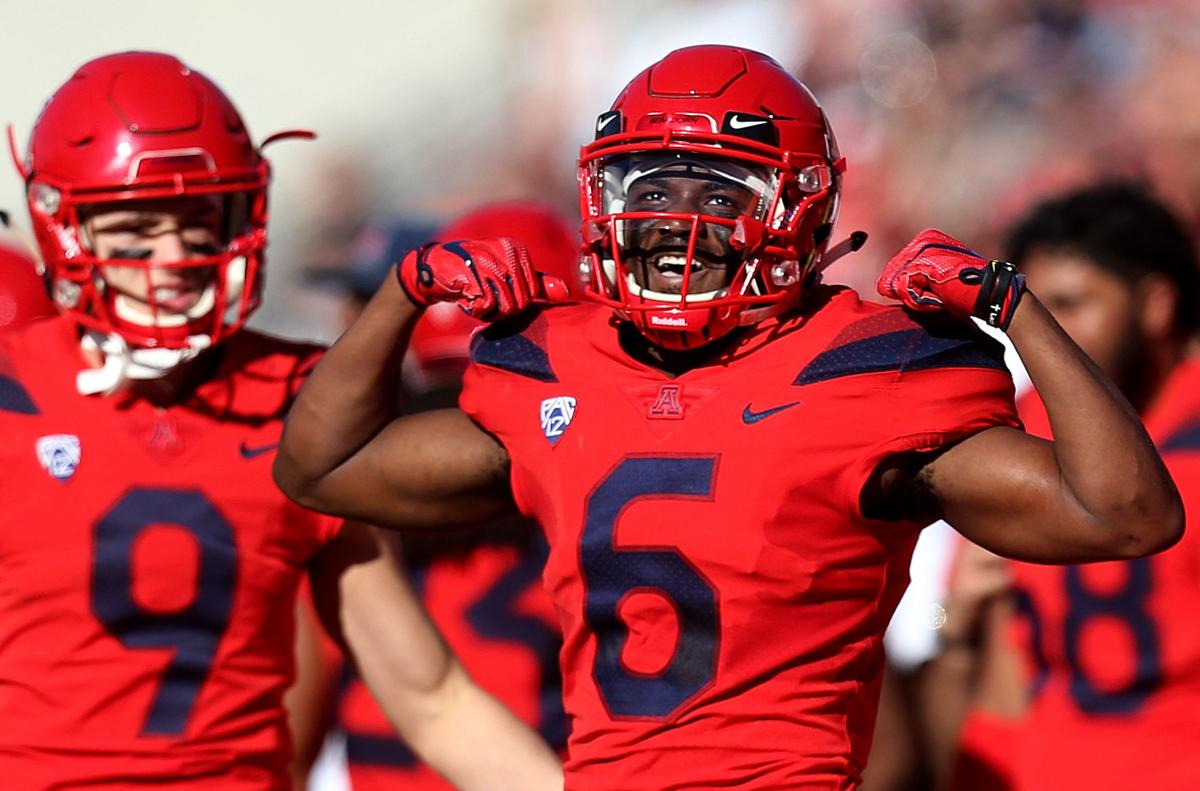 Editor's note: This is the third in a five-part series grading the Arizona Wildcats' football recruiting classes between 2013 and '17.
If you believe the most important factor in recruiting success is on-field success, the class of 2015 should have been Arizona's best under Rich Rodriguez.
After back-to-back 8-5 seasons, the Wildcats surged to 10 victories and the Pac-12 South title in 2014. Coaches close recruiting class during the season – and, before the days of the December signing period, had an extra month-plus to apply the finishing touches.
If you read Part 1 of our series, you know this class didn't quite reach best-in-show status. Where does it rank? Let's take a look.
As with each class, we'll name the best and most disappointing players from the class of 2015 and give an all-encompassing letter grade.
To create a quantitative basis for comparison, we added up the career starts for each class. In the cases of the 2016 and '17 classes, those numbers still can grow. But, overall, they provide a relatively consistent unit of measure to determine the value of each group.
And now, onto the UA class of 2015.
NATIONAL/PAC-12 RANKINGS
247Sports: 43 (national), 9 (Pac-12)
Rivals: 41 (national), 8 (Pac-12)
STAR RATINGS
(Note: We're using 247Sports Composite Ratings for this project, and we're including walk-ons who earned scholarships or became significant contributors. This group also features multiple players who originally were in the 2014 class but "grayshirted" because of injuries and other factors.)
THE NUMBERS
Ten of the 29 players in this class — 34.5% — started 12 or more games for the Wildcats; that percentage ranks second among the five classes we examined. On the flip side, 17 of 29 – 58.6% - never started a game for Arizona. That's the second-highest figure by percentage. The class of 2015 produced 272 total starts, second most in our survey. The group's average of 9.4 starts per player also ranks second and is within earshot of the top mark (10.9, 2013).
KEY CONTRIBUTORS (CAREER STARTS)
DE Justin Belknap (26), WR Shun Brown (32), DT Finton Connolly (14), OL Cody Creason (26), DB Dane Cruikshank (25), C Nathan Eldridge (25), S Demetrius Flannigan-Fowles (36), CB Malcolm Holland (0), LB Paul Magloire (18), CB Sammy Morrison (2), WR Cedric Peterson (31), DB Jace Whittaker (36)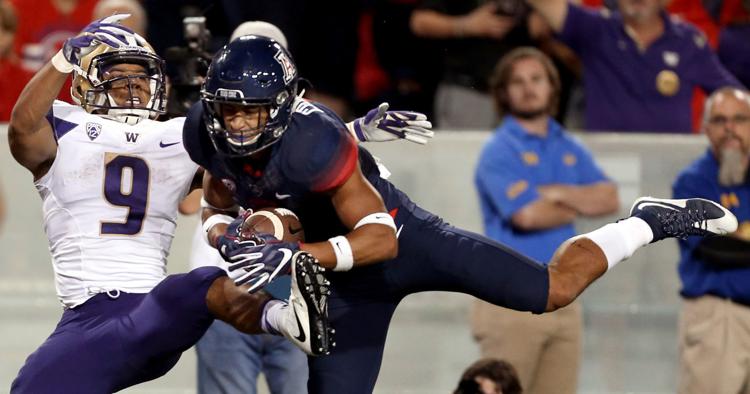 BEST PLAYER
It's either Shun Brown or Dane Cruikshank, and it depends on how you parse it. Brown had the better overall career. He played four seasons for the Wildcats, accumulating 140 receptions for 1,773 yards and 15 touchdowns while also averaging 9.4 yards on punt returns with two scores. His reception and yardage totals increased each year at Arizona. As a junior-college transfer, Cruikshank played only two seasons at the UA. (He redshirted in 2015.) After playing cornerback in 2016, he moved to safety in '17 and blossomed there, recording 74 tackles and three interceptions. (The QBs he picked off: future first-round picks Josh Rosen, Sam Darnold and Justin Herbert.) The Tennessee Titans selected Cruikshank in the fifth round of the 2018 draft, and he remains a contributor for the NFL club – a rarity among recent UA players.
MOST DISAPPOINTING PLAYER
Offensive tackle Keenan Walker would have been the clear choice here, but we moved him to the 2016 class after an injury forced him to sit out the '15 season and delay his enrollment. Instead, the pick is tailback Orlando Bradford, for reasons that have little to do with his playing ability. Bradford was arrested in September 2016 on suspicion of domestic violence and dismissed from the football program. In October 2017, he was sentenced to five years in prison after pleading guilty to two counts of domestic-violence-related aggravated assault. Bradford accumulated 224 rushing yards in nine games for the UA.
UNDERDOG SUCCESS STORY
Rivals rated safety Demetrius Flannigan-Fowles as a two-star prospect; 247Sports had him as a three-star. The Tucson product didn't have any Division I offers besides Arizona. He ended up becoming a durable three-year starter. Flannigan-Fowles finished his UA career with 243 tackles, 16 passes defensed, six interceptions, three forced fumbles and two fumble recoveries. He remains on the roster of the Super Bowl runner-up San Francisco 49ers after signing with them as an undrafted free agent in 2019.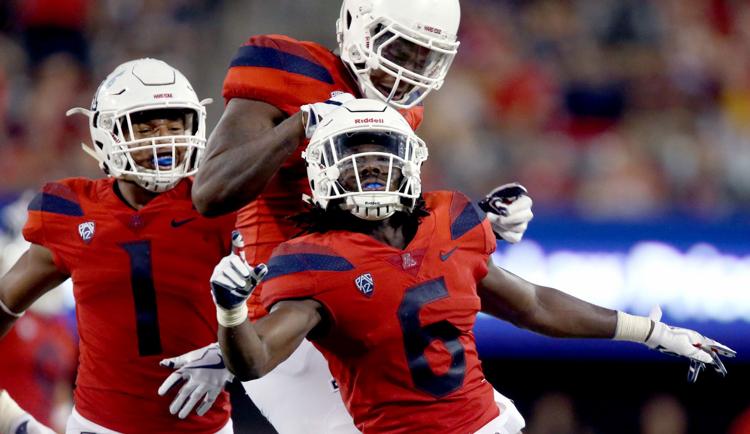 WHATEVER HAPPENED TO …
Nathan Eldridge started 25 consecutive games for the Wildcats at center in 2016 and '17. Arizona changed coaching staffs in 2018, and Eldridge never played another game for the UA. Knee issues prevented him from practicing in the spring of '18, and he ended up sitting out the entire season. Eldridge then left Arizona as a graduate transfer, reuniting with former offensive line coach Jim Michalczik at Oregon State. Eldridge appeared in four games last season, making one start. He remains on the OSU roster with one more year of eligibility.
IF IT WEREN'T FOR BAD LUCK …
Tight ends rarely played a significant role in the passing game under Rodriguez, but Brion Anduze might have been an exception. At 6-3, 235, he had the type of hybrid build that could have enabled him to split wide. He never got that chance. After redshirting in 2015, Anduze suffered a gruesome knee injury during the first spring practice of '16. Anduze tore three ligaments in his left knee and needed two surgeries. He was forced to retire from football a little over a year later. He is pursuing a career in law enforcement, per his Linkedin profile.
EXPERT SAYS
Adam Gorney, national recruiting analyst for Rivals and Yahoo! Sports: "Dane Cruikshank was definitely a miss. He was a kid we didn't see a whole lot – a kid who kind of emerged once he got to college. … (Offensive lineman) Cody Creason was a kid I had seen when Jonah Williams was playing in the state championship game. (Williams and Creason were teammates at Folsom [Calif.] High School. Williams went to Alabama and became a first-round pick in 2019.). He was kind of a non-nonsense kid. I liked how physical and tough he was. … This is the flip side of that last class, where there was a lot of hype and not a lot of development on the field."
OVERALL GRADE: C
This class produced a good amount of dependable, multiyear starters, and it's buoyed by the "addition" of defensive back Jace Whittaker, who grayshirted the '14 season and became a staple in the UA secondary. But the bust rate suppresses the grade for this group. Far too many players never started a game for Arizona and/or contributed little to the program for a variety of reasons. Between 2014 and '15, 32 of Arizona's 53 recruits (excluding specialists) never started a game for the Wildcats. Those recruiting woes depleted Arizona's depth and made it extremely difficult for the UA to withstand injuries. They also prompted Rodriguez to overhaul his defensive staff after the 2015 season. Recruiting improved thereafter, but the program still hasn't fully recovered.
Be the first to know
Get local news delivered to your inbox!