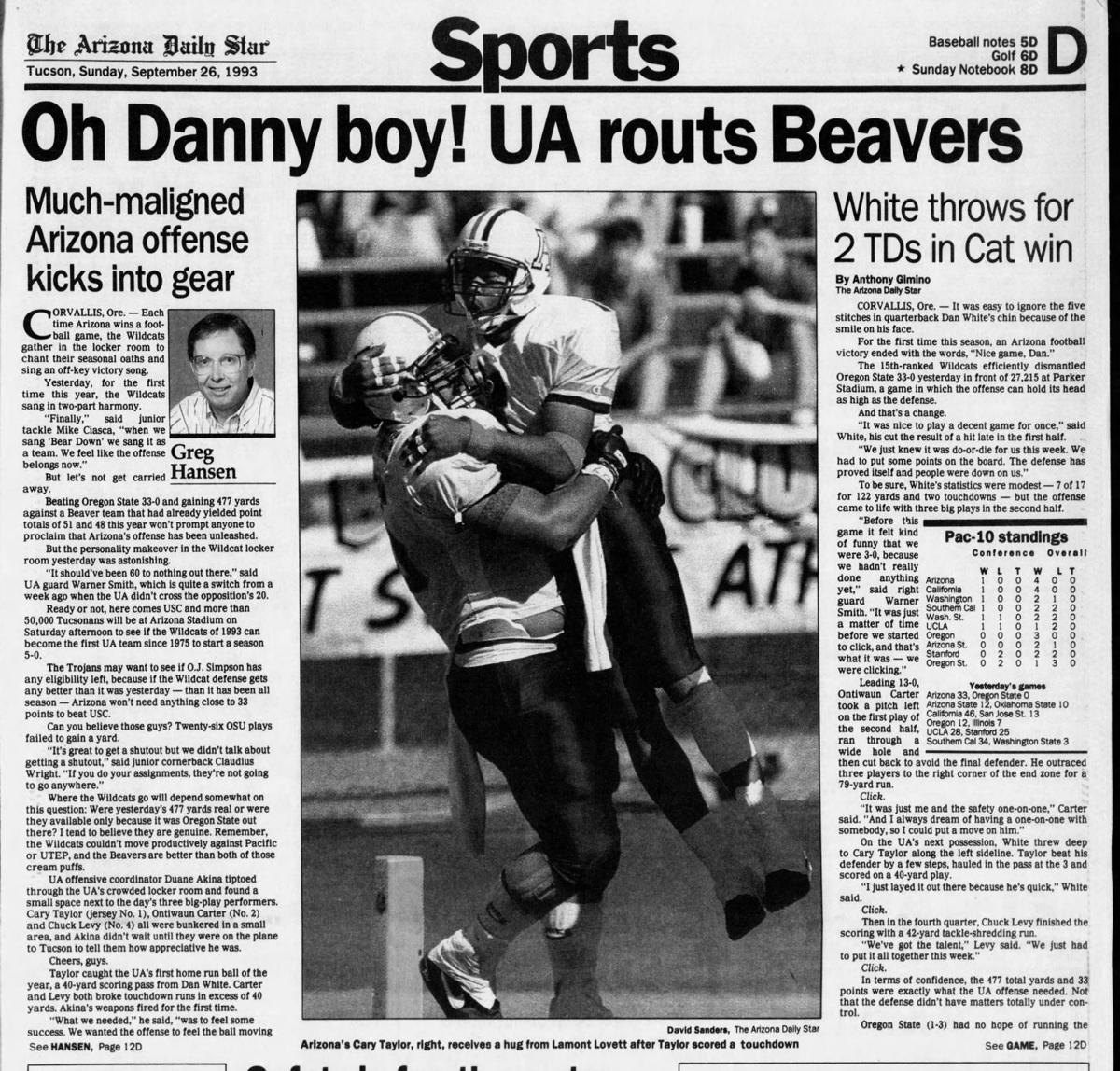 Editor's note: Until Arizona resumes football activities later this fall,, the Star will revisit Wildcats games that were significant for one reason or another.
Sept. 25, 1993: Cats finally pitch a complete game
What went down: The UA defense had done its part heading into the Pac-10 opener at Oregon State. The 15th-ranked Wildcats surrendered 33 combined points in their first three games, all victories.
The offense wasn't there yet. Arizona scored just 16 points apiece in wins over Pacific and Illinois. The Cats did not look like the dominant team they would become.
That changed on a Saturday afternoon at Parker Stadium in Corvallis. The running game found its stride, the defense remained stellar and Arizona cruised to a 33-0 triumph.
The Beavers were far from a juggernaut. They finished 4-7 in '93, their 23rd straight season with a sub-.500 record.
But Oregon State had tied Arizona the previous season. It was one of only two non-losses for the 1992 Beavers.
"Oregon State was a major, major blemish on our record last year," UA cornerback Jey Phillips said before the game. "It was like a pimple you can't get rid of."
Arizona obliterated OSU this time. The Wildcats had 477 yards to the Beavers' 109. Arizona averaged 7.0 yards per play, OSU 1.8.
The Wildcats led 13-0 at halftime before running away after the break. On the first play of the third quarter, Ontiwaun Carter busted loose for a 79-yard touchdown run. He would finish with a career-high 165 yards on 15 carries.
On the next UA possession, Cary Taylor caught a 40-yard TD pass from Dan White. Chuck Levy provided the exclamation point with a 42-yard touchdown run in the fourth quarter. He finished with 115 yards on 16 rushes.
Arizona notched its first shutout since blanking New Mexico State 30-0 on Oct. 31, 1992. Brant Boyer had a team-high eight tackles. Tony Bouie and Sean Harris each had seven. Oregon State fumbled six times, losing three, and converted only 2 of 22 third downs.
From the archives: Star columnist Greg Hansen quickly deciphered the game's top storyline. But it was worth asking: Was the offensive outburst legit? Wrote Hansen:
Each time Arizona wins a football game, the Wildcats gather in the locker room to chant their season oaths and sing an off-key victory song.
Yesterday, for the first time this year, the Wildcats sang in two-part harmony.
"Finally," said junior tackle Mike Ciasca, "when we sang 'Bear Down' we sang it as a team. We feel like the offense belongs now.
But let's not get carried away.
Beating Oregon State 33-0 and gaining 477 yards against a Beaver team that had already yielded point totals of 51 and 48 this year won't prompt anyone to proclaim that Arizona's offense has been unleashed.
But the personality makeover in the Wildcats locker room yesterday was astonishing.
"It should have been 60 to nothing out there," said UA guard Warner Smith, which is quite a switch from a week ago, when the UA didn't cross the opposition's 20.
Ready or not, here comes USC, and more than 50,000 Tucsonans will be at Arizona Stadium on Saturday afternoon to see if the Wildcats of 1993 can become the first UA team since 1975 to start a season 5-0.
The Trojans may want to see if O.J. Simpson has any eligibility left, because if the Wildcat defense gets any better than it was yesterday – than it has been all season – Arizona won't need anything close to 33 points to beat USC.
Can you believe those guys? Twenty-six OSU plays failed to gain a yard.
"It's great to get a shutout, but we didn't talk about getting a shutout," said junior cornerback Claudius Wright. "If you do your assignments, they're not going to go anywhere."
Where the Wildcats will go will depend somewhat on this question: Were yesterday's 477 yards real, or were they available only because it was Oregon State out there? I tend to believe they are genuine. Remember, the Wildcats couldn't move productively against Pacific or UTEP, and the Beavers are better than both of those cream puffs.
He said it: UA quarterback Dan White didn't have a great game by current standards: He completed 7 of 17 passes for 122 yards with two touchdowns and one interception. But he recognized the significance of the offense doing its part.
"It was nice to play a decent game for once," White said. "We just knew it was do-or-die for us this week. We had to put some points on the board. The defense has proved itself, and people were down on us."
By the numbers: The defenses of the "Desert Swarm" era were renowned for their ability to stop the run. The Wildcats were on point in that regard in Corvallis.
Oregon State rushed 47 times for 50 net yards. The Beavers' J.J. Young gained 33 yards on one carry. So the other 46 rushes produced a mere 17 yards.
The aftermath: In typical Dick Tomey fashion, the wise, measured coach put the victory in the proper perspective.
"I think this was our most complete win: offense, defense, kicking game," Tomey said. "We've made a natural progression. We were a little better today, but we're going to need to be a whole lot better this week. I think we will be."
USC was next on Arizona's schedule. The Wildcats trounced the Trojans 38-7.
Arizona would lose only two games the entire campaign, posting the first 10-win season in school history. The UA ended the year by beating rival Arizona State for the first time since 1990 and mauling Miami 29-0 in the Fiesta Bowl. The latter avenged an 8-7 defeat in 1992 — although many point to that game as the one in which the Desert Swarm defense was born.
The Wildcats were just 6-5-1 in '92, but there were signs they were on the verge of something big. Those five losses came by a combined 17 points.
The breakthrough came in '93. Arizona finished the year ranked 10th in the country. If the '93 squad wasn't the best in program history, it's no worse than No. 2. (The 1998 Cats finished 12-1, the best record in UA annals.)
Despite losing stalwarts such as Levy, Boyer, defensive tackle Rob Waldrop and tight end Roderick Lewis — all of whom were selected in the 1994 NFL draft — the Wildcats were ranked seventh heading into the following season. They would finish 8-4, with three of the losses — including the season-ending Freedom Bowl — coming by a combined nine points.
Waldrop, who won the 1993 Outland Trophy and was a unanimous first-team All-American, was inducted into the College Football Hall of Fame in 2011. Fellow lineman Tedy Bruschi joined him in '13.
Tomey coached the UA through the 2000 season. His 95 victories, accumulated over 14 seasons, are the most in program history. He died in May 2019 at the age of 80.