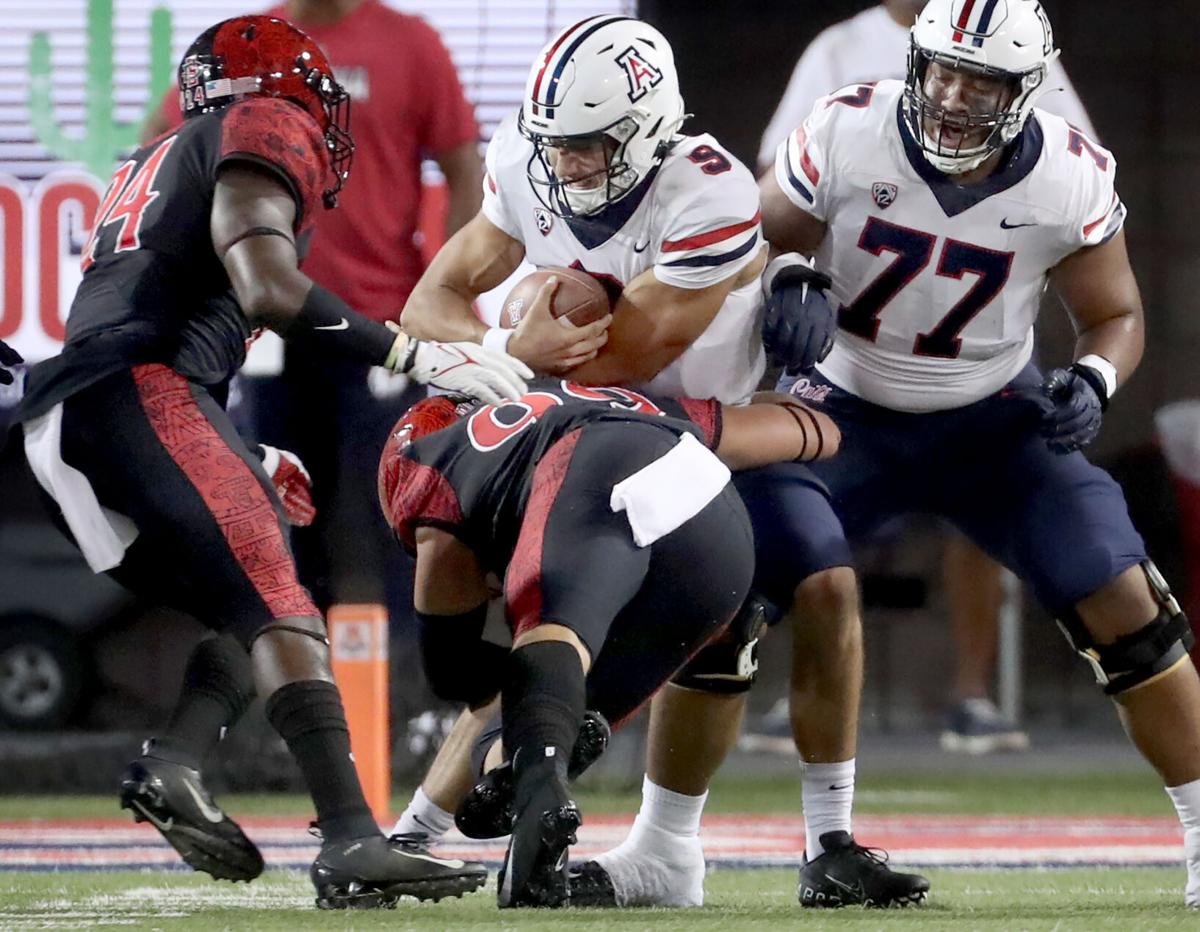 It couldn't happen again, could it?
Things were supposed to be different for Arizona football under Jedd Fisch, who's brought boundless energy, hope and positivity to the program since his arrival in late December.
Yet the product on the field looked discouragingly familiar Saturday night.
Arizona was thoroughly outclassed in its home opener, falling to San Diego State 38-14 in front of an announced crowd of 39,097 at Arizona Stadium.
The defeat extended the Wildcats' losing streak to 14 games — the longest active FBS skid in the nation. The next opportunity to end it comes next Saturday against NAU.
"Hats off to San Diego State," Fisch said. "They certainly outplayed us, outcoached us, outschemed us. They played extremely hard, and they made it very hard on us."
The first half was a compilation of breakdowns, miscues and ineffectiveness not seen since, well, the last time Arizona played a home game. Nothing could match the nightmare that was the 2020 Territorial Cup — a 70-7 debacle against Arizona State that capped an 0-5 season and got Kevin Sumlin fired. But the first 30 minutes against SDSU were a decent approximation.
The Aztecs (2-0) grabbed a 21-0 lead less than eight minutes into the game. At that point, Arizona had been outscored 115-7 at home since holding a 13-0 advantage over Colorado in the penultimate game of last season.
Gunner Cruz's 43-yard touchdown pass to Stanley Berryhill III later in the first quarter halted that run. But the celebration was short-lived. By the end of the first half, SDSU held a 35-7 edge. The Aztecs had 344 yards to the Wildcats' 106.
"We just never could get in the game," Fisch said. "I thought our team was ready to play. I hate that saying; I feel like it's such coach-talk, Yeah, we were ready to play. We practiced hard. We played well in practice. We prepared hard. But we have to have an edge about us."
Every unit bore some of the blame. The offense — which found a rhythm in the second half of a promising but ultimately unsuccessful season opener vs. BYU — couldn't get anything going. The defense, which played mostly sound football in Week 1, yielded multiple chunk plays. The special teams surrendered a blocked punt, which the Aztecs returned for a touchdown.
"We couldn't do anything on offense," Fisch said. "When you can't do anything on offense, it's really hard on the defense. And then with the defense, when you let up explosives and scores happen quick, it's hard to get your composure back."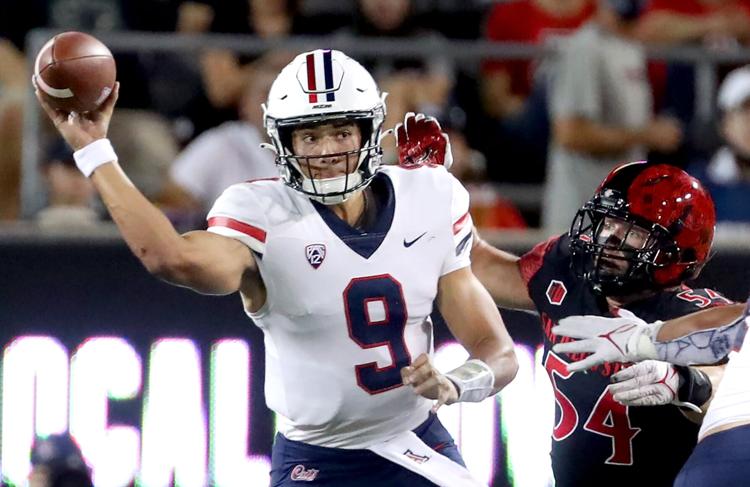 At least the ZonaZoo was full at kickoff. Not so much in the second half, despite the promise of free Chick-fil-A sandwiches.
San Diego State quarterback Jordon Brookshire, who completed only 6 of 19 passes for 76 yards in SDSU's opener vs. New Mexico State, went 9 of 11 for 183 yards and two touchdowns in the first half. He was barely asked to throw in the second (three attempts).
Tight end Daniel Bellinger had three catches for 113 yards and a touchdown, all in the first half. His 73-yard reception on SDSU's second series set up a score. Tailback Greg Bell had 102 of his 125 rushing yards in the opening 30 minutes.
Cruz started and played into the third quarter. He passed for only 70 yards after amassing 336 in Week 1. His final attempt resulted in an interception.
Will Plummer entered late in the third period. On his first series, the Wildcats faced fourth-and-1. They were lined up to go for it, but tackle Edgar Burrola was flagged for a false start. It was that kind of night.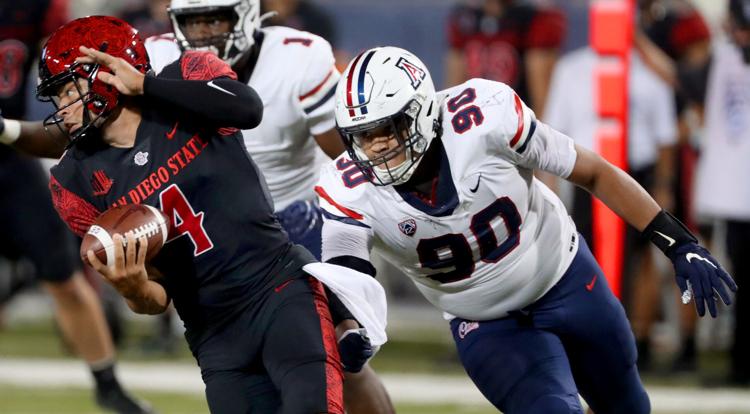 Plummer and Berryhill hooked up a 9-yard gain on third-and-7 in the fourth quarter — Arizona's first third-down conversion of the game. The Wildcats had been 0 for 10 up to that point.
After a pair of penalties extended the drive, Plummer connected with Tayvian Cunningham for a 7-yard touchdown. It was the first TD pass of Plummer's career.
Plummer finished 8 of 17 for 109 yards against a defense that wasn't as aggressive as the version Cruz faced. Fisch said he was "completely unsure" about the quarterback situation heading into the NAU game. One of Cruz or Plummer will start. Both likely will play.
Plummer was certain about one thing: He and his teammates aren't happy about the current state of the program.
"I think everybody's pretty pissed," Plummer said. "We've been on this losing streak for a while now. It's getting really tiring.
"We know that nobody's out here feeling sorry for us. So we're gonna come to work on Monday, and we're gonna try to get a win next weekend."
Extra points
Tackle Jordan Morgan returned to the lineup after missing Week 1 because of a lower-leg injury. Morgan (Marana High School) started at his usual left tackle spot, with Donovan Laie shifting back to left guard. Laie got hurt early in the third quarter and did not return.
Lucas Havrisik kicked off for Arizona, but second-year freshman Tyler Loop handled placements. Havrisik made only 2 of 4 field goal attempts in the opener. Fisch said Loop would be the primary placekicker moving forward, with Havrisik handling kickoffs and longer field goals.
Freshman tailback Stevie Rocker Jr. made his UA debut in the first half. Rocker (Canyon del Oro High School) lined up as a fullback on a 23-yard pitch to Berryhill. Rocker then carried the ball for 2 yards, but the play was wiped out by a penalty.
For the second week in a row, receiver Jamarye Joiner suited up for warmups but did not play. Joiner was expected to make his 2021 debut after missing most of training camp while rehabbing from offseason foot surgery. Fisch said Joiner was available, but Fisch didn't want to use him once the game got out of hand.
Safety Gunner Maldonado made his first UA start after an impressive debut last week (seven tackles, one forced fumble, one pass breakup). The transfer from Northwestern was victimized on SDSU's first touchdown, missing a tackle that enabled Bell to break into the open field for a 55-yard score.
Freshman receiver Dorian Singer was spotted before the game in street clothes with a walking boot on his left foot. He did not dress.
Photos: San Diego State routs Arizona in Wildcats' home opener
University of Arizona vs San Diego State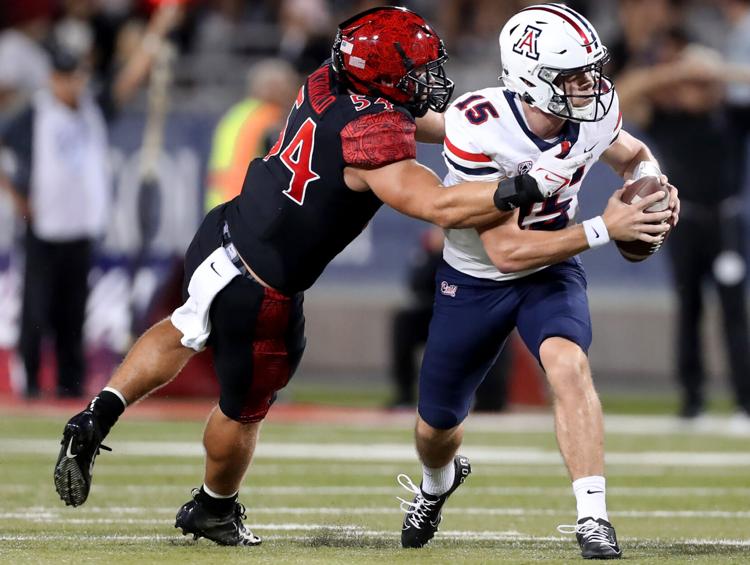 University of Arizona vs San Diego State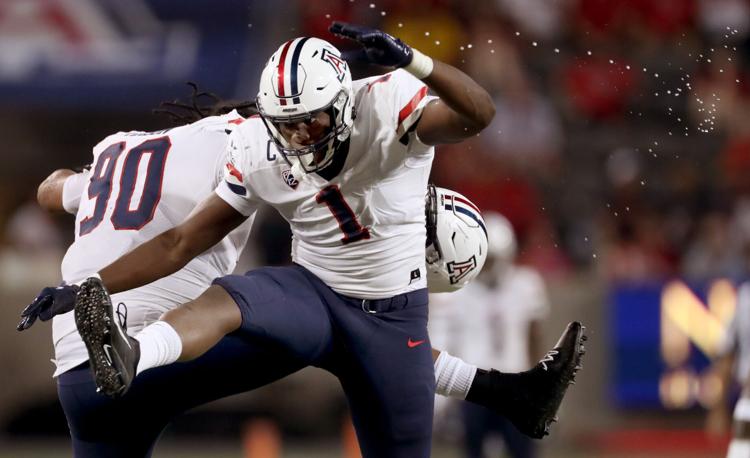 University of Arizona vs San Diego State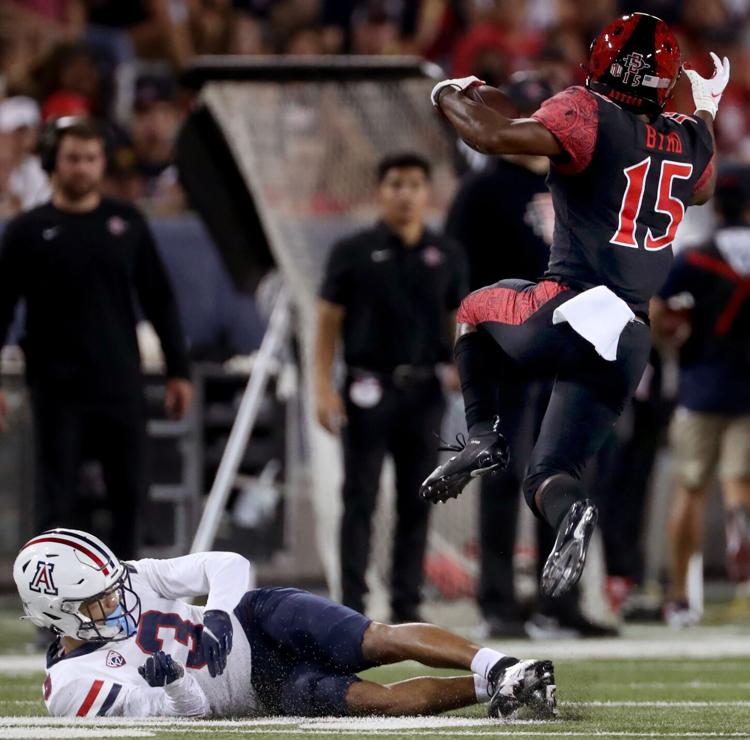 University of Arizona vs San Diego State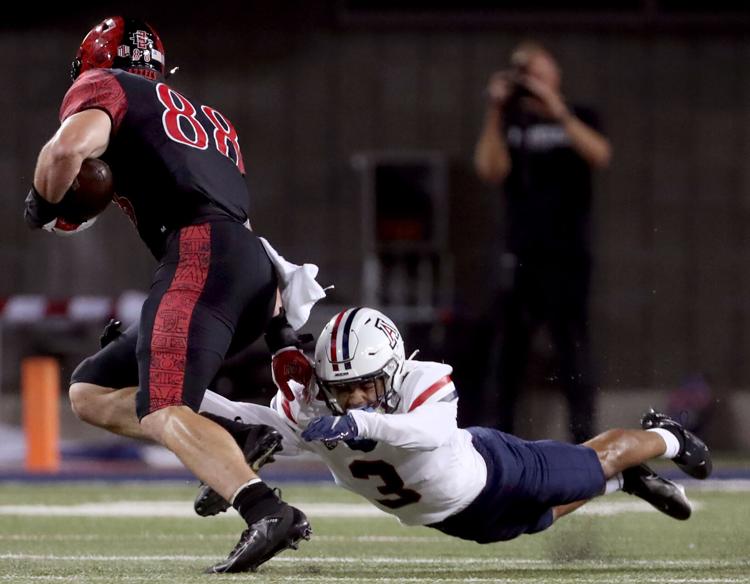 University of Arizona vs San Diego State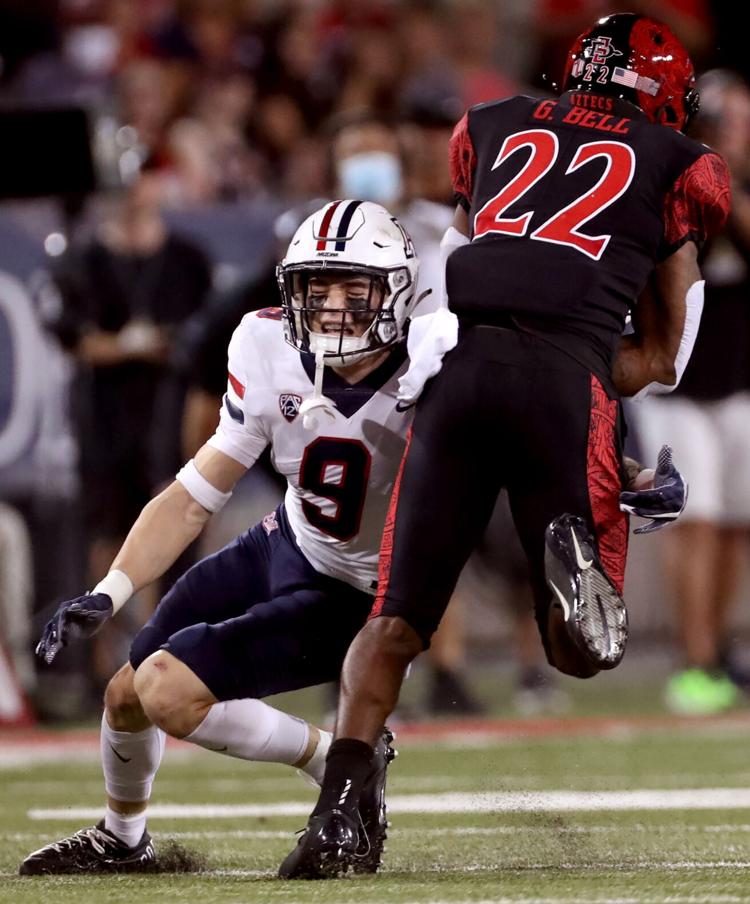 University of Arizona vs San Diego State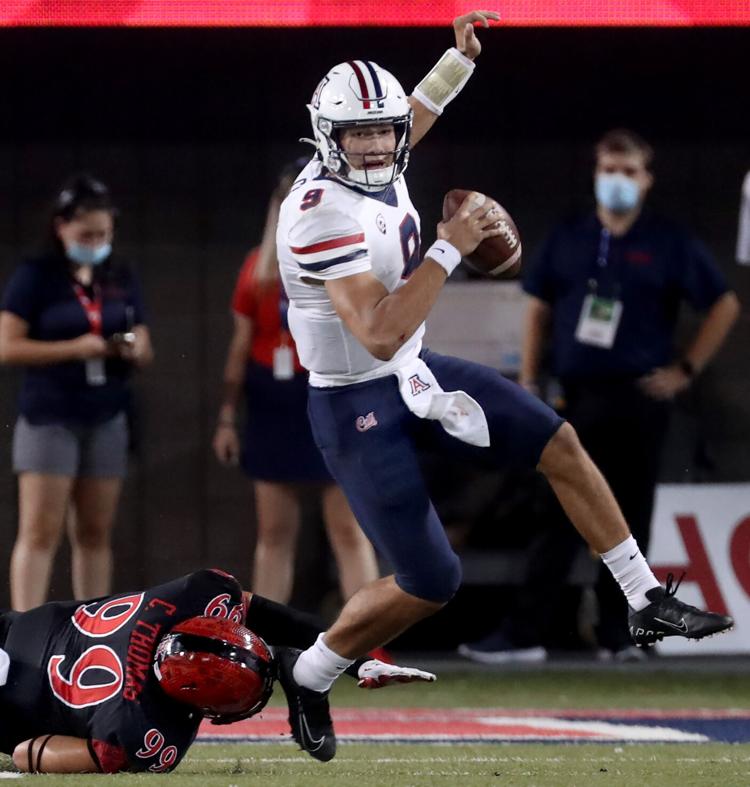 University of Arizona vs San Diego State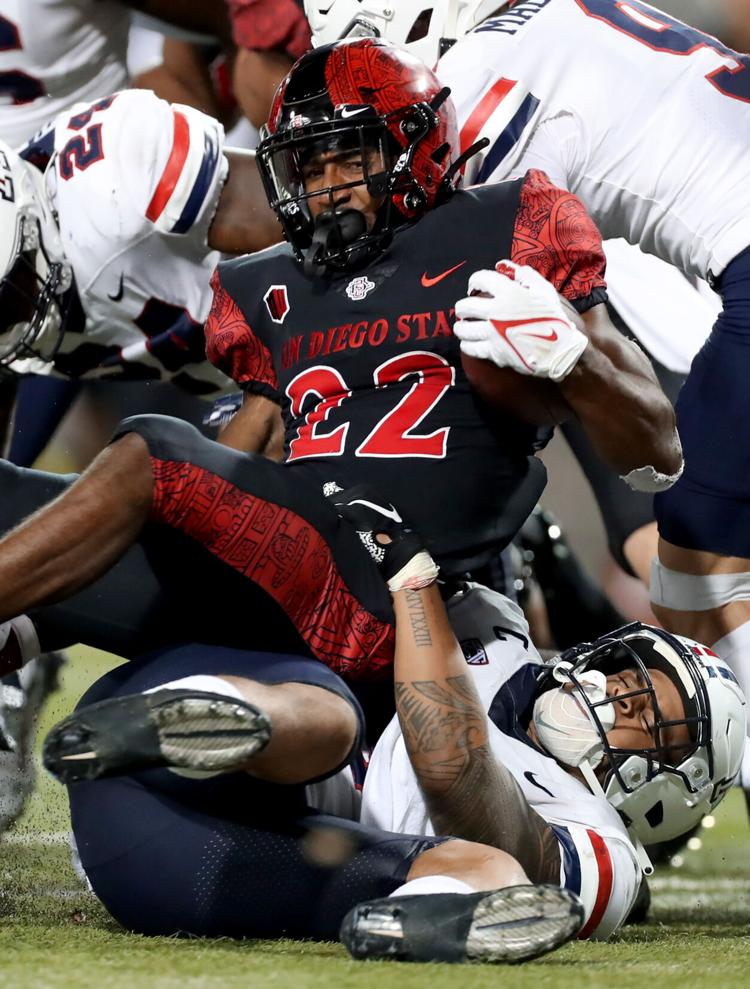 091321-tuc-spt-uafbbythenumbers-p3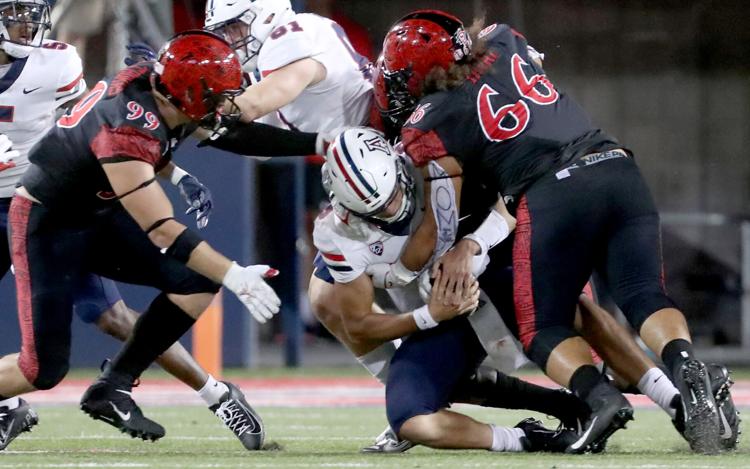 University of Arizona vs San Diego State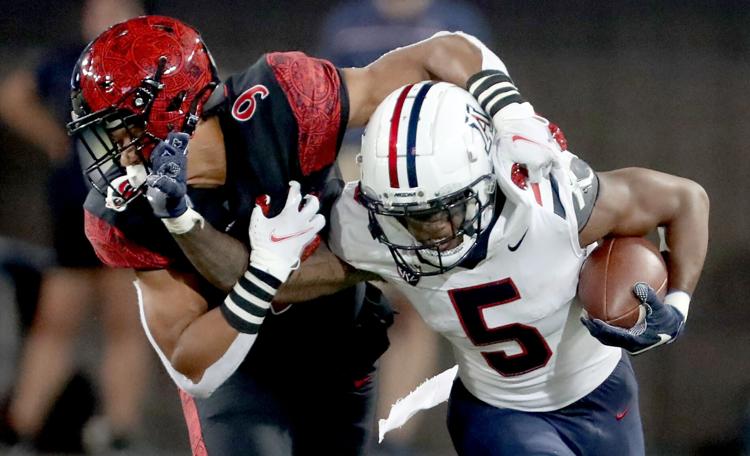 091321-tuc-spt-uafbbythenumbers-p2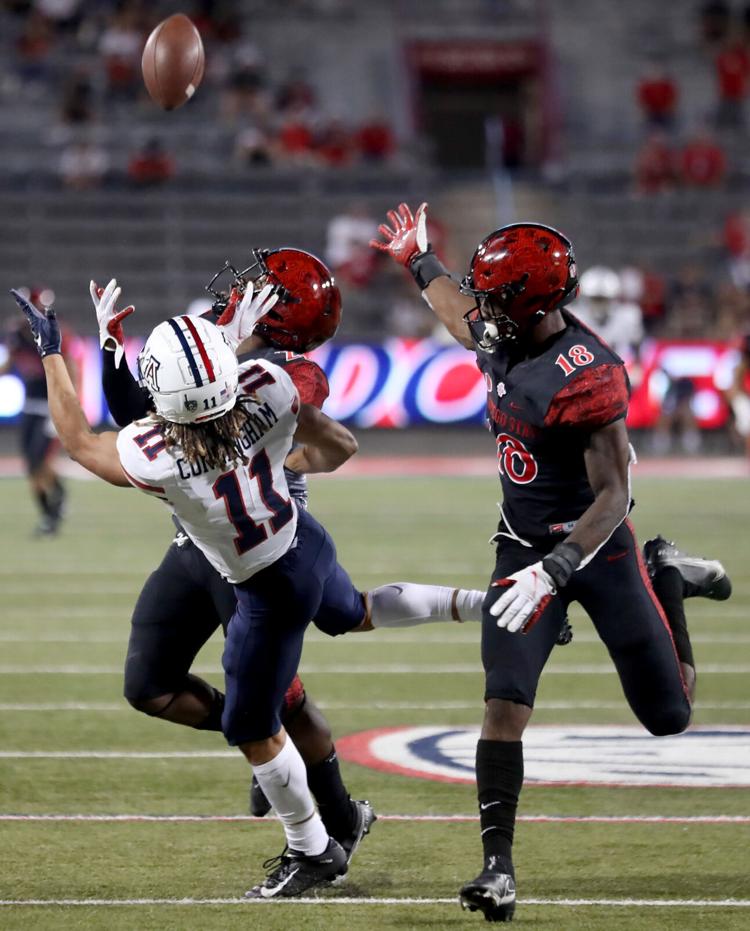 091321-tuc-spt-uafbbythenumbers-p1
University of Arizona vs San Diego State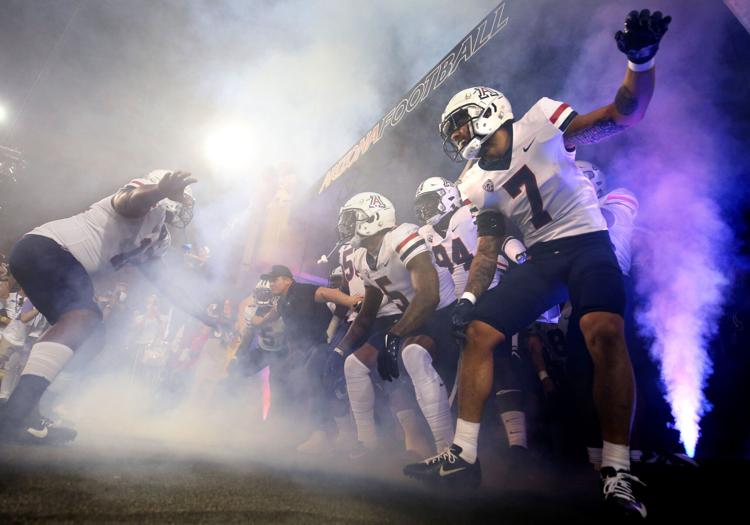 University of Arizona vs San Diego State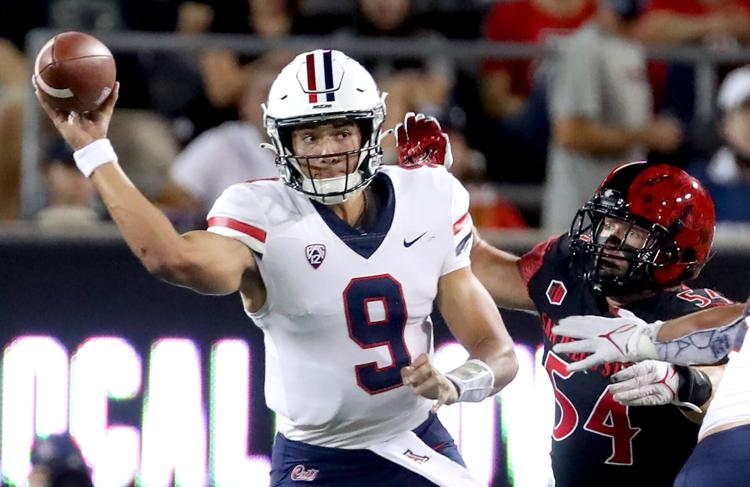 University of Arizona vs San Diego State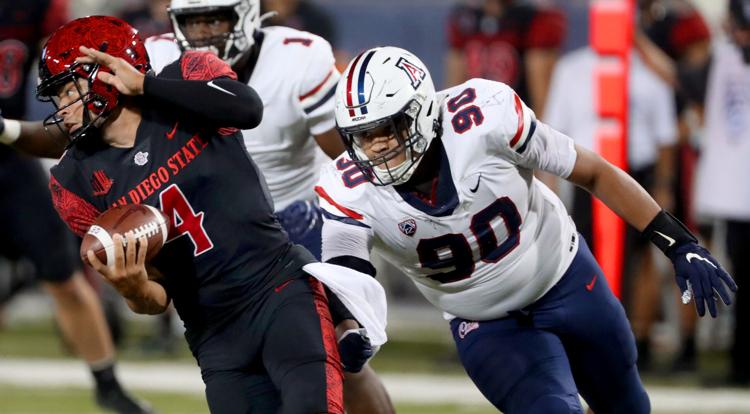 University of Arizona vs San Diego State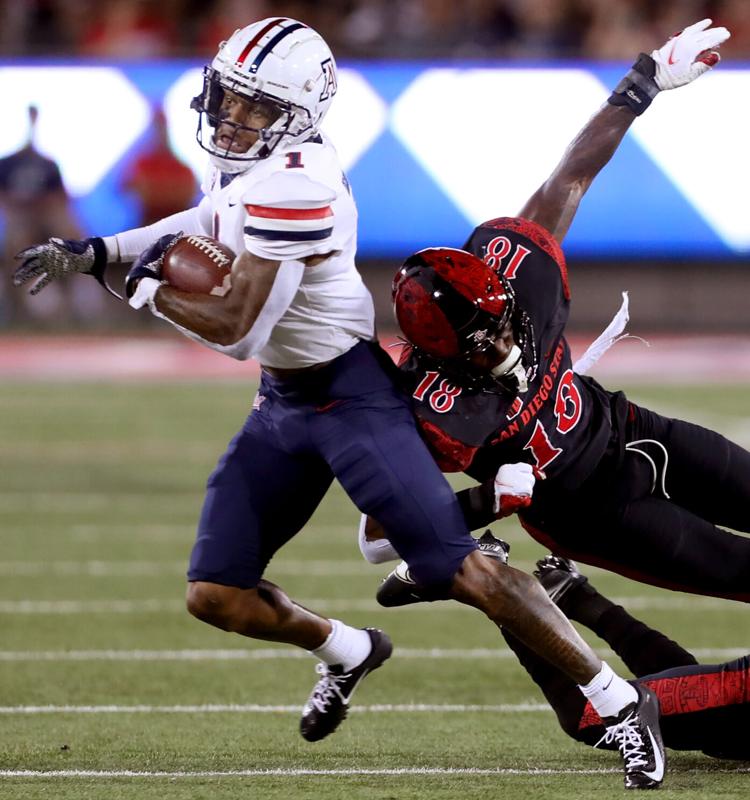 University of Arizona vs San Diego State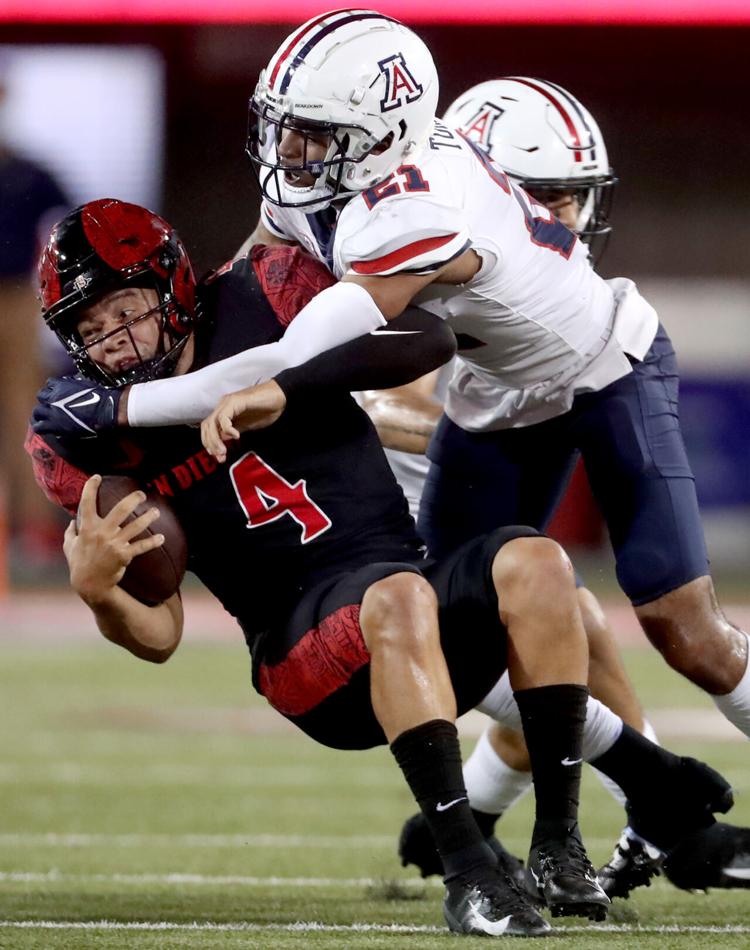 University of Arizona vs San Diego State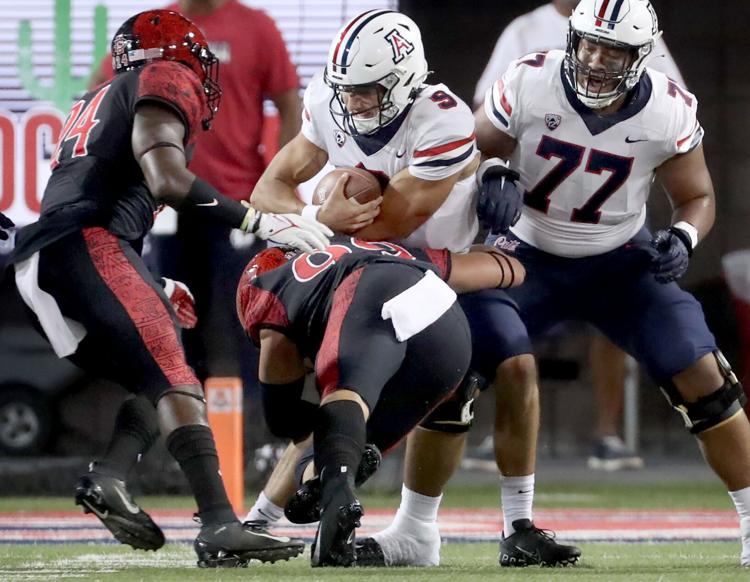 University of Arizona vs San Diego State
University of Arizona vs San Diego State
University of Arizona vs San Diego State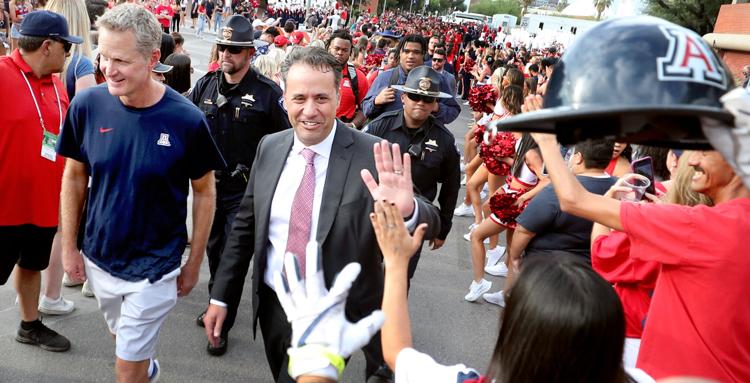 University of Arizona vs San Diego State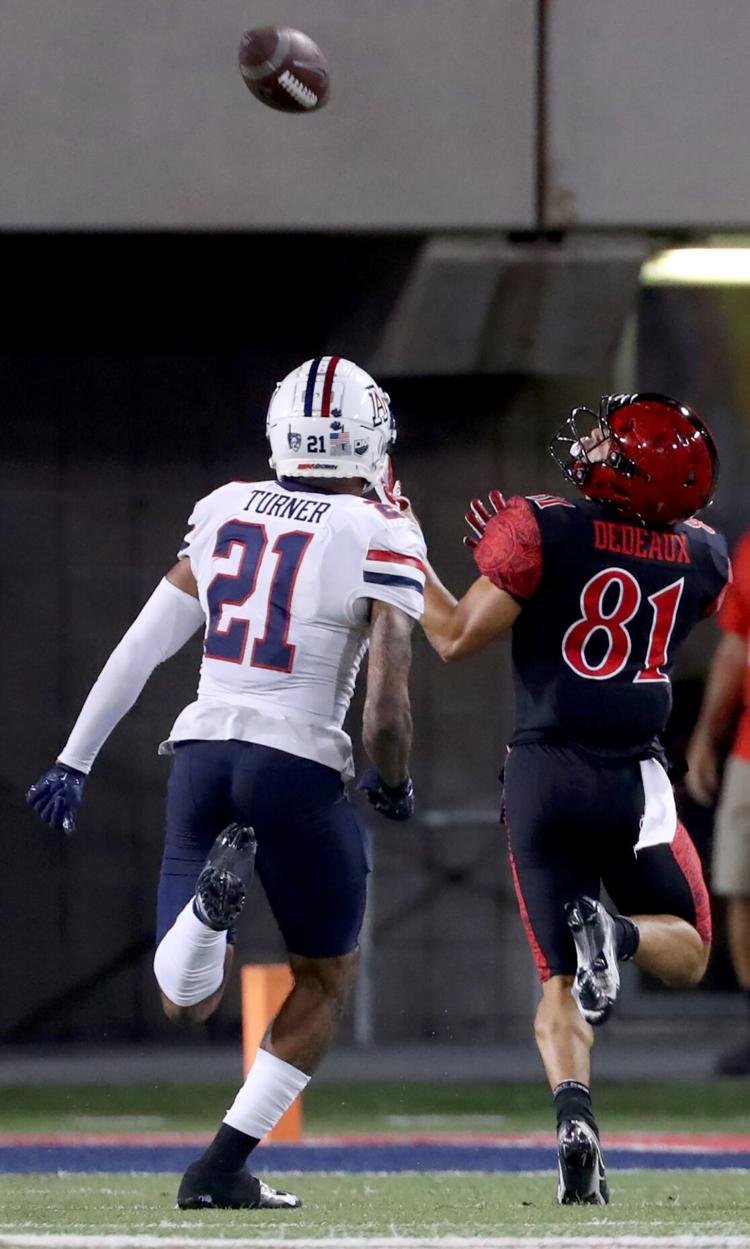 Contact sports reporter Michael Lev at 573-4148 or mlev@tucson.com. On Twitter @michaeljlev