Star reporter Michael Lev checks in from Houston to look at Arizona's questionable play-calling, the Cougars' goal-line stand and mounting injuries for the Wildcats.
Sumlin defends decision to punt late in fourth at Houston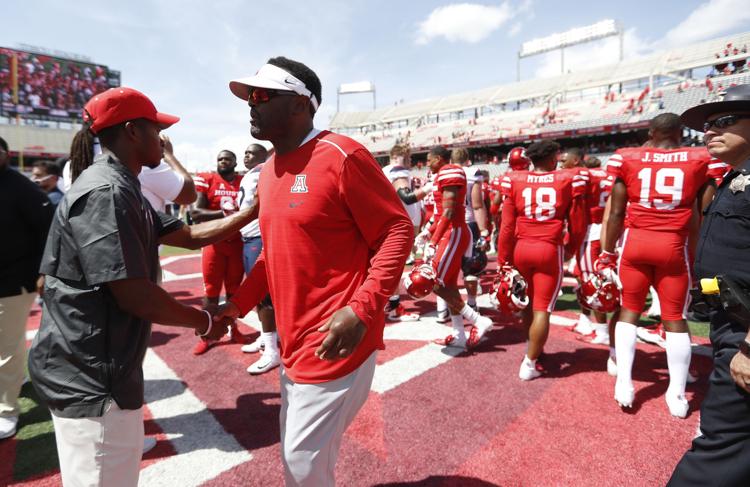 HOUSTON — The Arizona Wildcats never really made Houston sweat Saturday. The humidity took care of that.
But the Wildcats crept within three scores midway through the fourth quarter of their 45-18 loss to the Cougars at TDECU Stadium and had an excellent chance to get even closer.
Down 38-16, Arizona forced a three-and-out. Khalil Tate completed a 46-yard pass to Tony Ellison to the UH 1-yard line.
The Wildcats had four cracks from the 1 — two rushes by Darrius "Bam" Smith and one apiece by Tate and Gary Brightwell — and couldn't score.
UA coach Kevin Sumlin cited a collapse by the right side of Arizona's offensive line. Said Tate: "They got four stops. It's pretty simple."
The Wildcats still weren't completely cooked. Schooler and defensive tackle Finton Connolly swarmed into the backfield on the next play, with Colin Schooler getting credit for the tackle and the safety. Arizona got the ball back down 20 with 6:35 remaining.
The Wildcats advanced from their 26 to their 45. Facing fourth-and-9, with one timeout unused and a little over five minutes remaining, Sumlin elected to punt. The decision left ESPN's announcers and Arizona's fans baffled.
"We wanted to pin them back down in there again," Sumlin explained. "We just got a safety. It was fourth-and-almost-10. We hadn't been very successful on third-and-long-yardage plays. So I wanted to … see if we could make something happen."
Dylan Klumph's punt went out of bounds at the Houston 5-yard line. But on third-and-4 from the 11, the Cougars' Marquez Stevenson gained 60 yards on an end-around.
It's highly questionable whether the Wildcats would have had enough time to score three times even if they had gotten a stop.
"Once they broke out on the jet sweep," Sumlin said, "that was really the ballgame right there."
Banged-up defense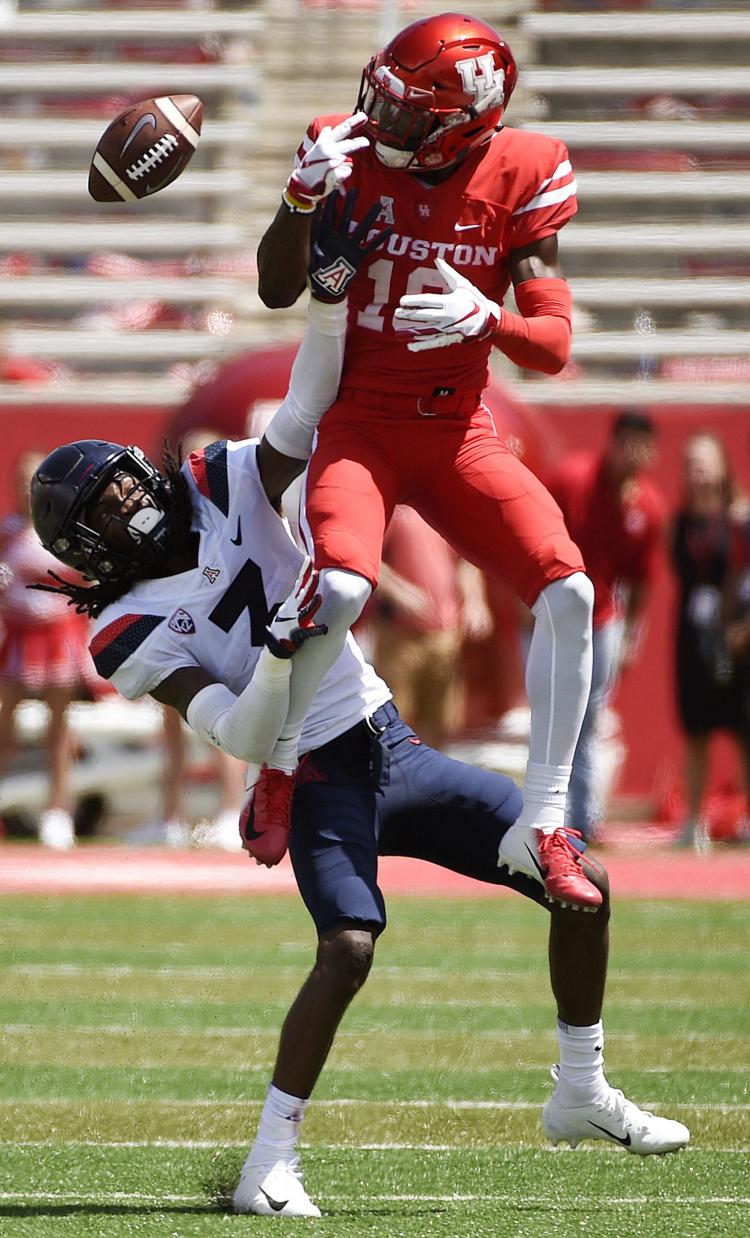 Arizona was hoping to have cornerback Jace Whittaker and safety Scottie Young Jr. back in the lineup. Both dressed, but neither played.
Whittaker missed his second straight game because of an undisclosed injury. Young, who sat out Week 1 because of a suspension, is believed to have injured a hamstring while pushing to get back on the field. He was suspended for all of spring practice and much of training camp because of an off-the-field incident.
Tim Hough again started at cornerback in place of Whittaker. Hough and safety Isaiah Hayes missed tackles on Stevenson's 24-yard touchdown reception that opened the scoring in the first quarter.
Redshirt freshman Xavier Bell started at the "Spur" safety spot with Young unavailable and Week 1 starter Tristan Cooper also out. Bell had six tackles but was victimized on Romello Booker's 52-yard touchdown catch that made the score 21-0.
Defensive tackle PJ Johnson did not play and had a boot on his right foot. Fellow defensive tackle Dereck Boles had to be carted off late in the second quarter. Safety Demetrius Flannigan-Fowles got hurt early in the third and did not return.
Sumlin indicated that Whittaker and Young likely would be available for next week's game against Southern Utah.
'Bam' makes impact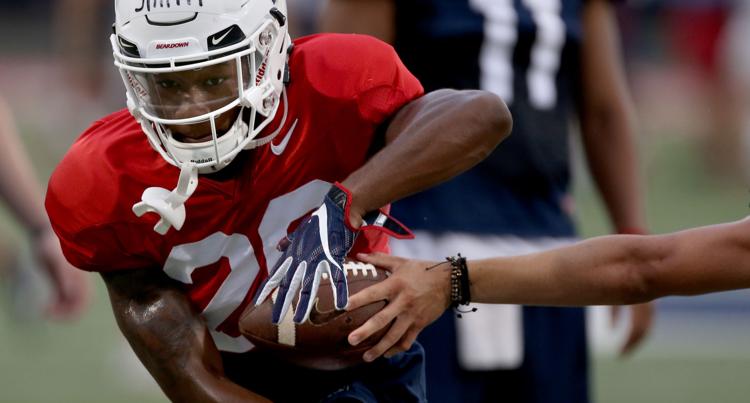 With the score 38-3 late in the third quarter, Sumlin gave Smith — a true freshman — a turn at running back.
Smith, who played at Dawson High School in nearby Pearland, provided a spark. The player his teammates call "Bam" rushed for 51 yards and a touchdown, averaging a team-best 4.6 yards per carry.
"You've added a third back," Sumlin said. "He's a young guy that's got a bright future that can get in the rotation and do some things."
Smith is likely to get some additional looks. He can play in up to four games without losing his redshirt thanks to a new NCAA rule.
Extra points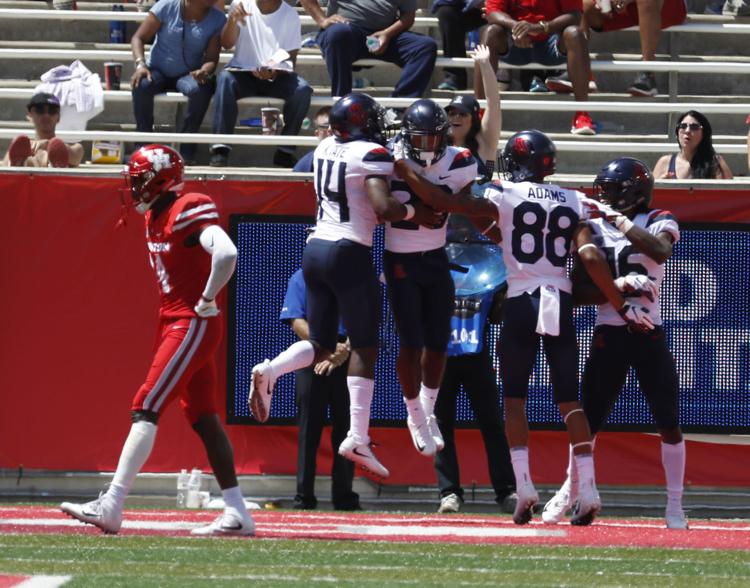 The injuries on defense created opportunities for a ton of young players, including safety Christian Young, cornerback McKenzie Barnes, defensive end Jalen Cochran and defensive tackle Abraham Maiava.
Freshman safety Dayven Coleman couldn't walk after the game and needed help from teammates to reach the locker room. Offensive lineman Jon Jacobs carried Coleman up the tunnel.
Arizona's Shawn Poindexter set career highs with seven receptions for 134 yards. The yards were the most by a UA receiver since Cayleb Jones had 182 in the 2015 New Mexico Bowl.
Houston quarterback D'Eriq King accounted for six touchdowns, a career high. He threw four touchdown passes and ran for two scores.
Houston defensive tackle Ed Oliver had a quiet game — for him. Oliver finished with five tackles and one pass breakup. He also was credited with four quarterback hurries.
Scouts from eight NFL teams were in attendance. They left the game at halftime, as did the handful of national college football writers bound for the Clemson-Texas A&M in College Station.