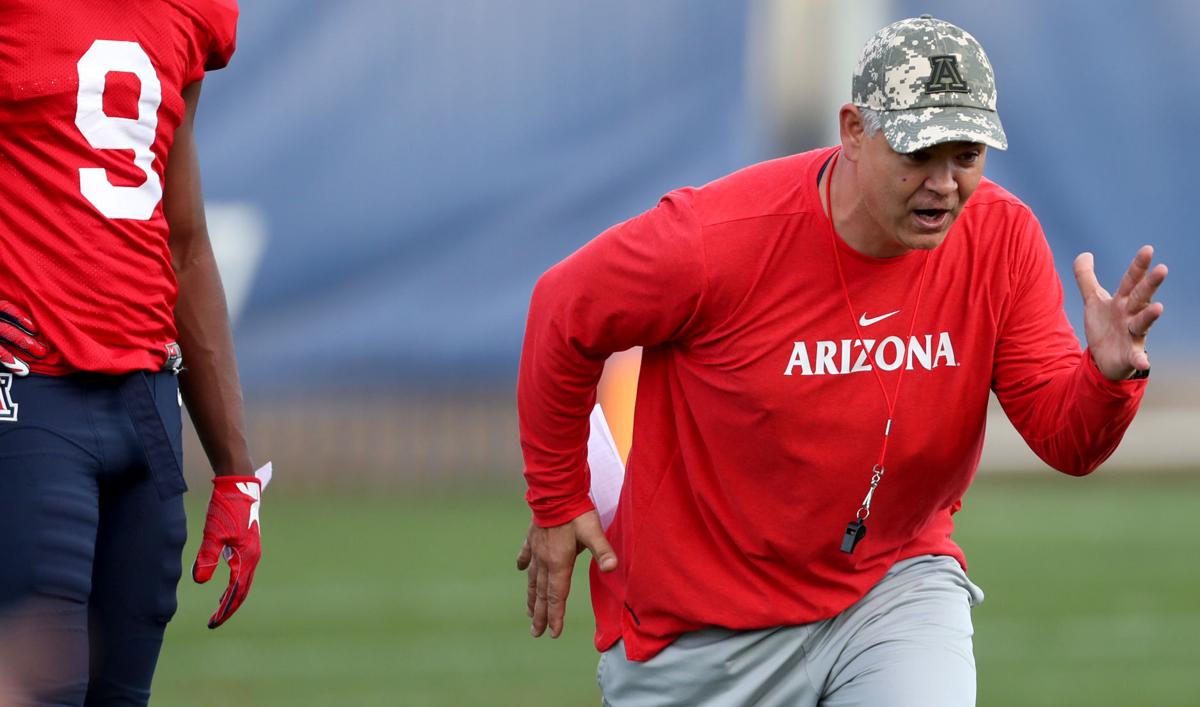 Editor's note: Over the next two weeks, the Star is profiling the four new Arizona football assistants who haven't met with the local media. Today: outside linebackers coach Andy Buh.
Andy Buh and his family have a pool for the first time, and as anyone who has endured a Tucson summer knows, that can be a real game-changer.
But it's far from Buh's first go-round out West.
The first-year Arizona Wildcats outside linebackers coach is from Escondido, California. He played linebacker at Nevada — where he was tutored by UA defensive line coach Stan Eggen — before coaching at his alma mater and four other FBS programs within the West Coast footprint.
Tucson's proximity to family, friends and recruiting contacts made the opportunity at the UA especially appealing for Buh, who spent the previous five seasons coaching in the SEC (Kentucky) and Big Ten (Maryland, Rutgers).
"The Pac-12 Conference, man," Buh said. "When you grow up in Southern California, that's the dream, right? I'm one of the blessed individuals."
Buh previously coached at Cal (2000-01, 2013) and Stanford (2007-09). He has extensive experience recruiting the Western region, including Hawaii, which is one of the four territories he's covering for the Wildcats. The others are in Southern California: Orange County, Riverside and San Diego. Buh's primary task with the current Cats is to boost a pass rush that produced only 17 sacks last season. That total ranked last in the Pac-12 and tied for 111th in the nation.
Buh discussed the plan for the pass rush, working with defensive coordinator Paul Rhoads, the current crop of outside linebackers and other topics in a recent video chat with the Star. The conversation has been lightly edited for context and clarity.
Are you looking forward to the day when you can actually fly to Hawaii to recruit?
A: "That'll come. You just kind of roll with it. This new, COVID-19 style of recruiting, it's been fun. (We have) been able to connect with a lot of kids through these kinds of conversations, through Zoom. Because they lifted our restrictions on how many phone calls we can have, we've actually been able to get to know these kids a lot better.
"Not being in the office with the day-to-day also gives us more opportunities to be available for these types of calls … with recruits and our own players. I don't see it as negative. Obviously, we want to get back to normal as fast as we can. But there's definitely some positives that are coming out of this."
You knew coach Eggen. This is your first time working with coach Rhoads. What's it been like?
A: "He's got incredible energy. He's very detailed, which I love. He's got a really broad scope of knowledge. He's very comfortable with who he is and (isn't hesitant) to ask for new ideas and to listen to different ways of doing things.
"We have a lot of experience in our room. It's been fun to listen to other guys talk about how they've done certain things and have discussions about those things. It's made us all better.
"The strength of a coordinator lies in the strength of his staff. The way Paul does it, he's getting every ounce of knowledge out of us to create the best possible product that we can for our players."
You have extensive coordinator experience. In what ways do you feel like that could be an asset in your current role?
A: "It's just always good to be able to bounce something off of somebody. The more the merrier, I think, as long as it's not a distraction.
"We have such a great room, with no egos. The conversations flow great. Paul orchestrates that with an open mind. It's easy when you really love being around the guys that you're around."
What are the specific skills you're teaching your group, as opposed to what coach Rhoads might be teaching the inside linebackers?
A: "The outside linebackers, they're a cross between a D-lineman and an outside 'backer, so there's a lot of different things from playing on the line of scrimmage. I always tell our guys, our job's not going to be very hard from a schematic standpoint. It gets harder more from a technical standpoint, because of the proximity to the blockers.
"Coaching the inside 'backers, there's a lot more big picture for those guys. Now, I'm not saying that they don't need to be technical, because it's a highly technical position. But there's a lot more fit-oriented things that they need to know. Whereas when you're coaching an outside linebacker, we're often on the line of scrimmage; we've got more hand-to-hand combat than an inside 'backer would have."
When you're recruiting that position, what are the traits that you're looking for?
A: "The first thing that we're looking for is pass-rush ability. If we're doing it right and I'm coaching it right, that outside linebacker to the boundary will lead our team in sacks. We recruit that guy for that reason.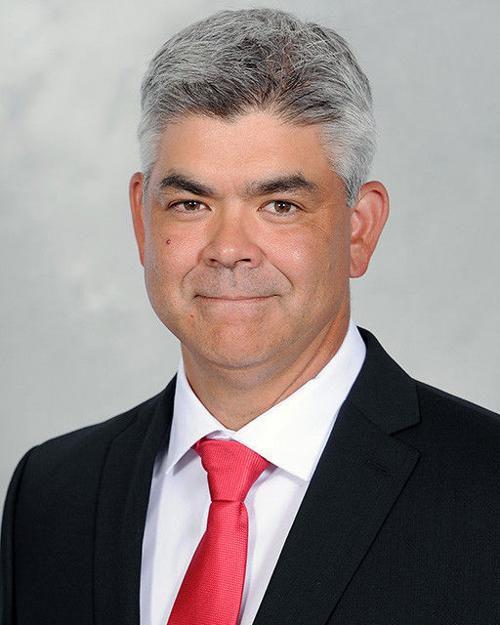 "From there, it goes to measurables — length at the boundary-side 'backer position, speed at the field-side linebacker position. You're going to look for a girthier guy to the boundary, a more linear guy to the field.
"And then character and intelligence. Those things are really important. Their ability to communicate is really important, that they can grasp a concept and do the right things."
What do you think you were able to accomplish during those first four practices before the shutdown?
A: "We got a lot done. We didn't waste any time in the meeting rooms. I installed on the field with them, for a particular reason: I know that this group gets better by doing it more so than hearing it.
"My goal was to spend all my time on the field in the spring to catch 'em up to what we want to do on the line of scrimmage, because the team hadn't been a 3-4 team. I was transitioning some guys that had played with their hand in the ground and now they're up on the feet.
"And then my goal was, over the summer, to catch them up on the finer details of the scheme. We've been able to do all of that.
"Obviously, I'm itching to get them back on the field. That's how we're going to get better. We don't get better by talking like this. Football players get better by playing football."
Did you look at past film of the veteran players you inherited, or did everybody basically start from scratch?
A: "A little bit of both. I never hold anything against someone, but I do like to watch film if there's game tape on them — see what they've been able to do and what they were asked to do. When I get with them, I don't have any preconceived deals with them; I just let them play."
Did anything in particular stand out in your film review of the veterans who've played a lot of snaps?
A: "(Anthony) Pandy is a playmaker. He plays with a lot of effort. He's strong. He's a powerful kid. Tackles really well.
"And then Jalen (Harris), he's just long. I think there's a big upside with Jalen Harris. I think he's going to have a monster year. I think you're going to see the best football out of Jalen this year. He's a big, powerful dude, and I hope we can tap all that potential out of him."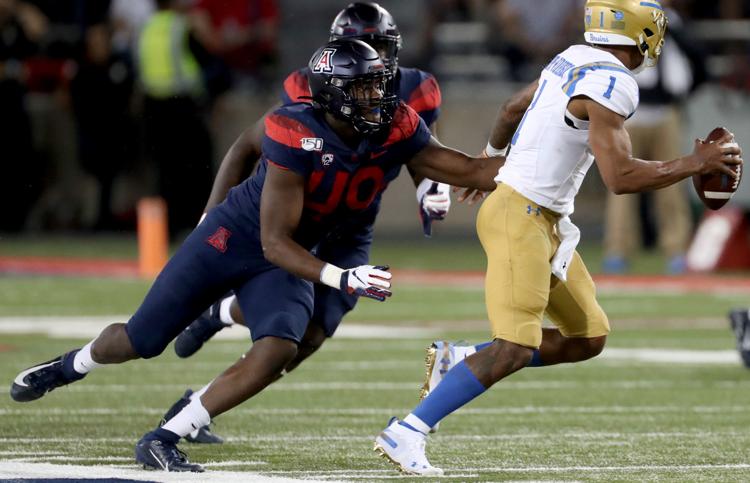 Jalen seemed poised for a breakout last year, but it didn't happen for whatever reason. Is it just a matter of unlocking his talent?
A: "It's different things for different reasons. I think he's really focused on this year. I think some of the things that we're going to do are going to help him."
It's commonplace these days for assistant coaches to move around a lot. You fall into that category. How hard is that for you and your family?
A: "We certainly don't want to move. But circumstances take over. I remember moving from Nevada to Wisconsin and winning the Big Ten Championship Game (in 2012). I'm out in L.A. recruiting, and coach (Bret) Bielema calls me and says he's going to Arkansas.
"You don't expect that, but you know it can happen. So win or lose, there's always that possibility that a guy's gonna leave. So you're really not in control.
"As a family … it's just part of the work. I'm not going to sit here and say it's easy. It takes a toll when you have to (move) your family and change schools and friends and stuff like that. But we've been pretty fortunate. We had a real late start with our family. Our kids are fairly young. (Sons Luke and Logan are 10 and 7; Buh is 47.)
"It's not easy. I don't think any coach out there would say that. But we embrace it as a family. We see it as an adventure.
"We certainly want to stay in places for longer than two or three years. That's the goal."
The Star is profiling Southern Arizona high school athletes whose seasons were cut short by the coronavirus pandemic. Here's a look at the athletes who have been featured so far.