Arizona recruiting rewind: Four reasons to be encouraged about Wildcats' 2019 class
Despite a less-than-stellar national ranking, the UA re-established itself in Texas, closed strongly and addressed its needs. The Star's Michael Lev breaks down the Wildcats' early signing day.
Rankings aside, Kevin Sumlin and company have plenty to be optimistic about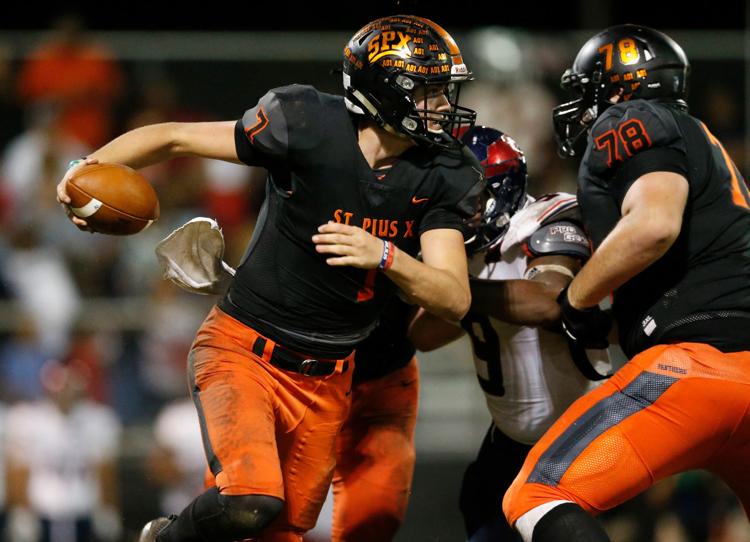 The recruiting industry doesn't think too highly of Arizona's 2019 signing class. Rivals.com ranks the Wildcats 55th nationally and ninth in the Pac-12; 247Sports.com has them 47th and seventh, respectively.
But at least one expert says Arizona and its fans should be feeling pretty good about Kevin Sumlin's first haul.
"It's hard to say that you finished ninth out of 12 and should be encouraged, but I think they should be encouraged," Adam Gorney, national recruiting analyst for Rivals, said Thursday, one day after the UA signed 20 players.
"They got their quarterback of the future (Grant Gunnell). They got an outstanding wide receiver in Jalen Curry. I think Bobby Wolfe is a defensive back who can have an immediate impact. They went juco for some guys who will feel pressure to come in and play immediately, so they're going to work hard."
As the early signing period comes to a close, and Sumlin and his staff move on to future classes, here are some additional reasons to feel optimistic about the 2019 group:
Sumlin scored in Texas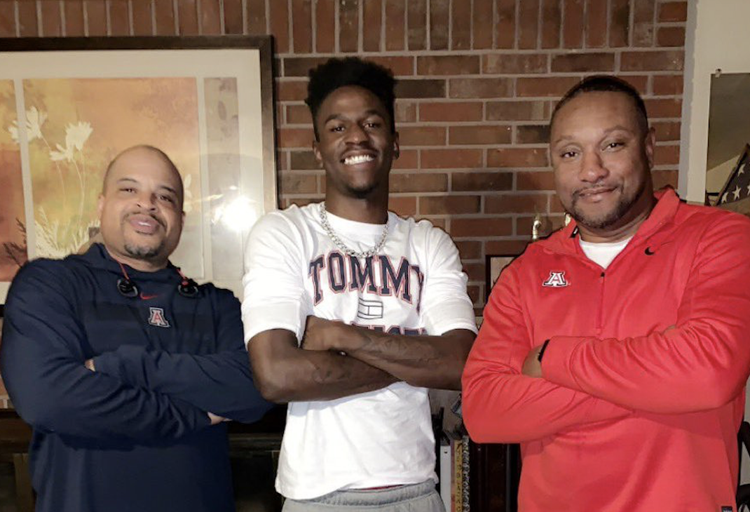 Arizona signed more players from Texas — eight — than any other state. That's a radical departure from the previous regime.
Gunnell and Curry were teammates at St. Pius X High School in Houston, and both will enroll in January. Wolfe played at James Madison High School, also in Houston. They're the three highest-rated players in Arizona's class.
"Start with Gunnell," Gorney said. "That's exactly what (Noel) Mazzone (the offensive coordinator) wants and Sumlin envisions — a tall guy who can sit in the pocket and throw it around. That's why they went so hard after him.
"Jalen Curry is a fantastic addition. He could have gone anywhere in the country.
"Wolfe was committed (to Texas A&M), then not committed. He was looking all over the place. Sometimes those kids land in a spot and embrace the situation."
Sumlin credited his success in Teas to the relationships he built over 18 seasons as a coach at A&M, Houston and Oklahoma.
"You know a lot of people. You know a lot of coaches. You know a lot of families," Sumlin said. "You develop a reputation where people can trust you and they know you, and they know you as more than just a coach.
"You can pick up the phone and call a guy … and they'll tell you the truth. That's part of the relationship-building process."
Although it's not true in every case, experts agree that Texans have a passion for football that is unmatched nationally. That love for the game translates into better practice habits and, in theory, better play.
"High school football is much more important there than in California, save for a few programs," Gorney said. "That level of intensity is going to help. Sumlin can go back into Texas and get those kinds of players.
"A lot of them don't care about facilities or uniforms. They care about getting on the field and destroying people."
The UA staff closed well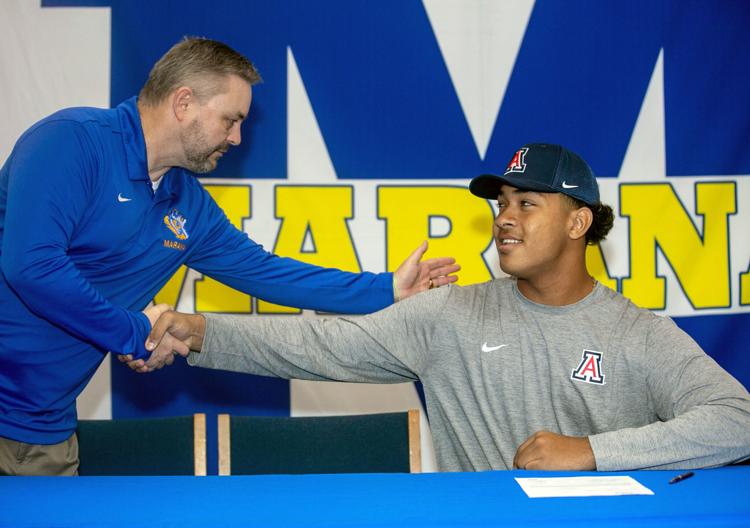 Curry and Wolfe hadn't announced their commitments publicly before Wednesday. Securing their signatures showed that Sumlin still has it as a closer.
Just as significant, Arizona held on to two players whom USC wanted — tackle Jordan Morgan of Marana and defensive back Chris Roland of Palmdale, California. The Trojans typically win those battles.
"It would have hurt to lose a kid like Jordan Morgan, who had been committed and is from Tucson," Gorney said. "And Chris Roland is a local kid, much closer to 'SC than Arizona. A lot of times when they get those late offers … everybody thinks they're going to flip.
"Them staying with Arizona, it's a credit to the coaching staff and the relationships they built. It was big to get those kids, and it says that a lot of kids have bought into what they're selling."
Cats addressed biggest needs
Arizona badly needed to restock its lines. The Wildcats signed four offensive linemen and four defensive linemen.
Even better, half of them are junior-college players who will arrive in January. The hope is that they will be able to contribute immediately, enabling the younger linemen, such as Morgan, to develop at their own pace.
Arizona had to start freshman tackle Donovan Laie this past season, when injuries and other issues diluted the offensive line. Laie performed well, but most true freshmen aren't ready for that assignment.
The UA also signed three receivers: Curry, Jalen Johnson of Eastvale, California, and Jaden Mitchell of Las Vegas. The Wildcats lose their top three wideouts from 2018: Shun Brown, Tony Ellison and Shawn Poindexter. They accounted for 135 receptions and 23 touchdowns.
"We've got to keep developing on the perimeter," Sumlin said. "We've got some good young players at wide receiver, but obviously we had three really good ones graduate, real consistent guys. So we're going to have to push these young guys to the forefront, and they're going to have to come on. I like their talent level."
The 2019 Cats will have only one senior wide receiver who's on scholarship — Cedric Peterson, who had 18 catches for 268 yards and four touchdowns this past season.
The class might be underrated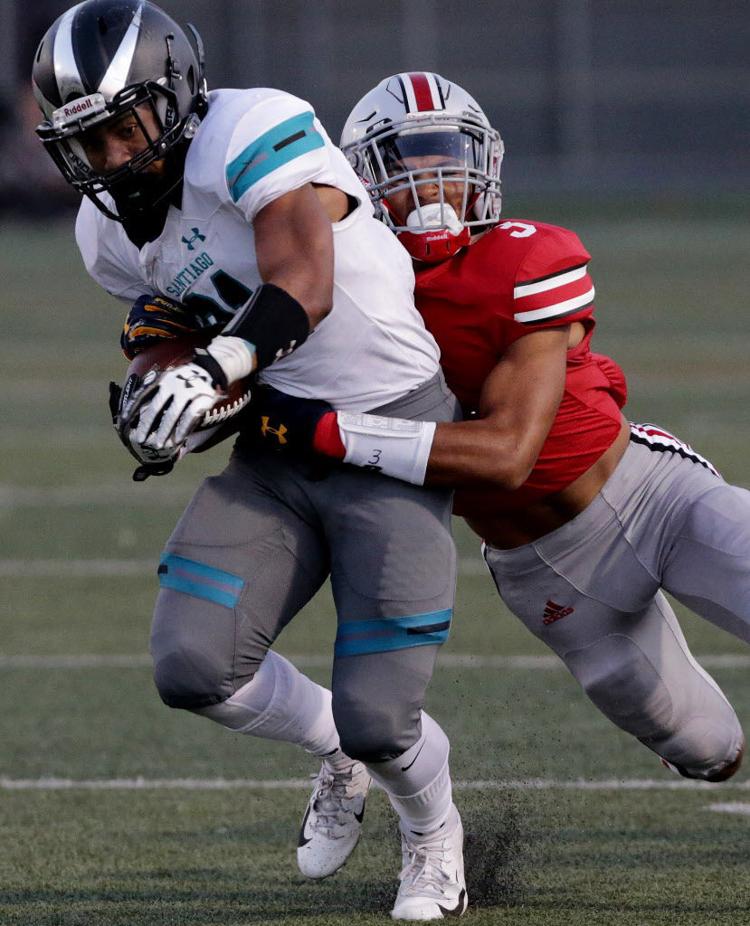 Gorney cited a few factors that might have dragged Arizona's ranking down.
One of the Wildcats' signees, defensive back Maurice Gaines, transferred from a Bay Area high school to a Connecticut prep school for his final season. Another, safety/linebacker Eddie Siaumau, is from American Samoa. Gorney conceded that he and his fellow analysts might not have the best read on them. Both received two-star ratings from Rivals.
Additionally, Arizona spent a scholarship on a punter, Kyle Ostendorp. He also received only two stars from Rivals.
Gorney is bullish on a pair of three-star players, Johnson and defensive back Jaxen Turner. Pac-12 Networks analyst Yogi Roth views them similarly, calling Johnson one of the best-kept secrets in Southern California and saying Turner was "dramatically under-recruited."
Although Arizona has only two four-star signees, Sumlin said 10 or 11 players were being pursued by other schools who were trying to get them "on planes and visits and all kinds of stuff this last week." Those players included Morgan, who also held an offer from Arizona State.
"There are kids who are going to surprise," Gorney said.